West Blast Obliterates Safety Lie
The West, Texas disaster proves lax regulations endanger both workers and communities.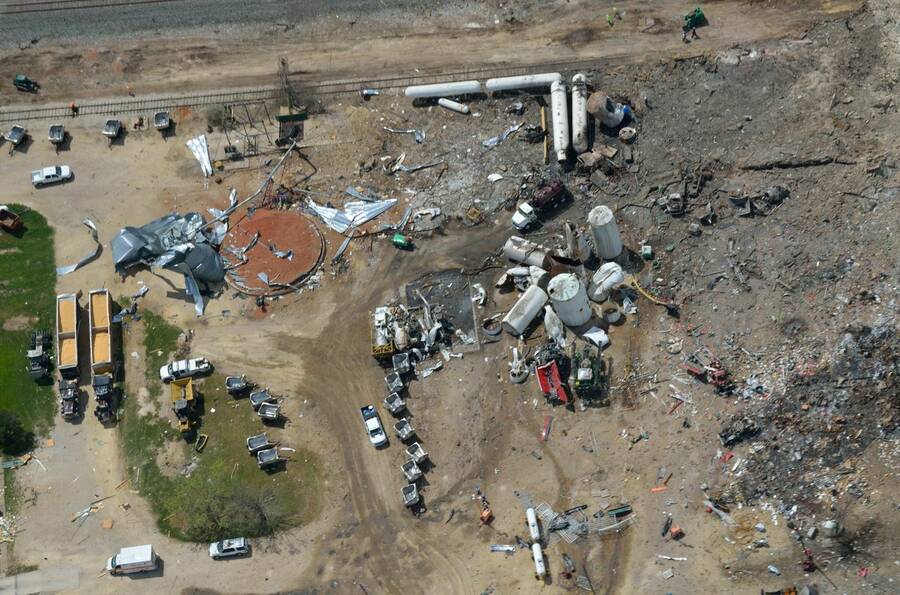 You are not safe. Not at work. Not at home in your bed. The biggest threat is not ter­ror­ism. It's cor­po­rate neg­li­gence lead­ing to a blast or col­lapse or release of tox­ic chemicals.
Industry won't improve safety unless forced. And regulators can't begin to adequately compel them until properly fanged and funded.
Ter­ror­ism killed 3,000 Amer­i­cans on 9⁄11. But in the dozen years since then, ter­ror­ists on Amer­i­can soil have tak­en the lives of few­er than 25, includ­ing those at the Boston Marathon and Fort Hood. By con­trast, every year, more than 4,000 per­ish in Amer­i­can work­places. These deaths are com­mem­o­rat­ed every April 28 on Work­ers Memo­r­i­al Day. It's every April 28 because work­place fatal­i­ties are relentless.
The explo­sion ear­li­er this month at the fer­til­iz­er plant in West, Texas, that killed 11 first respon­ders and three town res­i­dents is a warn­ing to com­mu­ni­ty mem­bers that they too may fall vic­tim to work­place dan­gers. That mas­sive blast should shake Amer­i­cans out of the delu­sion that care­ful cor­po­ra­tions and vig­i­lant reg­u­la­tors keep them safe. They don't. Indus­try won't improve safe­ty unless forced. And reg­u­la­tors can't begin to ade­quate­ly com­pel them until prop­er­ly fanged and funded.
Between the deaths in Boston and West, my union, the Unit­ed Steel­work­ers (USW), issued a report on the threat posed to work­ers and com­mu­ni­ties by a high­ly tox­ic chem­i­cal wide­ly used in oil refin­ing. The report is called ​"A Risk Too Great." That's because no indus­tri­al process endan­gers more lives from a sin­gle acci­dent than alky­la­tion with dead­ly hydro­gen flu­o­ride (HF).
It's used by 50 refiner­ies across the coun­try, each stor­ing an aver­age of 212,000 pounds. That endan­gers 26 mil­lion Americans.
Six years ago, at the CIT­GO refin­ery in Cor­pus Christi, Texas, two work­ers were injured, one crit­i­cal­ly, when a fail­ure caused a hydro­car­bon and HF release, fol­lowed by an explo­sion and fires that burned for days. Accord­ing to an inves­ti­ga­tion by the U.S. Chem­i­cal Safe­ty Board (CSB), approx­i­mate­ly 42,000 pounds of HF was released. Of that, the CSB esti­mat­ed, 4,000 pounds like­ly escaped into the atmos­phere. Luck­i­ly, it blew into an unpop­u­lat­ed area.
At the 23 refiner­ies sur­veyed by the USW, there were 131 HF releas­es or near miss­es over a five year peri­od. That includes one in 2009 at the Suno­co refin­ery in Philadel­phia in which a 22-pound release sent 13 work­ers to hos­pi­tals and one in which a 54-year-old work­er died in 2012 after he was exposed to a mix­ture of HF and propane at the Valero Ener­gy Corp. refin­ery in Memphis.
The USW has warned about HF for years, but the response from indus­try is, basi­cal­ly, ​"Don't wor­ry, be hap­py." OSHA, the CSB and oth­er fed­er­al and state agen­cies lack the reg­u­la­to­ry teeth and the fund­ing to effec­tive­ly respond to the threat.
The fer­til­iz­er plant explo­sion in West is anoth­er exam­ple of reg­u­la­to­ry fee­ble­ness. Because of the inher­ent weak­ness of self-report­ing require­ments and because of inad­e­quate fund­ing for OSHA, fed­er­al offi­cials were vir­tu­al­ly unaware of the dan­gers at the plant.
After the 9 – 11 attacks, Con­gress man­dat­ed that any enti­ty with 400 pounds of the explo­sive fer­til­iz­er ammo­ni­um nitrite report to Home­land Secu­ri­ty. This may be because home-grown ter­ror­ist Tim­o­thy McVeigh used 4,000 pounds of it to blow up the fed­er­al build­ing in Okla­homa City in 1995, killing 168. Or maybe it was the nation's worst indus­tri­al cat­a­stro­phe, in which a ship loaded with ammo­ni­um nitrate docked at the Port of Texas City in 1947 caught fire, explod­ed and killed near­ly 600 people.
Either way, the own­er of the West fer­til­iz­er plant nev­er report­ed to Home­land Secu­ri­ty that it rou­tine­ly stored 540,000 pounds of ammo­ni­um nitrate next to a school, play­ground, apart­ment build­ing and nurs­ing home in the town of 2,800. So, of course, Home­land Secu­ri­ty did­n't know.
Long before 9 – 11 or Okla­homa City, long before the cur­rent own­er bought the fer­til­iz­er plant, OSHA inspect­ed it in 1985. OSHA did­n't return in the ensu­ing 28 years. But that's not sur­pris­ing con­sid­er­ing OSHA has so few inspec­tors that it would take 131 years for it to exam­ine every Amer­i­can work­place one time.
The West plant did sub­mit a risk man­age­ment plan to the EPA because it kept 54,000 pounds of anoth­er haz­ardous fer­til­iz­er, anhy­drous ammo­nia, which could kill large num­bers of peo­ple if leaked. In its most recent plan, the plant report­ed no risk of fire or explo­sion, say­ing the most seri­ous threat was a 10-minute release of anhy­drous ammonia.
The under­fund­ed and over­worked CSB, which has only 20 inves­ti­ga­tors nation­wide, rec­om­mend­ed in 2002 that the EPA require report­ing of haz­ardous mate­ri­als like ammo­ni­um nitrate. But agri­cul­ture and fer­til­iz­er lob­by­ists opposed that, and the anti-reg­u­la­tion Bush admin­is­tra­tion took no action.
Over the years, the plant in West vent­ed anhy­drous ammo­nia in vio­la­tion of its per­mits and moved tanks with­out inform­ing author­i­ties as required, but encoun­tered only fin­ger wag­ging and minor sanc­tions from state reg­u­la­tors in Texas which boasts of its anti-reg­u­la­to­ry régime.
Cor­po­ra­tions aren't moral enti­ties. They won't fol­low safe­ty rules unless forced.
That's the prob­lem in Bangladesh. No one enforces safe­ty at the coun­try's gar­ment fac­to­ries sewing clothes for U.S. and oth­er West­ern retail­ers. A fire at the Tazreen fac­to­ry in Dha­ka in Decem­ber killed 112 work­ers who found exit doors locked. Col­lapse of a fac­to­ry build­ing in Dha­ka last week killed more than 350 and injured 1,000. It occurred after police ordered evac­u­a­tion, but fac­to­ry boss­es threat­ened to dock the pay of gar­ment work­ers who did­n't return.
Whether it's dead­ly HF waft­ing into an unsus­pect­ing com­mu­ni­ty, an ammo­ni­um nitrate explo­sion tak­ing out a nurs­ing home or hun­dreds of oth­er risks posed by indus­try to com­mu­ni­ties and work­ers, cor­po­ra­tions aren't going to vol­un­tar­i­ly lim­it dan­gers. The his­to­ry of deaths shows gov­ern­ment must force them. Wimpy reg­u­la­tions and fund-starved inspec­tors can't do that.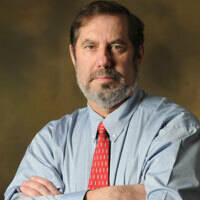 Leo Ger­ard is inter­na­tion­al pres­i­dent of the Unit­ed Steel­work­ers Union, part of the AFL-CIO. The son of a union min­er; Ger­ard start­ed work­ing at a nick­el smelter in Sud­bury, Ontario, at age
18
, and rose through the union's ranks to be appoint­ed the sev­enth inter­na­tion­al pres­i­dent Feb.
28
,
2001
. For more infor­ma­tion about Ger­ard, vis­it
usw​.org
.