West Virginia Teachers and the Return of Labor Feminism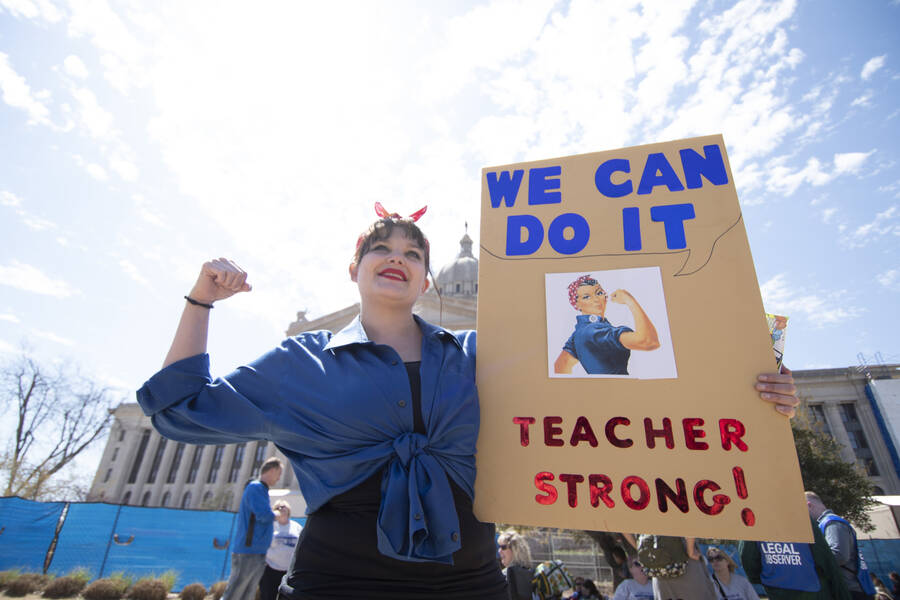 Since the 2016 elec­tion, Amer­i­cans have been treat­ed to all vari­eties of media pro­files and lit­er­ary-safari trips to the heart of coal coun­try — like J.D. Vance's book Hill­bil­ly Ele­gy—which leave the impres­sion that the ​"work­ing class" is large­ly an undif­fer­en­ti­at­ed mass of reac­tionary white men.
The West Vir­ginia teacher's strike pro­vid­ed a strik­ing con­trast to this nar­ra­tive. While strik­ers' red t‑shirts and ban­dan­nas sig­naled the movement's con­nec­tion to a his­to­ry of labor rad­i­cal­ism in the state, the strike's demo­graph­ics were also reveal­ing. In West Vir­ginia, as in the rest of the coun­try, teach­ing is a pro­fes­sion dom­i­nat­ed by women, and the strike reflect­ed this real­i­ty. This was a women-led move­ment, advo­cat­ing for a pre­dom­i­nant­ly female rank-and-file.
Since the West Vir­ginia strike began in late Feb­ru­ary, teach­ers have led mil­i­tant actions in Okla­homa and Ken­tucky, and Ari­zona and Col­orado could soon follow.
These actions are prov­ing that the car­i­ca­ture of the Trump-vot­ing white male work­er is about as suit­ed to rep­re­sent the entire work­ing class as Bruce Springsteen's ​"Born in the USA" was suit­ed to be Ronald Reagan's cam­paign theme song. Work­ing-class peo­ple are not pre­dom­i­nant­ly white men in the extrac­tive or man­u­fac­tur­ing indus­tries. Many work in the ser­vice or retail sec­tor, are non-white, undoc­u­ment­ed, or, due to the gen­der wage gap, female. A major­i­ty of the min­i­mum-wage work­force is com­prised of women.
While much has been made of the West Vir­ginia strike's mil­i­tan­cy and eco­nom­ic demands, it is also impor­tant to under­stand it in the con­text of gen­der — the strike fol­lowed decades of orga­niz­ing in the pub­lic sec­tor by women.
Over the last 40 years, pub­lic and ser­vice sec­tor unions — includ­ing in health­care, pub­lic employ­ment, food ser­vices and pub­lic edu­ca­tion — have become the fastest grow­ing union­ized sec­tors. Col­lec­tive­ly, they have shaped the course and com­po­si­tion of the labor move­ment. As Jen­nifer Klein and Eileen Boris write in Car­ing for Amer­i­ca: Home Health Work­ers in the Shad­ow of the Wel­fare State, by the ​"end of the first decade of the twen­ty-first cen­tu­ry, when only one in ten labored in man­u­fac­tur­ing and half were in the pub­lic sec­tor, women com­posed 45 per­cent of union­ized workers."
From work­ing-class to cor­po­rate-class feminism
West Vir­ginia teach­ers are admit­ted­ly not the con­ven­tion­al face of main­stream U.S. fem­i­nism. Much ink has been spilled on the lim­its of main­stream fem­i­nism, espe­cial­ly its repro­duc­tion of cap­i­tal­ist val­ues like com­pe­ti­tion, scarci­ty and indi­vid­u­al­ism. Putting the onus on indi­vid­ual women to ​"lean in" to the cor­po­rate work­place, the main­stream fem­i­nism advo­cat­ed by fig­ures like Face­book COO Sheryl Sand­berg and Hillary Clin­ton teach­es women that they can tru­ly have it all, if only they behave more like men. It is becom­ing increas­ing­ly clear that ​"you can have it all" fem­i­nism only works for a select few, and cor­po­rate fem­i­nists depend on the large­ly invis­i­ble labor of poor women of col­or who clean their homes and take care of their chil­dren and elder­ly par­ents. The decline of wel­fare and the social safe­ty net has only exac­er­bat­ed this need, as child­care costs have soared and many women can no longer rely on the state to help bal­ance the respon­si­bil­i­ties of work and home.
But in the grand sweep of 20th-cen­tu­ry fem­i­nism, an alliance with the cor­po­rate class is rel­a­tive­ly new. Johan­na Bren­ner has point­ed out that this shift was less a mat­ter of choice than it was a means of sur­vival. Dur­ing the 1970s and 1980s, main­stream fem­i­nism was best described as ​"social wel­fare" fem­i­nism. While far from mil­i­tant or rad­i­cal, it advo­cat­ed for an expan­sion of the wel­fare state and called for poli­cies like a guar­an­teed min­i­mum income for sin­gle moth­ers and social­ized childcare.
The con­ser­v­a­tive assault on the work­ing class start­ing in the 1970s dealt a major blow to sec­ond wave social wel­fare fem­i­nism. Democ­rats also played a key role in its demise. In 1996, Bill Clinton's wel­fare reform bill — sup­port­ed by many mid­dle-class fem­i­nists, includ­ing then-First Lady Hillary Clin­ton and the vast major­i­ty of Demo­c­ra­t­ic con­gress­women who at the time self-iden­ti­fied as ​"fem­i­nist" —closed the chap­ter on social wel­fare fem­i­nism. Democ­rats increas­ing­ly adopt­ed the 1990s par­lance of eco­nom­ic inde­pen­dence (ver­sus ​"depen­dence" on the state), embrac­ing poli­cies that pushed sin­gle moth­ers into low-wage jobs while deny­ing them access to sub­si­dized childcare.
Mean­while, main­stream repro­duc­tive rights orga­ni­za­tions adopt­ed con­ser­v­a­tive frame­works, like those pro­posed by the poll­ster Har­ri­son Hick­man, who worked for the Nation­al Abor­tion Rights Action League (NAR­AL). In 1986, Hick­man sug­gest­ed that NAR­AL frame abor­tion in terms of pre­serv­ing a woman's neg­a­tive right to pri­va­cy, rather than a pos­i­tive right to free and uni­ver­sal­ly acces­si­ble abor­tions: ​"Gov­ern­ment intru­sion … is our most effec­tive argument…we must not stress the indi­vid­u­al's right to abor­tion, but rather, that the gov­ern­ment does not have the right to say that abor­tion is nev­er acceptable."
It was in this cli­mate of aus­ter­i­ty, third-way, cen­trist pol­i­tics, and a weak­ened and increas­ing­ly bureau­crat­ic labor move­ment that cor­po­rate fem­i­nism came to thrive.
But this shift was, and con­tin­ues to be, relent­less­ly con­test­ed. Even as ear­ly as the 1920s, imme­di­ate­ly fol­low­ing the grant­i­ng of women's suf­frage, labor fem­i­nists reject­ed the elit­ism of Alice Paul's Nation­al Wom­en's Par­ty and the Equal Rights Amend­ment, which they believed would do lit­tle for poor and work­ing class women. From the wel­fare rights move­ment of the 1960s and 1970s to the Com­ba­hee Riv­er Col­lec­tive to the domes­tic work­ers move­ment which con­tin­ues to this day, work­ing class and women of col­or fem­i­nists have mount­ed pow­er­ful chal­lenges to the hege­mon­ic forces of neolib­er­al­ism and glob­al capitalism.
Today, as we saw in West Vir­ginia, a major flash­point for this oppo­si­tion­al fem­i­nism among women work­ers is the Right's con­tin­ued attack on the pub­lic sec­tor. The Janus deci­sion is just the lat­est chap­ter in a decades-long effort by the Koch-fund­ed Right to crush unions and specif­i­cal­ly pub­lic sec­tor unions, which boast the largest rate of union­iza­tion in the coun­try today.
These attacks have detri­men­tal effects on women and African Amer­i­cans, who are dis­pro­por­tion­ate­ly rep­re­sent­ed in pub­lic-sec­tor employ­ment. Women of col­or, who rep­re­sent the major­i­ty of union-rep­re­sent­ed pub­lic sec­tor work­ers of col­or, have been hit par­tic­u­lar­ly hard. While the pri­vate sec­tor has begun to slow­ly recov­er jobs lost dur­ing the finan­cial cri­sis, the pub­lic sec­tor con­tin­ues to down­size at an alarm­ing clip.
But all is not lost. As we saw in West Vir­ginia, the very sec­tor that has been hard­est hit by union-bust­ing and aus­ter­i­ty has, in recent years, demon­strat­ed strength and resource­ful­ness in the face of adver­si­ty. Even before the recent wave of teacher actions, in 2012 the Chica­go Teacher's Union (CTU) strike saw teach­ers' con­nect­ing their strug­gle for bet­ter work­ing con­di­tions to the larg­er sys­tems of oppres­sion affect­ing their students.
Orga­niz­ing by nurs­es, a work­force that is over 90 per­cent female, also shows the rad­i­cal poten­tial of orga­niz­ing in tra­di­tion­al­ly female occu­pa­tions. In 2017, the Cal­i­for­nia Nurs­es Asso­ci­a­tion (CNA) led the fight for California's sin­gle-pay­er health­care bill, which has con­tributed to a groundswell of polit­i­cal momen­tum for uni­ver­sal healthcare.
The CNA has a long his­to­ry as a mil­i­tant out­sider in the labor move­ment. In 1999, the union passed a strict nurse-to-patient law, the very first leg­isla­tive vic­to­ry on the issue of hos­pi­tal under­staffing. Its mem­bers have also been on the front lines of cli­mate jus­tice orga­niz­ing, which they see as a pub­lic health cri­sis.
The lim­its of labor
But orga­nized labor, even if it is led by female work­ers, won't alone be enough to embold­en a reen­er­gized, left­ist fem­i­nist move­ment today. If fem­i­nism has any chance of upend­ing the sta­tus quo, it must also chal­lenge the con­struc­tion of work itself, and espe­cial­ly its func­tion as a pre­con­di­tion for receiv­ing gov­ern­ment assistance.
Recent his­to­ry makes this clear. Puni­tive wel­fare poli­cies have played a his­toric role in main­tain­ing a steady sup­ply of low wage female work­ers. For exam­ple, Bill Clinton's 1996 wel­fare reform bill insti­tut­ed a suite of restric­tions for pub­lic aid, includ­ing five-year caps on aid and manda­to­ry work require­ments that required sin­gle par­ents — who are over­whelm­ing­ly women — to work in pub­lic or pri­vate sec­tor jobs in exchange for their ben­e­fits. Since pas­sage of the bill, pover­ty has increased, most fam­i­lies in pover­ty do not receive wel­fare ben­e­fits, and mil­lions of peo­ple live on less than $2 a day in for­mal income.
At the same time, restric­tive immi­gra­tion poli­cies exclud­ed immi­grant and undoc­u­ment­ed women from wel­fare, com­pelling them to accept any job they can find — typ­i­cal­ly work that is low paid, non-union­ized and unsafe. In 1986, Con­gress passed the Immi­gra­tion Reform and Con­trol Act (IRCA), which rein­stat­ed the 1882 ​"pub­lic charge" law, mak­ing it ille­gal for immi­grants to obtain visas unless they could prove that they would not require pub­lic assis­tance. Ten years lat­er, wel­fare reform com­plete­ly exclud­ed undoc­u­ment­ed and in some cas­es, legal immi­grants, from receiv­ing cash assistance.
It has been a cru­el irony that the rise of ​"you can have it all" fem­i­nism has coin­cid­ed with the decline — and near dis­ap­pear­ance in many states in the Deep South and West — of wel­fare. This decline has par­tic­u­lar­ly harmed sin­gle moth­ers. Child exclu­sions in the 1996 wel­fare bill, for instance, gave states the option to estab­lish caps on finan­cial assis­tance if the recip­i­ent had more chil­dren while receiv­ing aid.
As Sharon Smith writes in the Inter­na­tion­al Social­ist Review, these caps have led to dis­as­trous con­se­quences in states like New Jer­sey, where cash assis­tance has not increased in 29 years. ​"If a woman has an addi­tion­al child while already receiv­ing wel­fare pay­ments," Smith observes, ​"her cash assis­tance drops from $424 to $322 per month. Eight in ten New Jer­sey chil­dren liv­ing in pover­ty receive no pub­lic cash assistance."
With mar­riage becom­ing more and more lim­it­ed to the mid­dle and upper class­es, and with sin­gles (espe­cial­ly sin­gle moth­ers) locked out from state assis­tance, the need has nev­er been greater for a fem­i­nist pol­i­tics that rethinks basic fam­i­ly and eco­nom­ic struc­tures. More than any oth­er issue, women's lib­er­a­tion rests on whether we will social­ize the cost of car­ing for indi­vid­u­als and families.
Toward new fem­i­nist futures
Canada's Leap man­i­festo offers a view into what such a soci­etal change might look like in prac­tice. Call­ing for a polit­i­cal econ­o­my cen­tered around ​"car­ing for the earth and one anoth­er," the man­i­festo seeks to expand the ​"sec­tors of our econ­o­my that are already low car­bon: care­giv­ing, teach­ing, social work, the arts and pub­lic-inter­est media." In addi­tion to invest­ing in a care work econ­o­my, the plat­form — which was approved by rep­re­sen­ta­tives from Canada's var­i­ous social move­ments — calls for a uni­ver­sal basic income and nation­al­ized child­care. These could all serve as short-term demands for a renewed fem­i­nism in the Unit­ed States.
But with a con­ser­v­a­tive Supreme Court major­i­ty and a misog­y­nist union-buster-in-chief, we can't afford to be naïve about the chal­lenges ahead. It is all but an inevitabil­i­ty that right-to-work across the entire pub­lic sec­tor will be enact­ed in the near future, evis­cer­at­ing not only the most union­ized sec­tor in the coun­try, but one dom­i­nat­ed by women and peo­ple of color.
As the Women's March and Inter­na­tion­al Women's Strike demon­strate, Don­ald Trump's pres­i­den­cy has inspired a mass desire among women to resist. But there are still major bar­ri­ers to sys­temic change. Main­stream repro­duc­tive and wom­en's rights orga­ni­za­tions like the Nation­al Orga­ni­za­tion for Women and NAR­AL employ a Wash­ing­ton insid­er strat­e­gy of lob­by­ing and elec­toral cam­paigns. This approach is whol­ly inad­e­quate in the face of mount­ing inequal­i­ty and con­ser­v­a­tive attacks on women's basic rights. With some notable excep­tions like the Work­ing Fam­i­lies Par­ty, we've yet to see the pro­lif­er­a­tion of inde­pen­dent, grass­roots fem­i­nist orga­ni­za­tions or a return to the demands of social wel­fare fem­i­nism, includ­ing uni­ver­sal child­care and free and on-demand abortions.
And yet, this moment feels dif­fer­ent. While the full impact of the #MeToo move­ment remains to be seen, it has unleashed a wave of activism against sex­u­al harass­ment, assault, and the gen­der pay gap — issues that speak to the every­day lived expe­ri­ence of the vast major­i­ty of women.
Mean­while, in the weeks fol­low­ing the West Vir­ginia strike, teach­ers across the coun­try have risen up to demand fair pay and dig­ni­ty on the job. In strug­gles led pre­dom­i­nant­ly by women work­ers — whose labor has his­tor­i­cal­ly been both under­paid and under­val­ued — we're see­ing the return of efforts to build mean­ing­ful alter­na­tives to cor­po­rate fem­i­nism. As the 1930s labor régime falls apart, and the cen­ter increas­ing­ly can­not hold, per­haps there is no van­guard bet­ter suit­ed to that task.
Rachel John­son
is a writer based in Chica­go. She holds a mas­ter's degree in U.S. his­to­ry from North­west­ern University.