West Virginia Teachers Are Now Out on a Wildcat Strike. The Labor Movement Should Follow Their Lead.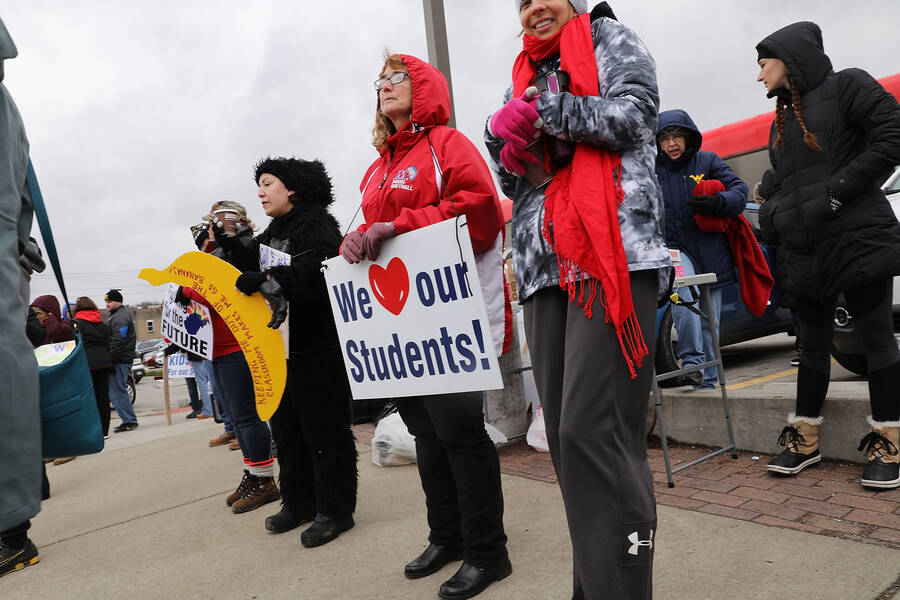 In a bright spot among an oth­er­wise bleak land­scape for labor, over 15,000 teach­ers and school sup­port employ­ees in all 55 West Vir­ginia coun­ties have been out on strike for sev­en days, as they and sup­port­ers from around the state con­tin­ue to flood the capi­tol in Charleston, W.V., demand­ing high­er pay and afford­able healthcare.
Buck­ing a deal struck between the West Vir­ginia Edu­ca­tion Asso­ci­a­tion (WVEA) and the state gov­ern­ment, school work­ers have defied both union lead­er­ship and state law, which affords them no right to strike and does not rec­og­nize their right to col­lec­tive­ly bar­gain. These restric­tions haven't stopped West Vir­ginia edu­ca­tors from lead­ing what may be one of the most impor­tant labor actions in years.
With ​"right-to-work" laws spread­ing across the coun­try, and a Janus Supreme Court deci­sion that could dec­i­mate pub­lic-sec­tor unions on the hori­zon, strik­ing teach­ers are offer­ing a blue­print for how to win when the odds are stacked against labor: Strike, win and then keep strik­ing to win more — no mat­ter what union lead­ers say.
The walk­out in West Vir­ginia has now become what's known as a wild­cat strike: A mass work action car­ried out by the rank-and-file and with­out the express con­sent of union lead­er­ship. On Tues­day, after agree­ing to a five per­cent raise for teach­ers and three per­cent raise for oth­er pub­lic-sec­tor work­ers, WVEA lead­ers declared vic­to­ry. But the rank-and-file weren't hav­ing it, break­ing out into chants of ​"We are the union boss­es!" and ​"Back to the table!"
As union mem­bers point­ed out fol­low­ing the announced ​"deal," the pay raise would not pro­tect teach­ers from the ris­ing costs of the state employ­ee health plan, admin­is­tered by the Pub­lic Employ­ee Insur­ance Agency (PEIA). Plans have become increas­ing­ly expen­sive over the last sev­er­al years, all while teacher pay has remained low, cur­rent­ly ranked 48th in the country.
Media out­lets announced that class­es statewide would be back in ses­sion by Thurs­day, but dis­sat­is­fied union teach­ers decid­ed to stay out on strike. As of Fri­day, schools in all 55 coun­ties in West Vir­ginia remain closed, and the strike car­ries on.
In some ways, it makes sense that Appalachi­an work­ers may be show­ing the way for­ward to fight the boss in the era of Trump and Janus. While this is the first statewide action for teach­ers and school sup­port work­ers, West Vir­ginia has a long his­to­ry of rank and file mil­i­tan­cy — under con­di­tions far tougher than those fac­ing work­ers today.
In the ear­ly 20th cen­tu­ry, min­ers in Appalachia faced some of the most dan­ger­ous work­place haz­ards in any indus­try. While many min­ers around the coun­try were union­ized, large­ly by the Unit­ed Mine Work­ers of Amer­i­ca (UMWA), West Vir­ginia min­ers attempt­ed to orga­nize a union for years, only to be met with vio­lence and black­list­ing. By 1919, con­di­tions at mines around the coun­try had reached a break­ing point, and the UMWA declared a nation­al strike. The fact that West Vir­ginia coal mines were nonunion lim­it­ed the action's impact nation­wide, lead­ing the UMWA to com­mit to mak­ing seri­ous inroads into the state.
Over the course of two years, the con­flict between min­ers and mine oper­a­tors in West Vir­ginia esca­lat­ed into what can only be described as a war. Some of the work­ers involved were fresh off of fight­ing in World War I, and applied their mil­i­tary train­ing to form armed mili­tias in order to ward off hired com­pa­ny secu­ri­ty and indus­try-friend­ly local law enforce­ment. This peri­od saw the Bat­tle of Blair Moun­tain, a bloody con­flict between coal min­ers, law enforce­ment and strike­break­ers that became the largest labor upris­ing in U.S. his­to­ry. The bat­tle only sub­sided when fed­er­al troops were sent in, forc­ing both sides to lay down their arms.
On Feb­ru­ary 25, State Sen­a­tor Richard Oje­da III — a vocal sup­port­er of the teach­ers' strike now run­ning for a House seat in West Virginia's 3rd Dis­trict, which includes the state's south­ern coal­fields — wrote a long thread on Twit­ter con­nect­ing recent events back to West Virginia's his­to­ry as a site of labor strug­gle. Oje­da writes that the strike (known as #55strong, refer­ring to the num­ber of coun­ties in the state) has become ​"a fight for the soul and spir­it of West Vir­ginia that start­ed hun­dreds of years ago," when ​"investors came to West Vir­ginia and pur­chased most of the land for all but nothing."
He notes the slave-like treat­ment that faced African Amer­i­cans and immi­grants who were brought in to work the mines, as well as the elab­o­rate sys­tems of debt peon­age engi­neered by mine oper­a­tors to keep work­ers depen­dent on their boss­es. ​"So our min­ers decid­ed they want­ed to union­ize," Oje­da writes, ​"And they fought and died for that right in one of the largest labor upris­ings in the Unit­ed States."
The same areas that were at the cen­ter of the min­ing wars — Min­go, Logan and Wyoming coun­ties — are also some of the poor­est in the state, and, as Cathy Kunkel writes at Jacobin, in ear­ly Feb­ru­ary they were among the first to stage one-day teacher walk-outs.
Through­out U.S. his­to­ry, mil­i­tant union­ism and mass strikes have opened up the space for unions to make demands that reach far beyond the scope of the work­place. In the lead-up to the Bat­tle of Blair Moun­tain, for instance, UMWA mem­bers talked excit­ed­ly about the prospect of short­en­ing the work­week and nation­al­iz­ing the mines. And it was the strength of orga­nized labor — indeed, the threat of open revolt — that man­aged to put labor pro­tec­tions on the nation­al agen­da and get redis­trib­u­tive, work­er-friend­ly pro­grams enact­ed dur­ing the New Deal era and beyond.
While a slew of left-lean­ing can­di­dates are run­ning for office this year, it's unlike­ly that pro­gres­sive politi­cians alone will cleave open the space for trans­for­ma­tive changes in the econ­o­my, or fol­low through on promis­es made on the cam­paign trail, with­out con­sis­tent out­side pressure.
Teach­ers and nurs­es are two of the country's most heav­i­ly union­ized pro­fes­sions. They also stand to be hard­est hit when right-wing politi­cians attack the pub­lic sphere. But even if the Supreme Court rules against labor in Janus, which could kneecap pub­lic-sec­tor union bud­gets, strikes like the one being car­ried out by rank-and-file teach­ers in West Vir­ginia can set a tone of mil­i­tan­cy against austerity.
Such actions also have the poten­tial to spur work­ers to lay out their own vision for a soci­ety that tru­ly val­ues work­ing peo­ple, to which they can then hold politi­cians account­able. And they can help push union lead­er­ship to keep fight­ing, mar­shal­ing resources toward gen­uine­ly pro­gres­sive ends rather than grasp­ing onto what­ev­er demands they can eek out of hos­tile state governments.
It's not uncom­mon to hear union orga­niz­ers say the most suc­cess­ful cam­paigns hap­pen in the places where the fight is the hard­est: where the boss­es are jerks and the pay sucks. Under Trump and, like­ly soon, Janus, that may well soon describe the whole coun­try. West Vir­ginia work­ers past and present have offered one hell of a roadmap to nav­i­gate such a future.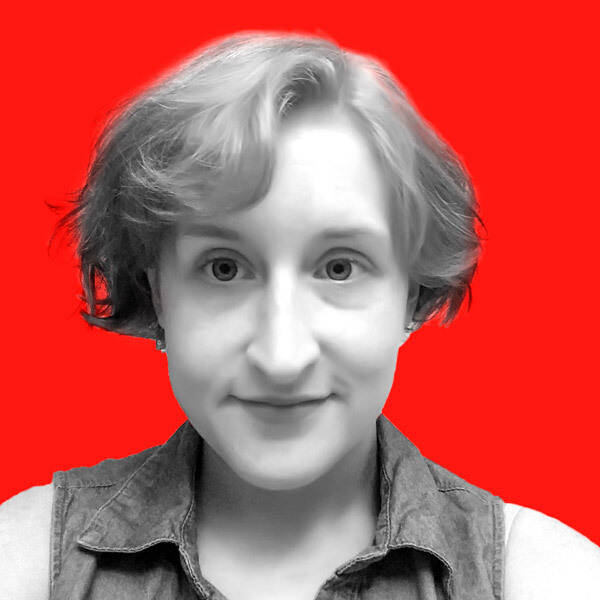 Kate Aronoff
is a Brook­lyn-based jour­nal­ist cov­er­ing cli­mate and U.S. pol­i­tics, and a con­tribut­ing writer at The Inter­cept. Fol­low her on Twit­ter @katearonoff.