The Case for Opening Our Borders
Democrats cannot have it both ways. If you oppose jailing and exiling people for crossing an invisible line, you must be in favor of significantly opening our borders. Fortunately, that's fine.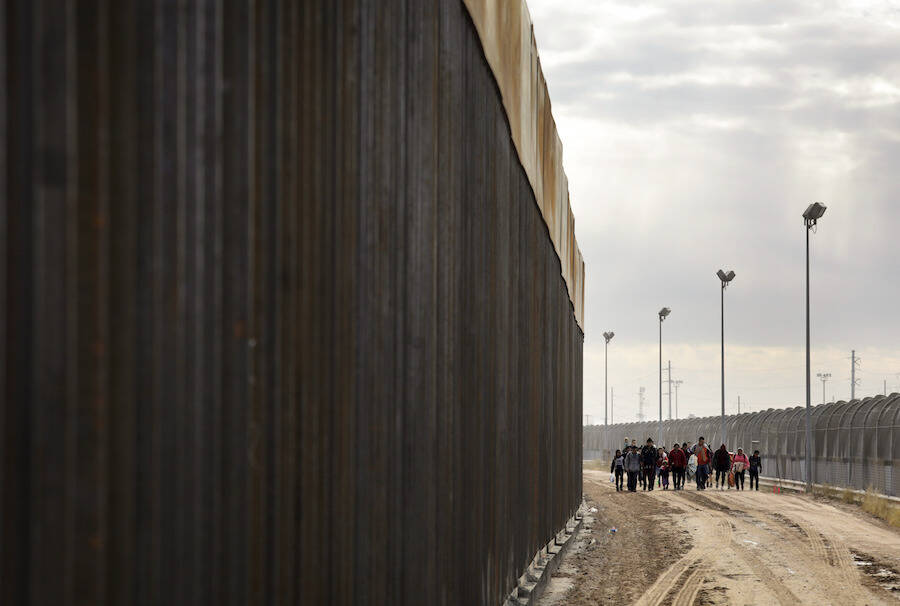 Democ­rats and Repub­li­cans have long forged a de fac­to pol­i­cy con­sen­sus on immi­gra­tion. Yes, Democ­rats con­demn Trump's wall and his fam­i­ly sep­a­ra­tion pol­i­cy, but they piv­ot to talk about secu­ri­ty and con­trol in ways indis­tin­guish­able from GOP talk­ing points.
If such things were happening to U.S. citizens who migrated within the country–if people who tried to move from poor towns to prosperous cities were rounded up in the night and forced back to the countryside–the entire nation would be outraged.
On Jan­u­ary 3, their first day in pow­er, House Democ­rats passed a spend­ing bill that includ­ed $1.3 bil­lion in new bor­der fenc­ing, which House Speak­er Nan­cy Pelosi (D‑Calif.) and Sen­ate Minor­i­ty Leader Chuck Schumer (D‑N.Y.) tout­ed as ​"smart, effec­tive bor­der secu­ri­ty." When Demo­c­ra­t­ic pres­i­den­tial con­tender Beto O'Rourke said he would take down El Paso's bor­der wall, Sen. Kamala Har­ris (D‑Calif.) respond­ed: ​"We can't have open bor­ders. We need to have bor­der secu­ri­ty, all nations do." Even Sen. Bernie Sanders (I‑Vt.) writes on his Sen­ate web­site, ​"We must con­tin­u­al­ly mod­ern­ize our bor­der secu­ri­ty measures."
Both par­ties rec­og­nize that tem­po­rary guest work­ers and undoc­u­ment­ed labor­ers are impor­tant to a num­ber of indus­tries, as well as ser­vices (includ­ing domes­tic labor and elder care), of which politi­cians, donors and con­stituents per­son­al­ly avail them­selves. In some indus­tries, like har­vest­ing, fish­ing and sum­mer resort work, immi­grants are often the only will­ing labor available.
But in the eyes of employ­ers, the chief advan­tage of immi­grant labor is that immi­grants are often eas­i­er to coerce and con­trol than cit­i­zens. The promise of avail­able work encour­ages a large num­ber of peo­ple to immi­grate, but Demo­c­ra­t­ic pol­i­cy­mak­ers are wary that appear­ing to let too many peo­ple in will allow polit­i­cal oppo­nents to stoke nativist sen­ti­ments. So the Unit­ed States pays Mex­i­co (through the bil­lion-dol­lar Meri­da Ini­tia­tive) to stop some peo­ple before they get to the bor­der, then men­aces and detains the sub­set that U.S. Bor­der Patrol appre­hends in the act of cross­ing, and then sends Immi­gra­tion and Cus­toms Enforce­ment (ICE) to round up and deport some of those who get through. These bru­tal poli­cies keep the unof­fi­cial work­force sta­ble, at around 8 mil­lion over the past 10 years, and keep undoc­u­ment­ed and guest work­ers fear­ful enough to refrain from avail­ing them­selves of work­place protections.
Even the most hard­line Repub­li­can authored immi­gra­tion bills avoid impos­ing seri­ous penal­ties on employ­ers who use undoc­u­ment­ed labor, and have includ­ed pro­vi­sions to expand the guest work­force while fur­ther cut­ting off its access to labor pro­tec­tions. Democ­rats are more like­ly to tout immi­gra­tion as a pub­lic good, then sub­stan­tive­ly align them­selves with Repub­li­cans on bor­der secu­ri­ty and inter­nal enforce­ment. The present debate over whether we should have a phys­i­cal wall along the bor­der (as pre­ferred by House Repub­li­cans) or a ​"smart wall" of high-tech sur­veil­lance (as pre­ferred by House Democ­rats) is sim­ply one of cost-effec­tive­ness, not a real dif­fer­ence of opinion.
The bla­tant racism of the Trump admin­is­tra­tion has moti­vat­ed more mem­bers of the pub­lic to learn about the oper­a­tion of our immi­gra­tion sys­tem and drawn atten­tion to its irra­tional­i­ties and cru­el­ties. Some Democ­rats, includ­ing Sanders, Har­ris and Sen. Kirsten Gilli­brand (D‑N.Y.), briefly seemed to join the call to ​"abol­ish ICE" in response to fam­i­ly sep­a­ra­tions in sum­mer 2018, but when pressed for detail, var­i­ous­ly advo­cat­ed replac­ing or restruc­tur­ing the agency. A bill by Reps. Mark Pocan (D‑Wis.) and Prami­la Jaya­pal (D‑Wash.) to abol­ish the agency went nowhere.
For now, Democ­rats are in resis­tance mode, defy­ing — at least rhetor­i­cal­ly— Trump's most extreme pro­pos­als. But very soon, as the 2020 pres­i­den­tial pri­maries get under­way, Democ­rats will be pressed to put forth a plan for when they are in pow­er. At a moment when there's real appetite for bet­ter immi­gra­tion pol­i­cy, it's incum­bent upon pro­gres­sives to present the Democ­rats with a vision that goes beyond the ane­mic com­pro­mis­es of the past.
Xeno­pho­bic and fear­mon­ger­ing argu­ments against immi­gra­tion have become eas­i­er for most peo­ple on the Left to dis­cred­it as Trump presents them in their rawest form. There are no sta­tis­tics to sup­port Trump's asser­tions that immi­grants dis­pro­por­tion­ate­ly com­mit crimes, and more drugs enter the U.S. mar­ket via planes and boats than across the south­ern land bor­der (and those that do cross come through reg­u­lat­ed points of entry). Some of the country's post‑9/​11 para­noia has abat­ed. But one argu­ment that still remains per­sua­sive to some is that immi­grants will flood the labor mar­ket and com­pete for jobs with cit­i­zen work­ers, par­tic­u­lar­ly those in low-wage jobs.
We can imme­di­ate­ly take issue with this premise on moral grounds: If you tru­ly believe in human equal­i­ty, priv­i­leg­ing the eco­nom­ic well-being of U.S.-born work­ers sim­ply because of their birth­place is arbi­trary and unjus­ti­fi­able. But even for those who priv­i­lege native work­ers, the argu­ment that immi­gra­tion is inher­ent­ly ​"bad for the econ­o­my" is fair­ly eas­i­ly dis­pensed with. The Amer­i­can Immi­gra­tion Coun­cil esti­mates that immi­grant-led house­holds have $926.9 bil­lion in col­lec­tive spend­ing pow­er, and immi­grant busi­ness own­ers account­ed for 20.3 per­cent of all self-employed U.S. res­i­dents in 2015. A 2014 Eco­nom­ic Pol­i­cy Insti­tute analy­sis found that immi­grants, though 13 per­cent of the pop­u­la­tion, account­ed for 15 per­cent of eco­nom­ic productivity.
Whether undoc­u­ment­ed and guest work­ers under the present sys­tem actu­al­ly low­er over­all wages, and the extent to which they direct­ly com­pete against native-born work­ers, con­tin­ues to be an unset­tled ques­tion. Some stud­ies have con­clud­ed that increased immi­gra­tion has neg­a­tive wage impacts for black and Lati­no men who did not com­plete high school. In a meta-analy­sis of stud­ies going back to the 1990s, the Nation­al Acad­e­mies of Sci­ences, Engi­neer­ing and Med­i­cine con­clud­ed that ​"par­tic­u­lar­ly when mea­sured over a peri­od of 10 years or more, the impact of immi­gra­tion on the over­all native wage may be small and close to zero. How­ev­er, esti­mates for sub­groups span a wider range." The research not­ed that native work­ers who have com­pa­ra­ble skills to immi­grants may expe­ri­ence a low­er­ing of wages, hours or employ­ment rates, although ​"there are still a num­ber of stud­ies that sug­gest small to zero effects."
It is impor­tant to be most atten­tive to the effects of any pol­i­cy on peo­ple who are already strug­gling. At the same time, how­ev­er, we should be skep­ti­cal of com­men­ta­tors who blame immi­grants for low­er wages rather than the cor­po­ra­tions that set those wages, as well as those who tout restrict­ing immi­gra­tion as the best way to redress the black-white wealth gap rather than repa­ra­tions or oth­er forms of invest­ment in black com­mu­ni­ties. This argu­ment reached peak hypocrisy on the lips of Pres­i­dent Don­ald Trump, who often cites the wel­fare of ​"African-Amer­i­can and Lati­no work­ers" as rea­son for his racist immi­gra­tion policies.
For those who would improve our immi­gra­tion sys­tem, there are two broad pos­si­ble approach­es. The first, bow­ing to con­cerns about unfet­tered migra­tion, is to replace our exist­ing immi­gra­tion bureau­cra­cies with bet­ter, fair­er bureau­cra­cies. The 2009 Ray Mar­shall plan adopt­ed by the AFL-CIO and Change to Win, for exam­ple, offered a blue­print for a cen­tral­ized gov­ern­ment com­mis­sion to assess domes­tic labor needs and offer visas to fill labor gaps in var­i­ous sec­tors. The stat­ed goal was ​"more ratio­nal and flex­i­ble flows of for­eign workers."
The catch to any such bureau­cra­cy is that, as long as you are restrict­ing where peo­ple can live and work, you must enforce those restric­tions. The Ray Mar­shall plan envi­sioned the con­tin­ued use of depor­ta­tion and bor­der polic­ing, as well as the expan­sion of a bio­met­ri­cal­ly inte­grat­ed sys­tem to keep track of immi­grant work­ers — which rep­re­sents, in effect, a vast expan­sion of the sur­veil­lance state. Right now, we need to show pass­ports or ID cards at the bor­der; under this new sys­tem, we would need our work papers checked (or eyes scanned) any­time we want­ed to apply for a new job, and pos­si­bly any­time we want­ed to enter our work­places at all.
This entire premise flies in the face of left moral prin­ci­ples: In all oth­er con­texts, we favor ordi­nary peo­ple being able to make their own deci­sions about where to live and work, and oppose increased gov­ern­ment sur­veil­lance. The Amer­i­can Civ­il Lib­er­ties Union is on record oppos­ing the expan­sion of E‑Verify, the exist­ing pro­gram to ver­i­fy work autho­riza­tion, on the grounds that it ​"cre­ates a whole new lev­el of intru­sive gov­ern­ment over­sight of dai­ly life — a bureau­crat­ic ​'prove your­self to work' sys­tem that hurts ordi­nary people."
Such refine­ments of the reg­u­la­to­ry sys­tem also strug­gle to address undoc­u­ment­ed labor. The Ray Mar­shall plan pro­pos­es amnesty for the cur­rent undoc­u­ment­ed pop­u­la­tion but doesn't acknowl­edge that, as long as people's legal work options are restrict­ed, unau­tho­rized migra­tion will inevitably con­tin­ue, as it did after the 1986 amnesty. If our enforce­ment sys­tem is not dis­man­tled, those new immi­grants will live in fear.
When con­sid­er­ing immi­gra­tion enforce­ment, it's impor­tant to break it down into a con­crete series of actions that occur in the real world every day. Pol­i­cy­mak­ers can talk in a gen­er­al way about ​"car­rots and sticks," but the stick means the use of mil­i­tary force to stop ordi­nary peo­ple from cross­ing an imag­i­nary line in the ground. Bor­der mil­i­ta­riza­tion dri­ves peo­ple to attempt entry at more and more dan­ger­ous and remote south­ern cross­ings, where many die in agony from intense desert heat. Enforce­ment means trap­ping ordi­nary peo­ple in places of pro­found pover­ty and insta­bil­i­ty. Depor­ta­tion means phys­i­cal­ly rip­ping ordi­nary peo­ple away from their fam­i­lies. Deten­tion, sur­veil­lance and Kak­faesque immi­gra­tion bureau­cra­cies psy­cho­log­i­cal­ly and phys­i­cal­ly tor­ture thou­sands every day.
Any­one who has come into con­tact with the U.S. immi­gra­tion-enforce­ment appa­ra­tus, whether as an immi­grant, a friend or fam­i­ly mem­ber, or an advo­cate, knows that this is a sys­tem so fun­da­men­tal­ly inhu­mane that no com­pro­mise can be made with it. It is a sys­tem for the jail­ing and exil­ing of humans who dare to try to live in a dif­fer­ent place than the one where they were born. If such things were hap­pen­ing to U.S. cit­i­zens who migrat­ed with­in the coun­try — if peo­ple who tried to move from poor towns to pros­per­ous cities were round­ed up in the night and forced back to the coun­try­side — the entire nation would be out­raged. The ugly racist and nation­al­ist dimen­sions of our present immi­gra­tion sys­tem are not detach­able fea­tures: They are fun­da­men­tal to the premise of pun­ish­ing peo­ple for their birthplace.
These prin­ci­ples ani­mate the sec­ond, abo­li­tion­ist approach to our immi­gra­tion sys­tem. Migrant-rights groups like Mijente, the Deten­tion Watch Net­work and Unit­ed We Dream take the deten­tion and depor­ta­tion of immi­grants as moral non­starters, and their goal is to dis­rupt the U.S. depor­ta­tion machine from as many angles as pos­si­ble. They advo­cate mak­ing long-term shields from depor­ta­tion — like Tem­po­rary Pro­tect­ed Sta­tus (TPS), for peo­ple from war-torn or dis­as­ter-struck coun­tries, and Obama's Deferred Action for Child­hood Arrivals (DACA) — into per­ma­nent statuses.They also seek to stop the mil­i­tary-style enforce­ment of immi­gra­tion laws and end the prac­tice of deten­tion. This approach seeks to take the teeth out of the exist­ing immi­gra­tion bureau­cra­cy, rather than cre­at­ing a dif­fer­ent bureau­cra­cy with an equal or greater amount of teeth.
Skep­tics who think in the long term will ask, ​"What next?" If you oppose jail­ing and deport­ing peo­ple for immi­gra­tion offens­es, you must be in favor of sig­nif­i­cant­ly open­ing up the bor­der, because when neg­a­tive con­se­quences are reduced, peo­ple with­out autho­riza­tion will start to move more freely. Whether to advo­cate for open­ing our bor­ders rep­re­sents a real ide­o­log­i­cal divide, and it's one that the Left will need to take sides on.
In recent months, Trump and oth­er Repub­li­cans have begun to wield ​"open bor­ders" as a cud­gel against Democ­rats, despite the fact that few (if any) Democ­rats advo­cate it. The Right is well aware that for most of the pub­lic, ​"open bor­ders" trig­gers a xeno­pho­bic fear of invasion.
As a short-term polit­i­cal cal­cu­la­tion, Democ­rats may be able to use a more neu­tral term like ​"decrim­i­nal­iza­tion" until the pub­lic sees, in prac­tice, that these fears are large­ly unfound­ed. How­ev­er, any reforms Democ­rats advo­cate should fol­low abo­li­tion­ist prin­ci­ples: that immi­gra­tion restric­tions have dev­as­tat­ing human con­se­quences that sig­nif­i­cant­ly over­shad­ow the few, high­ly ques­tion­able ben­e­fits, and that we should aim to do away with as much of our immi­gra­tion enforce­ment sys­tem as pos­si­ble and in no way expand it.
An easy start is for Democ­rats to put for­ward a bill expand­ing human­i­tar­i­an cat­e­gories of immi­gra­tion relief to encom­pass peo­ple flee­ing vio­lence, extreme pover­ty and nat­ur­al dis­as­ters, and peo­ple with long-stand­ing social or fam­i­ly ties to the Unit­ed States. This is entire­ly in line with inter­na­tion­al prac­tice; courts in places like Cana­da and the EU, for exam­ple, rou­tine­ly use a ​"bal­anc­ing test" to decide whether some­one is deportable, weigh­ing their immi­gra­tion offense against oth­er com­pelling fac­tors in their favor. This approach is so com­mon­sen­si­cal that many Amer­i­cans believe it is how our immi­gra­tion sys­tem already works, and that only ​"crim­i­nals" are deported.
The most urgent tar­get for reform is ton­ing down the wild­ly dis­pro­por­tion­ate penal­ties that present­ly exist for immi­gra­tion vio­la­tions. One of these penal­ties is deten­tion. There should be a com­plete end to the jail­ing or civ­il deten­tion of peo­ple for immi­gra­tion vio­la­tions alone. Pilot com­mu­ni­ty pro­grams have been shown to be very effec­tive at get­ting immi­grants to show up for court dates, so that is an extreme­ly flim­sy excuse for the mass incar­cer­a­tion of immigrants.
Anoth­er such penal­ty is depor­ta­tion, which is effec­tive­ly exile, a penal­ty we impose for no oth­er crime. The Democ­rats must pro­ceed from the start­ing point that, in almost all cas­es, depor­ta­tion is both cru­el and unnec­es­sary. Even deport­ing those who com­mit vio­lent crimes is a vis­cer­al puni­tive reac­tion that does noth­ing to either reha­bil­i­tate the indi­vid­ual or pro­tect the peo­ple they might go on to hurt in their coun­try of ori­gin. To the extent that the Democ­rats must make con­ces­sions based on fears about ​"pub­lic safe­ty," any pol­i­cy must be aimed at whit­tling down the cat­e­gories of peo­ple to whom depor­ta­tion applies.
Anoth­er oft-cit­ed pub­lic-safe­ty con­cern is cross-bor­der smug­gling. It may make sense to keep some inves­tiga­tive units at the bor­der, as long as these are focused on car­tel-relat­ed vio­lence — as well as the seri­ous prob­lem of human traf­fick­ing for the pur­pose of forced labor — and not on ter­ror­iz­ing irreg­u­lar migrants. Any such mea­sures should be cou­pled with the acknowl­edge­ment that U.S. drug poli­cies con­tribute sig­nif­i­cant­ly to vio­lence in source and tran­sit coun­tries, and with dis­in­vest­ment in the drug war. Con­tin­ued decrim­i­nal­iza­tion of drugs in the Unit­ed States will also reduce cross-bor­der smuggling.
More ambi­tious­ly, the Democ­rats should also put for­ward leg­is­la­tion that cre­ates an ongo­ing avenue for unau­tho­rized immi­grants to reg­u­lar­ize their sta­tus after they enter the coun­try. This is not quite ​"open bor­ders," since it still acknowl­edges a dis­tinc­tion between autho­rized and unau­tho­rized entry and requires peo­ple to make them­selves known to the gov­ern­ment, but it would cer­tain­ly be a big improve­ment. A new sta­tus, some­thing like ​"new res­i­dent," could be cre­at­ed, car­ry­ing the same labor rights and ben­e­fits as U.S. cit­i­zens and offer­ing an even­tu­al bridge to a green card.
To the ques­tion of whether new immi­grants will hurt U.S. work­ers, Democ­rats should seize the oppor­tu­ni­ty to talk about what's already hurt­ing U.S. work­ers. Cur­rent­ly, lit­tle effort is made to ensure that any­one has access to wage and labor pro­tec­tions. ICE's 2018 bud­get for its enforce­ment and removal depart­ment was $4.8 bil­lion, while the Depart­ment of Labor's 2018 bud­get for its wage and hour depart­ment was $280 mil­lion. We spent 20 times the amount chas­ing unau­tho­rized immi­grants than we did chas­ing unscrupu­lous employ­ers. What if, rather than putting resources into pre­vent­ing unau­tho­rized immi­grants from enter­ing the work­force, we put resources toward ensur­ing that labor stan­dards are actu­al­ly enforced for all workers?
Ulti­mate­ly, Democ­rats must com­mit them­selves to the prin­ci­ple of absolute equal­i­ty between all human beings, regard­less of their birth­place. A Demo­c­rat who tru­ly believes in this prin­ci­ple will make it her tire­less mis­sion to see that it is enshrined in our laws and our practices.
Some pro­gres­sives may balk at the abo­li­tion­ist approach because they believe that open or near­ly open bor­ders are incom­pat­i­ble with the wel­fare state. This prob­lem caus­es few­er moral conun­drums for lib­er­tar­i­an and pro-busi­ness open bor­ders advo­cates like the Cato Insti­tute, which envi­sions immi­grants serv­ing as a tier of sec­ond­class cit­i­zen with­out access to pub­lic ben­e­fits. To be fair, some immi­grants might pre­fer to be sec­ond-class cit­i­zens in the Unit­ed States rather than strug­gle in their home coun­tries, as lib­er­tar­i­an econ­o­mists fre­quent­ly point out. And it would cer­tain­ly be moral­ly unjus­ti­fi­able to oppose immi­gra­tion because we dis­liked the sight of com­par­a­tive pover­ty in our own coun­try and pre­ferred that it sim­ply exist some­where else, even if it were worse.
How­ev­er, there is no real rea­son to pre­sup­pose that the wel­fare state could not encom­pass more res­i­dents. In raw num­bers, ​"bal­anc­ing the bud­get" on the ambi­tious pub­lic pro­grams the Left wants to imple­ment, even if we don't take into account new immi­grants, is a chal­lenge. Cur­rent wel­fare spend­ing (when we include Medicare and Med­ic­aid) adds up to rough­ly $1 tril­lion. Some addi­tion­al monies can be real­lo­cat­ed from areas like mil­i­tary spend­ing ($716 bil­lion in the 2019 bud­get), cor­po­rate sub­si­dies (esti­mat­ed at $110 bil­lion) and, indeed, ICE ($7.6 bil­lion). We can also con­sid­er the pos­si­bil­i­ty that, in a world where all work­ers earn a liv­ing wage, few­er peo­ple would need cer­tain kinds of ben­e­fits — such as the $6.2 bil­lion annu­al­ly that sub­si­dizes Walmart's low wages.
Still, the real­i­ty is that all of the Left's pro­posed social pro­grams— for expand­ing hous­ing, health­care, child­care and edu­ca­tion access — will require a mas­sive increase in spend­ing, with the costs of addi­tion­al immi­grants being a mar­gin­al increase. Pro­gres­sives gen­er­al­ly pro­pose to accom­mo­date these new bud­get items through great­ly increased redis­trib­u­tive tax­a­tion, and adher­ents of Mod­ern Mon­e­tary The­o­ry would sug­gest anx­i­eties about the neg­a­tive eco­nom­ic impacts of a large deficit are misplaced.
It is abun­dant­ly clear that, in terms of absolute resource con­straints, the Unit­ed States can sup­port more pop­u­la­tion. The Unit­ed States has the largest arable land­mass of any coun­try in the world but is the 177th-most dense­ly pop­u­lat­ed. The birth rate has been below the rate need­ed to sus­tain the pop­u­la­tion since 1971 and has just hit an all-time low. The wel­fare state already has a large task on its hands in seek­ing to equi­tably redis­trib­ute the nation's resources, but spread­ing those resources out among a some­what larg­er pop­u­la­tion is not the most dif­fi­cult aspect.
In a world of more flu­id bor­ders, too, where work­ers were empow­ered to leave coun­tries and regions where con­di­tions were poor, it would be eas­i­er to orga­nize around improv­ing glob­al labor stan­dards. Insti­tu­tions of the labor Left, such as the Indus­tri­al Work­ers of the World, have a long his­to­ry of sup­port­ing free migra­tion on ide­o­log­i­cal grounds, as a nat­ur­al com­po­nent of glob­al work­er sol­i­dar­i­ty and empow­er­ment. Our goal should be to build a world of wel­fare states, not sim­ply iso­lat­ed pock­ets of pros­per­ous wel­fare states amid a larg­er land­scape of pover­ty and instability.
The ret­i­cence of Democ­rats to ful­ly embrace open immi­gra­tion is belied by polls that show an aston­ish­ing­ly pro­gres­sive impulse on immi­gra­tion (and tax­es) with­in the body politic. Even after the ​"car­a­van" scare, 81 per­cent of respon­dents to a Gallup poll sup­port­ed a path to legal­iza­tion. Can­di­dates like Kansas Repub­li­can Kris Kobach, who embraced Trump's anti-immi­grant mes­sage in the 2018 midterms, resound­ing­ly lost, and a study of the swing states of Col­orado and Penn­syl­va­nia found that anti­im­mi­grant cam­paign rhetoric backfired.
Yet com­pro­mise for lit­tle gain remains the Democ­rats' default. Forty-two Sen­ate Democ­rats and Inde­pen­dents (includ­ing pres­i­den­tial con­tenders Bernie Sanders and Amy Klobuchar) and 213 House Democ­rats gave in to Trump's threats of a sec­ond gov­ern­ment shut­down and vot­ed in Feb­ru­ary for a bill to increase bor­der fund­ing. Among the House's hold­outs were the new cohort of defi­ant young left Democ­rats — Ilhan Omar, Alexan­dria Oca­sio-Cortez, Rashi­da Tlaib and Ayan­na Press­ley — who wrote in a joint state­ment that giv­ing any more mon­ey to ICE or Bor­der Patrol under Trump is moral­ly unconscionable.
The labor move­ment, which will be at the table in any Demo­c­ra­t­ic pol­i­cy con­ver­sa­tions, will also need to decide whether to make con­ces­sions or advo­cate bold­ly for giv­ing all work­ers full rights, includ­ing free­dom of move­ment across bor­ders. The E‑Verify com­po­nent of the Ray Mar­shall plan was intend­ed to bring the anti-immi­grant Right, like the Cen­ter for Immi­gra­tion Stud­ies, on board for mass amnesty and stronger labor rights for guest workers.
But things have begun to change since the Oba­ma era. The AFL-CIO has in more recent years opposed Trump's pro­posed expan­sion of E‑Verify, released a toolk­it for unions to com­bat work­place ICE raids and insis­tent­ly fought the nar­ra­tive that immi­grants ​"take jobs."
"Pit­ting work­er against work­er is an age-old tac­tic of the boss to dis­tract us from the real issues, divide us and keep us poor — and we will not fall for it," read an AFL-CIO immi­gra­tion pol­i­cy state­ment issued in 2017. ​"The only way to stop the race to the bot­tom in wages and stan­dards is for work­ing peo­ple of all races, reli­gions and immi­gra­tion sta­tus to stand togeth­er and demand that cor­po­rate pow­er be put in check. This will be done not by deport­ing immi­grants and scape­goat­ing them for the pre­car­i­ous labor market."
Many his­tor­i­cal­ly white and con­ser­v­a­tive build­ing-trades unions increas­ing­ly include immi­grants in their ranks — doc­u­ment­ed and undoc­u­ment­ed — from port dri­vers to con­struc­tion work­ers. In 2017, the Inter­na­tion­al Union of Painters and Allied Trades hired DREAM­er and migrant rights activist Nei­di Dominguez, 30. As the union's nation­al strate­gic cam­paign coor­di­na­tor, she helped launch Work­ing Fam­i­lies Unit­ed, a coali­tion with the Team­sters, Labor­ers and four oth­er unions, rep­re­sent­ing 4 mil­lion work­ers, a third of the AFL-CIO's base. The group joined with immi­gra­tion groups to push for per­ma­nent sta­tus for DACA and TPS holders.
On March 12, House Democ­rats fol­lowed their lead by intro­duc­ing a bill to cre­ate a path to per­ma­nen­cy for these groups: HR 6, the Dream and Promise Act. The bill is in line with the demands and prin­ci­ples of the abo­li­tion­ist wing of the migrant-rights move­ment: It lifts immi­gra­tion restric­tions with­out expand­ing the enforce­ment appa­ra­tus. Intro­duced by Rep. Nydia Velázquez (D‑N.Y.), Rep. Lucille Roy­bal-Allard (D‑Calif.) and Rep. Yvette Clarke (D‑N.Y.) with 214 co-spon­sors, it has the back­ing of House lead­er­ship. UNITE HERE, the Unit­ed Food and Com­mer­cial Work­ers, and the Team­sters, Painters, Brick­lay­ers and Labor­ers have all signed on. Although it is unlike­ly to pass the Repub­li­can Sen­ate, it is a pos­i­tive sig­nal of the Democ­rats' immi­gra­tion strat­e­gy going forward.
Ulti­mate­ly, the goal of the con­ver­sa­tion about immi­gra­tion should be to chal­lenge the premise. Immi­gra­tion is not a prob­lem: The hoard­ing of resources by the com­fort­able and greedy, in the U.S. and around the world, is the prob­lem. The Left should not mere­ly seek to reform our immi­gra­tion bureau­cra­cy. We should seek to abol­ish the com­po­nents of a sys­tem that is designed to police and pun­ish the poor and work­ing class, and focus our ener­gies on our real opponents.
Bri­an­na Ren­nix
is the senior edi­tor of Cur­rent Affairs mag­a­zine and an immi­gra­tion attor­ney prac­tic­ing near the south­ern border.