Dylann Roof's Rhodesian, South African Flags Symbolize White Supremacy. So Does the Confederate Flag
That a racist mass murderer would embrace of the three flags should end the debates about whether or not the Confederate flag can mean anything other than racism.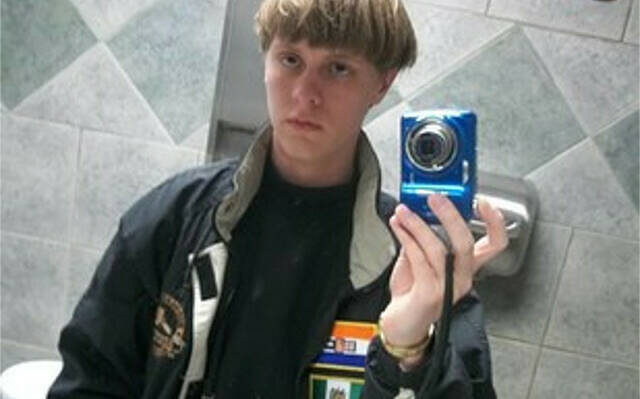 Sym­bols mat­ter. If they didn't, we wouldn't be in the midst of such acri­mo­nious debate about the Con­fed­er­ate flag, 150 years after the end of the Civ­il War. Most of its defend­ers assert — disin­gen­u­ous­ly — that the flag has noth­ing to do with slav­ery and white suprema­cy, instead invok­ing notions of South­ern pride or cel­e­bra­tions of South­ern her­itage. Ask the vast major­i­ty of African Amer­i­cans about the Con­fed­er­ate flag, though, and there is no hes­i­ta­tion: it's hate­ful, pure and sim­ple. It rep­re­sent­ed, and still rep­re­sents, the efforts by South­ern whites to pre­serve the insti­tu­tion of slavery.
Dylann Roof knew exactly what the Confederate flag meant. It meant the same thing that the Rhodesian and apartheid South Africa flags meant: a commitment to reshape the country based on the ideals of white supremacy.
The long-run­ning debate over the mean­ing of the Con­fed­er­ate flag start­ed up again last week when a young white South­ern man named Dylann Roof, who dis­played it proud­ly in numer­ous pho­tos before he bru­tal­ly mur­dered nine inno­cent African Amer­i­cans in Charleston, South Carolina.
A pho­to­graph also sur­faced of Roof wear­ing a jack­et embla­zoned with two oth­er flags stitched upon it rep­re­sent­ing two coun­tries in south­ern Africa that no longer exist: Rhode­sia and apartheid South Africa, both coun­tries orga­nized around a bru­tal sys­tem of white suprema­cy. Roof also had a per­son­al web­site named the Last Rhodesian.
That a racist mass mur­der­er would embrace of the flags of Rhode­sia, apartheid South Africa and the Con­fed­er­a­cy should end the debates about whether or not the Con­fed­er­ate flag can mean any­thing oth­er than racism. The ties between white suprema­cy and the ​"stars and bars" are impos­si­ble to deny. An exam­i­na­tion of those African coun­tries' his­to­ries, how they chose to deal with their flags in the era after state-sanc­tioned white suprema­cy and how white suprema­cists in recent years have con­tin­ued to embrace all three sym­bols helps show why.
The lega­cy of apartheid and white suprema­cy in south­ern Africa
Pre-1994 South Africa and Rhode­sia both oper­at­ed under hor­rif­ic sys­tems of racial oppression.
South Africa was col­o­nized in the 1600s by the Dutch and, lat­er, by the British. These empires encour­aged whites to ​"set­tle" in south­ern Africa. In the ear­ly 20th cen­tu­ry, there were more than a mil­lion whites in South Africa and about five mil­lion blacks, Asians and mixed race peo­ple ("coloured" in South African par­lance). How­ev­er, despite mak­ing up about 80% of the pop­u­la­tion, only whites were con­sid­ered citizens.
Whites con­trolled the eco­nom­ic and polit­i­cal levers of pow­er — and did so ruth­less­ly. After World War II, South Africa's white pop­u­la­tion vot­ed in a polit­i­cal par­ty, the Nation­al­ists, that swift­ly moved to fur­ther enshrine white suprema­cist apartheid. Think close to Nazi-style fas­cism in south­ern Africa.
Apartheid South Africa was stun­ning in its overt racism. All peo­ple had to reg­is­ter and were iden­ti­fied as belong­ing to one of the four races. No one could mar­ry or have sex with any­one from anoth­er race. Black peo­ple (as well as Asians and coloureds) had to live in homo­ge­neous sub­ur­ban ​"town­ships" and rur­al ​"reserves." Most jobs were denied to blacks. Eighty-sev­en per­cent of the land already had been reserved for the then-15% of the white pop­u­la­tion — includ­ing the most arable land as well as any that had gold or dia­monds under­neath it.
Blacks and oth­er non-Euro­peans, as they also were called, could not vote, could not serve on juries and had no real pro­tec­tion in the courts. Blacks could not relo­cate, if they wished to; instead, blacks had to get per­mis­sion from the state to move to anoth­er part of the coun­try — and then only if she or he could prove employ­ment by a white boss.
In cities and the coun­try­side, every day and always, blacks had to car­ry pass­es; any white could ask any black for a pass. Lit­er­al­ly hun­dreds of thou­sands of blacks were arrest­ed for vio­la­tions of the pass laws, often being sent back to the bar­ren, over­pop­u­lat­ed, des­ti­tute reserves. Blacks who protest­ed — and tens of thou­sands did — were sys­tem­at­i­cal­ly jailed, banned, killed, or went into exile by the mid-1960s.
In some ways, Rhode­sia was worse. Fif­teen per­cent of South Africa's pop­u­la­tion was white, but that num­ber was less than 4 per­cent in ear­ly 20th cen­tu­ry Rhode­sia, also a British colony. Rhode­sia was named after the British impe­ri­al­ist and racist Cecil Rhodes, who made one of the largest for­tunes in the 19th cen­tu­ry world by tap­ping the min­er­al wealth of the region. In the 19th cen­tu­ry, the British actu­al­ly named two of its colonies after Rhodes: South­ern Rhode­sia became Zim­bab­we and North­ern Rhode­sia now is called Zambia.
In Amer­i­ca, though, Cecil Rhodes is best known for the edu­ca­tion­al pro­gram he endowed for col­lege grad­u­ates from the U.S., Ger­many and British Com­mon­wealth nations to study in the Unit­ed King­dom, Rhodes Schol­ars. Of course, Rhodes fund­ed this pro­gram by plun­der­ing the wealth and oppress­ing lit­er­al­ly mil­lions of black peo­ple across south­ern Africa. He saw the pro­gram as a way to tie togeth­er what he con­sid­ered future lead­ers of the ​"great pow­ers": the U.S., U.K. and Germany.
In 1965, Rhodesia's minis­cule white minor­i­ty declared their inde­pen­dence from Britain and there­after deployed bru­tal force to main­tain an oppres­sive white suprema­cist régime. Almost imme­di­ate­ly, black rev­o­lu­tion­ar­ies emerged and began a 15 year-long armed strug­gle that ulti­mate­ly suc­ceed­ed in win­ning free­dom in 1980. Not sur­pris­ing­ly, when the new régime insti­tut­ed democ­ra­cy and equal rights for all (includ­ing for whites, though many of them left), the hat­ed name Rhode­sia was discarded.
Instead, the new nation chose to hon­or parts of its incred­i­ble her­itage by nam­ing itself after the Great Zim­bab­we, a city of mas­sive stone struc­tures. This place, per­haps the home of the leg­endary Queen of She­ba, is called Zim­bab­we in Shona (Shona peo­ple make up about 80% of the nation) and means ​"hous­es of stone." Zim­bab­weans also aban­doned a flag that incor­po­rat­ed both British impe­ri­al­ism and the Rhodes' fam­i­ly crest for one that cel­e­brat­ed the black major­i­ty, their her­itage and strug­gle for free­dom, and the rich­ness of their land.
South Africa's free­dom strug­gle, the anti-apartheid move­ment, took much longer and was per­haps the great­est glob­al social move­ment in the sec­ond half of the 20th cen­tu­ry. Despite mas­sive, bru­tal repres­sion, blacks, coloureds, Asians, and some whites fought for decades to over­come apartheid — at stun­ning cost.
Nel­son Man­dela, impris­oned for life but released after 27 years, was only one of many tens of thou­sands impris­oned for want­i­ng equal rights. The end of apartheid in 1994, marked by the first mul­tira­cial elec­tions in South African his­to­ry, is con­sid­ered one of proud­est moments of any coun­try in mod­ern human his­to­ry. The new South Africa, often referred to as the ​"rain­bow nation," also cre­at­ed a new, mul­ti­col­ored flag that spoke to the mul­tira­cial state.
Accord­ing to the South African gov­ern­ment, ​"The cen­tral design of the flag, begin­ning at the flag­post in a ​'V' form and flow­ing into a sin­gle hor­i­zon­tal band to the out­er edge of the fly, can be inter­pret­ed as the con­ver­gence of diverse ele­ments with­in South African soci­ety, tak­ing the road ahead in unity."
In essence, after the end of the white suprema­cist regimes, both of these coun­tries rec­og­nized that their old flags sym­bol­ized hate and hor­ror. Cit­i­zens real­ized they had to cre­ate new flags to rep­re­sent new, demo­c­ra­t­ic nations. When blacks final­ly gained equal polit­i­cal rights in these two nations, the racist sym­bols of the past were con­signed to the prover­bial dust­bin of history.
No Lessons Learned in America
Where­as the new­ly empow­ered black majori­ties in both South Africa and Zim­bab­we attacked obvi­ous sym­bols of the old, racist regimes, the Unit­ed States end­ed up tak­ing a very dif­fer­ent path. Almost imme­di­ate­ly after the Civ­il War, many South­ern whites con­struct­ed a nar­ra­tive in which they were the vic­tims and set about roman­ti­ciz­ing their ​"Lost Cause."
The Con­fed­er­ate bat­tle flag was one sym­bol of this ide­al. But it took the mod­ern-day civ­il rights move­ment, in the 1950s and 1960s, for some South­ern whites to res­ur­rect this flag in order to express their defi­ance of black equal­i­ty. A glance at many of the pho­tographs from the civ­il rights era con­firm that the Con­fed­er­ate flag was deployed by those who tried — and failed — to main­tain Jim Crow segregation.
In Zim­bab­we and South Africa, no one would insist that use of the apartheid-era flags were any­thing oth­er than apolo­gia for white suprema­cy. How­ev­er, in the U.S., per­haps because a few gen­er­a­tions have passed since the civ­il rights era and a cen­tu­ry and half has passed since the end of the Civ­il War, some whites still assert that the Con­fed­er­ate flag is not a hate­ful and racist symbol.
Fur­ther, most Repub­li­can lead­ers — most notably those run­ning for pres­i­dent next year — refused to name this crime as racist or pro­mote the idea that this sym­bol rep­re­sents the dis­card­ed notion of White suprema­cy. (South Car­oli­na Gov­er­nor Nik­ki Haley just called for this flag to be removed from the South Car­oli­na capi­tol, albeit only after fierce­ly resist­ing to do so for days and ini­tial­ly sug­gest­ing that the mur­der was more like­ly an attack on Chris­tians than blacks.)
But it's obvi­ous that any­one who would wear or fly the flag of an old régime based on legal­ized racial inequal­i­ty is basi­cal­ly say­ing, ​"I wish we could return to an ear­li­er time, when I lived in a nation that denied black peo­ple equal rights."
That is what many South Africans thought when they heard about Dylann Roof. For instance, in the words of Dave Stew­ard, direc­tor of the F.W. de Klerk Foun­da­tion, named after the last white head of state of apartheid South Africa, ​"It remains to be estab­lished why the alleged per­pe­tra­tor was wear­ing old South African and Rhode­sian flags in one of his Face­book pho­tos. What­ev­er the rea­son, he is deeply mis­tak­en if he imag­ines any­one in South Africa — from across the polit­i­cal spec­trum — would have any reac­tion oth­er than the deep­est revul­sion to the cold-blood­ed killing of inno­cent worshippers."
The Dan­ger of the Flag
We must know this his­to­ry in order to under­stand Dylann Roof and the white Amer­i­cans who con­tin­ue to demon­strate sym­pa­thy for the Con­fed­er­ate cause, which was to pro­tect slav­ery from abo­li­tion, and its flag. Because like Roof, who adorned him­self with the flags of these two hor­rid, racist regimes and named his web­site the Last Rhode­sian, many white peo­ple out­side of south­ern Africa look upon Rhode­sia and apartheid-era South Africa with nos­tal­gia and with regret for their pass­ing into oblivion.
As his­to­ri­an Ger­ald Horne has doc­u­ment­ed, tens of thou­sands of white Amer­i­cans, espe­cial­ly in the South, looked at Rhode­sia dur­ing the 1970s with love and affec­tion. Sev­er­al orga­ni­za­tions exist­ed includ­ing the 25,000 Amer­i­cans who belonged to the Friends of Rhode­sian Inde­pen­dence. As Horne writes in his book on U.S.-Zimbabwean rela­tions, ​"One vot­er in Geor­gia told the seg­re­ga­tion­ist Sen­a­tor Eugene Tal­madge, ​'To say that I admire the Anglo-Sax­on Rhode­sians is putting it mild­ly. I wish we had a very hun­dred thou­sand of them here'!"
Much more recent­ly, the noto­ri­ous Klans­man and Louisiana politi­cian David Duke expressed sym­pa­thy for white South Africans and apartheid: ​"The white peo­ple made a great nation of South Africa and black peo­ple thrived and pros­pered there" — a sen­ti­ment that sounds exact­ly like white South­ern slave­hold­ers who claimed that slav­ery was good for enslaved black people.
Today, some white peo­ple from Rhodesia/​Zimbabwe also lament the pass­ing of their nation from white minor­i­ty to black major­i­ty, demo­c­ra­t­ic rule. Martha Evans, a fac­ul­ty mem­ber at the Uni­ver­si­ty of Cape Town, has doc­u­ment­ed how some white South Africans pos­sess nos­tal­gia for apartheid-era South Africa; in a way, that comes as lit­tle sur­prise as whites in both nations had among the high­est stan­dards of liv­ing in the world due to their abil­i­ty to exploit mil­lions of black Africans.
Based upon his ​"man­i­festo," Roof appears to be admire white suprema­cist regimes in south­ern Africa, but not for the eco­nom­ic ben­e­fits of super-exploita­tion. Rather, he boast­ed that ​"white cul­ture" was, sim­ply, supe­ri­or: ​"Many white peo­ple feel as though they dont have a unique cul­ture. The rea­son for this is that White cul­ture is world cul­ture. I dont mean that our cul­ture is made up of oth­er cul­tures, I mean that our cul­ture has been adopt­ed by every­one in the world. This makes us feel as though our cul­ture isnt spe­cial or unique."
And, of course, he lit­er­al­ly waved the Con­fed­er­ate flag in many pho­tos that he uploaded to his web­site, pur­chased his (state-sanc­tioned) South Car­oli­na Con­fed­er­ate license plate, vis­it­ed Civ­il War bat­tle­field and slave sites, and paid homage to the Confederacy.
Dylann Roof knew exact­ly what the Con­fed­er­ate flag meant. It meant the same thing that the Rhode­sian and apartheid South Africa flags meant: a com­mit­ment to reshape the coun­try based on the ideals of white suprema­cy. Just as any­one who waves those flags in South Africa or Zim­bab­we should be assumed to be look­ing to restore those vicious­ly racist regimes, so should we assume that any­one in the Unit­ed States is inter­est­ed not in notions of ​"her­itage" or ​"South­ern pride," but in restor­ing the vicious­ly racist Con­fed­er­ate régime.
In the past few months, there has been a mas­sive and some­what suc­cess­ful effort to revis­it the lega­cy of Cecil Rhodes in South Africa. Led by black uni­ver­si­ty stu­dents, in a way rem­i­nis­cent of the U.S. #Black­Lives­Mat­ter move­ment, Uni­ver­si­ty of Cape Town stu­dents cre­at­ed the #RhodesMust­Fall cam­paign, result­ing in the even­tu­al tear-down of the stat­ue of Rhodes at UCT and set­ting off an ongo­ing nation­al con­ver­sa­tion about how old racist sym­bols must be oblit­er­at­ed — for only then can white suprema­cy tru­ly be root­ed out.
Per­haps we can learn some­thing from these sym­bol­ic actions by South African stu­dents. White Amer­i­cans can't hide behind the fic­tion that the Con­fed­er­ate flag — or any of the oth­er Con­fed­er­ate mon­u­ments through­out the South — are sym­bols of any­thing oth­er than racism. Dylann Roof, if noth­ing else, has re-opened a much-need­ed con­ver­sa­tion: to com­bat racism, one must erad­i­cate and den­i­grate all such obvi­ous sym­bols of white suprema­cy. The Con­fed­er­ate flag is one such sym­bol. If we're going to erad­i­cate racism, we'll have to erad­i­cate that flag.
Peter Cole
is a Pro­fes­sor of His­to­ry at West­ern Illi­nois Uni­ver­si­ty and Research Asso­ciate in the Soci­ety, Work and Devel­op­ment Pro­gram at the Uni­ver­si­ty of the Wit­wa­ter­srand in Johan­nes­burg, South Africa. He is the author of Wob­blies on the Water­front: Inter­ra­cial Union­ism in Pro­gres­sive Era Philadel­phia and the award-win­ning Dock­work­er Pow­er: Race and Activism in Dur­ban and the San Fran­cis­co Bay Area. He also is the founder and co-direc­tor of the Chica­go Race Riot of
1919
Com­mem­o­ra­tion Project (CRR
19
). He tweets from @ProfPeterCole.