The Recipe For A Successful Protest Movement
It's much more than a sheer numbers game: movements need a combination of mass disruption and sacrifice in order to take off.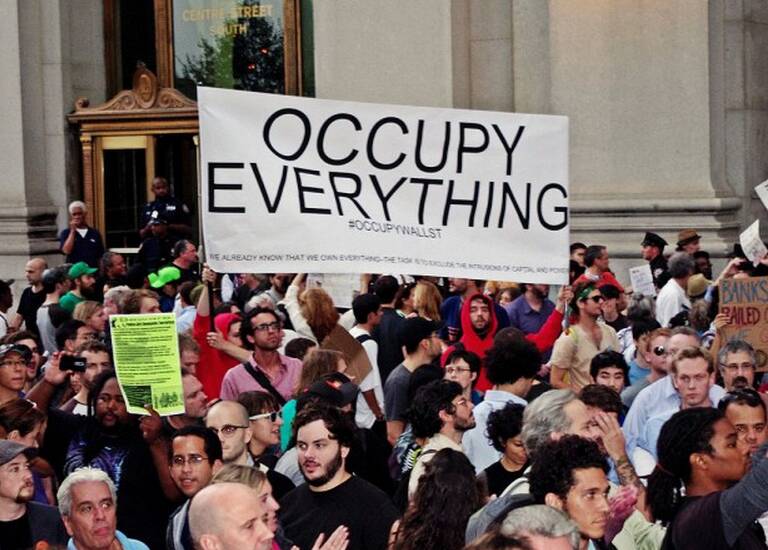 First post­ed at Wag­ing Non­vi­o­lence.
For those who study the use of strategic nonviolent conflict, the abrupt rise of Occupy Wall Street was certainly impressive, but its emergence was not a product of miraculous, otherworldly intervention. Instead, it was an example of two powerful forces working in tandem: namely, disruption and sacrifice.
Why are some protests ignored and for­got­ten while oth­ers explode, dom­i­nat­ing the news cycle for weeks and becom­ing touch­stones in polit­i­cal life?
For all of those seek­ing to pro­mote change, this is a crit­i­cal ques­tion. And it was a par­tic­u­lar­ly press­ing con­cern after the finan­cial melt­down of 2008.
In the years fol­low­ing the crash, Amer­i­ca entered into its worst eco­nom­ic cri­sis in three quar­ters of a cen­tu­ry. The unem­ploy­ment rate reached into dou­ble dig­its, some­thing that had not hap­pened in the life­times of more than a third of all Amer­i­cans. State gov­ern­ments report­ed record demand for food stamps. And yet, debate in Wash­ing­ton, D.C. — influ­enced by the activism of the insur­gent Tea Par­ty — revolved around cut­ting the bud­get and trim­ming social pro­grams. ​"We were basi­cal­ly hav­ing an insane nation­al dis­cus­sion," remarked econ­o­mist and New York Times colum­nist Paul Krugman.
It took an out­burst of pop­u­lar action to change this. And that out­burst came in an unex­pect­ed form.
By the fall of 2011, three years after the eco­nom­ic down­turn had begun, polit­i­cal observers such as Krug­man had long won­dered when wors­en­ing con­di­tions would result in pub­lic demon­stra­tions against job­less­ness and fore­clo­sures. Labor unions and major non­prof­it orga­ni­za­tions had attempt­ed to build mass move­ment ener­gy around these very issues. In the fall of 2010, the ​"One Nation Work­ing Togeth­er" march—ini­ti­at­ed pri­mar­i­ly by the AFL-CIO and the NAACP — drew more than 175,000 peo­ple to Wash­ing­ton, D.C., with demands to com­bat run­away inequal­i­ty. The next year, long-time orga­niz­er and charis­mat­ic for­mer White House staffer Van Jones launched Rebuild the Dream, a major dri­ve to form a pro­gres­sive alter­na­tive to the Tea Party.
Accord­ing to the rules of con­ven­tion­al orga­niz­ing, these efforts did every­thing right. They ral­lied sig­nif­i­cant resources, they drew on the strength of orga­ni­za­tions with robust mem­ber­ship bases, they came up with sophis­ti­cat­ed pol­i­cy demands, and they forged impres­sive coali­tions. And yet, they made lit­tle head­way. Even their largest mobi­liza­tions attract­ed only mod­est press atten­tion and quick­ly fad­ed from pop­u­lar polit­i­cal memory.
What worked was some­thing dif­fer­ent. ​"A group of peo­ple start­ed camp­ing out in Zuc­cot­ti Park," Krug­man explained just weeks after Occu­py burst into the nation­al con­scious­ness, ​"and all of a sud­den the con­ver­sa­tion has changed sig­nif­i­cant­ly towards being about the right things."
"It's kind of a mir­a­cle," he added.
For those who study the use of strate­gic non­vi­o­lent con­flict, the abrupt rise of Occu­py Wall Street was cer­tain­ly impres­sive, but its emer­gence was not a prod­uct of mirac­u­lous, oth­er­world­ly inter­ven­tion. Instead, it was an exam­ple of two pow­er­ful forces work­ing in tan­dem: name­ly, dis­rup­tion and sacrifice.
The hap­haz­ard assem­bly of activists who came togeth­er under the Occu­py ban­ner did not fol­low the time-hon­ored rules of com­mu­ni­ty orga­niz­ing. But they were will­ing to risk actions that were high­ly dis­rup­tive, and they put on dis­play a high lev­el of sac­ri­fice among par­tic­i­pants. Each of these con­tributed momen­tum to their esca­lat­ing dri­ve, allow­ing a loose and under­fund­ed col­lec­tion of pro­test­ers to alter the terms of nation­al debate in ways that those with far greater orga­ni­za­tion­al might had been unable to manage.
Time and again, in upris­ings that steal the spot­light and shine light on injus­tices that are oth­er­wise ignored, we see these two ele­ments — dis­rup­tion and sac­ri­fice — com­bin­ing in force­ful ways. Exam­in­ing their strange alche­my yields many intrigu­ing lessons.
The pow­er of disruption
The amount of momen­tum that a move­ment gen­er­ates can con­sis­tent­ly be linked to the lev­el of dis­rup­tion its actions cause. The more that a protest direct­ly affects mem­bers of the pub­lic, and the more it inter­feres with an adversary's abil­i­ty to do busi­ness, the more like­ly it is to draw wide­spread atten­tion. Snarling traf­fic, inter­rupt­ing a pub­lic event, shut­ting down a con­ven­tion, stop­ping a con­struc­tion project, mak­ing a scene at the mall, or imped­ing oper­a­tions at a fac­to­ry — all of these reflect vary­ing degrees of disruption.
San Fran­cis­co hous­ing orga­niz­er Randy Shaw quotes for­mer Wash­ing­ton Post reporter and Berke­ley jour­nal­ism dean Ben Bagdikian, who explains that, in the cor­po­rate-dri­ven media, the dis­en­fran­chised and their social move­ments are sel­dom able to break into the main­stream news cycle at all, and even more rarely on favor­able terms. "[S]ince World War I hard­ly a main­stream Amer­i­can news medi­um has failed to grant its most favored treat­ment to cor­po­rate life," Bagdikian writes. Mean­while, ​"large class­es of peo­ple are ignored in the news, are report­ed as exot­ic fads, or appear only at their worst — minori­ties, blue-col­lar work­ers, the low­er mid­dle class, the poor. They become pub­li­cized main­ly when they are in spec­tac­u­lar acci­dents, go on strike, or are arrested."
As the men­tion of strikes and arrests sug­gests, moments of unusu­al unrest pro­vide oppor­tu­ni­ties for those with­out mon­ey or influ­ence to break through atti­tudes of indif­fer­ence — and to high­light social and polit­i­cal injus­tices. ​"Our pow­er is in our abil­i­ty to make things unwork­able," argued promi­nent civ­il rights orga­niz­er Bayard Rustin. ​"The only weapon we have is our bod­ies, and we need to tuck them in places, so wheels don't turn."
A vari­ety of schol­ars have echoed Rustin's insight and elab­o­rat­ed on the dynam­ics of disruption.
For Frances Fox Piv­en, the emi­nent soci­ol­o­gist and social move­ment the­o­rist, ​"protest move­ments are sig­nif­i­cant because they mobi­lize dis­rup­tive pow­er." Piv­en has specif­i­cal­ly been inter­est­ed in the type of dis­rup­tion that occurs when peo­ple are will­ing to ​"break the rules" of social deco­rum and step out of con­ven­tion­al roles. In their clas­sic 1977 vol­ume, Poor People's Move­ments, Piv­en and co-author Richard Cloward explain, ​"Fac­to­ries are shut down when work­ers walk out or sit down; wel­fare bureau­cra­cies are thrown into chaos when crowds demand relief; land­lords may be bank­rupt­ed when ten­ants refuse to pay rent. In each of these cas­es, peo­ple cease to con­form to accus­tomed insti­tu­tion­al roles; they with­hold their accus­tomed coop­er­a­tion, and by doing so, cause insti­tu­tion­al disruptions."
Piv­en has force­ful­ly argued that such unrest is the engine of social change. In her 2006 book, Chal­leng­ing Author­i­ty, she con­tends that the ​"great moments of equal­iz­ing reform in Amer­i­can polit­i­cal his­to­ry" have been respons­es to peri­ods when dis­rup­tive pow­er was most wide­ly deployed.
Gene Sharp, the god­fa­ther of the field devot­ed to study­ing ​"civ­il resis­tance," has empha­sized sim­i­lar aspects of non­com­pli­ance and dis­rup­tion. When he devised his now-famous list of ​"198 meth­ods of non­vi­o­lent action," Sharp divid­ed the tac­tics into three categories.
The first encom­pass­es meth­ods of ​"protest and per­sua­sion," includ­ing pub­lic assem­blies, pro­ces­sions, dis­plays of ban­ners and for­mal state­ments by orga­ni­za­tions. These make up the bulk of rou­tine protest actions in the Unit­ed States, and they tend to involve min­i­mal disruption.
Sharp's oth­er two cat­e­gories, how­ev­er, involve increas­ing­ly con­fronta­tion­al measures.
His sec­ond group­ing, ​"meth­ods of non­co­op­er­a­tion," encom­pass­es eco­nom­ic boy­cotts, stu­dent walk­outs and work­place strikes. Mean­while, his third cat­e­go­ry, ​"non­vi­o­lent inter­ven­tion," includes sit-ins, land seizures and civ­il disobedience.
This last cat­e­go­ry involves not only a refusal to par­tic­i­pate in polit­i­cal or eco­nom­ic struc­tures, but also intent to active­ly inter­rupt nor­mal dai­ly activ­i­ty. Such inter­ven­tions, Sharp writes, pose a ​"direct and imme­di­ate chal­lenge." A lunch counter sit-in, after all, is more urgent­ly trou­ble­some for a store­own­er than a more removed con­sumer boy­cott. And, Sharp con­tends, since ​"the dis­rup­tive effects of the inter­ven­tion are hard­er to with­stand for a con­sid­er­able peri­od of time," these actions can pro­duce results more swift­ly and dra­mat­i­cal­ly than oth­er approach­es to non­vi­o­lent conflict.
Occu­py everywhere
The sce­nario for con­fronta­tion offered by Occu­py Wall Street fell into Sharp's third cat­e­go­ry, and owing to this, it pos­sessed a dif­fer­ent tenor than the march­es and ral­lies that had come before. Because the ​"One Nation Work­ing Togeth­er" march had tak­en place on a week­end, and because it was viewed as a stan­dard-issue march in Wash­ing­ton, D.C. — one of sev­er­al major ral­lies that took place with­in just a few months in the nation's cap­i­tal — it could be eas­i­ly over­looked, even through it brought out more than 175,000 people.
In the long run, the breadth of par­tic­i­pa­tion in a protest move­ment mat­ters; but in the short term, a sense of dra­ma and momen­tum can trump num­bers. Occu­py Wall Street involved a much small­er num­ber of peo­ple, par­tic­u­lar­ly at its begin­ning. Yet it set out to gen­er­ate a much greater lev­el of dis­rup­tion. Activists intend­ed to go to the invest­ment banks in the heart of Manhattan's finan­cial dis­trict and erect an encamp­ment on their doorstep, imped­ing the dai­ly busi­ness of those most respon­si­ble for the eco­nom­ic crisis.
Although the police ulti­mate­ly pushed pro­test­ers into a loca­tion sev­er­al blocks from Wall Street itself, the occu­pa­tion at Zuc­cot­ti Park effec­tive­ly posed a dilem­ma for those in pow­er. They could allow activists to hold the space indef­i­nite­ly, per­mit­ting a stag­ing ground for con­tin­u­al protests against the area's finan­cial insti­tu­tions. Or police could act on behalf of the country's wealth­i­est 1 per­cent and shut down dis­sent, a move that would per­fect­ly illus­trate the pro­test­ers' claims about what Amer­i­can democ­ra­cy had become. It was a no-win sit­u­a­tion for the state.
While author­i­ties pon­dered these unat­trac­tive options, the ques­tion of ​"how long will the occu­pa­tion hold?" fos­tered a grow­ing sense of dra­mat­ic ten­sion for the public.
The tac­tic of occu­pa­tion had oth­er advan­tages as well. One was that it could be repli­cat­ed. Some­what jok­ing­ly, a few weeks in to the mobi­liza­tion, orga­niz­ers unveiled the slo­gan ​"Occu­py Every­where!" Much to their sur­prise, it actu­al­ly hap­pened: the dis­rup­tive impact of Occu­py grew as encamp­ments sprung up in cities through­out the coun­try. They even sprout­ed inter­na­tion­al­ly, as with Occu­py Lon­don, which set up shop direct­ly out­side of the Lon­don Stock Exchange.
As Occu­py pro­gressed, pro­test­ers staged sit-ins at banks and march­es that blocked streets and bridges. By the end of the year, Occu­py-relat­ed actions had result­ed in an esti­mat­ed 5,500 arrests in dozens of cities, big and small — from Fres­no, Calif., to Mobile, Ala., from Boston to Anchor­age, Alas­ka, from Col­orado Springs to Honolulu.
Such actions pro­pelled Occu­py for­ward. How­ev­er, like all exer­cis­es in dis­rup­tion, they also posed risks.
While tac­tics that inter­rupt busi­ness as usu­al are the most like­ly to draw atten­tion, this atten­tion is not nec­es­sar­i­ly pos­i­tive. Because these actions incon­ve­nience peo­ple and cre­ate dis­or­der, they risk invit­ing a neg­a­tive response — back­lash that can rein­force sta­tus quo injus­tices. There­fore, the use of dis­rup­tion places activists in a pre­car­i­ous posi­tion. In craft­ing sce­nar­ios for polit­i­cal con­flict, they must care­ful­ly cul­ti­vate sym­pa­thy, work­ing to ensure that observers rec­og­nize the legit­i­ma­cy of their cause. Strate­gic judg­ment is need­ed to max­i­mize the disruption's trans­for­ma­tive poten­tial, while at the same time min­i­miz­ing back­lash from the public.
The use of sacrifice
It is pre­cise­ly for this rea­son that dis­rup­tion pairs well with a sec­ond key fac­tor that works as kin­dling for mass upris­ings: per­son­al sac­ri­fice. Move­ments are primed to flare up when par­tic­i­pants demon­strate the seri­ous­ness of their com­mit­ment. One main way of doing this is through show­ing a will­ing­ness to endure hard­ship and incon­ve­nience, to face arrest, or even to risk phys­i­cal harm in dra­ma­tiz­ing an injustice.
The ways in which strate­gies of non­vi­o­lent esca­la­tion make use of per­son­al sac­ri­fice are often counter-intu­itive and com­mon­ly misunderstood.
Unlike some forms of moral paci­fism, strate­gic non­vi­o­lence does not seek to avoid con­flict. On the con­trary, it uses meth­ods of unarmed protest to pro­duce high­ly vis­i­ble con­fronta­tions. Going back to Gandhi's exper­i­ments in mass mobi­liza­tion, com­men­ta­tors have not­ed that such non­vi­o­lence has lit­tle to do with pas­siv­i­ty; in fact, it can more accu­rate­ly be con­sid­ered as a form of asym­met­ric warfare.
In War With­out Vio­lence, an ear­ly study of Gand­hi­an strate­gies pub­lished in 1939, Krish­nalal Shrid­ha­rani notes that both war and satya­gra­ha—Gandhi's approach to non­vi­o­lent resis­tance — rec­og­nize suf­fer­ing as a core source of pow­er. In the case of war, this notion is straight­for­ward: ​"By inflict­ing suf­fer­ing on the ene­my, the war­riors seek to break the former's will, to make him sur­ren­der, to anni­hi­late him, to destroy him, and with him all oppo­si­tion," Shrid­ha­rani writes. ​"Suf­fer­ing thus becomes a source of social pow­er which com­pels and coerces."
The main twist with non­vi­o­lent action, of course, is that par­tic­i­pants do not seek to impose phys­i­cal suf­fer­ing, but are will­ing to face it them­selves. ​"Gandhi's whole the­o­ry is based on the con­cept of suf­fer­ing as a source of … social force," Shrid­ha­rani explains. ​"In Satya­gra­ha, it is by invit­ing suf­fer­ing from the oppo­nent and not after inflict­ing suf­fer­ing upon him that the resul­tant pow­er is pro­duced. The basic for­mu­la is the same, but its appli­ca­tion is about-face. It almost amounts to putting the ener­gy in reverse gear."
Con­trary to the stereo­type of non­vi­o­lent adher­ents being star­ry-eyed and naïve, Gand­hi was star­tling­ly frank about the poten­tial con­se­quences of this form of polit­i­cal con­flict. In his dri­ve for Indi­an self-rule, he argued, ​"No coun­try has ever risen with­out being puri­fied through the fire of suffering."
There is a strong spir­i­tu­al com­po­nent in Gandhi's expla­na­tion of how this works. This aspect of his think­ing has his­tor­i­cal­ly been appeal­ing to reli­gious-mind­ed inter­preters and some­times off-putting to more sec­u­lar-mind­ed read­ers. Gand­hi invokes ideas rang­ing from the Hin­du con­cept of ascetic renun­ci­a­tion, tapasya, to the Chris­t­ian empha­sis on the redemp­tive suf­fer­ing of Jesus—point­ing to how forms of self-suf­fer­ing have moti­vat­ed reli­gious move­ments for cen­turies, often with his­to­ry-shap­ing consequences.
The mod­ern tra­di­tion of civ­il resis­tance, which is inter­est­ed in the strate­gic use of non­vi­o­lent con­flict rather than the moral demands of paci­fism, has adopt­ed a dif­fer­ent empha­sis. It has drawn out the more prac­ti­cal side of Gandhi's think­ing. Even those not inclined toward spir­i­tu­al con­sid­er­a­tions can find impres­sive results in the empir­i­cal record of protests in which par­tic­i­pants have been will­ing to put their bod­ies on the line.
Non­vi­o­lent actions involv­ing the risk of arrest, reprisal or phys­i­cal trau­ma allow those who under­take them to dis­play courage and resolve. When par­tic­i­pants must ask them­selves how much they are will­ing to sac­ri­fice for a cause, it clar­i­fies their val­ues and strength­ens their com­mit­ment. It can become a moment of per­son­al trans­for­ma­tion. With­in suc­cess­ful social move­ments, orga­niz­ers con­stant­ly ask mem­bers to make sac­ri­fices — to make con­tri­bu­tions of time, ener­gy and resources; to risk ten­sion with neigh­bors or fam­i­ly mem­bers who pre­fer to avoid con­tro­ver­sial issues; or even to endan­ger their liveli­hood by stand­ing up on the job or com­ing out as a whistle­blow­er. Non­vi­o­lent con­fronta­tions often involve mak­ing such sac­ri­fices vis­i­ble, cre­at­ing sce­nar­ios in which those involved can pub­licly con­vey their seri­ous­ness of purpose.
Per­son­al acts of sac­ri­fice thus have pub­lic reper­cus­sions. They both draw atten­tion and invite empa­thy: A bus boy­cotter will­ing to walk five miles to work rather than to ride on seg­re­gat­ed pub­lic trans­porta­tion; a teacher going on hunger strike against school bud­get cuts; an envi­ron­men­tal­ist who com­mits to sit­ting in an old-growth tree for weeks to pre­vent it from being cut down; or an indige­nous rights advo­cate who chains her­self to a bull­doz­er to pre­vent con­struc­tion on a sacred site. Gand­hi con­tend­ed that these dis­plays could effec­tive­ly acti­vate pub­lic opin­ion, serv­ing to ​"quick­en the dead con­science into life" and ​"make peo­ple think and act." When bystanders see some­one in front of them suf­fer­ing, it is dif­fi­cult for them to remain detached and unin­volved. The scene com­pels them to pick a side.
A com­mon mis­con­cep­tion about non­vi­o­lent action is that it is nec­es­sar­i­ly focused on touch­ing the heart of the oppo­nent and lead­ing to a con­ver­sion. In fact, the impact of sac­ri­fice can have lit­tle to do with chang­ing the views of one's adver­saries — and much more to do with affect­ing one's friends. When some­one decides to risk their safe­ty or to face arrest, their deci­sion has the effect of mobi­liz­ing the com­mu­ni­ties of peo­ple clos­est to them. Dur­ing the civ­il rights move­ment, the stu­dents who orga­nized sit-ins at lunch coun­ters in cities such as Nashville, Tenn., expe­ri­enced this phe­nom­e­non. They soon found that their par­ents, their min­is­ters, and their class­mates — many of whom had pre­vi­ous­ly been reluc­tant to speak out — were drawn in by their actions.
As the doc­u­men­tary ​"Eyes on the Prize" explains of the 1960 Nashville protests: ​"The local black com­mu­ni­ty began to unite behind the stu­dents. Black mer­chants sup­plied food to those in jail. Home­own­ers put up prop­er­ty for bail mon­ey. Z. Alexan­der Loo­by, the city's lead­ing black lawyer, head­ed the defense." Fam­i­ly mem­bers were espe­cial­ly gal­va­nized. ​"Par­ents wor­ried that arrest records could hurt their children's future, and they feared for the safe­ty of their chil­dren." In response, they ​"turned to the pow­er of their own pock­et­book," launch­ing an eco­nom­ic boy­cott in sup­port of the sit-ins.
A pow­er­ful combination
Inde­pen­dent­ly, sac­ri­fice and dis­rup­tion can each pro­duce force­ful results. But togeth­er, they form an unusu­al­ly effec­tive pair­ing. Sac­ri­fice helps to address two of the great prob­lems of dis­rup­tive protest: the risk of back­lash and the dan­ger of swift and severe repres­sion. First, by invok­ing an empa­thet­ic response in the pub­lic, sac­ri­fice damp­ens neg­a­tive reac­tions and allows for mobi­liza­tions to attempt more pro­found rup­tures of busi­ness as usu­al. Sec­ond, sac­ri­fice can take the crack­downs that often accom­pa­ny dis­rup­tive protests and turn them into unex­pect­ed assets.
Such was the case with Occu­py, where sac­ri­fice com­ple­ment­ed dis­rup­tion in crit­i­cal ways. From the start, pro­test­ers sig­naled an inten­tion to endure sig­nif­i­cant hard­ship in order to voice an ongo­ing objec­tion to Wall Street's mis­deeds. One of the first images asso­ci­at­ed with the move­ment, a pub­lic­i­ty poster released in advance by the Cana­di­an mag­a­zine Adbusters, fea­tured a bal­le­ri­na atop Wall Street's infa­mous charg­ing bull. The dancer posed serene­ly while police in gas masks amassed in the back­ground. The text of below the bull read sim­ply, "#Occu­py­Wall­Street. Sep­tem­ber 17th. Bring tent."
The poster's sug­ges­tion that camp­ing gear would be required for the mobi­liza­tion — and that police reprisal would be a loom­ing dan­ger — imme­di­ate­ly set the action apart from count­less oth­er demon­stra­tions, in which par­tic­i­pants might show up for an after­noon with a sign, chant for an hour or two in a per­mit­ted area, and then call it a day and go home. As Occu­py com­menced, media and par­tic­i­pants alike were drawn to the spec­ta­cle of pro­test­ers ready to sleep on slabs of con­crete in low­er Manhattan's ster­ile finan­cial dis­trict in order to bring pop­ulist dis­con­tent to the doors of those who presided over the finan­cial crisis.
Inter­est did not build imme­di­ate­ly, how­ev­er. As MSNBC's Kei­th Olber­mann not­ed, ​"After five straight days of sit-ins, march­es and shout­ing, and some arrests, actu­al North Amer­i­can news­pa­per cov­er­age of this — even by those who have thought it farce or fail­ure — has been lim­it­ed to one blurb in a free news­pa­per in Man­hat­tan and a col­umn in the Toron­to Star."
It took two fur­ther devel­op­ments to break through the de fac­to black­out of the protest. Each would involve even greater per­son­al suf­fer­ing, and each would ignite out­rage about police sup­pres­sion of free speech.
When repres­sion fuels resistance
The first piv­otal event occurred on Sep­tem­ber 24, a hot day that marked the one-week anniver­sary of the occu­pa­tion. On that occa­sion, pro­test­ers hiked two-and-a-half miles to Union Square, then turned around to return to Zuc­cot­ti. But before they made it back, the NYPD penned in groups of marchers and start­ed to make arrests. In total, 80 peo­ple were tak­en into custody.
The arrests them­selves were sig­nif­i­cant, but the most con­se­quen­tial prod­uct of the day's activ­i­ty would be a video of a police offi­cer lat­er iden­ti­fied as Deputy Inspec­tor Antho­ny Bologna. The video showed two women who had been penned in to orange police net­ting stand­ing and talk­ing calm­ly. Unpro­voked, Bologna walks up to them, pulls out a can of pep­per spray, and lifts it towards their faces. Then he sprays them at vir­tu­al­ly point-blank range. Grainy cell phone footage cap­tured the scene of the women drop­ping to their knees in pain, cry­ing out in agony, and cup­ping their eyes.
Video of the mali­cious attack went viral, accu­mu­lat­ing over a mil­lion views with­in four days. It became the inci­dent that put Occu­py Wall Street on the map nation­al­ly, spurring a new flood of arti­cles about the mobi­liza­tion. Rather than deter­ring par­tic­i­pants wary of fac­ing vio­lence, as one might expect, the video fueled pub­lic out­rage. It moti­vat­ed new occu­piers to join the assem­bly in Zuc­cot­ti, and it prompt­ed many who lived fur­ther away to start encamp­ments in their own cities.
A sec­ond impor­tant devel­op­ment occurred exact­ly a week lat­er, at a larg­er march mark­ing two weeks of occu­pa­tion. For this pro­ces­sion, pro­test­ers made their way toward the Brook­lyn Bridge. As they approached, the NYPD direct­ed marchers onto the bridge's main road­way. There, they prompt­ly sur­round­ed the assem­bly and method­i­cal­ly arrest­ed some 700 peo­ple, bind­ing their wrists with plas­tic zip-tie cuffs. Sev­er­al activists on the pedes­tri­an walk­way above live-streamed video of the arrests, mak­ing the event an Inter­net sen­sa­tion even as it was still tak­ing place.
The roundup involved the most arrests by far for Occu­py to that date — and rep­re­sent­ed one of the largest mass arrests in the New York City's his­to­ry. Yet, like the pre­vi­ous week's video, footage of the police action on the Brook­lyn Bridge did not damp­en dis­sent. Instead, it con­veyed a sense of esca­lat­ing momen­tum and attract­ed fresh par­tic­i­pants. Just a few days lat­er, on Octo­ber 5, Occu­py held its largest march yet, bring­ing out 15,000 peo­ple, includ­ing del­e­ga­tions from the city's most promi­nent labor unions.
The idea that repres­sion can actu­al­ly help a move­ment, rather than hurt it, is a notion that stands a con­ven­tion­al under­stand­ing of pow­er on its head. And yet, the abil­i­ty of non­vi­o­lent demon­stra­tors to ben­e­fit from the zeal­ous­ness of author­i­ties is a well-stud­ied occur­rence with­in the field of civ­il resis­tance. This phe­nom­e­non is com­mon­ly described as ​"polit­i­cal jiu-jitsu."
Dic­ta­to­r­i­al secu­ri­ty states and heav­i­ly armed police forces are well pre­pared to deal with vio­lent out­bursts, which con­ve­nient­ly serve to jus­ti­fy heavy-hand­ed repres­sion and legit­i­mate a trend toward mil­i­ta­riza­tion. The cor­po­rate media is all too will­ing to play along, with local news sta­tions fix­at­ing on acts they per­ceive as vio­lent and val­oriz­ing attempts to restore order. What con­founds and desta­bi­lizes author­i­ties is a dif­fer­ent type of mil­i­tan­cy. Gene Sharp writes, ​"Non­vi­o­lent strug­gle against vio­lent repres­sion cre­ates a spe­cial, asym­met­ri­cal con­flict sit­u­a­tion," in which the use of force by those in pow­er can rebound against them and embold­en opposition.
There is a par­al­lel here to the mar­tial art of jiu-jit­su, where prac­ti­tion­ers use the momen­tum of an opponent's blow to throw him off bal­ance. ​"Harsh repres­sion against non­vi­o­lent resisters may be per­ceived as unrea­son­able, dis­taste­ful, inhu­man, or harm­ful to… the soci­ety," Sharp explains. There­fore, it turns the pub­lic against the attack­ers, pro­vokes sym­pa­thet­ic onlook­ers to join the demon­stra­tions, and encour­ages defec­tions even with­in those groups that might reg­u­lar­ly be opposed to protests.
No greater friend than its enemy
As Occu­py pro­gressed, this dynam­ic con­tin­ued to fuel the mobi­liza­tion at crit­i­cal moments. One high­ly pub­li­cized inci­dent involved demon­stra­tors at the Uni­ver­si­ty of Cal­i­for­nia-Davis. On Novem­ber 18, 2011, police arrived on the Davis cam­pus in full riot gear and began to remove tents that stu­dents had erect­ed. A group of per­haps two dozen stu­dents sat down along a walk­way, link­ing arms, to try to stop the eviction.
With­in min­utes, cam­pus police offi­cer John Pike approached with mil­i­tary grade pep­per spray and began dous­ing the stu­dents. Video showed Pike casu­al­ly strolling down the line of pro­test­ers, spray­ing tox­ic flu­id, while those seat­ed on the walk­way dou­bled over and attempt­ed to shield their eyes. Once again, footage of the attack began cir­cu­lat­ing almost imme­di­ate­ly. In the after­math of the soon-noto­ri­ous inci­dent, out­raged stu­dents and fac­ul­ty called for the res­ig­na­tion of UC Davis Chan­cel­lor Lin­da P.B. Kate­hi. Nation­al­ly, the event helped keep Occu­py in the head­lines — and turned Lt. Pike into an unlike­ly Inter­net celebri­ty. Pop­u­lar memes on Face­book and Twit­ter fea­tured pho­to­shopped images of Pike ​"casu­al­ly" pep­per spray­ing every­one from the Mona Lisa, to the Bea­t­les, to the found­ing fathers.
Occu­py is hard­ly unique as a mobi­liza­tion that grew stronger as a result of efforts to quash protests. While too many fac­tors are at play in a giv­en protest to ensure that the gains of endur­ing abuse will be worth the cost, there is a rich his­to­ry of repres­sion serv­ing as a turn­ing point for move­ments pro­mot­ing change.
Cer­tain­ly this was the case in the push for civ­il rights in the seg­re­gat­ed South. As Rep. Emmanuel Sell­ers, chair­man of the House Judi­cia­ry Com­mit­tee, remarked in 1966, ​"There are times when the civ­il rights move­ment has no greater friend than its ene­my. It is the ene­my of civ­il rights who again and again pro­duces the evi­dence … that we can­not afford to stand still." Like­wise, Saul Alin­sky argued, ​"A Bull Con­nor with his police dogs and fire hoses down in Birm­ing­ham did more to advance civ­il rights than the civ­il rights fight­ers themselves."
Alin­sky gives the civ­il rights pro­test­ers too lit­tle cred­it, just as Occu­py activists often receive slight acknowl­edge­ment for what they did right in pro­pelling inequal­i­ty to the fore of nation­al dis­cus­sion. The truth is that, despite the demon­strat­ed pow­er of sac­ri­fice and dis­rup­tion, it is rare that groups risk either in sig­nif­i­cant mea­sure — and even rar­er that the two are com­bined in thought­ful and cre­ative ways. Yet if we want to pre­dict which move­ments are most like­ly to explode in the future, we would do well to seek out those com­mit­ted to con­duct­ing new exper­i­ments with this potent and com­bustible mixture.