What To Expect When You're Electing: A New York City Ballot Roundup (Updated)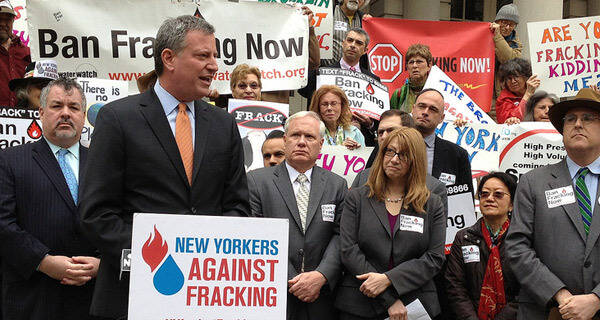 We wanted to make sure you didn't miss the announcement of our new Sustainer program. Once you've finished reading, take a moment to check out the new program, as well as all the benefits of becoming a Sustainer.

Tomorrow is election day in New York City — and for the first time in 12 years, the mayor of the country's largest metropolis won't be a billionaire.
Instead, in all likelihood, he'll be a liberal Democrat who's made his campaign an explicit repudiation of the Bloomberg years. Bill de Blasio​'s campaign has focused on ending stop-and-frisk, combating economic inequality and fighting hospital closures. He's added the Working Families Party's endorsement to the early ones he got from New York Communities for Change and 1199SEIU. He's also promised to raise taxes on the rich to fund universal pre-kindergarten (if he can get such a plan through Albany) and, as he told In These Times in August, he believes that the real estate industry should be required to build affordable housing in exchange for the right to develop. Current polls show de Blasio with a massive lead, as some 65 percent of ​"likely voters" say they favor him.
His opponent, Republican Joe Lhota, formerly the head of the Metropolitan Transit Authority and a deputy mayor under Rudy Giuliani, has failed to make a dent in the polls no matter how much he insists that de Blasio's election would result in a crime wave and an economic meltdown. A fan of charter schools, stop-and-frisk and tax cuts , Lhota could become the first Republican to lose Staten Island in 28 years, perhaps a reflection of de Blasio's focus on Sandy relief and recovery. He's even implied that de Blasio is too much of a socialist for New York. (Someone should tell Wall Street, which seems willing enough to back de Blasio despite tax-raising talk.)
Despite the attempts by Lhota and the New York Post, many voters apparently remain unconvinced that de Blasio is a secret socialist — especially since there's an actual socialist on the ballot for mayor, Daniel Fein of the Socialist Workers Party. In fact, there's an assortment of third-party candidates also seeking New Yorkers' votes, including Jimmy ​"The Rent Is Too Damn High" McMillan, Anthony Gronowicz of the Green Party, and Randy Credico, running on the ​"Tax Wall Street Party" line. (Notably, they all appear to be men.)
New York's system allows cross-endorsements, meaning that candidates from the Democratic or Republican party are often endorsed by other parties as well — so Bill de Blasio will appear as a Democratic candidate and also as a Working Families Party candidate. People in favor of the labor-backed Working Families Party can thus express their support for that party's positions on issues like paid sick leave, while still voting for the major party candidate.
Further down the ballot, city councilmember Letitia James is set to become the first black woman elected to citywide office. Having defeated fellow Democrat Daniel Squadron in a runoff in October, James faces no Republican opponent in her race to replace de Blasio as Public Advocate and is expected to win easily, though there are candidates on the ballot from the Green Party, Socialist Workers Party, Conservative and Libertarian parties, among others.
James, too, is endorsed by the Working Families Party; she was that party's first stand-alone victory when she beat a Democrat in 2003 to take her Council seat. This year, as the city appears to be swinging left after 12 years of Bloomberg dominance, the WFP is flexing its political muscles. Besides James and de Blasio, the Party backed Scott Stringer for Comptroller (he beat Eliot Spitzer in a primary and is expected to beat Republican John L. Burnett), Council challengers Antonio Reynoso, Laurie Cumbo and Carlos Menchaca, and Brooklyn District Attorney candidate Ken Thompson. Thompson is facing current DA Charlie Hynes once again in the general election — after losing the primary to Thompson in October, Hynes decided to run as a Republican.
Most City Council races, including Reynoso, Cumbo and Menchaca, were decided in the primary; few of the candidates even have a challenger from another party. One exception is Ben Kallos, an Upper East Side Democrat endorsed by the Working Families Party and running for Council District 5's seat, who nevertheless faces a challenger on the Working Families line. Micah Kellner, a member of the New York State Assembly, was endorsed early on by the WFP — before sexual harassment charges against him became public. A complaint was made by a female staffer four years ago and was buried in the Assembly; after that news broke, however, other stories emerged. The WFP rescinded its endorsement shortly thereafter, choosing instead to support Kallos in the Democratic primary.
Normally, when the WFP endorses a Democrat, that Democrat would appear on the ballot as a candidate both of the Democratic Party and the Working Families Party; because Kellner was endorsed first, he'll appear on the ballot as the Working Families Party candidate. He continues to push for the councilmember position, even though the WFP is explicitly campaigning against him. In an email sent by the WFP to its supporters in District 5, the Party urged them to vote for de Blasio, James and Stringer on the WFP line — and then vote Kallos on the Democratic Party line, saying, ​"Despite losing our support, Kellner just won't quit. And unfortunately, we have no mechanism to remove his name from our ballot line. He's waged a nasty attack-filled campaign. And worst of all, he's doing it on the Working Families line."
Kellner aside, the WFP, along with New York Communities for Change, 1199SEIU and the New York State Nurses Association, will most likely take a victory lap after this election — deservedly so, since barring a major upset, New York will have the most progressive city government it's had in decades. Immediately after election day, battle lines will be re-drawn on a variety of issues, from police reform to pre‑K, and some of those will begin to shape next year's statewide elections — but it's worth taking a minute to appreciate the real steps away from Bloombergism being taken here. A City Council that had already proved willing to overrule the mayor on issues like paid sick leave and stop-and-frisk is expected to get even more progressive, and New York will have a mayor who won't stand in the way of legislation like a living wage bill for employees of city contractors.
There's an assortment of ballot initiatives this year, as well. Governor Andrew Cuomo's flagship initiative, casino gambling, would have perhaps the greatest effect on the city out of all of them; as a result, it's generated a considerable amount of debate. Colorful flyers delivered to voters around the city in favor of the initiative, which would allow up to seven casinos in New York State — four upstate, and possibly some within city limits in the future — promise that it will bring money New Yorkers spend in Atlantic City and elsewhere back home to fund education. Opponents, like liberal New York State Senator Liz Krueger, call it a ​"regressive tax" on low-income New Yorkers and argue that gambling isn't an economic development plan. (Michael Powell at the New York Times has also pointed out that Cuomo's fundraising vehicle, the Committee to Save New York, raised some $17 million from ​"corporate, real estate and gambling barons" to ​"express their adoration and support for Mr. Cuomo's efforts to cut taxes and promote casino gambling.")
And on a practical level, New Yorkers heading to the polls should watch out for problems at the voting booth, as a projected higher turnout will mean longer lines and more opportunities for problems with less-than-reliable voter records and technological glitches with the scanners that read the paper ballots, which have returned after being shelved for the primary and runoff. Like I reported for In These Times on primary day, even Joe Lhota himself had to vote on a paper ballot in September when machines at his precinct weren't functioning, and some voters were directed to poll sites that didn't exist. UPDATE: As of the morning of November 5, reports were coming in that some poll locations have no functioning scanners.
The city of New York boasts a robust public financing system for campaigns and a multi-round primary system; it also allows for minor parties to play a major role in influencing city politics. While Tuesday's election is, in most races, a foregone conclusion, that shouldn't mean we ignore the practical considerations of ensuring millions of people have access to the vote at every opportunity.
UPDATE: Bill de Blasio, who won some 73 percent of the vote, gave a victory speech last night on a stage crowded with supporters. Visible over his right shoulder as he told the crowd, ​"We reach our greatest heights when we all rise together," was Naquasia LeGrand, one of the earliest fast-food strikers. I kept looking back to her face — perhaps because she was the one I recognized in the camera's tight shot, but more importantly, because she and other New Yorkers like her represent the promise of last night's election. The mayor-elect acknowledged that ​"all of our work is really just beginning," and people like LeGrand will have to hold him accountable to campaign promises going forward (today there's already a rally demanding that the new mayor drop the appeal of the stop-and-frisk lawsuit and implement the judge's suggested reforms).
Helping them hold him accountable will be Public Advocate Letitia James, officially now the first black woman to win citywide office in New York, and a City Council with several new, progressive members. The next battle there will be over the next Speaker of the Council — one worth watching, as Christine Quinn wielded that office with such power.
Meanwhile, Governor Cuomo got his casinos by a 57 percent vote, and Ken Thompson beat current Brooklyn D.A. Charlie Hynes for the second time this season to finally bring change to that office.
Be a Sustainer
We surveyed thousands of readers and asked what they would like to see in a monthly giving program. Now, for the first time, we're offering three different levels of support, with rewards at each level, including a magazine subscription, books, tote bags, events and more—all starting at less than 17 cents a day. Check out the new Sustainer program.
Sarah Jaffe is a Type Media Center Fellow, co-host (with Michelle Chen) of Dissent magazine's Belabored podcast, and a columnist at The New Republic and New Labor Forum. She was formerly a staff writer at In These Times and the labor editor at AlterNet. Her previous book is Necessary Trouble: Americans in Revolt, which Robin D.G. Kelley called ​"The most compelling social and political portrait of our age." You can follow her on Twitter @sarahljaffe.