What We Leave Behind
From Kosovo to Lebanon, cluster bomb casualties continue to mount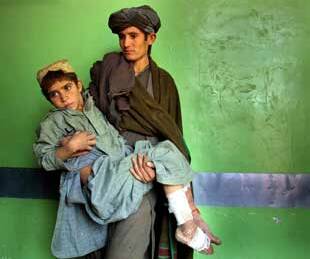 In just one week in Octo­ber, a series of bomb scares swept across Ger­many. Out­side of Han­nover, 22,000 peo­ple were evac­u­at­ed when three bombs were dis­cov­ered. A few days lat­er in the same city, a weapons removal squad defused a 500-pound bomb found near the high­way. Final­ly, a high­way work­er was killed when his cut­ting machine hit a buried bomb on the main high­way into Frankfurt.
The bombs hadn't been plant­ed by ter­ror­ists, and they weren't the open­ing salvos of the next war. The cul­prit was unex­plod­ed ord­nance left over from a war fought more than 60 years ago. ​"We'll have enough work to keep us busy for the next 100 to 120 years," the own­er of a bomb-defus­ing com­pa­ny told the New York Times.
The sub­mu­ni­tions dis­persed by clus­ter bombs are a lot small­er than 500 pounds, but their use in every major con­flict since World War II ensures that bomb clear­ers the world over will have work for decades – even cen­turies – to come. From Viet­nam, Laos and Cam­bo­dia, to the coun­tries of the for­mer Yugoslavia, and onto Afghanistan, Iraq and Lebanon, mod­ern bat­tle­fields are lit­tered with bombs that con­tin­ue to kill long after wars have end­ed. Nine­ty-eight per­cent of those killed or injured by clus­ter bombs are civil­ians. And yet inter­na­tion­al efforts to restrict the use of clus­ter bombs – mod­eled after land­mine treaties of pre­vi­ous years – are being under­mined by lack of U.S. par­tic­i­pa­tion. Worse, instead of destroy­ing old clus­ter bomb stock­piles, the Unit­ed States is export­ing them to allies around the world.
What is a clus­ter bomb?
Although var­ied in size and con­fig­u­ra­tion, a clus­ter muni­tion is essen­tial­ly a large can­is­ter – as long as 13 feet and weigh­ing up to 2,000 pounds – packed with bomblets or sub­mu­ni­tions. Launched from the air by fight­er planes, bombers or heli­copters, or shot out of artillery, rock­ets or mis­sile sys­tems, the can­is­ter is designed to break open mid-air, spread­ing the sub­mu­ni­tions over areas as large as two or three foot­ball fields. While some mod­ern sys­tems are out­fit­ted with GPS or infrared guid­ance sys­tems, or ​"wind cor­rec­tion" kits to sta­bi­lize their spin, most are free-falling or grav­i­ty devices. The bomblets – a sin­gle can­is­ter can hold hun­dreds – rang­ing in size from a soda can to a flash­light bat­tery, are packed with shrap­nel and an explo­sive charge. They are meant to explode on impact with the ground, dif­fer­en­ti­at­ing them from land­mines, which are trig­gered by the victim.
Mil­i­taries through­out the world val­ue clus­ter bombs because a sin­gle vol­ley can impede or slow advanc­ing troops and destroy or ren­der unus­able air­fields and sur­face-to-air mis­sile sites. But the weapons do not always work as designed. Mine removal teams, post-con­flict work­ers, mil­i­tary offi­cials and even the com­pa­nies them­selves admit that wind, weath­er and soil con­di­tions, as well as pos­si­ble mechan­i­cal mal­func­tion or human error, can all dri­ve the ​"dud rate" for these weapons as high as 40 percent.
Clus­ter bombs are not sin­gled out for pro­hi­bi­tion under inter­na­tion­al law, despite the fact that they can­not dis­tin­guish between civil­ian and com­bat­ant and their effects stretch beyond the dura­tion of hos­til­i­ties – two cru­cial lit­mus tests for muni­tions under the Gene­va Con­ven­tions that gov­ern con­duct dur­ing conflicts.
Israel's war against Lebanon: clus­ter bombs on display
Lebanon pro­vides an object les­son in how these tenets of the Gene­va Con­ven­tions are not upheld and how imple­men­ta­tion of exist­ing law is inad­e­quate to the chal­lenge. On August 14, 2006, Israel and Lebanon signed a peace agree­ment end­ing their 34-day war, yet the body count con­tin­ues to rise. Accord­ing to a Novem­ber Hand­i­cap Inter­na­tion­al report, since mid-August, unex­plod­ed ord­nance has killed 21 and wound­ed anoth­er 121 Lebanese civilians.
An Israeli Defense Forces spokesman insists that ​"all of the weapons and muni­tions used by the IDF are legal accord­ing to inter­na­tion­al law and their use con­forms to inter­na­tion­al stan­dards." That is cold com­fort for the fam­i­ly of 11-year-old Ramy Shi­bleh, one of the post-war vic­tims. He was gath­er­ing pinecones out­side Hal­ta, a small south­ern town where the Lebanese army had already cleared mines twice. But more bombs remained, includ­ing the one that Ramy and his broth­er hit with their cart of pinecones. Reuters reports that Ramy tried to toss the rock-like object out of the way, but it explod­ed, tear­ing off his right arm and the back of his head and killing him instant­ly. His moth­er keeps the shreds of the yel­low shirt Ramy was wear­ing when he died. ​"He was only pick­ing the pine nuts to buy the toys he loved," she told reporters.
With its weapon indus­try and the bil­lions in mil­i­tary aid that it pro­vides to Israel each year, the Unit­ed States is impli­cat­ed in the war and its grim after­math with­out fir­ing one shot or drop­ping one bomb. At least two of Israel's clus­ter bomb and launch sys­tems are U.S.-manufactured. Human Rights Watch dis­cov­ered rem­nants of the ​"M483A1" 155mm-artillery pro­jec­tiles, which each con­tain 88 M42 AND M46 sub­mu­ni­tions. The pro­jec­tiles are known as ​"Dual-Pur­pose Improved Con­ven­tion­al Muni­tions" (dual in the sense that they are anti-per­son­nel and anti-vehi­cle) and were devel­oped at ​"the Army's Cen­ter of Lethal­i­ty" – the Arma­ment Research, Devel­op­ment and Engi­neer­ing Cen­ter in Picatin­ny, New Jer­sey. The researchers also found M26 rock­ets fired from Lock­heed Martin's Mul­ti­ple Launch Rock­et Sys­tem (MLRS). Each MLRS can fire up to 12 rock­ets at once, and each rock­et con­tains 644 M77 submunitions.
While the Israel Defense Force (IDF) is respon­si­ble for the vast major­i­ty of the mil­lions of clus­ter bombs used through­out the war, recent reports from Human Rights Watch assert that Hezbol­lah shot a hun­dred or more Chi­nese-made rock­ets packed with clus­ter sub­mu­ni­tions. Dur­ing the war, three civil­ians in north­ern Israel were wound­ed, but as of this writ­ing, there have been no reports of post-con­flict casu­al­ties from these Hezbol­lah weapons.
The State Depart­ment is inves­ti­gat­ing Israel's use of Amer­i­can-made clus­ter bombs dur­ing the war in Lebanon – in par­tic­u­lar, whether Israel broke a secret agree­ment made with the Unit­ed States in 1967 not to use clus­ter bombs against civil­ians. In their Octo­ber 2006 report ​"Fore­see­able Harm," Land­mine Action dis­closed the con­di­tions of the agree­ment, includ­ing the stip­u­la­tion that Israel was to use clus­ter muni­tions ​"only for defen­sive pur­pos­es, against for­ti­fied mil­i­tary tar­gets, and only if attacked by two or more ​'Arab states.' " Addi­tion­al­ly, the secret pro­vi­sions pro­hib­it use of the bombs except against ​"reg­u­lar forces of a sov­er­eign nation" and in ​"spe­cial wartime con­di­tions," accord­ing to the admin­is­tra­tion and con­gres­sion­al offi­cials. The arrange­ment gave the IDF greater lat­i­tude than the typ­i­cal reg­u­la­tions that require for­eign gov­ern­ments to use U.S.-origin mil­i­tary items sole­ly for inter­nal secu­ri­ty and legit­i­mate self-defense.
There have not been any fol­low-up reports in the media on the sta­tus of the State Department's inves­ti­ga­tion, or its con­clu­sions. Calls to the Office of Defense Com­pli­ance by In These Times request­ing more infor­ma­tion were not returned. But it does not take months of care­ful study to con­clude that the IDF fla­grant­ly vio­lat­ed U.S. law as well as the secret agree­ment made to skirt that law, to say noth­ing of the Gene­va Conventions.
And then there is the tim­ing. Dur­ing the last three days of the war – as the final touch­es on the peace agree­ment were being made – Israel dumped an esti­mat­ed 1.2 mil­lion bomblets through­out Lebanon, a coun­try small­er than Con­necti­cut. Jan Ege­land, the U.N. Under-Sec­re­tary-Gen­er­al for Human­i­tar­i­an Affairs and Emer­gency Relief Coor­di­na­tor, was decid­ed­ly undiplo­mat­ic in his assess­ment: ​"What is shock­ing and, I would say, to me, com­plete­ly immoral is that 90 per­cent of the clus­ter bomb strikes occurred in the last 72 hours of the con­flict, when we knew there would be a resolution."
With their fail­ure rate of up to 40 per­cent, more than one of every three bombs may not det­o­nate imme­di­ate­ly – lying in wait for chil­dren, trucks and livestock.
While the IDF has not explained their deci­sion to sat­u­rate south­ern Lebanon with bombs, an Octo­ber 6 New York Times arti­cle posits that Israel want­ed to inflict as much last minute harm on Hezbol­lah as pos­si­ble, or slow the repop­u­la­tion of bor­der com­mu­ni­ties. An unnamed Israeli com­man­der of a rock­et unit in Lebanon told Haaretz on Sep­tem­ber 12 that the sat­u­ra­tion bomb­ing with clus­ter weapons was ​"insane and mon­strous; we cov­ered entire towns in clus­ter bombs."
The sat­u­ra­tion bomb­ing has effec­tive­ly crip­pled agri­cul­ture. Farm­ers' fields and orchards are now mine­fields and their crops are rot­ting on the stalk. The sum­mer tobac­co, wheat, and fruit, as well as late-yield­ing crops like olives, can­not be har­vest­ed and win­ter crops, like lentils and chick­peas, have not been plant­ed because farm­ers can­not plow their fields. Many of the two to three dai­ly casu­al­ties are poor farm­ers des­per­ate to feed their fam­i­lies from fields that are now de fac­to minefields.
Rida Noured­dine, an olive and wheat farmer whose land is lit­tered with clus­ter bombs, feels the frus­tra­tion of many south­ern Lebanese who are depen­dent on the land. He told the New York Times, ​"I feel as though some­one has tied my arms, or is hold­ing me by my neck, suf­fo­cat­ing me because this land is my soul."
Clus­ter bombs in the eyes of the world
With the spot­light on Israel's use of clus­ter bombs in Lebanon and the fail­ure of inter­na­tion­al law to stop the car­nage there, the call for a ban on clus­ter bombs sim­i­lar to the pro­hi­bi­tion on land­mines is grow­ing loud­er. Bel­gium insti­tut­ed a ban and Ger­many announced their troops will no longer use clus­ter weapon­ry. Aus­tralia and Nor­way have declared a mora­to­ri­um. Swe­den, Mex­i­co, the Vat­i­can and the Inter­na­tion­al Com­mit­tee of the Red Cross are all call­ing for a ban.
The mod­el for their efforts is the Land­mine Ban or ​"Ottawa Treaty," which entered into force in March 1999. The treaty pro­hibits the man­u­fac­ture, trade and use of anti-per­son­nel mines, oblig­es sign­ing coun­tries to destroy stock­piles with­in four years and clear their own ter­ri­to­ry with­in 10 years, and urges gov­ern­ments to help poor­er coun­tries clear land and assist land­mine vic­tims. Non-gov­ern­men­tal orga­ni­za­tions like Land­mine Action and the Men­non­ite Cen­tral Com­mit­tee argue that once a clus­ter sub­mu­ni­tion hits the ground, it is essen­tial­ly a land­mine and should be barred under the treaty.
The Unit­ed States is not among the 151 states that have rat­i­fied the Land­mine Ban, and the Bush Administration's Feb­ru­ary 2004 land­mine pol­i­cy reserves the right to use so-called ​"self-destruc­t­ing mines" through 2010. Israel, Bur­ma, North Korea and 36 oth­er coun­tries also remain out­side the inter­na­tion­al con­sen­sus ban­ning landmines.
Anoth­er pos­si­ble tool for anti-clus­ter bomb cam­paign­ers is the 1980 Con­ven­tion on Cer­tain Con­ven­tion­al Weapons (CCW). As rat­i­fied, the Con­ven­tion pro­hibits or restricts the use of weapons that cause exces­sive injuries or have indis­crim­i­nate effects on peo­ple – includ­ing weapons that leave unde­tectable frag­ments in the human body, mines and boo­by-traps, incen­di­ary weapons (such as white phos­pho­rus used by the Unit­ed States in Iraq and Israel in Lebanon) and blind­ing laser weapons.
In Novem­ber 2003, a fifth pro­to­col, address­ing ​"Explo­sive Rem­nants of War" like clus­ter weapon duds, was added. So far, only 26 nations have signed on to Pro­to­col V and agreed to nego­ti­ate respon­si­bil­i­ty for clear­ance, pro­vide risk edu­ca­tion to the local pop­u­la­tion, improve the reli­a­bil­i­ty of muni­tions through ​"vol­un­tary best prac­tices," and con­tin­ue to imple­ment exist­ing inter­na­tion­al human­i­tar­i­an law. These are use­ful mea­sures, but they do not address the use of clus­ter bombs, just what to do after they have land­ed. In addi­tion, rat­i­fi­ca­tion by many more coun­tries – espe­cial­ly by coun­tries like Israel and the Unit­ed States that are using these weapons – is need­ed for the effort to be more than symbolic.
The CCW's Third Review Con­fer­ence ran from Novem­ber 7 – 17 in Gene­va. The Inter­na­tion­al Com­mit­tee of the Red Cross (ICRC) and oth­er key NGOs and nations see an imme­di­ate freeze on the use of inac­cure­ate and unre­li­able clus­ter muni­tions as a wor­thy out­come of the meet­ing along with elim­i­na­tion of stock­piles of lega­cy sys­tems, and a com­plete ban on the use of clus­ter muni­tions against mil­i­tary tar­gets in pop­u­lat­ed areas. ICRC will hold an ​"inter­na­tion­al expert meet­ing" in 2007 as a first step toward a new glob­al pact on clus­ter weapons. Against the back­drop of Lebanon's suf­fer­ing, there is broad sup­port for these steps. But main­tain­ing the sense of urgency will not be easy, espe­cial­ly in the face of diplo­mat­ic foot-drag­ging by key states like the Unit­ed States, which says Pro­to­col V is an ade­quate response to clus­ter weapons (even though the Unit­ed States has not yet rat­i­fied the mea­sure). In advance of the meet­ing, the State Depart­ment assert­ed sup­port for Pro­to­col V, but cau­tioned that it is not inter­est­ed in ​"nego­ti­at­ing new rules on clus­ter muni­tions or oth­er explo­sive rem­nants of war."
Con­cert­ed and gen­uine sup­port from the Unit­ed States (as a world leader and one of the largest man­u­fac­tur­ers of clus­ter bombs) for ban­ning clus­ter bombs won't bring Ramy back to his griev­ing fam­i­ly, and it won't restore Rida's orchards and liveli­hood, but it could ensure that future gen­er­a­tions do not share their suffering.
U.S. clus­ter weapons: vital, ver­sa­tile and vicious
While the Unit­ed States has not rat­i­fied the land­mine treaty or the CCW, and does not indi­cate any will­ing­ness to accept even par­tial respon­si­bil­i­ty for this summer's bru­tal war, the Pen­ta­gon is con­cerned about clus­ter weapons. In an Octo­ber 2004 report to Con­gress, the Depart­ment of Defense described clus­ter muni­tions as ​"vital" and ​"ver­sa­tile," but mil­i­tary offi­cials admit they are ​"keen­ly aware of and inter­est­ed in reduc­ing our clus­ter muni­tions dud rates and improv­ing the accu­ra­cy of the deliv­ery meth­ods." Con­se­quent­ly, the Pen­ta­gon recent­ly adopt­ed the ​"Cohen Pol­i­cy," named after for­mer Defense Sec­re­tary William Cohen, which requires the mil­i­tary to only pur­chase new clus­ter weapons that have a 1 per­cent or small­er dud rate.
Human Rights Watch esti­mates that the U.S. has a stock­pile of 1 bil­lion ​"old, unre­li­able and inac­cu­rate" clus­ter muni­tions. Some of the so-called ​"lega­cy" weapons have been dis­man­tled, but the Defense Depart­ment con­tin­ues to trans­fer clus­ter weapons and deliv­ery sys­tems to allies around the world. The Defense Depart­ment ana­lyzed var­i­ous sub­mu­ni­tions and found fail­ure rates of 3 to 23 per­cent under test con­di­tions, but mil­i­tary offi­cials and oth­ers acknowl­edge that these rates can be exac­er­bat­ed by envi­ron­men­tal factors.
The Army, Marines and oth­er mil­i­tary ser­vices are request­ing hun­dreds of mil­lions of dol­lars for new clus­ter weapons and the retro­fitting of exist­ing sys­tems to con­form to the Cohen pol­i­cy. Weapons man­u­fac­tur­ers have adapt­ed to the new pol­i­cy, and their pro­mo­tion­al mate­r­i­al empha­sizes the ​"lim­it­ed foot­print" and ​"tar­getable" nature of their weapons. In vivid mil­i­tary jar­gon, weapons man­u­fac­tur­er Tex­tron describes the CLAW (Clean Light­weight Area Weapon) as ​"the next gen­er­a­tion smart soft tar­get muni­tion." (For those not famil­iar with the lin­go, a soft tar­get is a per­son.) The Rhode Island-based com­pa­ny boasts that a ​"sin­gle 64-pound muni­tion has the foot­print and effec­tive­ness of a 1,000 lb. lega­cy clus­ter bomb."
The Cohen pol­i­cy and the new weapons it has spawned ensures that despite what­ev­er progress is made in Gene­va and at oth­er inter­na­tion­al fora to ban clus­ter bombs, the eight U.S. com­pa­nies that pro­duce clus­ter weapons, includ­ing rec­og­niz­able names like Tex­tron, Gen­er­al Dynam­ics, L‑3 Com­mu­ni­ca­tions, Lock­heed Mar­tin and Northrop Grum­man, will con­tin­ue to man­u­fac­ture the sys­tems and the mil­i­tary will keep using them.
The Unit­ed States may well be the largest pro­duc­er, but it is not alone. Human Right Watch asserts that 33 oth­er coun­tries pro­duce more than 210 dif­fer­ent types of clus­ter muni­tions. And at least 12 oth­er coun­tries have trans­ferred clus­ter muni­tions to as many as 58 nations.
U.S. bombs at work
In its 2004 report, the Pen­ta­gon acknowl­edged ​"the poten­tial dan­ger to non-com­bat­ants posed by UXO [unex­plod­ed ord­nance]" and declared that it had ​"devel­oped strict rules of engage­ment and tar­get­ing method­olo­gies, intend­ed to min­i­mize risks to civil­ians in or near the zone of con­flict." But, in a world far removed from law, pol­i­cy and dud rate cal­cu­la­tions, clus­ter weapons con­tin­ue to do what they are designed for.
A quick look at some of the war zones of the last 20 years should be enough to make anti-clus­ter bomb cam­paign­ers out of just about anyone.
Accord­ing to Hand­i­cap Inter­na­tion­al, in 1999, the Unit­ed States and allies dropped more than 2,000 clus­ter bombs on the ter­ri­to­ry of for­mer Yugoslavia, where the stat­ed aim was human­i­tar­i­an inter­ven­tion. Human Rights Watch doc­u­ment­ed that clus­ter strikes killed 90 to 150 civil­ians and injured many more, con­sti­tut­ing up to 23 per­cent of the total civil­ian deaths in the con­flict, even though clus­ter bombs amount­ed to just 6 per­cent of bombs dropped.
A few years lat­er in Afghanistan, the goal was dif­fer­ent, but the results were sim­i­lar. From Octo­ber 2001 to March 2002, in a bid to top­ple the Tal­iban, the Unit­ed States dropped about 1,228 clus­ter bombs, rep­re­sent­ing about 5 per­cent of the U.S. bombs dropped dur­ing that time peri­od. Accord­ing to Hand­i­cap Inter­na­tion­al, there were 121 casu­al­ties due to clus­ter bombs dur­ing the same peri­od, but it is impos­si­ble to link them all to the Unit­ed States, as both the Sovi­et Union and the Tal­iban had used clus­ter muni­tions in pre­vi­ous wars. In an Octo­ber 2001 inci­dent, a U.S. clus­ter bomb appar­ent­ly intend­ed for a near­by mil­i­tary base fell on the small com­mu­ni­ty of Qala Shater, caus­ing 11 to 13 deaths. Casu­al­ties includ­ed a 17-year-old boy named Najibul­lah who died in front of his home and 70-year-old Faqir Mohammed.
Iraq: a steel rain's gonna fall
Over the last 15 years, Iraq has borne the brunt of U.S. clus­ter bomb use. Dur­ing the First Gulf War, Hand­i­cap Inter­na­tion­al esti­mates that the Unit­ed States dropped 47,167 air-deliv­ered clus­ter muni­tions con­tain­ing more than 13 mil­lion sub­mu­ni­tions. In one day alone – Feb­ru­ary 21, 1991 – U.S. mil­i­tary per­son­nel fired a total of 220,248 M77 sub­mu­ni­tions from the Mul­ti­ple Launch Rock­et Sys­tem made by Lock­heed Mar­tin. Dur­ing the war, the company's sig­na­ture sys­tem was dubbed ​"steel rain." The 1991 ​"air war" last­ed just 43 days, but in the years that fol­lowed more than 4,000 civil­ians have been killed or injured by clus­ter muni­tion duds. Iraqi civil­ians were not the only casu­al­ties – at least 80 U.S. sol­diers have been injured by clus­ter munitions.
In 2003, one of the ear­li­est report­ed uses of clus­ter weapons dur­ing Oper­a­tion Endur­ing Free­dom was also one of the most grue­some. U.S. clus­ter weapons fired on the al-Hilla com­mu­ni­ty killed 33 and injured anoth­er 109. Accord­ing to Amnesty Inter­na­tion­al, ​"Injured sur­vivors told reporters how the explo­sives fell ​'like grapes' from the sky, and how bomblets bounced through the win­dows and doors of their homes before exploding."
In the peri­od between ​"shock and awe" and ​"mis­sion accom­plished," the U.S. and U.K. forces dropped between 1,300 and 1,500 clus­ter muni­tions from the air, and anoth­er 11,600 from land-based sys­tems. The death toll from these assaults has been dif­fi­cult to cal­cu­late. Hand­i­cap Inter­na­tion­al places at least a por­tion of the blame for that dif­fi­cul­ty on the Coali­tion Pro­vi­sion­al Author­i­ty, say­ing that "[d]uring the 2003 con­flict and its after­math, the CPA strong­ly dis­cour­aged casu­al­ty data col­lec­tion, espe­cial­ly in rela­tion to clus­ter sub­mu­ni­tions." The report goes on to note that, as of Sep­tem­ber, there is still no data col­lec­tion mech­a­nism for track­ing new casu­al­ties in Iraq.
Ban it all
Indis­crim­i­nate weapon­ry like clus­ter bombs hides who is respon­si­ble and removes cul­pa­bil­i­ty. With­out respon­si­bil­i­ty, how can there be law? The big bomb releas­es the lit­tle bombs, which might kill a sol­dier tomor­row, a farmer next month, or a child a year from now. Clus­ter bomb­ing is dif­fer­ent from straf­ing a vil­lage, mas­sacring a fam­i­ly or exe­cut­ing a sus­pect­ed mil­i­tant. Hands and con­sciences remain clean while bod­ies are shred­ded and pulped. There is no My Lai mas­sacre or No Gun Ri atroc­i­ty with clus­ter weapons. Rather, a per­ma­nent state of ter­ror is cre­at­ed where all human activ­i­ty is dan­ger­ous and costly.
Recent expe­ri­ence in Lebanon, Iraq and else­where demon­strates the grave and last­ing con­se­quences of clus­ter bombs, and reveals the short­com­ings of exist­ing inter­na­tion­al law and its enforce­ment. Weapons that indis­crim­i­nate­ly kills long after hos­til­i­ties have abat­ed is an anath­e­ma to inter­na­tion­al law – and human decen­cy. It is time to ban them all.