What's the Matter with Bill Maher?
The HBO comedian's brand of funny reeks of classist snobbery.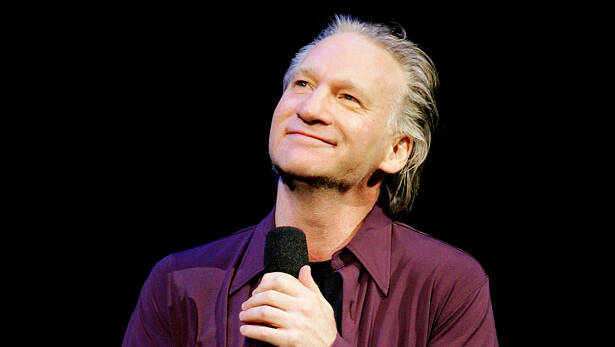 When Newt Gin­grich sneered at New York City ​"elites" who ​"ride the sub­way," Bill Maher took the GOP pres­i­den­tial can­di­date to task. On the Feb­ru­ary 10 edi­tion of his HBO show, Real Time, Maher said, ​"When it comes to divid­ing Amer­i­ca, it's Repub­li­cans who in recent years have carved out [our] nation into two dis­tinct ter­ri­to­ries: There's the heart­land, and then there's the rest of the country."
The computer-generated image showed a young white woman wearing a T-shirt with a Confederate flag and the words 'Kiss Me I'm Yer Sister.' Behind her was an old car in a trash-strewn field.
Maher denied that Democ­rats engage in sim­i­lar tactics:
[Cal­i­for­nia Gov­er­nor] Jer­ry Brown doesn't stand under the Hol­ly­wood sign and say, ​'Now I don't know if this will play in Texas, or down on the farms, where they have no val­ues and fuck chick­ens. But you here in Hol­ly­wood are the real Amer­i­cans.' It nev­er happens!
But while elect­ed lib­er­als gen­er­al­ly avoid derid­ing Mid­dle Amer­i­ca, promi­nent unelect­ed lib­er­als have no such com­punc­tion. Con­sid­er these state­ments from June 2011, prompt­ed by news that New Jer­sey Gov­er­nor Chris Christie had declined to say whether or not he believed in evolution.
Hol­ly­wood lib­er­al: ​"It's OK if this shit hap­pens in Kansas and Alaba­ma, but don't fuck with the smart states."
New York Times lib­er­al: ​"If it's Kansas, if it's Mis­souri, no big deal. You know, that's the dance of the low, slop­ing fore­heads, the mid­dle places, right?"
Those remarks didn't take place in a car­toon on a Tea Par­ty web­site. They occurred on Real Time. The Hol­ly­wood lib­er­al was Maher him­self, while the New York Times stereo­type was that newspaper's media colum­nist David Carr.
Among coastal lib­er­al elites, ridi­cul­ing Mid­dle Amer­i­cans is a fre­quent pas­time – unfor­tu­nate­ly not as fre­quent as won­der­ing why so many Mid­dle Amer­i­cans despise lib­er­als. (A ques­tion that, if addressed, might go a long way toward answer­ing a sec­ond: What's the mat­ter with Kansas?)
Con­ser­v­a­tives seized on these com­ments and struck a pop­ulist pose. At Nation­al Review, Denis Boyles wrote, ​"All that New York­ers know about Kansas is what they read in the pages of the Times." Boyles claimed that Carr mocked Kansans because of Repub­li­cans' 2010 elec­toral suc­cess in that state. ​"The lit­er­ate Left has a new rea­son to hate Midwesterners."
Carr apol­o­gized for his ​"low, slop­ing fore­heads" com­ment. In a Twit­ter post, the colum­nist point­ed out that he is a Mid­west­ern­er him­self (he grew up in the Min­neapo­lis sub­urb of Hop­kins) and added, ​"I apol­o­gize for say­ing some­thing so, so dumb."
I asked Carr about his remarks and he explained he was ​"try­ing to sug­gest that Bill Maher, and peo­ple like him, saw peo­ple from the mid­dle of the coun­try that way," but that ​"it came out wrong. I choked," he said. ​"I was try­ing to make the oppo­site point." As for the furi­ous response he received, Carr stat­ed, ​"I deserved what­ev­er I got."
Even so, Carr has pre­vi­ous­ly referred to ​"low, slop­ing fore­heads," if not always danc­ing ones. In a 2004 New York Times review of a book about the rise of Fox News, he wrote that ​"the smart set would love to write off the domin­ion of Fox News – from worst to first – as the tri­umph of the low, slop­ing foreheads."
What's note­wor­thy is the dis­con­nect between Carr's for­ays into elit­ist wise­crack­ing and his Mid­dle-Amer­i­ca back­ground (as well as most of his writ­ing). That con­tra­dic­tion sug­gests a cul­ture among the East Coast intel­li­gentsia in which elit­ist jibes are com­mon­place, even among those who were not of the East­ern Estab­lish­ment born.
Bill Maher, for his part, is not con­trite. On the March 9 edi­tion of Real Time, he aired video of inter­views shot in Mis­sis­sip­pi by doc­u­men­tar­i­an Alexan­dra Pelosi. All the inter­view sub­jects were white men who appeared to be work­ing class. Some were very poor. Most were overt­ly racist, includ­ing the man who called Pres­i­dent Oba­ma a ​"half-breed."
Pelosi said that ​"the rea­son why we did Mis­sis­sip­pi was because they were vot­ing against their own inter­ests." But by imply­ing that racism is con­fined to work­ing-class whites (and appar­ent­ly just the men), Pelosi put her­self at odds with hun­dreds of years of U.S. history.
On the fol­low­ing episode of Real Time, Maher and Pelosi tried to bal­ance things out by show­ing a video she shot in New York City that fea­tured inter­views with African-Amer­i­can men out­side a wel­fare office. Two of the men indi­cat­ed that they didn't want to work, and one said that he had fathered five chil­dren with four women.
The mes­sage of the two videos: Racism is the fault of poor white men, who nonethe­less right­ly believe black men are lazy, irre­spon­si­ble wel­fare cheats. For posh racists, it was a win-win. Yet Pelosi evi­dent­ly believes her sec­ond video solved the prob­lems of the first. ​"We're try­ing to show both sides," Pelosi explained.
Maher lat­er dealt with Pelosi's omis­sion of women from her Mis­sis­sip­pi video. He pro­posed estab­lish­ing a South­ern ver­sion of St. Patrick's Day called ​"St. Cracker's Day." The accom­pa­ny­ing shot showed a com­put­er-gen­er­at­ed image of a young white woman wear­ing a T‑shirt with a Con­fed­er­ate flag and the words ​"Kiss Me I'm Yer Sis­ter." Behind the woman was an old car in a trash-strewn field.
Con­sid­er anoth­er New York-Hol­ly­wood sum­mit meet­ing: Janeane Garofalo's April 2009 appear­ance on Kei­th Olbermann's Count­down. With Olber­mann sound­ing notes of agree­ment, Garo­fa­lo ana­lyzed the Tea Par­ty: ​"This is about hat­ing a black man in the White House. This is racism, straight up. [The Tea Par­ty] is noth­ing but a bunch of tea-bag­ging rednecks."
"Red­necks" start­ed as a slur against white farm­ers and labor­ers with sun­burns on the backs of their necks from long days work­ing out­side. When Garo­fa­lo used ​"red­neck" as a syn­onym for ​"racist," she both dis­par­aged coun­try peo­ple and let upper- and mid­dle-class racists off the hook. (A 2010 poll by CBS News and The New York Times revealed that the typ­i­cal Tea Parti­er has a high­er income than the aver­age Amer­i­can and is more like­ly to be a col­lege graduate.)
Garofalo's Count­down episode was a gift to the cor­po­rate elite and their talk­ing heads. On Fox News, evan­gel­i­cal-for-hire Cal Thomas sound­ed the keynote: ​"This is typ­i­cal of elit­ism that we've seen. [Lib­er­als] real­ly hate the peo­ple who built and sus­tained Amer­i­ca." But not all con­ser­v­a­tives were able to stay in pop­ulist char­ac­ter. Nation­al Review​'s Jay Nordlinger offered this rebut­tal: ​"I know, per­son­al­ly, many of the tea-partiers, and there's not a tea-bag­ging red­neck or racist in the bunch." Nordlinger want­ed to feign out­rage on behalf of down-home white folks, but he couldn't man­age. His word choice may have been inept, but it high­light­ed the fact that many right-wingers have no love for work­ing-class whites.
In Novem­ber 2000, Matt Labash of The Week­ly Stan­dard likened a Flori­da protest call­ing for a full recount of the state's pres­i­den­tial vote to a ​"dance of the low-slop­ing fore­heads." He then praised our nation's founders for being ​"skep­ti­cal as they were of a dimwatt, venal elec­torate." And in 2004, John Pod­horetz of Com­men­tary mag­a­zine blamed the Bush administration's tor­ture pro­gram on ​"white-trash ghouls" who enlist­ed in the military.
Right-wing ​"pop­ulism" is the absur­di­ty of the age, but it couldn't be so pow­er­ful with­out lib­er­al help. In July 2011, Maher expressed dis­be­lief at the extent of the GOP's sup­port. ​"I under­stand why the Repub­li­cans get 1 per­cent of the vote – the rich­est 1 per­cent," Maher stat­ed. ​"That oth­er 49 per­cent, some­one will have to explain to me."
Well, Bill, did you hear the one about the two lib­er­als, one from Hol­ly­wood and the oth­er from The New York Times?
Chris Pepus
is a writer for
Razor­cake
. His work has also appeared in
The Pro­gres­sive
, the
Chica­go Read­er, Amer­i­can The­atre
and the
Pro­gres­sive Pop­ulist
.