When the Rainbow Isn't Enough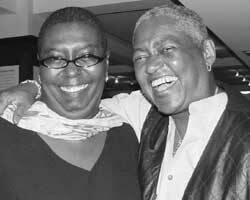 "Everything we've done has been absolutely radical," says Chris Smith, co-founder and current board president of Chicago's Affinity Community Services.

How radical?

Radical enough to establish an out and proud group for black lesbian and bisexual women on Chicago's South Side. "We decided to plant roots and be decidedly visible," Smith says.

Affinity sits several miles south of, and a world away from, the city's officially designated gay neighborhood, Lakeview (or "Boystown"). Despite the Art Deco rainbow pylons and rows of pride flags, Lakeview has not historically been a welcoming place for all gay people, particularly women and people of color.

It was with that in mind that Affinity was founded nearly seven years ago by black gay and lesbian activists who saw a need for services and support on the predominantly African-American South Side.

From meetings that began in board members' living rooms, Affinity has grown into a nonprofit that serves about 1,000 women each year from a large garden space rented from the First Unitarian Church of Chicago in Hyde Park. Last year the volunteer-driven group hired its first full-time employee, an office administrator.

Women come to meetings and events from across the city. Among them is Gaylon Roberson, the group's vice-president, who made the hike from Lincoln Park, on the North Side, to attend her first meeting.

Roberson discovered Affinity in 1997 while she was in the process of leaving an abusive marriage to a man and acknowledging her growing attraction to a female co-worker. She called every group she could find in a local black, gay newspaper, and Affinity was the only one to call her back. When she went to her first meeting and discovered a group of women sitting in a circle with candles and incense, "I just felt really comfortable," she says.

"They really feel like my sisters," she says of her fellow board members. "I'm not saying we always get along," she adds, laughing, "but it feels like my family."

Affinity's events and programs are aimed at serving nearly every member of that family, from teens to seniors, from those newly out to veterans of the lesbian community, and from those looking for a social outlet to those looking for something overtly political. "When one of our constituents says, 'My life is so changed because of this,' it feels so good," says Roberson, who just finished a three-year stint as volunteer coordinator. "The stories are wonderful."

While Affinity has attained a level of success and visibility in the gay and lesbian community—including induction into Chicago's Gay and Lesbian Hall of Fame—things haven't always been easy. "People don't take black women seriously," Smith, the board president, says. "We've been called everything, [including] low-class dykes in the basement." This is despite the fact that several board members hold Ph.D.s and other advanced degrees.

At one off-site fundraiser several years ago, the staff helping the group set up kept asking where the men were, who was paying, and who was in charge if there weren't going to be any men.

After that rocky start, however, the staff at the annual event has come to value Affinity's business, Smith says.

And as others become more comfortable with the women served by Affinity, Smith says those women are becoming more comfortable with themselves and their surroundings.

She said a custodian at their building noted that when Affinity first moved into its current home in 1998, the women had one of two demeanors: They were visibly frightened or had their dukes up to fight. After a year, women were leaving the space loudly laughing and talking, no longer afraid of drawing attention to themselves.

Affinity has always had to overcome the misconception that it isn't safe to be out on Chicago's South Side. Attendance at its events and programs has grown steadily since the move to its current location, both because of growing awareness and because the new space sits squarely in the progressive Hyde Park neighborhood, home of the University of Chicago.

Smith says that while Affinity's women refuse to be cowed into hiding, safety is an overriding concern as they consider their next move. And a move is likely imminent as Affinity continues to grow.

Roberson said one of the most empowering things about being involved with Affinity is that everyone has the potential to effect change. "You can realistically have an impact," she says. "You can change the face of history and make change for all of us."

"Black women should be in control of our sexuality, of our lives," Roberson continues. "It's really about us living our lives like we want to live them."
Limited time: $10 gift subscriptions
We've made it easier and more affordable to give the gift of In These Times than ever. Give a shining example of a free, independent press to all the progressive thinkers on your gift list. For a limited time, 12-issue gift subscriptions are just $10.
Karen Hawkins
is a George Washington Williams fellow and a writer in Chicago whose work has appeared in
Windy City Times
and
Curve
.
Special Offer: Gift subscriptions for just $10
For a limited time, you can give a gift subscription to In These Times magazine for just $10.