Sol­diers of the first U.S. inva­sion force to enter Iraq have expressed wide­spread resent­ment for Bush admin­is­tra­tion officials.

​"If Don­ald Rums­feld was here, I'd ask him for his res­ig­na­tion," Spec. Clin­ton Dietz of the 3rd Infantry's 2nd Brigade told ABC News in a July 15 report. Anoth­er sergeant said, ​"I've got my own ​'Most Want­ed List,' [and] the aces in my deck are Paul Bre­mer, Don­ald Rums­feld, George Bush, and Paul Wol­fowitz." Those are the four men run­ning U.S. pol­i­cy in Iraq.

This is pret­ty seri­ous stuff. GIs might gripe among them­selves in the bar­racks, or the mess hall, but rarely are those com­plaints pub­licly expressed. Even in the after­math of the Nurem­berg tri­als, the uni­ver­sal soldier's cre­do is: Ours is not to rea­son why, ours is but to do or die.

The abrupt can­cel­la­tion of home­com­ing plans prob­a­bly pushed the men of the 2nd Brigade over the line. After all, they have been in the region since last Sep­tem­ber, when they were deployed to Kuwait. They were among the first troops in Bagh­dad dur­ing the inva­sion and have been in the region longer than oth­er troops. But the sol­diers also knew that mak­ing dis­parag­ing com­ments about civil­ian lead­er­ship of the mil­i­tary could bring a seri­ous rep­ri­mand or even court mar­tial. Some appar­ent­ly were will­ing to take that risk.

Their courage, or reck­less­ness, brings back mem­o­ries of the Viet­nam era and the sol­diers who became involved in the strug­gle against that war. Mem­bers of the U.S. armed forces were some of the ear­li­est sol­diers in the anti­war move­ment; groups of vet­er­ans and active duty mem­bers were promi­nent in many anti­war protests. In Viet­nam, increas­ing num­bers of frag­ging inci­dents (attacks on supe­ri­or offi­cers) and mutinies revealed the troops' grow­ing dis­en­chant­ment with offi­cial pol­i­cy. The gen­er­al pub­lic didn't turn solid­ly against the war until late in the game, and then only grudg­ing­ly. Even after the 1971 rev­e­la­tions in the infa­mous Pen­ta­gon Papers, most Amer­i­cans sup­port­ed the anti-Com­mu­nist cru­sade in South­east Asia.

Our cur­rent sit­u­a­tion is a bit dif­fer­ent. Many Amer­i­cans joined in glob­al con­cert with mil­lions of oth­ers to protest the prospect of this war. Much ado now is being made about the 16-word ​"mis­take" (or lie) Bush uttered dur­ing his State of the Union address, but most glob­al observers knew it was a dubi­ous claim when he made it. There was already con­sid­er­able infor­ma­tion avail­able in the glob­al media that had cast doubt on the Niger ura­ni­um story.

Those who craft­ed Bush's speech, and prob­a­bly the pres­i­dent him­self, knew the infor­ma­tion was decep­tive. But so what? They had been plan­ning an inva­sion of Iraq at least since 2001 and had gone way too far to quit now. In fact, Deputy Defense Sec­re­tary Paul Wol­fowitz, one of the major archi­tects of the Iraq inva­sion, had been plan­ning to invade the coun­try since at least 1992, when he draft­ed a pol­i­cy paper for Dick Cheney, then the defense sec­re­tary in the first Bush administration.

That report, excerpts of which were pub­lished in the March 8, 1992 edi­tion of the New York Times, urged the Unit­ed States to pro­tect and exploit its unique super­pow­er sta­tus, mak­ing pre-emp­tive strikes and tak­ing uni­lat­er­al action when­ev­er nec­es­sary to ensure our pre-emi­nence. The draft pro­pos­al declared, ​"Our first objec­tive is to pre­vent the re-emer­gence of a new rival, either on the ter­ri­to­ry of the for­mer Sovi­et Union or else­where." The report called for mil­i­tary inter­ven­tion in Iraq to assure ​"access to vital raw mate­r­i­al, pri­mar­i­ly Per­sian Gulf oil" and to pre­vent the pro­lif­er­a­tion of weapons of mass destruc­tion and threats from terrorism.

At the time, Wolfowitz's pre­scrip­tions were con­sid­ered too bel­li­cose. The first Bush admin­is­tra­tion dras­ti­cal­ly revised and soft­ened the doc­u­ment. Wol­fowitz bid­ed his time and retreat­ed to the wood­shed with his neo­con­ser­v­a­tive cohorts, where they honed their argu­ments and sharp­ened their strat­e­gy. He is part of a group of ide­o­logues that has been busy for­mu­lat­ing pol­i­cy pre­scrip­tions since 1976, under the aus­pices of the Jew­ish Insti­tute for Nation­al Secu­ri­ty Affairs (JIN­SA). Found­ed by neo­con­ser­v­a­tives con­cerned about Israel's secu­ri­ty, JIN­SA has attract­ed a select ros­ter of board mem­bers includ­ing, at one time or anoth­er, Vice Pres­i­dent Dick Cheney, for­mer CIA Direc­tor James Woolsey, the infa­mous Richard ​"Prince of Dark­ness" Per­le, Under­sec­re­tary of State for Arms Con­trol John Bolton, Pen­ta­gon offi­cial Dou­glas Fei­th, and Michael Ledeen, the itin­er­ate and influ­en­tial ​"ter­ror­ist con­sul­tant." Many of these same indi­vid­u­als also are deeply involved with the Project for the New Amer­i­can Cen­tu­ry (PNAC), cre­at­ed in 1997 and head­ed by William Kris­tol, edi­tor of The Week­ly Stan­dard. In 1998, PNAC wrote a pub­lic let­ter to Pres­i­dent Bill Clin­ton urg­ing he attack Iraq. Cheney, Rums­feld, and Wol­fowitz were among the signatories.

The selec­tion of Bush II in 2000 gave the neo­cons their sec­ond shot. Wol­fowitz came back to Rumsfeld's Pen­ta­gon, this time as a deputy sec­re­tary. Sev­er­al oth­er PNAC mem­bers are sprin­kled in high places, and it's clear their ideas are dri­ving Bush's inter­na­tion­al poli­cies. Any seri­ous observ­er of these devel­op­ments can see that Amer­i­cans have been conned, or per­haps neo-conned, into invad­ing Iraq. And in any war, the most seri­ous observers are the soldiers.
One soldier told ABC, "I've got my own 'Most Wanted List,' [and] the aces in my deck are Bremer, Rumsfeld, Bush, and Wolfowitz."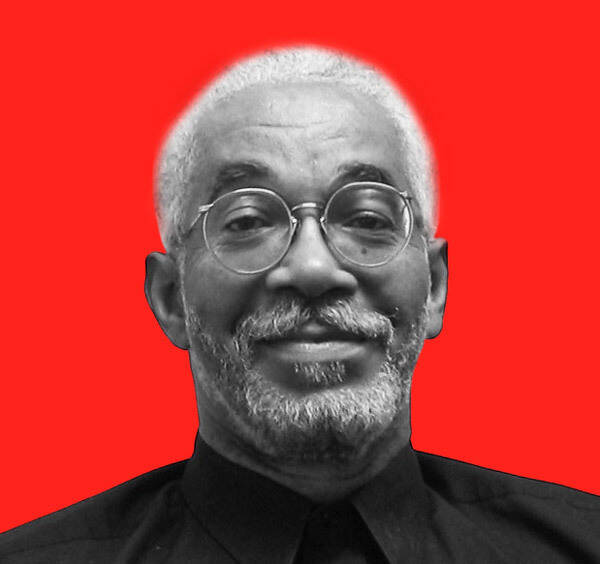 Sal­im Muwakkil
is a senior edi­tor of
In These Times
, where he has worked since
1983
. He is the host of The
Sal­im Muwakkil
show on WVON, Chicago's his­toric black radio sta­tion, and he wrote the text for the book
HAROLD: Pho­tographs from the Harold Wash­ing­ton Years
.