Warren's an Ally. We Need a Leader.
Elizabeth Warren isn't the president we need in this moment.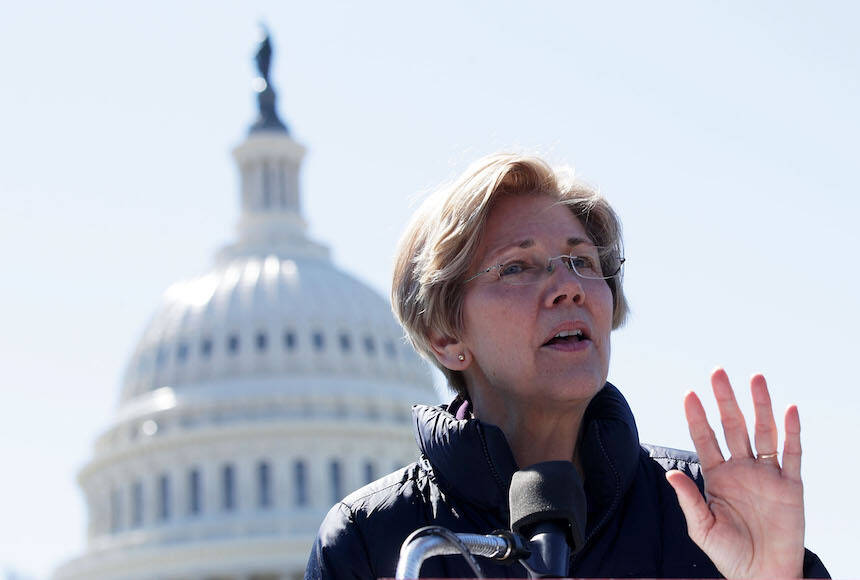 In the face of Trump and the immi­nent threat of fas­cism, and after over years 40 years of expe­ri­enc­ing the 1% usurp our polit­i­cal sys­tem, pro­gres­sives can­not let dog­ma­tism and ultra-left­ism lead us to con­fuse allies with ene­mies. Eliz­a­beth War­ren is an ally who has embraced many pro­gres­sive reforms. The dif­fer­ence between her plat­form and that of Bernie Sanders pales in com­par­i­son to the dif­fer­ence between either and Joe Biden or Pete Buttigieg, the picks of the cor­po­rate Democ­rats. We must not allow loy­al­ty to War­ren or Sanders to pit us against one anoth­er and lose sight of our most impor­tant task — to use this moment to build a robust social move­ment Left.
If Warren follows in Obama's footsteps, big ideas like Medicare for All will be dead on arrival—and there are signs that she may.
At the same time, we need to under­stand the dif­fer­ences between the can­di­dates. In the Amer­i­can polit­i­cal cir­cus, it can be easy to get caught up in a candidate's per­son­al­i­ty and see this as the dri­ving force of change. How­ev­er, far more impor­tant than indi­vid­ual char­ac­ter­is­tics are the polit­i­cal projects they are building.
One indi­ca­tor is how well they inspire peo­ple to take action beyond the bal­lot box — because defeat­ing both the far Right and neolib­er­al­ism will require a mass move­ment. In ​"What an Eliz­a­beth War­ren Pres­i­den­cy Would Look Like," Kath­leen Geier fails to acknowl­edge that War­ren has not mobi­lized work­ing-class peo­ple across racial dif­fer­ence as effec­tive­ly as Sanders. In 2017, polls showed Sanders was the most pop­u­lar U.S. politi­cian. His base is younger, more diverse and more work­ing-class than Warren's. He has an enor­mous grass­roots cam­paign infra­struc­ture and more dona­tions from work­ing peo­ple, includ­ing teach­ers and Wal­mart work­ers, than any oth­er can­di­date. It's impor­tant to note that Sanders' pop­u­lar­i­ty is not a prod­uct of his per­son­al­i­ty or a good slo­gan. It is a prod­uct of his politics.
When Sanders lost in 2016, he imme­di­ate­ly fun­neled his cam­paign infra­struc­ture into an inde­pen­dent polit­i­cal orga­ni­za­tion with a bold title: Our Rev­o­lu­tion. In addi­tion, dozens of oth­er orga­ni­za­tions have spun out of his cam­paign all across the coun­try — a tes­ta­ment to the grass­roots, inde­pen­dent nature of the Sanders polit­i­cal project. Elect­ed offi­cials at all lev­els of gov­ern­ment — includ­ing Reps. Ilhan Omar and Alexan­dria Oca­sio-Cortez — cred­it Sanders as inspi­ra­tion for their run. This is impor­tant because trans­form­ing the make-up of Con­gress will be essen­tial to mov­ing Medicare for All, free col­lege, decarcer­a­tion and the Green New Deal forward.
Warren's base is wealth­i­er, whiter and more col­lege-edu­cat­ed than Sanders', and she takes a friend­lier approach to the Demo­c­ra­t­ic estab­lish­ment. It's hard to imag­ine how War­ren might jug­gle these com­pet­ing inter­ests, but the Oba­ma years give us a good idea what it might look like. When Oba­ma was elect­ed, Oba­ma for Amer­i­ca, the grass­roots orga­ni­za­tion that fueled his cam­paign moved to the Demo­c­ra­t­ic Nation­al Com­mit­tee. As a result, his 2.5 mil­lion activists were no longer posi­tioned to build an inde­pen­dent pow­er base but instead became an arm of the Demo­c­ra­t­ic Par­ty. This took the mil­lions of peo­ple, who had been ignit­ed by Obama's cam­paign and his inde­pen­dent vision for the future of Amer­i­can pol­i­tics, off the streets and co-opt­ed them into the con­fines of the neolib­er­al Demo­c­ra­t­ic Par­ty. This was fatal for the reforms Oba­ma cam­paigned upon. In order to actu­al­ly move promis­es like a path to cit­i­zen­ship for mil­lions of immi­grants, the shut­down of Guan­tanamo Bay, and the repeal of tax breaks on the wealthy, his inside strat­e­gy would have had to be matched with robust out­side pres­sure. But Oba­ma saw grass­roots activism as a hin­drance to his abil­i­ty to build trust with mod­er­ates and Repub­li­cans. On mul­ti­ple occa­sions, includ­ing dur­ing the Fer­gu­son rebel­lion, he con­demned pop­u­lar resis­tance. As a result of his focus on com­pro­mise, Oba­ma failed work­ing peo­ple — by bail­ing out the banks instead of the peo­ple, by expand­ing the War on Ter­ror and the military's drone pro­gram and pass­ing a watered-down ver­sion of health­care reform.
If War­ren fol­lows in Obama's foot­steps, big ideas like Medicare for All will be dead on arrival — and there are signs that she may. The New York Times report­ed in August 2019 that War­ren was court­ing par­ty offi­cials by stress­ing that she will revive the par­ty from the inside, not mount a chal­lenge from the out­side, as has been Sanders' approach.
As Geier notes, the bul­ly pul­pit is anoth­er tool at the president's dis­pos­al. Geier describes how War­ren went up against Wall Street and neolib­er­al Democ­rats as a fresh­man sen­a­tor — no small feat. War­ren quick­ly became a cham­pi­on against cor­po­rate greed. But is that enough in 2020?
Today, three bil­lion­aires own more wealth than half of Amer­i­cans. Giv­en these con­di­tions, peo­ple are demand­ing a total over­haul of our eco­nom­ic sys­tem. Polls show the major­i­ty of young peo­ple pre­fer social­ism: 55% of women under 55 say they would pre­fer a social­ist coun­try to a cap­i­tal­ist one, and 70% of mil­len­ni­als — a grow­ing slice of the elec­torate — say they would vote for a social­ist. As the Over­ton win­dow shifts, War­ren remains stuck, refer­ring to her­self as a ​"cap­i­tal­ist to my bones." She cites ​"cor­rup­tion" as the source of every ill, imply­ing our prob­lems aren't so much sys­temic as a mat­ter of a few bad apples. We can antic­i­pate that, as pres­i­dent, War­ren will not only rein­force the false notion that cap­i­tal­ism can be saved, but that it can be divorced from cor­po­rate greed and that it isn't pred­i­cat­ed upon exploita­tion and the cre­ation of a per­ma­nent under­class. While reg­u­lat­ing cor­po­ra­tions is nec­es­sary, we know it won't solve the crises of cli­mate, hous­ing and debt. The fos­sil fuel industry's very exis­tence relies on burn­ing car­bon, the real estate industry's relies on goug­ing ten­ants and the pri­vate bank­ing system's relies on mas­sive debt. Under cap­i­tal­ism, the needs of peo­ple and plan­et are always sec­ondary to the prof­it motive. War­ren will offer BandAid solu­tions to prob­lems that, with­out deep eco­nom­ic trans­for­ma­tion, will only persist.
The pol­i­cy plans for which War­ren is famous rein­force this rhetoric. For exam­ple, while Sanders is fight­ing for the com­plete elim­i­na­tion of stu­dent debt, Warren's plan tar­gets debt up to $50,000. For peo­ple like my sis­ter, who has accrued more than $150,000 in stu­dent loans, Warren's plan isn't super help­ful. Yes, it would aid many stu­dents and tan­gi­bly change mil­lions of lives — but the plan would simul­ta­ne­ous­ly legit­imize greedy cor­po­ra­tions like Sal­lie Mae and the idea that it's not only okay, but nor­mal and right, to prey upon young people's desire for a good edu­ca­tion. Anoth­er exam­ple: On Jan­u­ary 3, War­ren broke with Sanders in announc­ing her sup­port for the Trump admin­is­tra­tion's Unit­ed States-Mex­i­co-Cana­da Agree­ment (USM­CA), cit­ing the agree­ments improve­ments over its pre­de­ces­sor, NAF­TA. How­ev­er, these mod­est improve­ments do noth­ing to change the fun­da­men­tal log­ic of free trade that has forced mil­lions of peo­ple into pover­ty. Warren's approach to issues such as these under­mines the long-term bat­tle to wrest our soci­ety from the grips of cor­po­rate greed, as well as the basic tenet that every human, by virtue of being born, has a fun­da­men­tal right to health­care, hous­ing, food, water, safe­ty and education.
While Geier men­tions Warren's poor record on for­eign pol­i­cy, it does not receive the lev­el of scruti­ny it deserves. It's a shame that even our most pro­gres­sive can­di­dates for elect­ed office are mod­er­ate when it comes to issues of for­eign pol­i­cy, giv­en that the U.S. mil­i­tary receives more than half of all dis­cre­tionary fed­er­al spend­ing, and the U.S. is wag­ing a War on Ter­ror in 80 coun­tries. Pro­gres­sives can­not lim­it our val­ues to the con­fines of U.S. bor­ders and ignore the dev­as­ta­tion that mil­lions of peo­ple are expe­ri­enc­ing around the world under U.S. militarism.
On issues of war and peace, War­ren is not to the right of the Demo­c­ra­t­ic par­ty, but she is also not a pro­gres­sive leader. Sanders is no saint here, either, but he has cham­pi­oned pro­gres­sive for­eign pol­i­cy ideas before they were polit­i­cal­ly pop­u­lar, such as end­ing the war in Yemen and our ally­ship with Sau­di Ara­bia, cut­ting off fund­ing to Israel for its occu­pa­tion of Pales­tine and end­ing eco­nom­ic sanc­tions against Venezuela. War­ren, mean­while, cham­pi­oned Israel's 2014 war against Gaza, has moved to the right on sanc­tions against Venezuela, and has been an ally to the defense indus­try.
Just last week, when Trump assas­si­nat­ed Iran­ian Com­man­der Qasem Soleimani, wag­ing war with­out Con­gres­sion­al approval, War­ren began her Twit­ter state­ment against war with the qual­i­fi­er ​"Soleimani was a mur­der­er." In using rhetoric that jibes with Trump's claims of ​"Iran­ian aggres­sion," War­ren may be cov­er­ing her polit­i­cal bases, but she is also hand­ing Trump a jus­ti­fi­ca­tion for war. This, cou­pled with the fact that War­ren vot­ed for the sanc­tions that led up to the war, makes her com­plic­it in the deaths of thou­sands that may result. (Sanders, by con­trast, took to near­ly every plat­form to state clear­ly that the Unit­ed States is the aggres­sor and to make stead­fast his stance against war.)
Warren's track record on for­eign pol­i­cy is quite clear: She moves with the polit­i­cal winds — when it's pop­u­lar to do the right thing, she does it, and when it's not, she doesn't stick her neck out. As pres­i­dent, will she sig­nal to oth­ers in the par­ty that they can con­tin­ue to move to the right on for­eign pol­i­cy? Can we expect a con­tin­u­a­tion of the Demo­c­ra­t­ic sta­tus quo under Oba­ma, when we killed more peo­ple with drones than ever before and bombed Iraq, Syr­ia, Pak­istan, Afghanistan, Libya, Yemen and Somalia?
While both can­di­dates are scar­ing bil­lion­aires, only Sanders is build­ing a loy­al base of sup­port among work­ing-class peo­ple. Only Sanders is mov­ing the nee­dle left on for­eign pol­i­cy. Only Sanders can be trust­ed to avoid the Oba­ma trap of water­ing down poli­cies in the name of bipar­ti­san­ship. Only Sanders will lead a move­ment for the trans­for­ma­tion of cap­i­tal­ism we urgent­ly need.
This is a response to Kath­leen Geier​'s cov­er sto­ry in the Jan­u­ary 2020 issue, ​"What an Eliz­a­beth War­ren Pres­i­den­cy Would Look Like." Read it here.
The views expressed in this piece are the author's own. As a 501©3 non­prof­it, In These Times does not oppose or endorse can­di­dates for polit­i­cal office.
Rachel Gilmer
is an orga­niz­er with the Dream Defend­ers. The group's polit­i­cal vision, the Free­dom Papers, is at DreamDe​fend​ers​.org/​F​r​e​e​d​o​m​P​apers.