White Supremacist Violence Is All Too American
Whenever Black Americans make advances, they face a torrent of racist backlash.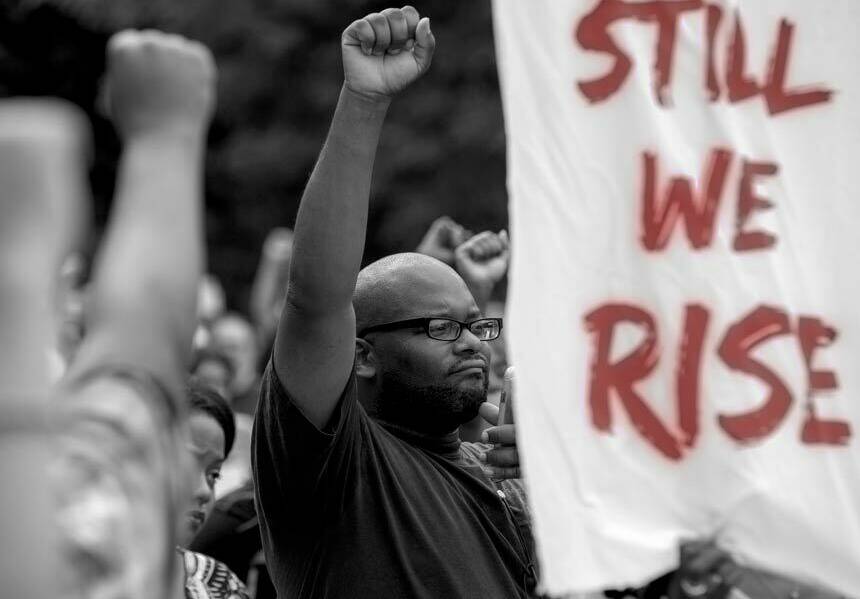 Real Amer­i­cans under­stand that our nation is built around val­ues," wrote New York Times colum­nist Paul Krug­man fol­low­ing the dead­ly right-wing vio­lence in Char­lottesville, Va. ​"These days we have a pres­i­dent who is real­ly, tru­ly, deeply un-Amer­i­can, some­one who doesn't share the val­ues and ideals that made this coun­try special."
Make no mis­take: The resur­gence of armed white suprema­cist groups is exceed­ing­ly dan­ger­ous. Don­ald Trump's refusal to unequiv­o­cal­ly con­demn them per­haps even more so. But what does it mean to call these behav­iors un-American?
Study­ing U.S. his­to­ry means com­ing to terms with right-wing ter­ror­ism as a fea­ture, not a fluke, of the Amer­i­can experience.
This vio­lence often surges at moments when Amer­i­can val­ues and ideals are most hot­ly con­test­ed. Con­sid­er an edi­to­r­i­al by Ku Klux Klan (KKK) Impe­r­i­al Wiz­ard Hiram Evans in 1925, when immi­gra­tion and civ­il rights were front-page news. ​"With­in a few years, the Amer­i­ca of our fathers will either be saved or lost," Evans wrote in the main­stream mag­a­zine The Forum. ​"All who wish to see it saved must work with us." This echoes the chants of torch-bear­ing marchers in Char­lottesville: ​"You will not replace us."
Con­verse­ly, the unful­filled promise in the Amer­i­can ide­al of ​"lib­er­ty and jus­tice for all" has giv­en birth to many move­ments deter­mined to win its fullest pos­si­ble expres­sion. For every the­o­reti­cian of ​"race sci­ence" or pro­po­nent of ​"sep­a­rate but equal," we will find abo­li­tion­ists and civ­il rights activists. These two forces are the yin and yang of the Amer­i­can spir­it. At our core, we are a nation still strug­gling over wild­ly dif­fer­ent inter­pre­ta­tions of Amer­i­can val­ues. Sim­ply stat­ing that the events in Char­lottesville and Trump's response are ​"un-Amer­i­can" risks the impres­sion that this bat­tle has already been won.
Here, I con­sid­er four key peri­ods when rightwing vio­lence helped derail civ­il rights gains. The les­son is sober­ing: Any suc­cess­ful lib­er­a­tion move­ment is like­ly to encounter right-wing back­lash. The bat­tle between America's anti-racist ideals and its racist id con­tin­ues. Beyond dis­avow­ing the lat­ter, we must con­tin­ue the fight for the former.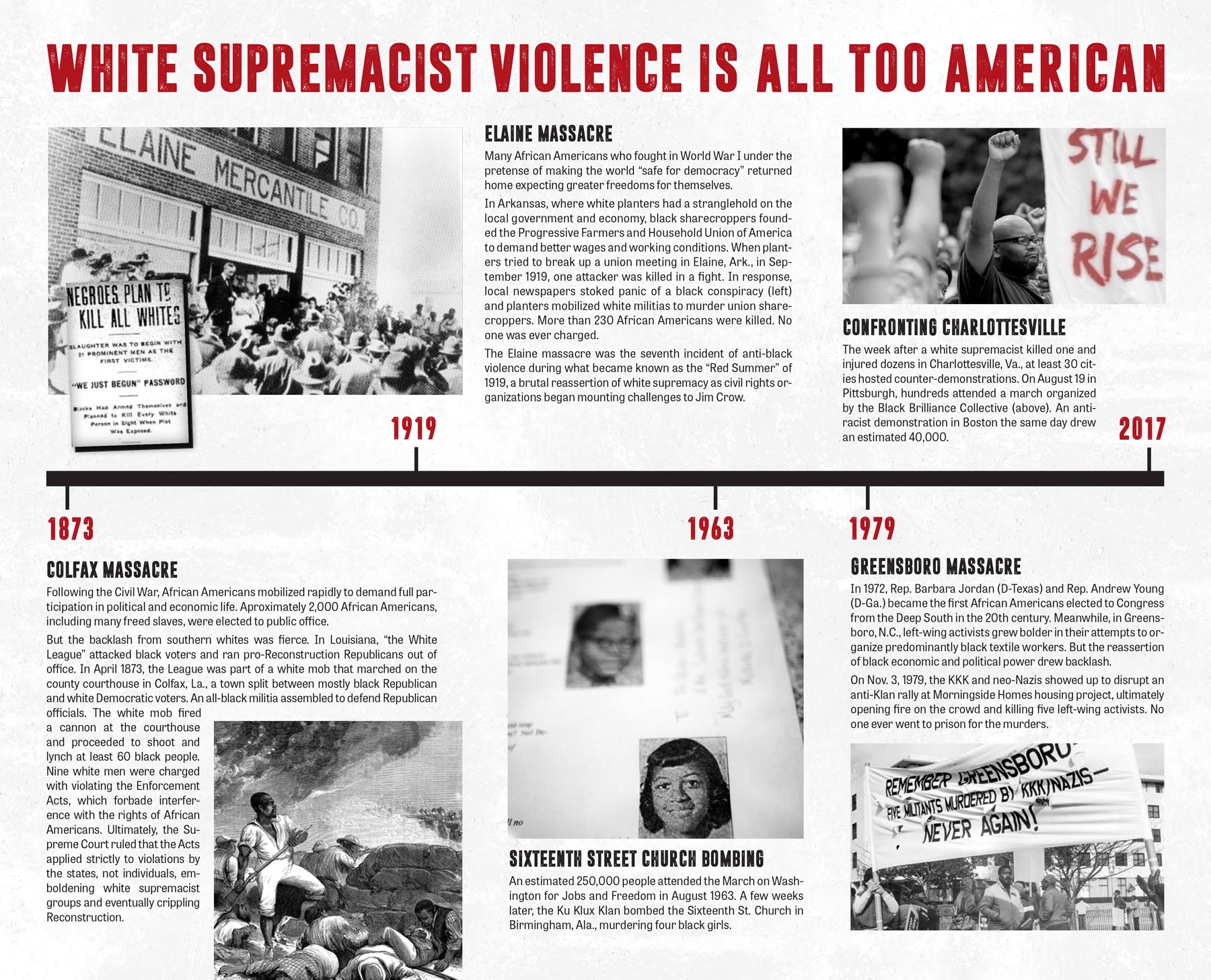 1873

: Col­fax Massacre

Fol­low­ing the Civ­il War, African Amer­i­cans mobi­lized rapid­ly to demand full par­tic­i­pa­tion in polit­i­cal and eco­nom­ic life. Aprox­i­mate­ly 2,000 African Amer­i­cans, includ­ing many freed slaves, were elect­ed to pub­lic office.

But the back­lash from south­ern whites was fierce. In Louisiana, ​"the White League" attacked black vot­ers and ran pro-Recon­struc­tion Repub­li­cans out of office. In April 1873, the League was part of a white mob that marched on the coun­ty cour­t­house in Col­fax, La., a town split between most­ly black Repub­li­can and white Demo­c­ra­t­ic vot­ers. An all-black mili­tia assem­bled to defend Repub­li­can offi­cials. The white mob fired a can­non at the cour­t­house and pro­ceed­ed to shoot and lynch at least 60 black peo­ple. Nine white men were charged with vio­lat­ing the Enforce­ment Acts, which for­bade inter­fer­ence with the rights of African Amer­i­cans. Ulti­mate­ly, the Supreme Court ruled that the Acts applied strict­ly to vio­la­tions by the states, not indi­vid­u­als, embold­en­ing white suprema­cist groups and even­tu­al­ly crip­pling Reconstruction.
1919

: Elaine Massacre

Many African Amer­i­cans who fought in World War I under the pre­tense of mak­ing the world ​"safe for democ­ra­cy" returned home expect­ing greater free­doms for themselves.

In Arkansas, where white planters had a stran­gle­hold on the local gov­ern­ment and econ­o­my, black share­crop­pers found­ed the Pro­gres­sive Farm­ers and House­hold Union of Amer­i­ca to demand bet­ter wages and work­ing con­di­tions. When planters tried to break up a union meet­ing in Elaine, Ark., in Sep­tem­ber 1919, one attack­er was killed in a fight. In response, local news­pa­pers stoked pan­ic of a black con­spir­a­cy and planters mobi­lized white mili­tias to mur­der union share­crop­pers. More than 230 African Amer­i­cans were killed. No one was ever charged.

The Elaine mas­sacre was the sev­enth inci­dent of anti-black vio­lence dur­ing what became known as the ​"Red Sum­mer" of 1919, a bru­tal reasser­tion of white suprema­cy as civ­il rights orga­ni­za­tions began mount­ing chal­lenges to Jim Crow.
1963

: Six­teenth Street Church Bombing

An esti­mat­ed 250,000 peo­ple attend­ed the March on Wash­ing­ton for Jobs and Free­dom in August 1963. A few weeks lat­er, the Ku Klux Klan bombed the Six­teenth St. Church in Birm­ing­ham, Ala., mur­der­ing four black girls.
1979

: Greens­boro Massacre

In 1972, Rep. Bar­bara Jor­dan (D‑Texas) and Rep. Andrew Young (D‑Ga.) became the first African Amer­i­cans elect­ed to Con­gress from the Deep South in the 20th cen­tu­ry. Mean­while, in Greens­boro, N.C., left-wing activists grew bold­er in their attempts to orga­nize pre­dom­i­nant­ly black tex­tile work­ers. But the reasser­tion of black eco­nom­ic and polit­i­cal pow­er drew backlash.

On Nov. 3, 1979, the KKK and neo-Nazis showed up to dis­rupt an anti-Klan ral­ly at Morn­ing­side Homes hous­ing project, ulti­mate­ly open­ing fire on the crowd and killing five left-wing activists. No one ever went to prison for the murders.
2017

: Con­fronting Charlottesville

The week after a white suprema­cist killed one and injured dozens in Char­lottesville, Va., at least 30 cities host­ed counter-demon­stra­tions. On August 19 in Pitts­burgh, hun­dreds attend­ed a march orga­nized by the Black Bril­liance Col­lec­tive. An antiracist demon­stra­tion in Boston the same day drew 1919 an esti­mat­ed 40,000.
Robert Greene II
is a Ph.D. can­di­date in his­to­ry at the Uni­ver­si­ty of South Car­oli­na and the book review edi­tor for the Soci­ety for U.S. Intel­lec­tu­al His­to­ry. His writ­ing has appeared in out­lets includ­ing
Dis­sent
, Politi­co and
Scalawag
.