Who Are The 99%?
A suggestion on how to build radically inclusive movements.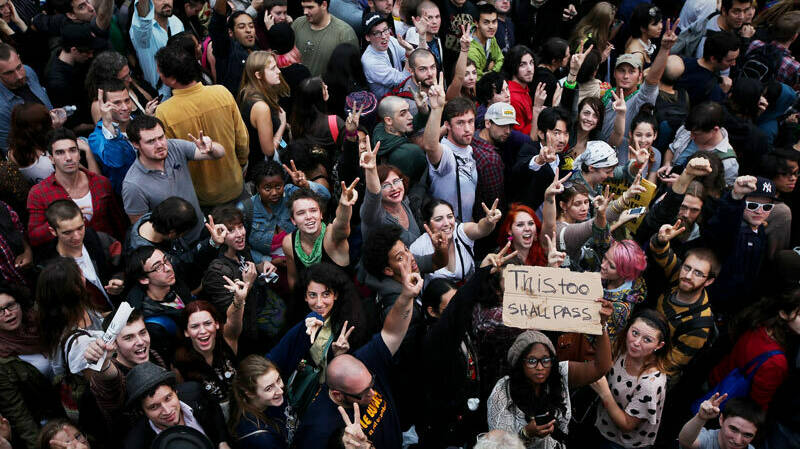 For In These Times' Decem­ber 2013 cov­er fea­ture, ​"Gen­er­a­tion Hope­less?", the mag­a­zine asked a num­ber of polit­i­cal­ly savvy peo­ple, younger and old­er, to respond to an essay by 22-year-old Occu­py activist Matthew Richards in which he grap­ples with what the move­ment meant and whether Occupy's unful­filled promis­es are a lost cause or the seeds of the dif­fer­ent world whose promise he glimpsed two years ago. Here is Asha Rans­by-Sporn's response:
'Rather than "picking up where previous generations" left off, as it is often put, I see our generation as presented with a project of going back into history and diving in deeper where our predecessors did not.'
We are the 99% was nev­er a slo­gan I could relate to. The rhetoric is sweep­ing, meant to be uni­fy­ing, but does not set up a frame­work for think­ing crit­i­cal­ly. As a young Black woman, I don't expect the major­i­ty of Amer­i­cans to under­stand my par­tic­u­lar expe­ri­ence of racism, cap­i­tal­ism or het­eropa­tri­archy. I have learned about the fail­ures of the (white fem­i­nist) women's anti-vio­lence move­ment and the Black free­dom move­ment to ful­ly address the spe­cif­ic needs of Black women. And Occu­py pro­vid­ed even less promise for the par­tic­u­lar­i­ties of my expe­ri­ence to be explored.
Rather than ​"pick­ing up where pre­vi­ous gen­er­a­tions" left off, as it is often put, I see our gen­er­a­tion as pre­sent­ed with a project of going back into his­to­ry and div­ing in deep­er where our pre­de­ces­sors did not. In order to extract silenced nar­ra­tives from beneath the sur­face in his­to­ries of resis­tance, our analy­ses must be inter­sec­tion­al — we must cre­ate a cul­ture of sol­i­dar­i­ty that rec­og­nizes nuance and difference.
Over the course of the past cou­ple years, with my involve­ment in Stu­dents Against Mass Incar­cer­a­tion, I have come to under­stand a mod­el for orga­niz­ing dis­tinct from that of Occu­py. Rather than being defined by or rep­re­sent­ing ​"the mass­es," the grow­ing mass incar­cer­a­tion move­ment begins with the most mar­gin­al­ized. We place our­selves in rela­tion to those in pris­ons and deten­tion cen­ters, who are removed from soci­ety entire­ly, in an attempt to ren­der them invis­i­ble. From there, we attach sol­i­dar­i­ty, rec­og­nize our own priv­i­lege, and trace our expe­ri­ences under the web of oppres­sive struc­tures in our ana­lyt­i­cal and orga­niz­ing work. Through a rad­i­cal Black, ant­i­cap­i­tal­ist, fem­i­nist, anti-racist, prison-abo­li­tion­ist lens, we can under­stand incar­cer­a­tion as it per­me­ates our lives to vary­ing degrees by way of polic­ing, dis­ci­pline and sur­veil­lance. While we stand in sol­i­dar­i­ty, we do not say, ​"We are all in the same boat." A pop­ulist slo­gan like that of the ​"99%" would min­i­mize the extreme suf­fer­ing and forms of con­trol expe­ri­enced by those who are incar­cer­at­ed and thus seen as non-human and unde­serv­ing of basic rights.
Our project requires that we stand in sol­i­dar­i­ty with whomev­er is most ​"oth­er," whomev­er is not con­di­tioned to feel enti­tled to any rights and under­stand the func­tion of oppres­sive struc­tures that work togeth­er. I do not believe that our gen­er­a­tion is hope­less. I do, how­ev­er, think we need to equip our­selves with new tools and strate­gies for move­ment build­ing. This rad­i­cal approach, if we are care­ful, will help us guard against rein­forc­ing the kind of hier­ar­chies we seek to dismantle.
Asha Rosa Rans­by-Sporn
is a nation­al orga­niz­ing co-chair for BYP
100
, an orga­ni­za­tion of Black
18
- to
35
-year-olds that orga­nizes through a Black queer fem­i­nist lens.