Who Built the Golden Gate Bridge? New Book Tells Bridge Workers' Stories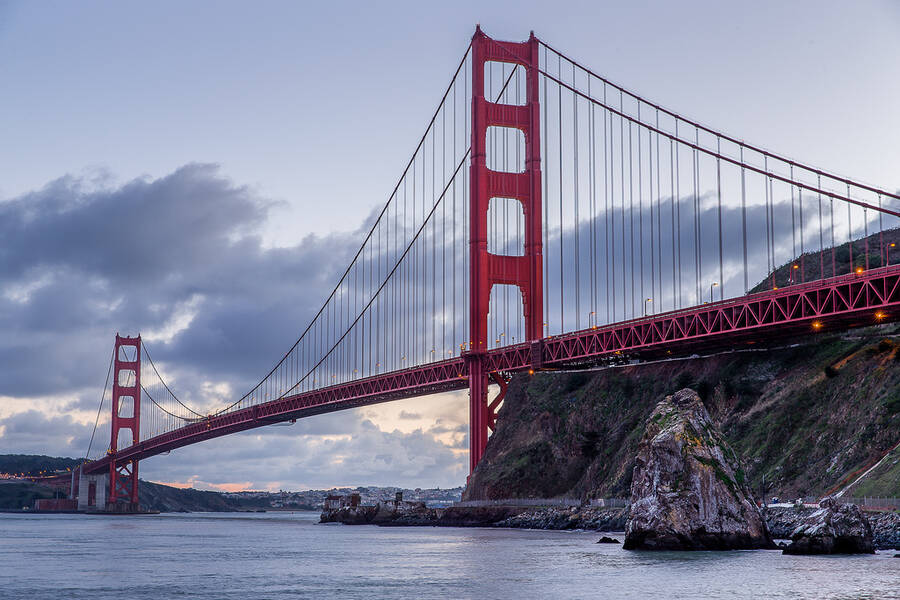 The Golden Gate Bridge is perhaps the most iconic bridge in the United States. A single glance is instantly recognizable to most Americans and many around the world. But the names and stories of those workers who built it have seldom been told.
Harvey Schwartz, a long-standing oral historian of the San Francisco Bay Area, working-class history and the maritime world has written a wonderful book about those who built the Golden Gate Bridge (GGB) in the 1930s. Composed of a dozen ​"life histories" of workers, his book provides readers a look into the world of the bridge builders, laying bare stories of hard times and union organizing in early 20th century America.
Schwartz's purpose is to give voice to the voiceless by allowing ​"ordinary" workers to tell their own stories. In doing so, he self-consciously walks in the footsteps of the great oral historian Studs Terkel. Schwartz quotes Terkel talking about New York City's Grand Central Station, ​"We know there's an architect, but who hung the iron? … Who swept the floors?…. They are the ones who have built this country." Of course, Terkel echoed Bertolt Brecht's 1935 poem ​"A Worker Reads History," which begins:
Who built Thebes of the seven gates?
In the books you will find the name of kings.
Did the kings haul up the lumps of rock?
Similarly, Schwartz quotes Al Zampa, an ironworker who griped about the chief engineer getting all the credit for the GGB while ​"I was out there working. … They should [have] come out and hand-shaked us. We were the ones doing the work."
To right this wrong, Schwartz presents a dozen interviews with people who remind us of how extraordinary many so-called ordinary people's lives truly are. Like other works of history that do their ​"job" well, this book also implicitly encourages readers to reconsider our own times and offers suggestions for today's America.
Builders telling their stories
Golden Gate Bridge workers put their lives at great risk every single day. While construction remains a dangerous industry, building the GGB proved particularly risky — perhaps unsurprisingly, considering the tremendous height, churning seas and dramatic tides of the Pacific Ocean, and the Bay Area's notorious weather.
The first hazard of building the bridge, of course, was its height. Many workers had zero experience with working at such an elevation. John Noren, for example, operated an elevator that carried workers up one of the two signature towers rising 746 feet above the sea. When his lift was full, he had to stand on a tiny crossbeam ten feet above the actual elevator with nothing to protect him. Fred Divita, a paint scraper and field engineer who helped install the safety net, remembered his first day on the job, taking one of these elevators nearly a thousand feet into the sky. Once at the top, the other two men newly hired quit as soon they saw the plank they had to walk simply to reach their tasks.
The workers suffered through the Bay Area's fickle and foggy weather, worsened by working, year-round, high above the ocean. Many know the apocryphal Mark Twain quote about the coldest winter being a summer he spent in San Francisco; in fact, June, July and August are among the Bay Area's coldest months because the fog is generally heaviest then. GGB workers described the misery of working eight hours a day in all sorts of weather, but Fred Bursati, an electrician, astounds the reader when recalling five foot icicles that could drop like daggers while melting.
Thus, it is no coincidence that most interviewed described the clothes, gloves and shoes they wore. Martin Adams, a laborer and pile driver who grew up in the Ozark Mountains, recalled: ​"And cold! The Gate was the coldest place I ever worked. You put all the clothes you could get on and worked hard or you'd freeze." Like others interviewed, Adams' description of his work clothes took up two paragraphs.
Nearly all recounted tragedies including Kermit Moore, the first worker killed on the project. John Urban, a cable spinner, remembered, ​"When the boom came down it hit Kermit, sheared his face off." Glenn McIntyre, an ironworker, added matter-of-factly, ​"I ate lunch with him at noon, and at two o'clock I went out and swept his brains into the Golden Gate."
The worst accident happened in 1937, when a huge scaffold collapsed, tore through the safety net, and plunged 12 men into the ocean several hundred feet below. Two lived. Ten didn't.
Evan C. ​"Slim" Lambert, who helped build the supply railroad on the bridge and poured concrete, was among the 12, breaking his neck, shoulder and some ribs when he slammed into the Pacific. The metal netting that he fell amidst dragged him deep under the icy waters but he managed to free himself and swim to the surface. He even pulled a fellow worker onto some debris until rescued by a valiant crab fisherman; sadly, Fred Dummatzen, a laborer, died on the boat before they reached shore. Lambert returned to work in just one month.
A few years later, Lambert moved to Honolulu only to experience the Japanese attack on Pearl Harbor. He lived to tell that tale, too, which explains why Schwartz named Lambert's chapter simply ​"Survivor."
These and other accidents occurred despite the project's groundbreaking safety measures, including hard hats. Developed in the mid-1930s, GGB contractors were among the first to mandate workers wear them. Hard hats prevented untold numbers of injuries. McIntyre described using a ​"hell dog," a rivet buster, to remove bad rivets, but ​"Sometimes it'd come out of there just like it was coming out of a shotgun," which sounds like a great reason to wear protection. Adams recalled that the front rim of his ​"got a nice split in it where a cable hit [after snapping]. But it saved my face."
Another crucial innovation was a huge mesh net, made of heavy rope, strung underneath the outer parts of the bridge. Schwartz credits the net with saving the lives of nineteen men including ironworker Al Zampa.
One morning, ​"wet, cold, and slippery from the fog," Zampa fell into the net. Alas, it had been strung too loosely so he hit the rocks below and bounced up, only to hit the net, hard, a second time. He broke his back in four places but eventually returned to the project. Along with 18 others, Zampa joined the ​"Half Way to Hell Club" — made up of those lucky enough to fall into the GGB net and survive. Zampa went on to a 50-year career and became known as an ​"ace" for being an expert ironworker. In fact, another Bay Area bridge, Carquinez, is named after him.
Beyond the bridge
Not all of the book's stories involve defying death or even working on ​"the Gate." John Noren tells a story of John Noren playing minor league baseball in the ​"lettuce league" near Monterey, California, before operating an elevator on the bridge. After crushing one ball, Branch Rickey — later the Brooklyn Dodgers general manager who promoted an African-American phenom, Jackie Robinson — praised Noren but he never did make the majors.
"Slim" Lambert's father died when he was fourteen and, since his mom could not support the family, he—like 250,000 other teenagers during the Depression—left home to fend for himself. He worked in salmon canneries in Alaska during the summer and on ranches in southern Arizona in winter. One day while in San Francisco, walking with a friend on the Embarcadero, someone asked the two if they would like to work on the construction of the Bay Bridge, which would connect San Francisco to the East Bay city of Oakland and preceded the completion of the Golden Gate project. ​"You just hired a couple of men," he said. After the Bay Bridge was finished, Lambert found work on the Gate.
Ironworker McIntyre, no doubt, enjoyed telling the story of walking onto the Bay Bridge construction site and asking a foreman, "'I'm Glenn McIntyre. Could you use a good man?' he says, ​'Well, McIntyre, my name is McIntyre, too. You're hired."
Adams also ​"found out that you didn't take a leak on the ocean side of the bridge. The first time I tried, about when it got running good, the wind hit. I got a good shower right in the face."
What does building the Golden Gate tell us today?
While a pleasurable and educational read, the book is also tremendously relevant.
Readers cannot help but notice that most workers interviewed belonged to labor unions: the International Brotherhood of Electrician Workers; International Union of Elevator Constructors; Pile Drivers, Bridge, Wharf and Dock Builders Union; the International Brotherhood of Teamsters; Laborers International Union of North America; and International Association of Bridge, Structural, Ornamental and Reinforcing Iron Workers.
To readers in 2015, this might come as a shock. After all, few American workers belong to unions today—11% in total and fewer than 7% of private sector workers. By contrast, about a third of U.S. workers belonged to unions in the 1950s.
Yet GGB workers belonged to unions and remained proud of it. Indeed, the interviews suggest just how ordinary belonging to a union was but, more pointedly in their minds, how logical.
To Brusati, who boasted of a 50-plus year membership in the IBEW, unions ensured fairness. He noted employers always want to hire cheaper workers, often leading them to pick younger, less experienced ones — quality be damned. However, a bedrock principle of unions is seniority, which protects older workers from what now is called ageism. Urban and Zampa, both proud of being ironworkers for half a century, loved the high wages that unions commanded. Joyce ​"Big J" Harris, an ironworker who joined the union in the 1990s, deeply appreciated that her white union brothers immediately rushed to her aid when a co-worker treated her badly — because she was a woman or an African American or both.
A second prominent theme is the importance of government-financed infrastructure projects in enhancing people's lives and the economy. The GGB drastically improved connections between San Francisco and California to the north of the Golden Gate that, previously, had been quite isolated. The economic benefits accrued to both the larger economy (greater trade and economic development) and countless individuals (working construction in the short-term and having more jobs, due to long-term economic growth facilitated by the bridge's construction).
Construction jobs, in particular, pay well — in great part because it is more heavily unionized than most other US industries. However, in construction, too, union rates have dropped drastically from mid-20th century highs and, with it, relative wages.
A third theme involves the nation's crumbling infrastructure, especially — and ironically — those things built after World War II (when the United States became the richest country in the history of the world) as opposed to structures built in the 1930s (during the Great Depression).
Even the U.S. Chamber of Commerce advocates that the government ramp up infrastructure projects, claiming that one-third of major roads are in poor or mediocre condition and one out of every nine bridges structurally deficient. In fact, by 2030, one Chamber report estimated that the cumulative cost of traffic congestion will reach $2.8 trillion, which also will put many jobs at risk. This most pro-business organization calls for raising taxes to pay for these projects.
For instance, New York City's George Washington Bridge, opened in 1931, is rock solid and can last many more years though, no doubt, traffic congestion has increased due to ever-more vehicles. By contrast, the Tappan Zee Bridge, opened in 1955, is falling apart.
Interestingly, in the ​"they don't make them like they used to" category, Caltrans, a state agency that manages the four Bay Area bridges, plans to blow up a portion of the now-retired eastern half of the Bay Bridge because ​"apparently continuing to dismantle the old eastern span piece by piece is taking too long, is hard, is too expensive, and might hurt surrounding wildlife." Apparently, workers built the Bay Bridge too well.
This book implicitly offers a blueprint for America, a ​"New" New Deal to rebuild the nation's infrastructure that could employ literally millions of American workers. Some of us go further and suggest a ​"Blue-Green Alliance" to (re)build roads and bridges but also a renewable energy grid that simultaneously employs millions, strengthens the economy, and ameliorates the deleterious effects of climate change.
Thinking bigger than the Golden Gate
Perhaps shockingly, some opposed the GGB project, most notably ferry companies — one owned by the powerful Southern Pacific Railroad — that benefited from the status quo and focused solely upon short-term, economic self-interest. Others claimed that building a bridge across the Golden Gate could not be done given the natural environment's many challenges.
Nevertheless, the project moved forward. New technologies, including for safety, were developed. Legions of jobs were created while connectivity and trade drastically expanded.
The book also helps us to imagine what can be done in our time. What will be the Golden Gate Bridge's equivalent in the 21st century? High-speed railroads from sea to shining sea? Wind and solar farms that power all of our homes and businesses, carbon-free?
Perhaps most poignantly, Schwartz rescues the GGB workers from the proverbial dustbin of history.
Martin Adams, a laborer, was born and raised in Arkansas' Ozark Mountains, as rural and poor an area as existed in America. He moved to San Francisco during the Great Depression where he found a job on the Gate and, subsequently, became a union pile driver for another 30-plus years. Adams, justifiably, was quite proud of what he had helped create.
"Now I can go back through all the jobs I worked over about a 40-year period in the whole area from Sacramento to San Jose down to San Francisco," he states in the book. ​"I can pretty near go to ​'em and point ​'em out. They're still standing. But I think there's more special to the Golden Gate Bridge."
Let's only hope we have as much vision and gumption.
Peter Cole
is a Professor of History at Western Illinois University and Research Associate in the Society, Work and Development Program at the University of the Witwatersrand in Johannesburg, South Africa. He is the author of Wobblies on the Waterfront: Interracial Unionism in Progressive Era Philadelphia and the award-winning Dockworker Power: Race and Activism in Durban and the San Francisco Bay Area. He also is the founder and co-director of the Chicago Race Riot of
1919
Commemoration Project (CRR
19
). He tweets from @ProfPeterCole.