Most human endeav­ours, unless checked by pub­lic dis­sent, evolve into mono­cul­tures. Mon­ey seeks out a region's com­par­a­tive advan­tage — the field in which it com­petes most suc­cess­ful­ly — and pro­motes it to the exclu­sion of all else. Every land­scape or seascape, if this process is loosed, per­forms just one function.
This great­ly tax­es the nat­ur­al world. An aquifer might con­tain enough water to allow some farm­ers to grow alfal­fa, but per­haps not all of them. A loch or bay or fjord might have room for wild salmon and a few salmon farms, but if too many cages are built, the par­a­sites that infest them will over­whelm the wild fish. Many farm­land birds can sur­vive in a mixed land­scape of pas­ture and arable crops, hedgerows and wood­lands, but not in a bound­less field of wheat or soybeans.
Some enthu­si­asts for rewil­d­ing see reserves of self-willed land as an exchange for fea­ture­less mono­cul­tures else­where. I believe that pock­ets of wild land — small in some places, large in oth­ers — should be acces­si­ble to every­one: no one should have to trav­el far to seek refuge from the ordered world. While I would argue against a mass rewil­d­ing of high-grade farm­land, because of the threat this could present to glob­al food sup­plies, we lose lit­tle by allow­ing nature to per­sist in small fal­low cor­ners and unex­ploit­ed pock­ets of even the most fer­tile places.
The dri­ve towards mono­cul­ture caus­es a dewil­d­ing, of both places and peo­ple. It strips the Earth of the diver­si­ty of life and nat­ur­al struc­ture to which human beings are drawn. It cre­ates a dull world, a flat world, a world lack­ing in colour and vari­ety, which enhances eco­log­i­cal bore­dom, nar­rows the scope of our lives, lim­its the range of our engage­ment with nature, push­es us towards a mono­cul­ture of the spirit.
I doubt that any­one wants this to hap­pen to the land that sur­rounds them, except those — a small num­ber — who make their mon­ey this way. But these few have been empow­ered both by their own­er­ship of the land and by a kind of cul­tur­al cringe that pre­vents oth­er peo­ple from chal­leng­ing them. The Ital­ian philoso­pher Anto­nio Gram­sci used the term ​"cul­tur­al hege­mo­ny" to describe the way in which ideas and con­cepts which ben­e­fit a dom­i­nant class are uni­ver­sal­ized. They become norms, adopt­ed whole and unex­am­ined, which shape our think­ing. Per­haps we suf­fer from agri­cul­tur­al hege­mo­ny: what is deemed to be good for farm­ers or landown­ers is deemed, with­out ques­tion or chal­lenge, to be good for everyone.
In some cas­es we pay to sup­port this hege­mo­ny and the mono­cul­tures it cre­ates. Scores of bil­lions of pounds of pub­lic mon­ey are spent each year to sus­tain the degra­da­tion of the nat­ur­al world. In the Unit­ed States, farm sub­si­dies encour­age the unvar­ied plant­i­ng, across vast acreages, of corn. In Cana­da, sub­si­dies for pulp and paper mills help to replace ancient forests with uni­form plan­ta­tions. Worse, per­haps, from the point of view of rewil­d­ing, is pub­lic spend­ing, which sus­tains mono­cul­tures in places that would oth­er­wise be reclaimed by nature. This is what hap­pens in the nation I am using as a case study of the mono­ma­nia that blights many parts of the world.
Sub­si­dies are not the only means by which we pay for graz­ing in the hills.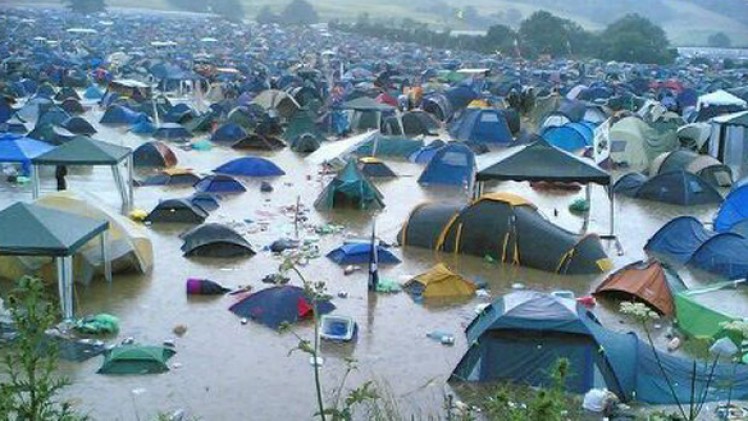 In July 2012, despite severe flood­ing, Wake­stock — a wak­board­ing and music fes­ti­val in North Wales — went ahead as planned. (http://​www​.the​week​.co​.uk)
In Eng­land and Wales, floods cause around £1.25 bil­lion of dam­age a year. Pro­tect­ing land and homes from pos­si­ble impacts costs a fur­ther £570 mil­lion a year. The imme­di­ate rea­son for the sum­mer floods that struck the region in which I live in 2012, flush­ing through hous­es, forc­ing the evac­u­a­tion of the vil­lage of Pen­nal and the res­cue by heli­copter and lifeboat of campers and car­a­van­ners on the coast, drown­ing roads, rail­ways and the elec­tric­i­ty sub­sta­tion, was an Atlantic gale that dumped a very heavy load of rain on the hills. But the floods must have been exac­er­bat­ed — and might have been caused — by the reduced capac­i­ty of the hills to absorb this rain. Instead of per­co­lat­ing away slow­ly, it now sluices almost imme­di­ate­ly into the valleys.
I am told by a senior civ­il ser­vant that an insur­ance com­pa­ny recent­ly inves­ti­gat­ed the pos­si­bil­i­ty of buy­ing and refor­est­ing Pum­lu­mon — the largest moun­tain in the Cam­bri­ans, on whose slopes both the Sev­ern and the Wye arise. It had worked out that this would be cheap­er than pay­ing out for car­pets in Glouces­ter. It aban­doned the plan because of the like­ly polit­i­cal difficulties.
Strong as the case for change may be, agri­cul­tur­al hege­mo­ny is so potent that to chal­lenge farm­ers and landown­ers is almost taboo. In Wales, farm­ers (both full- and part-time) account for 1.5 per­cent of the total pop­u­la­tion and 5 per­cent of the pop­u­la­tion of the coun­try­side: 44,000 out of 960,000rur­al peo­ple. Yet the coun­try­side is gov­erned and man­aged almost exclu­sive­ly for their ben­e­fit. Many of the ideas and per­spec­tives that dom­i­nate rur­al pol­i­cy arise with farm­ers' unions, which are often gov­erned by the biggest and rich­est landown­ers. The views of the major­i­ty of rur­al peo­ple who are not farm­ers — 95 per cent in Wales — are mar­gin­al­ized. Elin Jones was min­is­ter for rur­al affairs, not min­is­ter for farm­ing, but the pen she brought to our dis­cus­sion was a cipher for her department's poli­cies. Rur­al pol­i­tics through­out Europe and in much of North Amer­i­ca suf­fers from the same blight: their pri­ma­ry pur­pose appears to be to keep the farm­ers (or foresters or fish­er­folk) hap­py, though every­where they are a small minority.
I am con­vinced that this can change, that if peo­ple were more aware of how their mon­ey is being used, the need­less destruc­tion, the mono­ma­nia, dri­ven by farm sub­si­dies — across Europe and in sev­er­al oth­er parts of the world — would come to an end. This, more than any oth­er mea­sure, would per­mit the trees to grow, bring the song­birds back, prompt the grad­ual recol­o­niza­tion of nature, release the eco­log­i­cal process­es that have been sup­pressed for so long. In oth­er words, it would allow a par­tial rewil­d­ing of the land.
Reprint­ed with per­mis­sion from Fer­al: Rewil­d­ing the Land, the Sea, and Human Life by George Mon­biot, pub­lished by the Uni­ver­si­ty of Chica­go Press. © 2014 by The Uni­ver­si­ty of Chica­go. All rights reserved.