Why Black Queer Activists Engaged in Civil Disobedience at Chicago Gay Pride Parade
"We tried to make it clear that we're not looking to transform Pride, but have the larger LGBT community, mostly gay and lesbian cisgender white folks, understand what it means to invest in communities of color that are trans and queer."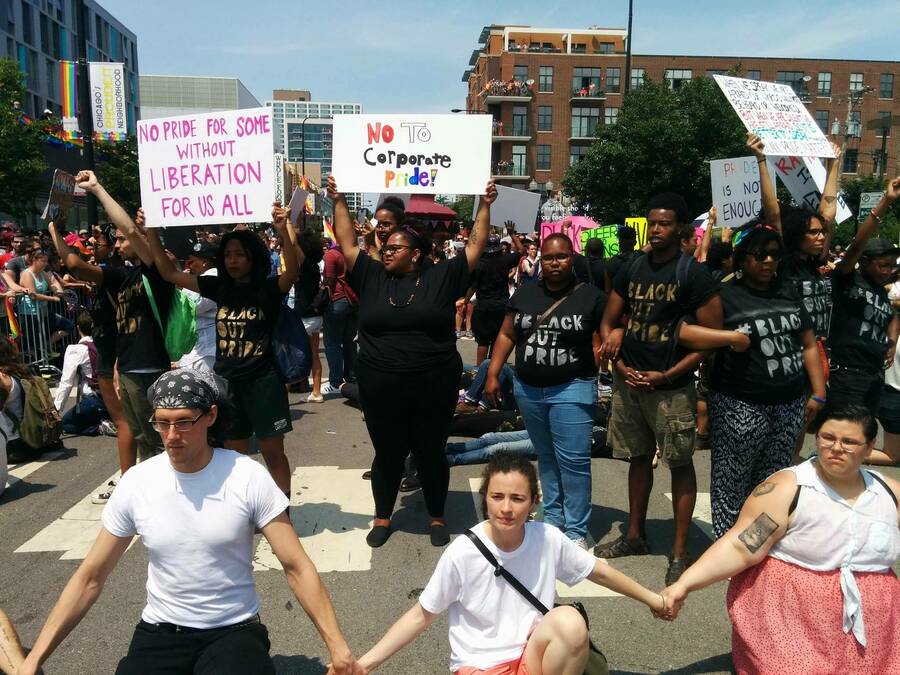 On June 28, a group of black queer and trans com­mu­ni­ty orga­niz­ers, activists, artists and allies halt­ed Chicago's gay pride parade for about 15 min­utes with an action called #Black­Out­Pride. The day after the parade and the action, I spoke with NIC Kay, one of the orga­niz­ers of #Black­Out­Pride, about why they felt it was impor­tant to dis­rupt the Pride Parade, how to shift the focus of the LGBT com­mu­ni­ty and the mean­ing of celebration.
The members who organized the protest were interested in developing an action based on the history of pride starting off as a riot and ending in front of the women's detention center in solidarity with some of the liberation fighters during that time period. We wanted to call attention to the history.
What are the ori­gins of #Black­Out­Pride? What inspired it and how did that lead to orga­niz­ing the action?
The mem­bers who orga­nized the protest were inter­est­ed in devel­op­ing an action based on the his­to­ry of pride start­ing off as a riot and end­ing in front of the women's deten­tion cen­ter in sol­i­dar­i­ty with some of the lib­er­a­tion fight­ers dur­ing that time peri­od. We want­ed to call atten­tion to the his­to­ry. From there, we devel­oped our col­lec­tive state­ment as well as what we would do dur­ing Chica­go Pride.
The loca­tion of the protest was very inten­tion­al, right in the heart of ​"Boys­town" in the Lake­view neigh­bor­hood at Addi­son and Hal­st­ed, the inter­sec­tion of Cen­ter on Hal­st­ed (an LGBT com­mu­ni­ty cen­ter), the police sta­tion and Whole Foods. I think a lot of peo­ple both inside and out­side of Chica­go, both straight peo­ple and many gay and les­bian folks, see that area as the safest or one of the safest places in the city for queer and trans people.
Can you talk about how we can move beyond this idea that there's only this one place in the city where all queer peo­ple are sup­posed to go? How do we build a whole city that is welcoming?
Dur­ing our con­ver­sa­tions, we talked about the impli­ca­tions of hav­ing Boys­town be the gay neigh­bor­hood, this homoge­nous space where all LGBT folks feel com­fort­able. What are the traps of say­ing such things when we know about the polic­ing of young queer and trans black folks in Boys­town, at the Cen­ter on Hal­st­ed, in the neigh­bor­hood where the Broad­way Youth Cen­ter was locat­ed, the expe­ri­ence of going to town halls to make sure BYC could have a home at Welling­ton Church. I used to live right in that area, and expe­ri­enced first­hand the Take Back Boys­town protest when I moved to Chica­go in 2011, and the work that they were doing that was bla­tant­ly racist and trans­pho­bic. [Edi­tor's note: You can read more about that bat­tle here.] Those things are what we tried to cen­ter when we were think­ing about what our demands were.
We tried to make it clear that we're not look­ing to trans­form Pride, but have the larg­er LGBT com­mu­ni­ty, most­ly gay and les­bian cis­gen­der white folks, under­stand what it means to invest in com­mu­ni­ties of col­or that are trans and queer. That would of course extend beyond Boys­town due to the geo­graph­ic make­up racial­ly of the city. We know that most of the peo­ple who are being served in the neigh­bor­hood at these insti­tu­tions don't live in the neigh­bor­hood. They are expe­ri­enc­ing home­less­ness or trav­el­ing long dis­tances to receive ser­vices at Howard Brown Health Cen­ter or BYC or COH.
Why do you think a lot of those resources are cen­tral­ly locat­ed in one place?
Think about what it's like for busi­ness. If you can con­cen­trate gay peo­ple going to a spe­cif­ic neigh­bor­hood — where the parade route is, where the orga­ni­za­tions are housed, where the clubs are — it's fuel­ing com­merce in that neigh­bor­hood. If you have all these gay busi­ness­es in one loca­tion, that's a des­ti­na­tion not only for peo­ple in Chica­go, but for peo­ple through­out the Mid­west. I think it all has to do with com­merce and want­i­ng to con­cen­trate dol­lars in one area.
One thing you men­tioned was try­ing to tar­get gay and les­bian cis­gen­der peo­ple to draw their atten­tion to sup­port­ing queer and trans black folks. Do you think that there is a way to make mem­bers of the gay and les­bian com­mu­ni­ty wake up?
It has to hap­pen. Lib­er­a­tion and change is about mak­ing it hap­pen. That's the work of the organizers.
We were specif­i­cal­ly call­ing out folks, but this is also to let oth­er black queer and trans folks know that there are peo­ple out there that feel the same way and are doing the work and will­ing to do the work. That is what's impor­tant to cen­ter, the con­ver­sa­tion is not always and shouldn't be cen­tered in white­ness. This is about black queer trans folks who know that we have the pow­er to col­lec­tive­ly orga­nize and cre­ate change and vis­i­bil­i­ty. We don't need to always have a large orga­ni­za­tion rec­og­nize us.
Can you describe the action in your own words? What occurred when you stopped the parade?
We were in the parade. Then we got to the inter­sec­tion and had a chant. We cre­at­ed a for­ma­tion. We had folks who did a die-in, oth­er folks who cre­at­ed two cir­cles around the die-in. Some who had posters, oth­ers who were just hold­ing hands in the out­er cir­cle. I was in the mid­dle speak­ing the state­ment and we did that in a ​"mic check." After we read the state­ment, we con­tin­ued to cheer and then the police arrived.
How did peo­ple respond to what you were say­ing and doing?
I think peo­ple were excit­ed. Peo­ple are excit­ed at Pride for any type of per­for­mance. Peo­ple were chant­i­ng with us in the begin­ning. After four or five min­utes they real­ized it wasn't the type of per­for­ma­tive action they thought. It was in line with what was hap­pen­ing with oth­er con­tin­gents in Pride and some peo­ple were con­fused and showed some oppo­si­tion but for the most part, the mes­sage was relayed.
How did it feel for you on a per­son­al lev­el to halt and stop the Pride Parade?
It felt like I was com­ing full cir­cle. I've been par­tic­i­pat­ing in Pride march­es and Pride activ­i­ties since I was 15. I was part of the Gay-Straight Alliance at my high school. It was a whole dif­fer­ent expe­ri­ence for me then. As some­one who wasn't even out of the clos­et, I was an ally. It felt real­ly great to be sur­round­ed by peo­ple that I've known and built with in Chica­go for the last four years. With­out com­mu­ni­ty, I would not have come this far to be able to do this sort of action.
There were a range of orga­niz­ers and activists from var­i­ous orga­ni­za­tions in Chica­go like Dyke March, Project Fierce, Black and Pink and We Charge Geno­cide. How did that group come together?
From reach­ing out to peo­ple and see­ing who was down to do some­thing. We didn't have any mod­el real­ly. I start­ed plan­ning after a friend of mine who's a Brown Boi did an action in Boston. That was some­what of an influ­ence, but we just kind of reached out to friends and peo­ple that we knew and start­ed to build a con­tin­gent of folks who were inter­est­ed in par­tic­i­pat­ing and doing a direct action.
Look­ing at the demands, they are both spe­cif­ic to Chica­go and not spe­cif­ic to Chica­go at all. They men­tion a lot of things like stop and frisk, end­ing polic­ing, reopen­ing schools and get­ting access to men­tal health­care that are pret­ty broad and applic­a­ble to com­mu­ni­ties across the coun­try. The demands seem like a vision for the future. How do you see the demands — what should peo­ple do with them going forward?
A vision and a launch­ing pad for future con­ver­sa­tion, action and orga­niz­ing. When you talk about stop and frisk, when peo­ple talk about school clos­ings and men­tal health clin­ics, those are sep­a­rate con­ver­sa­tions. These are all of our issues. These are things that we want­ed to cen­ter because they are LGBT issues.
Do you think there is room for cel­e­bra­tion that is inher­ent­ly polit­i­cal or that also involves the type of action that you did at the parade?
My ques­tion sim­i­lar to ​"Why Boys­town?" is ​"What are we cel­e­brat­ing?" At 15, I was cel­e­brat­ing an awak­en­ing. At 16 or 17, I was cel­e­brat­ing being open about my rela­tion­ship. At 17 or 18, I was going to Dyke March and explor­ing what it meant to occu­py a queer space, learn­ing about queer the­o­ry and pol­i­tics. Those are cel­e­bra­tions for me. That's how I embod­ied my pride.
I under­stand that every­one is at a dif­fer­ent step in their jour­ney. Those straight cou­ples, what are they cel­e­brat­ing? Are they cel­e­brat­ing as allies? I'm not here to rain on anybody's parade, but I think there's room with­in cel­e­bra­tions to always remem­ber the strug­gle. There is room for both, to cel­e­brate where we have come from but to cen­ter the urgent issues.
How do you cel­e­brate? What do you think is worth cel­e­brat­ing or what would you like to be able to cel­e­brate in the future?
I think that's a hard ques­tion. It's a real­ly tough time in our coun­try right now to be a black queer per­son. I think it's always a tough time to be a black queer per­son in this coun­try. Cel­e­bra­tion is tough but I def­i­nite­ly felt cel­e­bra­to­ry with the folks that orga­nized the action, rec­og­niz­ing the amount of work and sac­ri­fice and ener­gy that went into doing some­thing that felt real­ly dan­ger­ous and impos­si­ble at times.
It would be great to cel­e­brate an end to stop and frisk, a com­mit­ment to end­ing polic­ing of trans and queer youth and the actu­al invest­ment in the future of trans and queer black youth in Chica­go through job place­ment, the build­ing of a shel­ter, pro­tec­tion against work­place dis­crim­i­na­tion. All those things would be amaz­ing and great things to celebrate.
Even though I think a lot of peo­ple would see #Black­Out­Pride through the lens of an action or a protest, I think it was a cel­e­bra­tion too, an affir­ma­tion of what and who real­ly matters.
A cel­e­bra­tion of resis­tance, of con­tin­ued fight. Definitely.
H. Melt
is a tran­squeer poet and artist and the author of
SIR­vival in the Sec­ond City: Tran­squeer Chica­go Poems
. They live in Chicago.