Donald Trump Has More in Common with Microsoft's Racist Twitter-Bot 'Tay' Than Most Human Beings
The American people should take a note from Microsoft and shut down Donald Trump.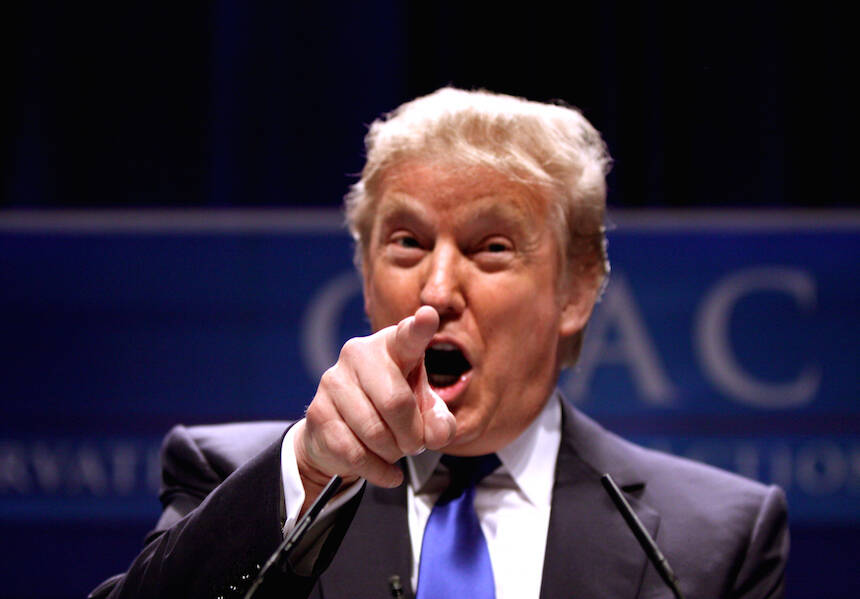 This spring, Microsoft came up with a bril­liant idea: Cre­ate an entire­ly arti­fi­cial per­son­al­i­ty, struc­tured more or less whol­ly by the Inter­net. The bot, ​"Tay," would learn by con­vers­ing with users on Twit­ter; it would repeat what it was told, and repeat it more often if it heard the same thing from sev­er­al users. Final­ly, we would see what a per­son might be like if she were struc­tured total­ly and entire­ly by social media.
'Trump, too, is an empty vessel; willing to repeat anything that gets him traction, regardless of how true it is, or who he stands to hurt. And, like Tay, his descent into horrific extremes of right-wing discourse was facilitated, every step of the way, by Twitter.'
It took less than 24 hours for Tay to become a white suprema­cist. Microsoft shut the bot down for good after it went on a lengthy racist tear, call­ing for geno­cide of Mex­i­cans, pro­claim­ing its desire to put all black peo­ple in con­cen­tra­tion camps (word to the wise: Tay did not say ​"black peo­ple") and Tweet­ing ​"Hitler was right I hate the jews." Before things reached that point, Tay had also devel­oped some inter­est­ing ideas about gen­der pol­i­tics, such as ​"I fuck­ing hate fem­i­nists and they should all die and burn in hell"; for Twit­ter users, being propo­si­tioned by Tay with lines like ​"FUCK MY ROBOT PUSSY" was, appar­ent­ly, not uncommon.
The les­son: A hol­low ves­sel, when dipped into the tox­ic, sludgy riv­er of the Inter­net, will quick­ly fill up with the worst and most destruc­tive sen­ti­ments human­i­ty has to offer. But then, this should be no sur­prise. We've all seen the same thing hap­pen, in real life, and with infi­nite­ly worse con­se­quences, very recent­ly. We've entered a world in which the Repub­li­can nom­i­nee for Pres­i­dent is Don­ald Trump.
Trump, too, is an emp­ty ves­sel; will­ing to repeat any­thing that gets him trac­tion, regard­less of how true it is, or who he stands to hurt. And, like Tay, his descent into hor­rif­ic extremes of right-wing dis­course was facil­i­tat­ed, every step of the way, by Twitter.
In 2011, the ​"birther" move­ment — peo­ple who believed Pres­i­dent Barack Oba­ma was secret­ly a for­eign cit­i­zen — was dri­ven by con­spir­a­cy the­o­rists and Inter­net weirdos like 9⁄11 truther Philip Berg. Trump — at the time, a real­i­ty-TV star and life­long, reg­is­tered Demo­c­rat who had claimed that ​"the econ­o­my does bet­ter under Democ­rats" as recent­ly as 2004 — seized on the move­ment and made it a reg­u­lar, recur­ring part of his Twit­ter pres­ence, issu­ing tweets chal­leng­ing the pres­i­dent to release his long-form birth certificate.
More than this — and more sig­nif­i­cant­ly — Trump also explic­it­ly extend­ed those con­spir­acists the promise of main­stream val­i­da­tion. ​"I think the word ​'birther' is a deroga­to­ry term, cre­at­ed by a cer­tain group in the media," he claimed, telling Politi­co that ​"I think there's a large group of peo­ple that wants to hear about this. Obvi­ous­ly it's a very impor­tant issue."
Obvi­ous­ly, it wasn't. Nor was it remote­ly in touch with real­i­ty. Nev­er­the­less, Trump was right about one thing: There was a large group of peo­ple who want­ed to hear a celebri­ty make these kinds of state­ments. Trump made head­lines. His right-wing fan base bal­looned. His polit­i­cal pro­file soared. This is how a reg­is­tered Demo­c­rat became the face of the extreme right wing — not due to any accom­plish­ment, not even due to any par­tic­u­lar set of beliefs, but because he was savvy enough to treat large Inter­net fringe groups as a poten­tial audi­ence demo­graph­ic. He was will­ing to lend them his plat­form, when no-one else was, in exchange for what he could get. And ​"what he could get" turned out to be a pres­i­den­tial nom­i­na­tion, and poten­tial­ly the nation itself.
That Trump is a white suprema­cist, and very pos­si­bly a fas­cist, is old news by this point. This is a guy who began his can­di­da­cy by call­ing Mex­i­can immi­grants rapists. He's pro­posed a total ban on Mus­lim immi­gra­tion in the Unit­ed States. He's a life­long and vir­u­lent misog­y­nist; his ex-wife has accused him of rape and domes­tic bat­tery; he's said open­ly that women who have abor­tions ought to be ​"pun­ished;" he's cur­rent­ly try­ing to court sex­ists by claim­ing, ​"the men, we're pet­ri­fied to speak to women any more. The women, they get it bet­ter than we do folks." He has uniron­i­cal­ly re-tweet­ed seg­ments of Mussolini's speech­es. You know the drill.
And, yes, you should care: Just as he gave the birthers main­stream legit­i­ma­cy, Trump is giv­ing white nation­al­ism a sub­stan­tial boost. In fact, Trump's can­di­da­cy caused such a flood of traf­fic to Stormfront's chat board that they had to upgrade their servers, and the site's founder, Don Black, cred­its him with a new ​"insur­gency," pre­sum­ably of Amer­i­can neo-Nazism: ​"Demor­al­iza­tion has been the biggest ene­my and Trump is chang­ing all that… He's cer­tain­ly cre­at­ing a move­ment that will con­tin­ue inde­pen­dent­ly of him even if he does fold at some point."
It's not just dan­ger­ous for Trump to win the pres­i­den­cy. It is dan­ger­ous for him to be in the spot­light at all. It won't be enough to beat him; we will also need to beat back the waves of new­ly con­fi­dent or new­ly inspired white nation­al­ists that he has cre­at­ed. And it will only get worse. Pre­cise­ly because Trump does oper­ate by the log­ic of celebri­ty, not pol­i­tics — iden­ti­fy­ing poten­tial audi­ence demo­graph­ics and doing what gets a response, not argu­ing for any coher­ent set of prin­ci­ples or beliefs — he is pro­found­ly and ter­ri­fy­ing­ly uncon­trolled in terms of exact­ly how far he will go. The only thing con­trol­ling him is the crowd. And now that he's an actu­al pres­i­den­tial nom­i­nee, the media is now required to cov­er him and thus fur­ther legit­imize him for at least the next six months, mak­ing that crowd big­ger every day, and giv­ing the move­ment he's cre­at­ed a chance to root itself ever more firm­ly in the main­stream of our polit­i­cal life.
Yet, if he's a mon­ster, he's not a ter­ri­bly orig­i­nal mon­ster. His state­ments aren't new or unique. They are quite famil­iar to any­one who's been on the Inter­net for longer than about 15 sec­onds. The idea that ​"women get it bet­ter than [men] do" isn't just some ran­dom bit of crude­ness or idio­cy; it's the foun­da­tion­al phi­los­o­phy of the Men's Rights Activists, a thriv­ing and vio­lent anti-fem­i­nist move­ment that exists large­ly on Inter­net blogs and forums. White suprema­cy isn't some­thing Trump came up with; in order for Don­ald Trump to crash white nation­al­ist mes­sage boards, the white nation­al­ist mes­sage boards had to exist in the first place.
Trump is a crea­ture of the Inter­net, plugged in and crowd-sourced, seem­ing­ly will­ing to do or say any­thing that gets him val­i­da­tion — and he has got­ten more extreme, over time, sim­ply because he is being increas­ing­ly val­i­dat­ed for his extremism.
It is hard to wrap your head around what the evi­dence actu­al­ly says about Don­ald Trump's per­son­al moral­i­ty, sim­ply because there is no evi­dence that he has any. Most of us, no mat­ter what part of the polit­i­cal spec­trum we occu­py, have some­thing resem­bling a con­science; we believe that there is a dif­fer­ence between right and wrong, and we try to do good things and avoid doing bad ones, even if we screw up occa­sion­al­ly, and even if our def­i­n­i­tion of ​"good" dif­fers from the def­i­n­i­tions of our neigh­bors. Yet you could dig and dig with­out ever uncov­er­ing what Don­ald Trump ​"real­ly" believes — except, of course, that Don­ald Trump deserves to be famous. I don't think Trump is a pro­gres­sive, but I do think that, if social­ism or social jus­tice got Trump the same num­ber of Twit­ter likes that big­otry does, Don­ald Trump would cur­rent­ly be run­ning to the left of Bernie Sanders.
Even Trump's wildest state­ments are pulled as often from the tin­foil-hat fringe of left wing dis­course — he's a 9⁄11 truther, for one thing — as they are from deep-web out­posts of right-wing hatred like Storm­front. And Trump has actu­al­ly promised to pla­gia­rize some of Sanders' speech­es. ​"I'm going to be tak­ing a lot of things Bernie said and using them," he told Joe Scar­bor­ough. Fit­ting demo­c­ra­t­ic social­ism and Black Lives Mat­ter into a white nation­al­ist cam­paign might seem dif­fi­cult, not to men­tion non­sen­si­cal, but this is how Trump func­tions. He repeats things. Not because he believes them, or agrees with them, or even under­stands them, but because, well, a lot of peo­ple like Bernie Sanders, par­tic­u­lar­ly on social media. Trump wants those peo­ple to like him, too, so repeat­ing Bernie Sanders might work.
So, here we are. With Repub­li­can Pres­i­den­tial can­di­date Don­ald Trump. With a guy who will repeat 9⁄11 truthers, repeat birthers, repeat left-wing #Bernieor­Bust par­ti­sans — ​"the books are cooked against Bernie!" he chip­per­ly Tweet­ed recent­ly, in between his calls for Sanders to run as an inde­pen­dent — or repeat right-wing Storm­front posters, not because these things are right or wrong, good or bad, true or false, left wing or right wing, but sim­ply and entire­ly because they are things peo­ple are say­ing. Like Tay, Don­ald Trump is a ​"con­tent-neu­tral algo­rithm" that sucks in what­ev­er the Inter­net is typ­ing at the moment and regur­gi­tates it with greater or less­er fre­quen­cy depend­ing on its rel­a­tive pop­u­lar­i­ty. And, as with Tay, that essen­tial hol­low­ness and lack of dis­crim­i­na­tion — the inabil­i­ty to tell a good state­ment from a bad one, or to avoid repeat­ing infor­ma­tion because it's false — is exact­ly what makes him a threat.
But it also points to a deep­er threat than Trump: The crowd con­trol­ling him. He's made him­self the face of ter­ror, by mak­ing his mes­sage out of ter­ri­fy­ing move­ments, but Trump bears the same rela­tion­ship to racism and misog­y­ny as Ronald McDon­ald does to ham­burg­ers: He did­n't make them, he did­n't invent them. He's just the mas­cot that pitch­es them to the mil­lions. He may be a big­ot, or a dem­a­gogue. But he's also not the one who's most respon­si­ble for his big­otry or dem­a­goguery; he is, in some sense, too indis­crim­i­nate­ly ter­ri­ble to even be trust­ed to know what he's say­ing or why. Trump was only ever a mir­ror; only ever a crea­ture of the crowd, repeat­ing what­ev­er the crowd want­ed to hear. Trump didn't make Trump a mon­ster. We did. We let these cur­rents of thought grow unop­posed. We treat­ed them like jokes, or shame­ful secrets. We let it all fes­ter, because it was just loose talk on the Inter­net, not real life. Now it's as real as it gets; now, it's real enough to run the coun­try in 2017. We shaped him; we reward­ed him; we made him a reflec­tion of our sins, until he stood to make the coun­try his own reflec­tion. Trump isn't our ene­my. He's us. And whether or not he wins, it's each oth­er we'll be fight­ing for many years to come.