Why Donald Trump's Election Moved This 19-Year-Old to Tears
A college student reacts to her first election: "We were on the precipice of breaking the glass ceiling."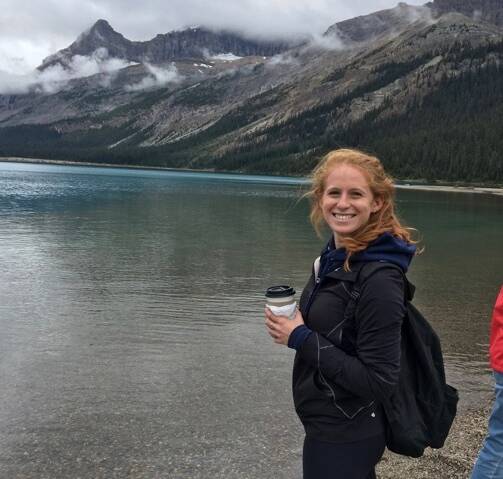 So, the unimaginable has happened. Donald J. Trump became president-elect of the United States of America. Even as I am writing this, I still can't believe it is real. This is one of those moments in which I am not even sure what happened, all I know if how I feel. Like Shit.
"To find value and self-assurance in the strength of your spirit and the fire in your soul is a rebellion."
I keep reminding myself that this is politics. As my dad said, ​"You win some you lose some." I know that this is my first election, but I also know it is different this time. You can feel in the air. In both of my classes this morning, my professors opened the floor to discussion, hoping to give us space to share and digest. In one class, my professor teared up as soon as she began to speak.
Walking around campus today there is a tangible air of mourning. The first gray and rainy day we have had in a while seems to be Mother Nature's way of reminding us that the environment is fucked. In the cafeteria during lunch, there was a hauntingly unusual hush over all of us.
Is it usually like this after a presidential election? I cried more than once this morning — to my professor, to my soccer team's athletic trainer. Why do I care so much? I am beyond privileged enough to know that the outcome of this election will not affect my life's trajectory in the same way that it will affect the lives of those groups targeted by Trump during his campaign. And yet, I am sick to my stomach, and it hurts down to my toes. I feel the sharp sting of Hillary Clinton's loss anew every time I remind myself: this. is. real. Perhaps I am being irrational. Perhaps I am not.
On election night, I sobbed on the phone to my dad about how people like Trump do not understand the way that their derogatory words and actions towards women land with sickening blows upon on our bodies. They do not understand the way in which constant objectification can slither into your mind, suffocating your self-worth, whispering, ​"you are not skinny enough," or ​"the measure of your worth is in your looks."
I am talking about that sinking, worthless feeling of being catcalled while walking down the street. I am talking about the way that our body parts are aggressively dissected, as if that is what they are there for. I am talking about the way boys are taught that being a ​"man" means getting with as many girls as possible. I am talking about the men who think it is okay to push and push to get as far as they can. I am talking about the boy who made you scared to say no. I am talking about to boy who made you feel guilty for not wanting to have sex. I am talking about the boys who rank us, judge us, pit us against one another based on our looks. I am talking about all of the advertisements, articles, and pictures that teach us how to be more desirable to men. I am talking about the ones who made you nervous to ​"come on too strong," but really, it's just honesty. And you are strong.
To find value and self-assurance in the strength of your spirit and the fire in your soul is a rebellion. To use the voice you were raised with to say ​"no," is a rebellion. A rebellion that just got sucker-punched by Donald Trump.
What does it mean that the American people elected a man to be our leader despite his rhetoric towards women, not to mention countless others? Look, I get it — lower taxes, strong on ISIS, corrupt Hillary, anti-establishment, strong borders, and yes, many men speak that way. But overlooking that fact that this man excused talk of sexual assault as ​"locker room talk," sends a clear message. It sends the message that the age-old ​"boys will be boys" excuse, made for perpetrators of sexual assault and rape, is totally viable.
The morning after the election, I woke up in a country that all but solidified its comfort with condoning acts of sexual violence. What people don't understand is that these are uniquely intimate acts of violence. Big or small — they land heavily on a woman's body, they follow her, they shame her, they make her feel like nothing but a shell. They make her feel broken. I was ready for a leader who understands that.
We were on the precipice of breaking the glass ceiling. It was my first time voting and I voted for the woman I believed would be the first female president of the United States of America. I left the polling place with pride in what my vote stood for, for what I believe in and with a sense that I was part of an amazing chapter in American history. I guess I was complacent. I wanted with all my heart to be part of the movement that put a woman in the White House so that my sweet, wonderful, brilliant, and passionate cousins and siblings would truly know that love trumps hate. But let me be clear. I didn't just vote for any woman. It was goddamn Hillary Rodham Clinton. I know she is not perfect. I know she has shown poor judgment and struggles with transparency. But I was not #WithHer just because I am #NeverTrump. I was with her because policy aside, I've never witnessed a stronger fighter in the public arena. Hillary is a role model. She inspired me to stand with grace and dignity under the most hateful attacks or setbacks. She taught me about the importance of fighting for what you believe in, not just until the battle is won, but until there is nothing left to fight for. She inspired boys and girls all over the country to stand up to bullies and keep their heads high. Hillary showed us that the glitz, the glam, the politics, is all secondary. It is those who work harder and longer than anyone who get the job done. What a shame it is, that because she lacked the eloquence of her husband or the flash of her opponent, her workhorse nature was overlooked.
Hillary has been called everything in the book — liar, criminally inclined, condescending — but the one label that she couldn't seem to shake was ​"inauthentic." Yet the mark of authenticity is not how much you appeal to millennials or how natural your speech sounds. The mark of authenticity is finding a cause, a passion that lights a fire within you, a fire strong enough to keep you pushing no matter the roadblocks, and sticking with it. It is about finding that cause, whatever it may be, and never giving up on it. For 30 years, Hillary's cause was women and children. To this day she fights for them and she fights for us. That is authenticity.
Everything Hillary has given us, what she has shown us about grit and strength, will inspire me for a lifetime. It will carry me through the next four, 10, 15 and 20 years.
So let us mourn for a bit, but soon it will be time for us to rise, stronger than ever. Let us fight against the men who say, ​"boys will be boys." Let us fight for the ones who are not strong enough to fight for themselves. Let us fight for a fairer, more just society. Let us fight for the promise of the American dream and the gift of diversity. Let us stand up and fight because that is what Hillary taught us to do.
Socialism ... Seriously
"The most fun and accessible introduction to socialist ideas I've ever read."—Anand Gopal
For a limited time, when you donate $20 or more to support In These Times, we'll send you a copy of the new, expanded edition of Socialism ... Seriously by Danny Katch.

Samantha Knapp
is a
19
-year-old sophomore at Dickinson College in Carlisle, Pennsylvania. Originally from Washington D.C., she is a political science major and a member of the Dickinson women's soccer team. She recently finished a fellowship at No Labels, a D.C.-based organization that promotes bipartisan work in Congress for the common good.