Why Port Truckers Are Striking: 12-Hour Shifts, Noxious Fumes and $12.90 Paychecks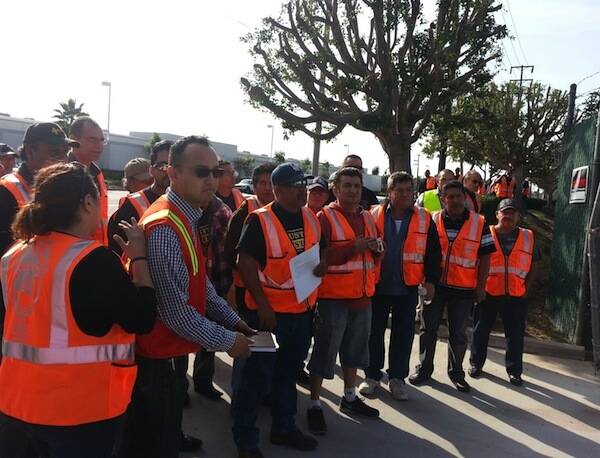 ​"We are on strike today to have respect and dig­ni­ty at work," says Wal­ter Melen­dez, one of approx­i­mate­ly 40 Los Ange­les port truck dri­vers who walked off the job at 5a.m. morn­ing in protest of alleged unfair labor prac­tices. The strikes fea­tured the rolling ​"ambu­la­to­ry pick­ets" that the truck­ers have excelled at — chas­ing down trucks as they leave the port and set­ting up pick­et lines in front of them.
Melen­dez works for Cal­i­for­ni­a's Green Fleet Sys­tems, a com­pa­ny that moves freight from the ports of Los Ange­les and Long Beach to near­by dis­tri­b­u­tion hubs. The dri­vers have filed a com­plaint with the Nation­al Labor Rela­tions Board charg­ing that the com­pa­ny retal­i­at­ed against them for push­ing for­ward with a dri­ve to join the Inter­na­tion­al Broth­er­hood of Team­sters.
The push con­tin­ues even as, accord­ing to Melen­dez, the com­pa­ny does its best to intim­i­date work­ers: pulling them into one-on-one meet­ings to dis­suade them from union­iz­ing, and even fol­low­ing and pho­tograph­ing them engag­ing in orga­niz­ing activ­i­ties out­side work. Melen­dez believes that more Green Fleet dri­vers would have joined the strike this morn­ing, had they not been deterred by these tactics.
In total, some 100 port truck­ers from three dif­fer­ent com­pa­nies — Green Fleet, Amer­i­can Logis­tics Inter­na­tion­al and Pacif­ic 9 Trans­porta­tion — walked off the job today in a coor­di­nat­ed effort to raise work­ing stan­dards. Unlike the truck­ers at Green Fleet, who are employ­ees, the work­ers from Pacif­ic 9 Trans­porta­tion are con­sid­ered inde­pen­dent con­trac­tors. They argue that this is an ille­gal mis­clas­si­fi­ca­tion because they have none of the ben­e­fits of real inde­pen­dence — such as being able to set one's own hours or work for dif­fer­ent com­pa­nies. Mean­while, their boss­es deduct oper­at­ing costs from their pay­checks, some­thing that would be ille­gal if they were indeed employ­ees. More than 50 Pacif­ic 9 dri­vers have filed claims with the Cal­i­for­nia Labor Com­mis­sion­er alleg­ing that this prac­tice has robbed them of more than $7 mil­lion in wages. Accord­ing to the labor fed­er­a­tion Change to Win (which is back­ing much of the port truck­er orga­niz­ing), hun­dreds of sim­i­lar claims filed in recent years by port truck dri­vers have all result­ed in ​"sub­stan­tial penal­ties" for the employer.
​"They've tak­en from us every­thing that a human being needs to have a decent life," says Daniel Linares, who's worked for Pacif­ic 9 for sev­en years as a so-called inde­pen­dent contractor.
Linares says that he and his col­leagues marched to Pacif­ic 9 man­age­ment offices today and attempt­ed to deliv­er a let­ter col­lec­tive­ly explain­ing why they were on strike, but no one would come out to meet them. Even­tu­al­ly, Linares says, one work­er was allowed to go inside to deliv­er the letter.
Los Ange­les is not the only port where dri­vers are speak­ing out. Mil­i­tan­cy has increased in recent months among port dri­vers around the coun­try, whether clas­si­fied as employ­ees or inde­pen­dent con­tracters. Last month, a self-orga­nized coali­tion of port truck­ers held a wild­cat strike to protest the costs of new envi­ron­men­tal reg­u­la­tions for the Port of Oak­land being dumped entire­ly on their shoul­ders. Savan­nah, Ga., port truck­ers recent­ly crashed a City Coun­cil meet­ing to ask for the city gov­ern­men­t's sup­port for their efforts to improve their jobs, and last sum­mer, dri­vers at ports in New York and New Jer­sey became the lat­est port truck­ers to join the Teamsters.
As I wrote this sum­mer, a report from the Nation­al Employ­ment Law Project and Change to Win likened the sit­u­a­tion of the inde­pen­dent con­trac­tor dri­vers to ​"share­crop­ping on wheels," because the dri­vers have to pay for their own trucks and main­te­nance costs. In return, they are paid only by the load — mean­ing that time that they spend sit­ting in line at the port await­ing anoth­er load, breath­ing the fumes from their own trucks, is time unpaid.
Paula Winic­ki, a research and pol­i­cy ana­lyst for the Los Ange­les Alliance for a New Econ­o­my, breaks down the costs that Pacif­ic 9 deduct­ed from a sin­gle contractor's pay­check: $125 a week for the lease of the truck, $530.05 in fuel, $50 for repairs, oth­er mis­cel­la­neous deduc­tions for park­ing, insur­ance, per­mit and license fees, and more, that with fuel, repairs and lease add up to $962.90. The pay­check for one week after the deduc­tions was $12.90. Winic­ki notes that these issues are endem­ic to port truck­ing com­pa­nies, so leav­ing would­n't help much. And in any case, once they sign a long-term lease for a truck with Pacif­ic 9 or anoth­er com­pa­ny , ​"They're tied to the com­pa­ny. … If they walk away, they lose a truck— and maybe get sued for break­ing the lease agreement."
Even the Green Fleet work­ers, who are actu­al employ­ees, face the prob­lem of piece­work at the ports. Says Melen­dez, ​"When we start­ed they told us [we'd get paid] by the hour, and then when we start­ed work­ing they're like, ​'We pay you guys by the truck­load.' It's like they pay us how they want to pay us."
That means con­stant pres­sure to work hard­er and for longer hours. One of the things Melen­dez wants to change is the 12-hour shifts he's pulling. ​"After ten hours you get tired work­ing in the trucks, our bod­ies and our eyes and every­thing get tired, they don't under­stand us, they say ​'Keep going, keep going.' "
A 2009 study [PDF] from non­par­ti­san think tank Demos, authored by David Bens­man, Pro­fes­sor of Labor Stud­ies and Employ­er Rela­tions at Rut­gers Uni­ver­si­ty, looked at the roots of the cri­sis in port truck­ing: the Fed­er­al Motor Car­ri­er Act of 1980. This piece of dereg­u­la­to­ry leg­is­la­tion shift­ed costs onto work­ers and, Bens­man argues, the pub­lic, leav­ing tax­pay­ers to pay for increased pol­lu­tion, at risk of traf­fic acci­dents caused by unsafe trucks, and pick­ing up the health bills of work­ers who have no health insur­ance. Goods for com­pa­nies like Wal­mart, For­ev­er 21 and Skech­ers shoes are made cheap­ly over­seas thanks to low-wage labor and then moved cheap­ly through the ports thanks to dri­vers shoul­der­ing much of the costs.
Bens­man says that the way dereg­u­la­tion ​"destroyed" the port truck­ing indus­try ​"speaks vol­umes about the neolib­er­al labor mar­kets of our time." He concludes:
The dereg­u­la­tion of the port truck­ing indus­try, which began in 1980, has achieved some of its goals of increas­ing com­pe­ti­tion and dri­ving down freight rates, but the pub­lic cost of this suc­cess is now clear: Ports com­pete for busi­ness by abdi­cat­ing respon­si­bil­i­ty for air qual­i­ty, chas­sis and con­tain­er safe­ty, and labor stan­dards. Logis­tics firms ben­e­fit direct­ly from low­er freight rates, but suf­fer indi­rect­ly from a bro­ken, unre­li­able, inef­fi­cient drayage sys­tem, which can­not share busi­ness infor­ma­tion in a trans­par­ent and time­ly manner.
Dri­vers like Melen­dez would love to have safer, clean­er trucks to dri­ve, but when the cost of updat­ing the trucks comes out of their wages, they have to choose between breath­ing and eat­ing. This is a prob­lem around the coun­try — dri­vers in Savan­nah made the same com­plaints, as I report­ed before.
In oth­er words, the work­ers aren't the ene­my when it comes to dirty air around the ports — they're vic­tims of a thank­less sys­tem. The Coali­tion for Clean and Safe Ports aims to take into con­sid­er­a­tion the work­ers' issues along­side the envi­ron­men­tal impact of the trucks — an impact that is usu­al­ly felt in low-income com­mu­ni­ties that are near­est the ports — and includes labor groups such as the Team­sters and Change to Win as well as com­mu­ni­ty orga­ni­za­tions such as Asian Com­mu­ni­ties for Repro­duc­tive Jus­tice and Physi­cians for Social Responsibility.
The sup­port of com­mu­ni­ty groups is key for short-term strikes by non-union work­ers, a tac­tic that has grown in pop­u­lar­i­ty since Wal-Mart and fast-food work­ers took to it over the past year. With­out a union con­tract, the best pro­tec­tion work­ers have against increased retal­i­a­tion by the boss­es is the watch­ful eyes of sup­port­ers who show up to join the pick­et lines and then walk them back to work the next day.
And as work­ers from dif­fer­ent com­pa­nies strike togeth­er in coor­di­nat­ed fash­ion, they mul­ti­ply the impact they can have on their whole indus­try. ​"The com­pa­nies are a lit­tle scared because it's not [only] Pac 9, in the area, that is get­ting orga­nized," Linares says. ​"This is a gen­er­al move­ment now."
Sarah Jaffe
is a for­mer staff writer at
In These Times
and author of
Nec­es­sary Trou­ble: Amer­i­cans in Revolt
, which Robin D.G. Kel­ley called ​
"
The most com­pelling social and polit­i­cal por­trait of our age." You can fol­low her on Twit­ter
@sarahljaffe
.