Interviews for Resistance: Why Teachers Unions Are the Best Bet To Transform the Labor Movement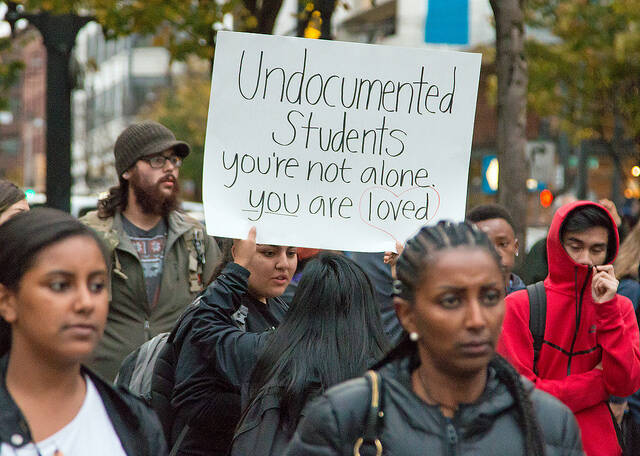 Wel­come to Inter­views for Resis­tance. In this series, we'll be talk­ing with orga­niz­ers, trou­ble­mak­ers, and thinkers who are work­ing both to chal­lenge the Trump admin­is­tra­tion and the cir­cum­stances that cre­at­ed it. It can be easy to despair, to feel like trends toward inequal­i­ty are impos­si­ble to stop, to give in to fear over increased racist, sex­ist and xeno­pho­bic vio­lence. But around the coun­try, peo­ple are doing the hard work of fight­ing back and com­ing togeth­er to plan for what comes next. This series will intro­duce you to some of them.
Pub­lic schools have been a bipar­ti­san bat­tle­ground for years now, with teach­ers unions tak­ing attacks from elect­ed offi­cials at all lev­els as part of a broad­er move­ment to ​"improve" edu­ca­tion by hand­ing con­trol over to pri­vate com­pa­nies. Don­ald Trump's nom­i­nee to run the edu­ca­tion depart­ment, Bet­sy DeVos, is a stal­wart of this pri­va­ti­za­tion dri­ve, nev­er hav­ing met a pub­lic school she liked (and bare­ly, as many have point­ed out, hav­ing met a pub­lic school at all, since she nei­ther taught in any nor attend­ed them nor sent her own chil­dren to them). But teach­ers around the coun­try are orga­niz­ing against pri­va­ti­za­tion, and gain­ing sup­port from par­ents and stu­dents. We talk to one of those teach­ers, Jesse Hagopian.
Hagopi­an teach­es high school in Seat­tle and is an edi­tor for Rethink­ing Schools mag­a­zine. He is also active in his union with the Social Equal­i­ty Edu­ca­tors.
Sarah Jaffe: The school where you teach in Seat­tle, Garfield High School, has had a lot of activism from stu­dents, as well as teach­ers, in the past, hasn't it?
Jesse Hagopi­an: It has a lega­cy of activism. It was the school where Mar­tin Luther King spoke when he made his only vis­it to Seat­tle. Grad­u­ates of our school found­ed the first chap­ter of the Black Pan­ther Par­ty out­side of Cal­i­for­nia, here in Seat­tle. It is a lega­cy we are proud of and that we are see­ing revived.
Ear­li­er this year, our foot­ball team, the entire team took a knee dur­ing the nation­al anthem in protest of police abuse. Then, it spread to the girls' vol­ley­ball team and the girls' soc­cer team and the cheer­lead­ers, even the march­ing band. Every­one was tak­ing a knee to raise aware­ness. Then, after Trump's elec­tion, there were some 5,000 stu­dents across the dis­trict, or more, that walked out, includ­ing large num­bers at the school. It is excit­ing to see a new rebel­lion amongst young peo­ple today.
Sarah: I have been hear­ing from teach­ers who are hav­ing a hard time fig­ur­ing out how to talk to their stu­dents about Trump's elec­tion. Can you talk a lit­tle bit about what it is like being a teacher in this moment, talk­ing to your stu­dents about what is going on?
Jesse: The first exam­ple I want to use is from my son's school. The day after the elec­tion a young Mus­lim girl came in and she hadn't yet heard that Trump won the elec­tion, so she found out there at school. When she found out, she fell to the ground and was pound­ing her fists into the ground and cry­ing. She was just ter­ri­fied about what could hap­pen to her and her fam­i­ly, whether they would be split apart or fears of vio­lence. I am so proud of what my son's teacher did. She decid­ed right then and there to gath­er all of the class­es at the grade lev­el and bring them togeth­er, and all the fam­i­lies who were there for drop-off, and hold a dis­cus­sion, allow kids to dis­cuss their fears and their thoughts and let them know that this is going to be a safe place for them.
That is an exam­ple that I try to use, to have my class­room be a place that facil­i­tates dia­logue, that allows the kids to dis­cuss the fears and anx­i­eties that they have when they hear Trump's plans for ban­ning Mus­lims, for deport­ing immi­grants, all of his atro­cious sex­u­al assault exploits, his fear-mon­ger­ing and hatred and big­otry of all kinds. The stu­dents need a place to talk about it. I try to facil­i­tate that, as well as let­ting them know my class­room is a safe place. On the door, all the teach­ers on my hall­way have put up signs that say, ​"This is a safe place for our stu­dents and a place where we will oppose homo­pho­bia and sex­ism and racism and xeno­pho­bia and Islam­o­pho­bia." We want to com­mu­ni­cate that mes­sage clear­ly with our students.
Then, we also have to do it in the cur­ricu­lum. It is so crit­i­cal that our cur­ricu­lum is talk­ing back to the text­books, which too often just glo­ri­fy Amer­i­can his­to­ry with­out engag­ing kids in crit­i­cal think­ing about the real chal­lenges and forms of struc­tur­al oppres­sion that have been per­pet­u­at­ed through­out U.S. his­to­ry. We have to allow them to dig into the cur­ricu­lum and into the his­to­ry to fig­ure out how we arrived at a moment like this. It's real­ly cru­cial to help­ing sup­port them right now.
Sarah: The Seat­tle Edu­ca­tion Asso­ci­a­tion had a strike fair­ly recent­ly and I believe one of the issues at stake there was racial jus­tice, in par­tic­u­lar, in the schools?
Jesse: Absolute­ly. Last year we went on strike for five days. One of the main demands was about hav­ing racial equi­ty teams in every school. The dis­trict opposed us and didn't want to add any racial equi­ty teams. We want­ed them in every school build­ing. By the end of the strike, we had nego­ti­at­ed 30 racial equi­ty teams across the dis­trict, which was real­ly crit­i­cal to advanc­ing social jus­tice edu­ca­tion in Seat­tle for a num­ber of reasons.
One, it brought us togeth­er with the com­mu­ni­ty. Some of the key lead­ers in the Black Lives Mat­ter move­ment signed onto a let­ter sup­port­ing our strike because of our desire to fight for racial jus­tice in our schools. Then, this past fall, this Octo­ber, we were able to build on that vic­to­ry. We actu­al­ly built a mon­u­men­tal action. It was called Black Lives Mat­ter at School Day. It start­ed with a few teach­ers, but it mush­roomed into an action that some 2,000 out of 5,000 teach­ers in Seat­tle wore Black Lives Mat­ter shirts to school. Many hun­dreds of teach­ers taught lessons about struc­tur­al racism and the Black Lives Mat­ter move­ment that day.
It real­ly helped to expose the fact that there are a major­i­ty of us in the school dis­trict that see a much big­ger pur­pose for edu­ca­tion than just prepar­ing our stu­dents for a low-wage job or ship­ping them through the school-to-prison pipeline, that we want edu­ca­tion to be about empow­er­ing our stu­dents to cre­ate a bet­ter future.
Sarah: The Seat­tle strike was one of sev­er­al teach­ers strikes in recent years. Can you talk about what has been going on among teach­ers unions nation­al­ly and the chal­lenge to the attacks that pub­lic schools have been facing?
Jesse: The assault has been bru­tal on teach­ers unions across the coun­try. It has been bipar­ti­san. It hap­pened with an increased strength against our unions under George W. Bush with the No Child Left Behind act. It only accel­er­at­ed under Oba­ma and his Race to the Top scheme that would fur­ther link teacher eval­u­a­tions and pay to test scores, desta­bi­liz­ing the work force.
Now, we just see the attack unabat­ed with Don­ald Trump's new pro­posed edu­ca­tion sec­re­tary, Bet­sy DeVos, and we know that every­thing she has in store for our schools is absolute­ly wrong and we have to build a vig­or­ous oppo­si­tion to her.
I think that this attack is so strong because the rich­est 1% in this coun­try know that teach­ers unions are the biggest unions left in Amer­i­ca. They are one of the most con­cen­trat­ed sources of orga­nized labor. They have the abil­i­ty to real­ly trans­form the labor move­ment and our com­mu­ni­ties, to make ties with par­ents, stu­dents, and teach­ers, and because of that source of strength they have also become a target.
Sarah: When Bet­sy DeVos was nom­i­nat­ed I was struck by the fact that she is a fig­ure that is very asso­ci­at­ed with school vouch­ers, which in recent years had kind of fall­en by the way­side in favor of this real­ly big bipar­ti­san push for char­ter schools. Can you talk a lit­tle bit about those two things and these waves of privatization?
Jesse: I think pri­va­ti­za­tion is the cen­tral aim of the cor­po­rate edu­ca­tion reform­ers. The Democ­rats, over the last eight years under Oba­ma had worked very hard to give char­ter schools a lib­er­al gloss and make them seem as if they were part of a civ­il rights move­ment to res­cue inner city kids, black and brown chil­dren, from a fail­ing school sys­tem, when in real­i­ty these char­ter schools often under­per­formed the pub­lic schools. They func­tion to siphon off mon­ey from the pub­lic school sys­tem to pri­vate­ly-run schools.
They often have some of the most dra­con­ian dis­ci­pline poli­cies. We have seen that black and brown stu­dents are sus­pend­ed at much high­er rates in char­ter schools, from recent stud­ies. These schools were just the oppo­site of what the Democ­rats had promised, but they were able to cob­ble togeth­er a coali­tion for a while of peo­ple across the polit­i­cal spec­trum who were advo­cat­ing for these schools as an alter­na­tive to what they called ​"fail­ing pub­lic schools."
I think that action real­ly laid the ground­work for what we are see­ing now, with the revivals of vouch­ers, which are just anoth­er strat­e­gy for pri­va­tiz­ing pub­lic edu­ca­tion, giv­ing kids a lim­it­ed amount of funds to use to go to any school they want rather than actu­al­ly invest­ing in the pub­lic schools and mak­ing every pub­lic school a qual­i­ty one with the resources it needs to succeed.
We live in a coun­try that can find tril­lions of dol­lars to bomb peo­ple all across the world and can find tril­lions of dol­lars to bail out the banks who sab­o­taged the glob­al econ­o­my, but when it comes to our kids' edu­ca­tion, they want to try to do it on the cheap. They want to actu­al­ly try to make mon­ey off of it rather than ful­ly invest in the schools that we would need to help our kids succeed.
Sarah: When Trump announced Bet­sy DeVos, I said, ​"She has no idea what is com­ing her way," because the move­ment around pub­lic edu­ca­tion has got­ten so big and so strong in the last cou­ple of years. I won­der if you can talk about the way that stu­dents and par­ents and teach­ers are real­ly com­ing togeth­er to fight for com­mu­ni­ty pub­lic schools.
Jesse: Absolute­ly. That is real­ly what we need. The advan­tage that peo­ple like Trump and the rest of the 1% have is their immense wealth. The advan­tage we have is our num­bers. Those num­bers are real­ly vis­i­ble around edu­ca­tion, because it draws in so many diverse groups togeth­er in one place. It brings togeth­er labor with par­ents from all dif­fer­ent back­grounds, and stu­dents. It has been a source of pow­er for com­mu­ni­ty orga­niz­ing and social jus­tice ini­tia­tives around the country.
In Chica­go, I think they have bril­liant­ly orga­nized social move­ment union­ism strate­gies. They have orga­nized the pow­er of labor to get behind com­mu­ni­ty issues. Then, com­mu­ni­ty groups have come and sup­port­ed them when they are on strike. And with our recent action here in Seat­tle with the Black Lives Mat­ter at School Day, it just took us all by sur­prise. When we passed the res­o­lu­tion in our union to wear these shirts to school we thought maybe a few dozen social jus­tice teach­ers would wear these shirts and teach lessons. Then, the orders went through the roof and fam­i­lies began set­ting up tables at schools with mate­ri­als out front to pass out to oth­er par­ents about how to talk to your kid about race. We had a won­der­ful evening forum that was packed out and dis­played the tal­ents of our youth. I think that action is one that can be repli­cat­ed around the coun­try and already has been.
Last week, the teach­ers in Philadel­phia have launched Black Lives Mat­ter at School Week. The whole week, they had a dif­fer­ent theme every day, with­in the Black Lives Mat­ter move­ment, to high­light the dif­fer­ent inter­sec­tion­al iden­ti­ties with­in the black com­mu­ni­ty and teach lessons and hold dia­logues around those actions. That has already been a pow­er­ful exam­ple of bring­ing togeth­er fam­i­lies and labor in a com­mon struggle.
I could see this type of move­ment flow­er­ing across the coun­try, espe­cial­ly as police bru­tal­i­ty con­tin­ues unabat­ed. The next time we see a hor­rif­ic mur­der of a black or brown body, I think it will fur­ther con­vince edu­ca­tors in oth­er cities that we need to trans­form our schools into sites of resis­tance to every­thing that Trump stands for. I real­ly hope that is where our move­ment can go, because Trump embla­zons his name on every­thing he owns. He has the Trump Tow­ers, the Trump golf cours­es, the Trump Hotels. I would like to see our schools become pub­lic sites of resis­tance to all the big­otry that he stands for. The school read­er boards here in Seat­tle said ​"Black Lives Mat­ter" at many of the schools on our day. I think if we keep at it, we can help to trans­form our schools to become these sites of resistance.
Sarah: Do you have spe­cif­ic tips from the work you have been doing in Seat­tle for edu­ca­tors in oth­er places who want to start talk­ing to peo­ple in their com­mu­ni­ty, their stu­dents and their stu­dents' par­ents par­tic­u­lar­ly around issues of racism, but in gen­er­al around the issues that their com­mu­ni­ties are facing?
Jesse: One is, for fel­low edu­ca­tors, it is real­ly crit­i­cal to form a cau­cus inside the union to gath­er togeth­er like-mind­ed social jus­tice advo­cates in the union and begin to present your ideas to the broad­er union, to help make your union strong enough to fight back against the pri­va­ti­za­tion attacks and to help raise social issues like the Black Lives Mat­ter move­ment inside the union. Often­times begin­ning with a study group is a good way to go, get­ting a book to read. In Chica­go, the social jus­tice cau­cus there that won the elec­tion and took over the union began by read­ing Nao­mi Klein's book The Shock Doc­trine. It was just a small study group and now they have quite a bit of influ­ence in that city.
Right here, we recent­ly held a study group on Keean­ga-Yamaht­ta Taylor's book From #Black­Lives­Mat­ter to Black Lib­er­a­tion. Find­ing a book that can bring peo­ple togeth­er to dis­cuss their ideas and then talk about how we want to imple­ment them in the union is critical.
Then, I think pick­ing a cou­ple of key issues that you can orga­nize around that will bring in par­ents, stu­dents, and teach­ers. Here in Seat­tle, one of the main issues that we are ral­ly­ing around right now is the fight for eth­nic stud­ies. I would add gen­der stud­ies, as well. I think in this time where our pres­i­dent dis­par­ages Black Lives Mat­ter, where our pres­i­dent is an open sex­ist, and is a proud sex­u­al assaulter, I think we need to teach our kids the truth about the con­tri­bu­tions to this coun­try of peo­ple of col­or and of women and the strug­gles that they have been through. We are launch­ing an ini­tia­tive with the NAACP here in Seat­tle to demand that every school include eth­nic stud­ies. A recent study out of Stan­ford showed huge ben­e­fits aca­d­e­m­i­cal­ly, for eth­nic stud­ies pro­grams, in rais­ing grad­u­a­tion rates. I real­ly think that is some­thing that needs to take off across the country.
Sarah: Bet­sy DeVos has not been con­firmed yet. Even some of the Democ­rats with­in Con­gress who have rub­ber-stamped most of Trump's oth­er nom­i­nees are say­ing that they are going to fight on hers. Peo­ple who are fol­low­ing that, what can they do?
Jesse: We need to fight as vig­or­ous­ly as pos­si­ble against her con­fir­ma­tion because she has absolute­ly no idea what she is doing with pub­lic edu­ca­tion. She nev­er went to pub­lic schools, her kids didn't go to pub­lic schools, her only asso­ci­a­tion with the schools is her attempts to pri­va­tize them with her foun­da­tion. Dur­ing her con­fir­ma­tion hear­ing they asked her ques­tions about her fam­i­ly foun­da­tion because her fam­i­ly foun­da­tion has giv­en mil­lions to the Repub­li­can Par­ty, but even more despi­ca­bly, has fund­ed things like gay con­ver­sion ther­a­py, which is a pseu­do-sci­ence that is an absolute atroc­i­ty in the way it psy­cho­log­i­cal­ly abus­es LGBTQ youth. She has no busi­ness being any­where near a pub­lic insti­tu­tion that is meant to nur­ture all of the kids in the Unit­ed States.
I think that we have to raise pub­lic protests. We have to agi­tate in our unions to make sure our unions are vocal­ly oppos­ing this and let­ting the politi­cians know there will be con­se­quences if they vote to con­firm her. Join­ing local ral­lies and demon­stra­tions against her con­fir­ma­tion is real­ly important.
Sarah: Last­ly, how can peo­ple keep up with you?
Jesse: My web­site is IAmAnE​d​u​ca​tor​.com. They can fol­low the work I do there or on social media. Most impor­tant­ly, I think get­ting a sub­scrip­tion to Rethink­ing Schools and bring­ing social jus­tice lessons into your class­room is the best way to stay con­nect­ed to the movement.
Inter­views for Resis­tance is a project of Sarah Jaffe, with assis­tance from Lau­ra Feuille­bois and sup­port from the Nation Insti­tute. It is also avail­able as a podcast.
Sarah Jaffe
is a for­mer staff writer at
In These Times
and author of
Nec­es­sary Trou­ble: Amer­i­cans in Revolt
, which Robin D.G. Kel­ley called ​
"
The most com­pelling social and polit­i­cal por­trait of our age." You can fol­low her on Twit­ter
@sarahljaffe
.