Why the Internet Will Soon Be Two-Tiered
Low-income people of color stand to lose the most from the erosion of net neutrality.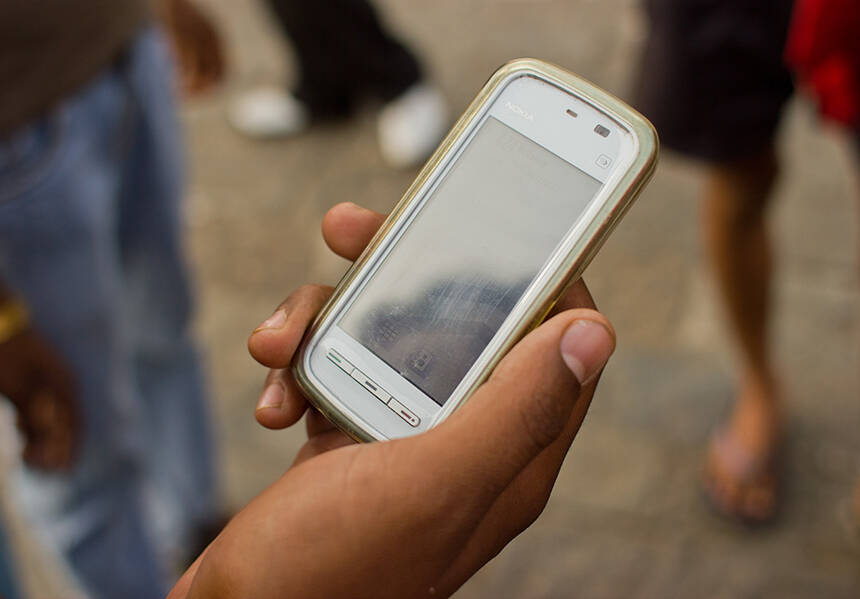 Net neu­tral­i­ty — the prin­ci­ple that all con­tent on the Inter­net must be treat­ed equal­ly by ser­vice providers and the gov­ern­ment — may not be long for this world. After ane­mic attempts at pre­serv­ing net neu­tral­i­ty by the Fed­er­al Com­mu­ni­ca­tions Com­mis­sion, a recent court rul­ing has opened the door for mobile net­work providers to get what they have long sought: name­ly, the abil­i­ty to dis­crim­i­nate when it comes to web­sites' load­ing speed and availability.
Informational freedom advocates say the decline of net neutrality—and AT&T's policy in particular—could, in effect, create yet another sector of American society where information and access to platforms of influence are boutique commodities.
Though FCC Chair­man Tom Wheel­er recent­ly stat­ed the com­mis­sion plans to write new net neu­tral­i­ty guide­lines that will hope­ful­ly sur­vive legal chal­lenges, it remains to be seen how any of these will hold up in court. In the mean­time, Amer­i­cans' access to a free, unfet­tered Inter­net will almost cer­tain­ly con­tin­ue to be tested.
Over the past few years, a great deal of atten­tion has been paid in the press to net neutrality's poten­tial col­lapse. Much of the analy­sis, how­ev­er, has focused on its impor­tance for main­tain­ing anti­com­pet­i­tive busi­ness prac­tices and the need to cre­ate a lev­el play­ing field online for small busi­ness­es and Sil­i­con Val­ley ​"dis­rupters." What has received far less atten­tion are the ways in which the destruc­tion of net neu­tral­i­ty will add to America's inequal­i­ty crisis.
In his most recent State of the Union address, Pres­i­dent Barack Oba­ma promised to tack­le the vast social and eco­nom­ic dis­par­i­ty among Amer­i­cans. But one of the Oba­ma administration's ear­ly pol­i­cy dis­ap­point­ments — his FCC's flawed approach to net neu­tral­i­ty — may soon lead to that same inequal­i­ty gap being man­i­fest­ed online in the form of a two-tier Internet.
A 2010 FCC deci­sion did appear to enshrine net neu­tral­i­ty as a fun­da­men­tal prin­ci­ple of how the Inter­net oper­ates: The gov­ern­ment agency enact­ed a fed­er­al man­date that no Inter­net ser­vice providers could block or slow users' con­nec­tions to sites and apps.
But appear­ances can be mis­lead­ing. That 2010 rul­ing allowed for major excep­tions to net neu­tral­i­ty, par­tic­u­lar­ly around mobile net­works. And in Jan­u­ary, at the D.C. Cir­cuit for the U.S. Court of Appeals, Ver­i­zon exploit­ed these loop­holes to suc­cess­ful­ly chal­lenge the legal­i­ty of enforc­ing net neu­tral­i­ty for cell phone Inter­net. In the­o­ry, unless the FCC acts quick­ly, providers such as Ver­i­zon and oth­er mobile car­ri­ers could con­ceiv­ably decide to priv­i­lege the deliv­ery of some sites over oth­ers — a dev­as­tat­ing blow for peo­ple who rely on cell phones to get online.
When it comes to access­ing the Inter­net, mobile-phone net­works are of par­tic­u­lar impor­tance to mar­gin­al­ized com­mu­ni­ties, includ­ing peo­ple of col­or and those with low­er incomes. A recent Pew sur­vey found that a full 21 per­cent of cell phone own­ers in the Unit­ed States most­ly use their phones to access the Inter­net, as opposed to a desk­top or a lap­top. The elim­i­na­tion of net neu­tral­i­ty for cell phones could make con­duct­ing essen­tial activ­i­ties, such as apply­ing for jobs or fur­ther­ing one's edu­ca­tion, much hard­er if ser­vice providers chose to block access to those nec­es­sary sites.
The Pew study also found that ​"young adults, non-whites, and those with rel­a­tive­ly low income and edu­ca­tion lev­els are par­tic­u­lar­ly like­ly to be cell-most­ly Inter­net users" — and ­it's peo­ple in those demo­graph­ic groups who will there­fore be stuck at the low­est tier of access. Advo­ca­cy groups also wor­ry that ISPs will use their pow­ers of pri­or­i­ti­za­tion to silence activists work­ing toward social jus­tice, par­tic­u­lar­ly in com­mu­ni­ties of color.
One spe­cif­ic exam­ple of how this might play out is with AT&T's soon-to-be-launched spon­sored data plan. Cur­rent­ly, most cus­tomers must adhere to a data usage cap or risk pay­ing over­age fees. But under the ​"spon­sored data plan," rather than forc­ing an AT&T user to drain their month­ly data allo­ca­tion while they, say, scroll Face­book, the social media giant — or any com­pa­ny — could pay for that usage on their behalf to AT&T. In oth­er words, as far as users are con­cerned, Inter­net access to cer­tain sites would essen­tial­ly be free.
In the­o­ry, this sounds great. More traf­fic for tech com­pa­nies to their prod­ucts and a low­er phone bill for con­sumers. Win-win, right?
Per­haps, until one con­sid­ers the fact that not all web­sites on the Inter­net are able to spon­sor their data in this way. As a result, we will be cre­at­ing an Inter­net in which users are moti­vat­ed to peruse the sites of larg­er and wealth­i­er com­pa­nies com­pared to those with few­er resources.
Accord­ing to Steven Ren­deros, nation­al orga­niz­er for the Cen­ter for Media Jus­tice, ​"AT&T's data plan would cre­ate the incen­tive for web­sites to pay for the data usage cus­tomers rack up on their web­site in order to steer the cus­tomer towards sites that won't use up their lim­it­ed data plans." As a result of this process, he says, the Inter­net will more close­ly resem­ble cable tele­vi­sion, with inde­pen­dent voic­es and out­lets pushed to the mar­gins.
And that's the best-case sce­nario. But what hap­pens when a con­sumer isn't able to pay for any data plan or can only afford a low cap? With AT&T's ​"spon­sored data," this cus­tomer would still be able to use the Inter­net — but it could look very dif­fer­ent from that of a user who has no such constraints.
This ​"com­mer­cial" Inter­net, which every­one would have access to, would be com­prised sole­ly of the com­pa­nies that can afford to pay for all those users' data. And based on the cur­rent prac­tices of many web giants, the major­i­ty of those mega-cor­po­ra­tions would like­ly be online retail­ers or sites that track (and mon­e­tize) users' every inter­ac­tion. The world of inde­pen­dent blogs, alter­na­tive media, job boards, and online cours­es would become an Inter­net luxury.
With cell phone Inter­net thus ham­pered by a lack of net neu­tral­i­ty, home broad­band, with its flat-rate month­ly bill, would be the only place to turn for an open Inter­net. The prob­lem is that a home broad­band con­nec­tion is pre­cise­ly what many in mar­gin­al­ized com­mu­ni­ties lack. Accord­ing to Pew, 15 per­cent of black adults and 22 per­cent of His­pan­ic adults have smart­phones but no home broad­band Inter­net — com­pared to just 6 per­cent of white ones.
As a result, the uni­verse of infor­ma­tion and com­mu­ni­ties that many peo­ple are able to access or con­tribute to online would shrink. It would ensure, says Ren­deros, that ​"mobile Inter­net is pure­ly a mech­a­nism for con­sump­tion ver­sus the cre­ative plat­form the Inter­net rep­re­sents to wired — cable, DSL, fiber — users."
Infor­ma­tion­al free­dom advo­cates say the decline of net neu­tral­i­ty — and AT&T's pol­i­cy in par­tic­u­lar — could, in effect, cre­ate yet anoth­er sec­tor of Amer­i­can soci­ety where infor­ma­tion and access to plat­forms of influ­ence are bou­tique com­modi­ties. The Inter­net would no longer be a place where a small voice has access to the same vir­tu­al mega­phone as that of a large cor­po­ra­tion or the government.
​"It cer­tain­ly is the ush­er­ing in of a ​'have and have-nots' Inter­net," says Renderos.
This process of cre­at­ing a two-tier Inter­net will deep­en the divi­sions of eco­nom­ic and racial inequal­i­ty that dri­ve Amer­i­can pol­i­tics today. For all the talk of the Inter­net as an engine of democ­ra­cy and growth, with­out a robust net neu­tral­i­ty prin­ci­ple, it will become noth­ing more than yet anoth­er pil­lar sup­port­ing a rigged eco­nom­ic game.
Jay Cas­sano is a tech­nol­o­gy reporter for Fast Com­pa­ny and pre­vi­ous­ly worked as a for­eign cor­re­spon­dent in Turkey for Inter Press Ser­vice. He has been pub­lished in The Nation, Al Jazeera, and elsewhere.
Michael Brooks is the host of INTER­SEC­TION pod­cast on Aslan Media and a con­trib­u­tor and pro­duc­er for the Major­i­ty Report. His writ­ing has appeared in the Wash­ing­ton Post and Al Jazeera.