Wild Mares: My Lesbian Back-to-the-Land Life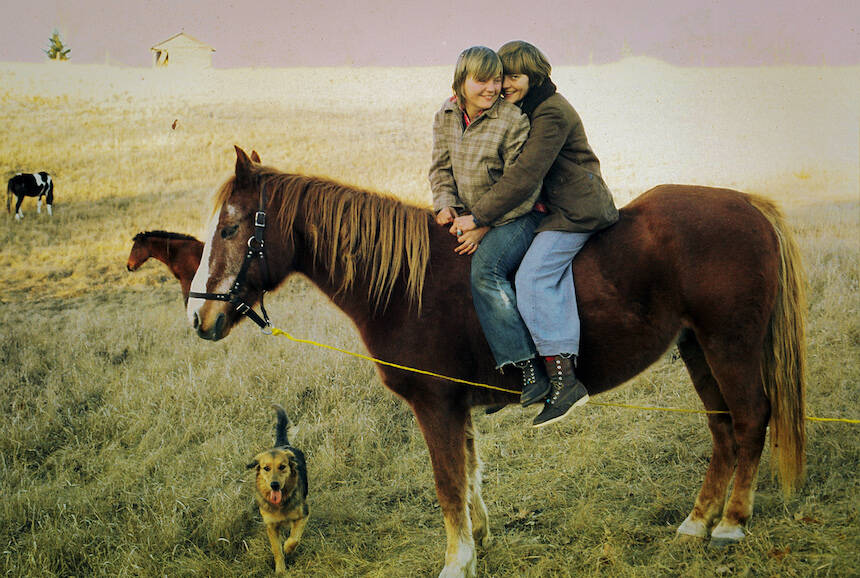 Stand­ing beside Marea out­side the pad­dock where the hors­es lived, I watched them eat hun­gri­ly while she reached into her coat pock­et and pulled out a bag of tobac­co. Her hands shook with cold as she got out a rolling paper, fold­ed it, filled it with loose brown leaves, and shaped a cig­a­rette. Her wool coat sport­ed mode-of-the-day patch­es, and the round, vin­tage vamps of her sec­ond­hand boots took her a step beyond the fash­ion-fringy work boots worn by the jeans jack­et gang and many oth­er young fem­i­nists around the Twin Cities. I couldn't help but notice how her pale skin stretched across the slen­der bones of her fin­gers, mak­ing her hands look del­i­cate and vul­ner­a­ble in the win­ter light. I felt like some­one ought to help her warm them up. I had a pow­er­ful urge to be that some­one, but I kept my mouth shut and my hands to myself.
Once the hors­es had fin­ished their grain, they start­ed a styl­ized rit­u­al over the emp­ty feed tubs. I'd seen them do it many times and had the impres­sion that hors­es had been doing some­thing like it for 50 mil­lion years or so, since their pri­mor­dial ances­tor Eohip­pus roamed the for­est. Pret­ty soon, the big, half-bred work­horse Dick assert­ed his dom­i­nance by squeal­ing, turn­ing his butt, and flex­ing a meaty hind leg. The rest shook their heads and snort­ed dis­ap­proval, but no one chal­lenged him.
"Grab the pans," Marea ordered with com­ic urgency, stream­ing smoke from her nos­trils and look­ing exag­ger­at­ed­ly has­sled for my entertainment.
Our life at Haidiya Farm felt high­ly enter­tain­ing at times, and like life at Cush­ing, Minn., it con­jured an era before indoor plumb­ing and the elec­tri­cal grid. Most­ly I liked that about it and often thought I should have been born to the ear­ly 20th cen­tu­ry instead of the fren­zied, stressed-out, atom­ic sec­ond half of it. I've always sought qui­et and solace in nature. Even as a lit­tle girl, I went alone to wild spaces: the woods along the riv­er near my grand­par­ents' home, a slough of grass and brush near our house, and the knob­by prairie hills that rose around Minot, N.D., from the riv­er val­ley. I slipped away to those hills as often as I could. In spring, I found wild cro­cus and cac­tus amid patch­es of snow, and I learned that if you set­tled into a lit­tle depres­sion, pro­tect­ed from the wind, you could stay warmed by the sun and watch the clouds shift­ing shapes while time melt­ed toward oblivion.
At Haidiya Farm, I redis­cov­ered the fer­al self I had near­ly lost in the Twin Cities. In the evenings we sat around the wood­stove in the liv­ing room, read­ing, talk­ing, and smok­ing green and pun­gent home­grown weed. We shared books, and we all read. When we got excit­ed about a writer like Mary Renault or Lau­ra Ingalls Wilder, we binge-read col­lec­tive­ly and talked about what we learned about farm skills, col­lec­tive liv­ing exper­i­ments, clas­si­cal his­to­ry, fem­i­nism, spir­i­tu­al­i­ty, and writ­ing. Marea told me how much she admired the activist philoso­phers Helen and Scott Near­ing for liv­ing inten­tion­al­ly sim­ple lives and shar­ing their For­est Farm gar­dens, pro­duce, and build­ings with like-mind­ed oth­ers. She said they'd found that four hours of ​"bread labor" (gar­den­ing, gath­er­ing, con­struc­tion, machin­ery main­te­nance, etc.) was enough to pay a person's way and keep the farm going. That sound­ed good to me. I thought we could do it too.
At times, we func­tioned like a study group, at oth­er times like lov­ing, sup­port­ive friends, or like a bick­er­ing col­lec­tive of rad­i­cal fem­i­nists whose lifeblood was crit­i­cism. Liv­ing with women on the land felt like it could be every­thing I'd hoped — an anti­dote to patri­archy, the war machine, waste­ful con­sump­tion, and the destruc­tion of the Earth.
One morn­ing, when I came in the back door after chores, I smelled a nut­ty aro­ma mixed with wood smoke. I found Shirley at the stove, stir­ring grains in a cast-iron fry­ing pan. She had cracked corn, bar­ley, and wheat berries in the grind­ing mill and was roast­ing them. After­ward, she planned to add water and salt and let the cere­al boil until it was soft. My appetite spiked while I smelled the por­ridge boil­ing. When we dished up, we added spoons­ful of Martha and Marea's stiff, raw hon­ey. It melt­ed into the hot cere­al like but­ter, and lat­er, after Martha bought her lit­tle black cow, Beau­ty, we would add some of Beauty's milk or but­ter that we had made from her cream.
"My god, this is good," I said about the por­ridge.
​"I know," Sum­mer said, dig­ging in.
Some days we had eggs from the Haidiya Farm hens, or bread that we baked from hand-ground flour. Martha some­times made cream-top yogurt, let­ting Beauty's rich, whole milk fer­ment with yogurt starter in a gal­lon jar atop the warm­ing oven of the cook-stove. I remem­ber see­ing five or six inch­es of cream at the top of a gal­lon of yogurt. When we need­ed but­ter, Martha let the cream rise on fresh milk. We skimmed it off and took turns crank­ing the Dazey churn. The chil­dren, Sara and Trent, ate the same food we did, and we all thrived. I don't remem­ber any­one com­plain­ing, though decades lat­er Mol­ly con­fid­ed that when she vis­it­ed us, she found the food ​"too grainy." Once, she said, she and a friend from col­lege drove a half-hour or so to Lady­smith to get hamburgers.
I remem­ber tears, ill­ness­es, and tem­per are-ups. These things hap­pened with three-year-olds — and also with women in our twen­ties. Our peri­ods synced up, hor­mones raged, and we had some rough times. Mol­ly now reminds me that dur­ing that time she came for a vis­it once and found a note from us, telling her that we'd rid­den our hors­es to the neigh­bor­hood bar and she ought to hop on Shirley's pony, Raf­fire, and join us. She tried. The excitable young geld­ing shied and dumped her at the bridge that crossed the Yel­low Riv­er a quar­ter-mile or so down the road. She walked back to the house with an aching back and decid­ed to churn some but­ter. She put milk in the churn instead of cream, so she cranked the han­dle for a long time and noth­ing con­gealed. When we got home, we laughed at her for not know­ing better.
One after­noon, Marea and I went for a miles-long ride. The sun start­ed set­ting as we looped around a snowy trail through a swamp. She can­tered White Mare, and Dick kept us close on her heels. I felt the mus­cles of my legs start to ache and then turn to rub­ber, and he let out a string of groan­ing com­plaints. Near the road where we had found the trail­head, Marea turned around to see where we were. She said, with sur­prise in her voice, ​"Oh, you're right behind us!"
Yes, we were. Dick had grit and heart. Lat­er, I read that the mag­i­cal herb Lurk-in-the-Ditch (after which Marea had nick-named him) is said to impart strength. Not long after our chal­leng­ing ride — pos­si­bly even the next morn­ing — Martha said to me, ​"We've been talk­ing, and we fig­ure that all the use you're putting Dick to is either going to kill him or get him into shape."
"Let's hope it gets him into shape," I told her while my thighs and butt sang a whiny lit­tle song of woe to me alone.
"If you're inter­est­ed," she said, ​"we would sell him to you for $75."
"I'll do it," I said with­out a sec­ond thought. I was oper­at­ing on mod­est sav­ings, but my expens­es had been small since I moved to Haidiya Farm. I could buy my share of gro­ceries and Blitz's dog food, and I fig­ured that I could afford to feed Dick, too. The next thing I knew, Martha and Marea were board­ing anoth­er horse that they no longer owned them­selves, and I was feel­ing my way into a stray attrac­tion to a cranky old geld­ing. I hoped he would live a long time and car­ry me far.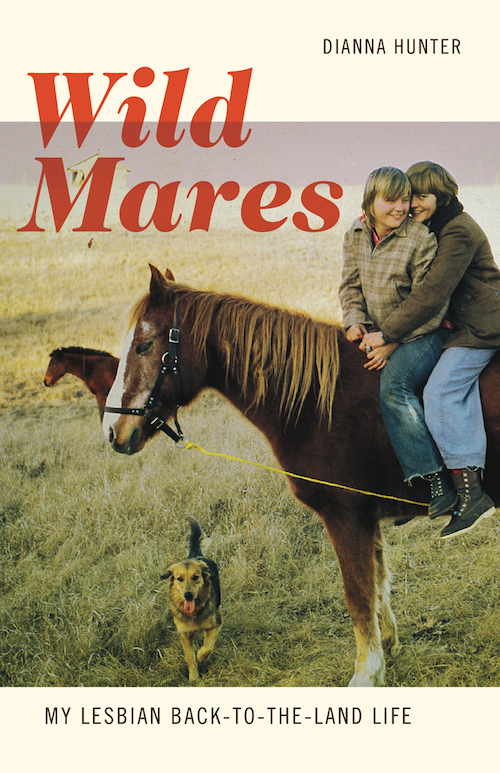 From
Wild Mares: My Les­bian Back-to-the-Land Life
by Dian­na Hunter (Uni­ver­si­ty of Min­neso­ta Press,
2018
), copy­right
2018
by Dian­na Hunter. All rights reserved. Used by per­mis­sion of the Uni­ver­si­ty of Min­neso­ta Press.
Dian­na Hunter
is author of the book and radio series Break­ing Hard Ground: Sto­ries of the Min­neso­ta Farm Advo­cates. She taught writ­ing and women's and gen­der stud­ies at four uni­ver­si­ties, includ­ing the Uni­ver­si­ty of Wis­con­sin – Supe­ri­or, where she was a lec­tur­er and direc­tor until she retired in
2012
.