Will the NLRB Let Graduate Student Workers Down Again?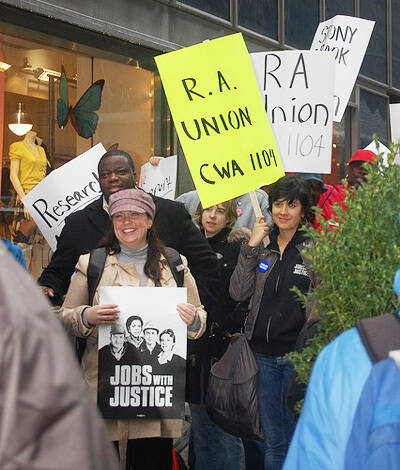 With 11 days to paralysis, Bush Board precedent is still in place.
Dacia Mitchell has taught dozens of students. This year, she stopped teaching because the money she was paid for it was less than the cost of childcare for her two year-old daughter. She worries about how class size and teacher workload affect the quality of teaching at New York University, where she works.
So she and her co-workers, who once had union recognition, are fighting to win it back. But under current law, they have no right to recognition, because they're graduate students.
As David Moberg reported on this website, NYU graduate students in GSOC (a United Auto Workers affiliate) filed for an election to regain union recognition last year. When a regional NLRB director moved to dismiss the election petition based on precedent, Obama NLRB appointees overrode the dismissal, stating that there were ​"compelling reasons" for fuller consideration of graduate students' status, and setting the stage for a new decision by the full Labor Board about the merits of the election petition.
To permit the election, NLRB members would need to overturn their Bush-appointed predecessors' 2004 Brown University decision, which itself was a reversal of Clinton-appointees' 2000 pro-union New York University ruling. But with 11 days until politically-imposed paralysis, the Labor Board has yet to resolve the case.
The Supreme Court has ruled that the NLRB requires a minimum quorum of three members to issue decisions. Last week Barack Obama nominated two new NLRB members, but as Mike Elk has reported, Republicans are unlikely to allow those nominations go anywhere before next year's election.
That means that once one of Obama's recess appointments expires on December 31, the Board may be out of commission until the re-election of President Obama, or the inauguration of President Mitt Romney. This prospect prompted an emergency room-themed protest by University of Chicago workers outside their local NLRB office last week, complete with workers wearing scrubs and a graduate student on a gurney representing the NLRB.
The 2000 NYU decision, which recognized graduate student employees for the first time as workers with the right to NLRB elections, was a shot in the arm for NYU students and their counterparts organizing at other private universities. But in the four years the decision was in effect, it led to only one union contract.
Following its employees' NLRB-sponsored vote for unionization, NYU negotiated a contract with GSOC. Other universities took a posture toward the NYU case more like the one a past generation of union leaders took toward unfriendly court rulings: they derided its legitimacy, questioned its staying power, and fought its implementation. Days after the NYU decision, union-busting administrators were emboldened by the election of George W. Bush.
At Yale, the Graduate Employee Student Organization (GESO) promised to file for an NLRB election if university President Richard Levin would commit to allow the votes to be counted. Levin refused. At Columbia, University of Pennsylvania, and Brown, graduate employees held NLRB elections but their avowed liberal administrators appealed and successfully got the results impounded by the NLRB. Because Bush's appointees sided with university administrators in 2004, those ballots will never be counted.
(Full disclosure: I supported GESO's campaign as an undergraduate activist, and after college was employed by UNITE HERE, the international union of which GESO is an affiliate)
Although NYU had bragged about its constructive compliance with the 2000 NLRB decision, once that decision was reversed and its graduate students' first contract expired, NYU seized the opportunity to cease recognizing their union.
Mitchell arrived at NYU just in time to take part in a six-month strike, an unsuccessful attempt to win back recognition. She says that along with tackling workplace issues within departments, one of GSOC's major focuses in the post-strike years was working with other UAW members to mobilize members to elect Obama president.
​"There were promises made," she says, ​"that basically all of the Bush appointees that blocked [unionization] would be replaced."
Contingent labor by graduate students is a linchpin in the economic model of the modern private university. Though administrators frame teaching as a learning opportunity for Ph. D. students, universities earn hefty sums by shifting teaching from better-compensated faculty to graduate students with worse compensation and no job security. More than 70 percent of the teaching at NYU is done by graduate students, post-docs, or other non-tenure-track teachers.
Graduate students are also integral to scientific research, which provides many elite universities with far more income than student tuition. Under the 1980 Bayh-Dole Act, universities can secure huge federal research grants, execute them with graduate student labor, and sell their findings to private corporations — with neither graduate student researchers nor taxpayers holding copyright claims to the work they made possible.
In contrast, 30 public universities have graduate student unions. Some have played pivotal roles in this year's uprisings. Under the leadership of a newly-elected reform slate, UAW Local 2865 has been a prime mover in the Occupy movement in the University of California system. Members of the University of Wisconsin Teaching Assistants Association (TAA) helped instigate the takeover of their state's capitol. Having declined the pursue the anemic form of recognition available under Scott Walker's ​"budget repair" regime, TAA members are now, like their private sector counterparts, a union without legal recognition.
With just days left before New Year's, law professor and former NLRB attorney Jeff Hirsch says that while the NLRB could still act, more likely than not it won't. Hirsch says the Board may be held back by hesitance about overturning another precedent by 2-1 vote, or fear of further Republican backlash. Columbia Professor Dorian Warren says that while a reversal of Brown appeared likely last year, he doubts it will happen now. Warren, who as a grad student was an active member of GESO before, during, and after the years NYU was in effect, says having graduate students' employee status recognized by the NLRB made it easier to sign up co-workers. He says the 2004 reversal was ​"deflating," and ​"makes any type of action much riskier."
Without winning collective bargaining, private sector graduate student unions have scored important victories, from improving pay and benefits to helping force the release of a generic version of an AIDS drug developed at Yale and sold to Bristol-Myers Squibb.
But outside GSOC's now-unrecognized contract, none has yet forced a private university to sit across the table and negotiate with its graduate employees. If the NLRB shuts down without reversing Brown, the challenge of acting as a union in the absence of legal recognition — through whatever combination of attacking workplace issues, mounting corporate campaigns, and partnering with other campus workers — will only become more significant.
Josh Eidelson
is a freelance writer and a contributor at In These Times, The American Prospect, Dissent, and Alternet. After receiving his MA in Political Science, he worked as a union organizer for five years. His website is http://​www​.joshei​del​son​.com. Twitter: @josheidelson E-mail: ​
"
jeidelson" at ​
"
gmail" dot com.