Winning Power and Advancing a Radical Agenda Aren't Mutually Exclusive
This year's People's Summit shows it's not enough to have good ideas. The left needs a strategy to win.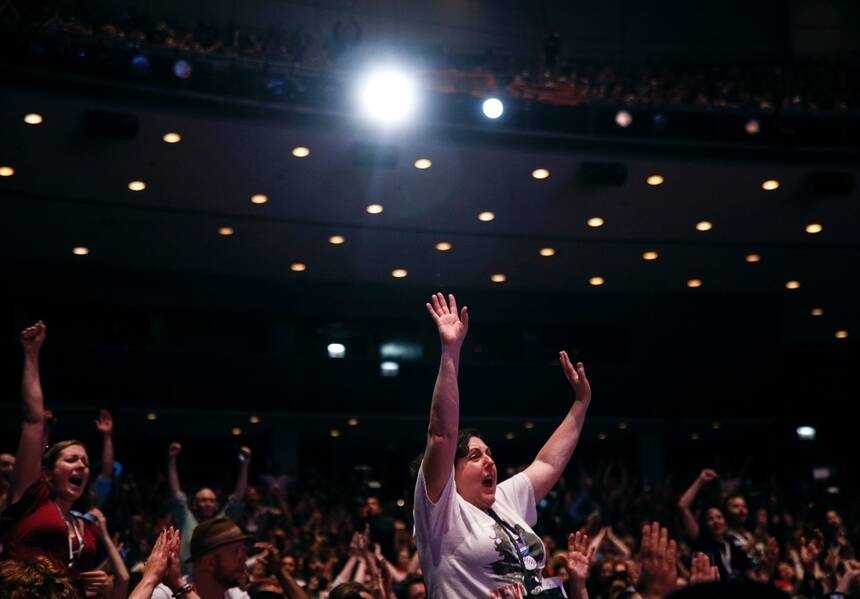 This year's People's Summit, the second annual confab for progressives from around the country, kicked off with a bang. On Thursday, the night before the weekend's events began, Jeremy Corbyn's Labour Party unexpectedly kneecapped British Prime Minister Theresa May's outright Conservative majority in the U.K. Parliament.
"Trump didn't win the election. The Democratic Party lost the election."
For many of the conference's 4,000 attendees, Labour's upset was validating — and proof-positive that a radical agenda along the lines of that party's ambitious manifesto can form the backbone of a winning strategy.
"The lesson for Democrats coming out of the U.K. election should be pretty plainly clear," says the Working Families Party's (WFP) Joe Dinkin, ​"which is that the way to take the right wing out of the majority is to give people a platform to believe in and a politics that will actually improve their lives."
What exactly that agenda should look like and how we should push for it remain open questions for the loose constellation of progressives and Bernie Sanders supporters who gathered in Chicago this past weekend. But, if one thing was made clear at the People's Summit, it's that there are more people than ever in recent memory ready to make sure such an agenda gets implemented.
Nelly Torres, a 34-year-old organizer from Lancaster, Pennsylvania, is one of them. Like many of the Summit's attendees, she got her start in politics working on Sanders' primary campaign. ​"I knocked on doors until I couldn't walk anymore. My legs were swelling, so then I made calls," Torres told In These Times, noting that she lives with a disability that makes it difficult for her to be on her feet for extended periods of time.
"What [Bernie] was talking about, and what resonates with people, is the racial and economic injustice that has been happening in our community. In Lancaster, there's a large population of Black Latinos. But they've been disenfranchised, ignored and silenced. What drove me to Bernie was that I felt like I was in a corner, and I felt like he looked to me and said, ​'Come on out. Be a part of this conversation. Be a part of this movement. It's not just me. It's you.'"
As a newcomer to political work, Torres found a camaraderie at the People's Summit that made her 11-hour drive from central Pennsylvania well worth it. ​"There's a sense of family among all these people working to do the right thing and make a democracy that works for everybody," she says. Since the primary, Torres has started organizing with a group called Lancaster Stands Up, which is working to challenge establishment Democrats and Republicans in the area.
Like other attendees, Torres — a lifelong Democrat — is fed up with the way her party has been run for the past several years. ​"The [Democratic National Committee (DNC)] betrayed me as a member and as a voter. I have really struggled with my identity in this party, and I really didn't want to be in it anymore. But somebody like Bernie speaking to these issues and saying we have to fight back, that's the only thing that will keep me in this party," Torres said. ​"I'm done with the corporate Democrats. I'm done with Democrats [who] are silent. They are contributing to a system that does not work for me, does not work for my family, and that does not work for my community. It doesn't work for our country."
Ire toward the Democrats' establishment wing was palpable at last year's Summit, and it has only grown stronger since. The 2016 conference served as a kind of an emotional pick-me-up and inaugural reunion for the thousands of people who had just spent months trying — and ultimately failing — to make Sanders the Democratic nominee. It was a spirited gathering, if somewhat muted by the fact that many of the same attendees who had, for months, railed against Clinton's ties to corporate interests were bracing themselves to back her in the general election
This year, of course, Donald Trump is president. And the gloves are off when it comes to the Democratic establishment. ​"The current model and the current strategy of the Democratic party is an absolute failure," Sanders thundered in his keynote speech Saturday night, one of his strongest indictments of the party yet. ​"Trump didn't win the election. The Democratic Party lost the election."
But it wasn't just Sanders' devotees who cheered on his message. Also represented at the Summit were many of the millions of Americas who have flooded into mass protests such as the Women's March, and who form part of the ideologically ambiguous mass most readily known as ​"The Resistance."
The WFP's Dinkin saw the Summit as an opportunity for these new recruits to sharpen their understanding of politics and to get more deeply involved in grassroots organizing efforts. ​"Is The Resistance even a left movement? The answer is they don't know," Dinkin says. ​"People usually don't come into politics with well-formed ideologies, and that's why training and community and political education are so important. But there are a huge number of people who want to do things."
Breakout sessions throughout the weekend instructed crowds of nurses, baby boomers and college students on the ins-and-outs of neoliberalism, while others got schooled in nonviolent direct action and the kind of ​"big organizing" that was central to the Sanders campaign's ability to garner 13 million votes. Following Sanders' speech, actors and musicians took the stage to recreate the songs and speeches of left political figures ranging from Muhammed Ali to Eugene V. Debs.
Alongside the skills trainings and big name speakers on display were the birthpangs of the post-Bernie, mid-Trump progressive Left, now negotiating how to blend movement and electoral politics in a political climate for which history offers few scripts. As beguiling as Trump's presidency is, the American Left's recent history complicates matters further still. The movements that emerged in the wake of the 2008 financial crisis largely retained the New Left's ambivalence and, in some cases, open hostility toward the prospect of taking state power.
In one of the most infamous examples of this trend, activists from Occupy Atlanta shunned civil rights veteran and Georgia Congressman John Lewis from speaking at their encampment for fear he would extract political capital from it. For millennials and movement veterans alike, waging fights for political power en masse is relatively new terrain.
Since the end of Sanders primary bid, this division between movement and electoral politics has begun to erode. At least within the walls of the lakefront conference center where the Summit was held, there was a general consensus that winning elected office up and down the ballot is critical. Less clear was how exactly these seats should be seized: How can elected officials remain accountable to the social movements whose policies they're trying to put into place? What does building a grassroots-led electoral infrastructure look like? What does it mean to transform the Democratic Party into an institution that acts in working people's interest? And is this even possible?
The conference offered no agreed-upon answers to these questions, though certain camps under the broad ​"post-Bernie" umbrella have their own strong opinions. After a small but audible crowd of ​"Draft Bernie" stalwarts interrupted the Vermont Senator's Saturday night speech, National Nurses United President — and conference organizer — RoseAnn DeMoro issued her own endorsement of their campaign, quipping that ​"Heroes aren't made: They're cornered."
For many, though, speculation over 2020 presidential candidates seem tangential to the project of ensuring there's a movement that can win once it takes power.
Some elected officials are now in the process of sorting these questions out for themselves. In the last several months, a slew of progressive and left-leaning candidates have been elected to local office. This summer alone, that list has included New York Assemblywoman Christine Pellegrino, Jackson, Mississippi mayor-to-be Chokwe Antar Lumumba and the likely incoming Philadelphia District Attorney Larry Krasner.
Just 28, Carlos Ramirez-Rosa was elected to Chicago's City Council in the spring of 2015, well before this most recent wave of down-ballot challengers won their seats. He spent time as a student organizer with the United Students Against Sweatshops and with the Illinois Coalition for Immigrant and Refugee Rights before coming to politics. And next to his Twitter handle sits the red rose emoji now nearly ubiquitous among the social media avatars of members of the Democratic Socialists of America, which Ramirez-Rosa joined a few months ago.
"I am a democratic socialist," he says, but cautions against using the label as a starting point when talking to voters. ​"We're at a time where we can talk about what our values should properly be labeled as … but we get too caught up telling people that they should vote for socialism. We first need to talk to people about what it is that they're experiencing: What do they need, and how can we build a political program that speaks to that? And then we can say, ​'Oh, by the way. That's democratic socialism.'"
Above all, Ramirez-Rosa says, he wants the left to win. ​"The situation is so dire and the two paths before us are so clear: either we are going to save this planet and create a socially and economically just world, or we are going to lean into a Trump administration that's leading us down the path to — in many ways — fascism. I think that means we have to be ruthlessly effective."
That view is what fuels his ecumenical spirit about political parties. ​"All politics is local. In Seattle, the electorate supported a Socialist Alternative candidate and elected Kshama Sawant. In my working-class neighborhood that I represent, we could win three democratic primaries and elect three democratic socialists to state representative seats whose districts overlap mine … much sooner than we could win a race with a third-party candidate."
Running as a Democrat hasn't softened Ramirez-Rosa's views on the party's status quo. Chicagoans know better than most how corrupt a Democratic establishment can become, with the city having long been a laboratory for Democratic machine politics. ​"Rahm Emanuel's neoliberalism looks a lot like Trump's right-wing reactionary policies," Ramirez-Rosa says. "[His] response to crime is the same as Donald Trump's: Let's spend more money on police and let's lock more black and brown people up. Their response to public education is the same: They want to privatize it and ensure that the market is making more money off of the commons."
To avoid a creep into the machine, Ramirez-Rosa enjoins, ​"Let's elect people from within our base, whether they be immigrant rights organizers, organizers with the movement for black lives, or environmentalists. Let's elect those folks to office and let's make sure that we have the people power to hold them accountable and to help them push our agenda forward." He's doing this in his own district via the United Neighbors of the 35th Ward, an independent political group made up of his constituents which he hopes will hold him accountable to the promises on which he campaigned.
The New York Times' Alexander Burns and Jonathan Martin had a different read on what kinds of politics were finding voice at the People's Summit. An article released on the Summit's last day cast the Chicago gathering in opposition to Democratic challenger Jon Ossoff's campaign in Georgia's 6th Congressional District, despite the fact that Sanders and several of his former surrogates have endorsed Ossoff.
Burns and Martin's opening lines paint a stark picture: ​"Democrats are facing a widening breach in their party, as liberal activists dream of transforming the health care system and impeaching President Trump, while candidates in hard-fought elections ask wary voters merely for a fresh chance at governing." In other words, wanting to win and wanting to transform the country are mutually exclusive.
Yet the kind of purity politics the Times' authors imagine seemed largely absent among the attendees I spoke with. Many shared a steely-eyed pragmatism about their approach to Bernie-aligned politics. Clintonian and Blairite third-way liberalism have now suffered blows on either side of the Atlantic, after all. Bernie Sanders, on the other hand, is the country's most popular politician. Vast majorities of Americans support a wide swath of progressive policies, and Jeremy Corbyn's Labour Party just pulled off an electoral coup by running on an openly redistributive platform. Why should moderate centrism be conflated with Machiavellian realpolitik in 2017?
"[Sanders's] policies were treated as though they were mythical and unattainable and radical," Torres says, ​"but these are things that other countries have been doing, and successfully. I've thought for a long time now that my government doesn't represent me. But now I'm starting to see people come out and say that it's okay to dream big." she adds. "[The Democratic Party] has to wake up if it wants to have a future. If not, we're going to keep suffering and keep losing."
As Dinkin puts it, ​"One of the failures of the neoliberal imagination is the instinctive belief that the more moderate proposal is always the more popular one. When people say we have to pursue the possible and not the aspirational, that's often cover for them not having the same aspirations."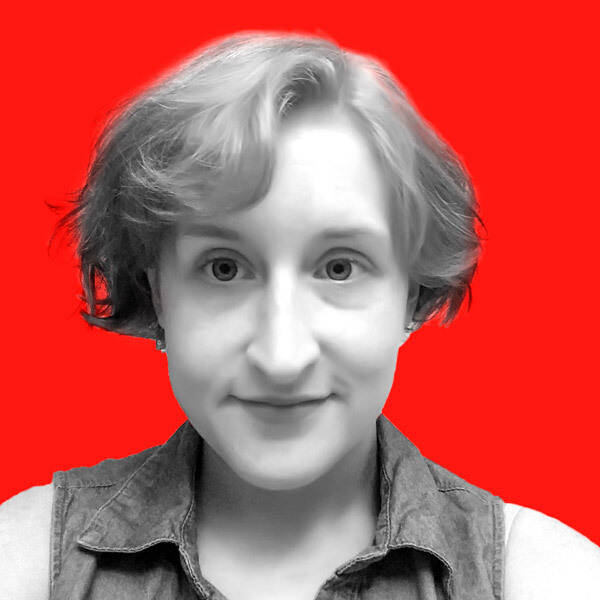 Kate Aronoff is a staff writer at The New Republic and author of Overheated: How Capitalism Broke the Planet — And How We Fight Back. She is co-author of A Planet To Win: Why We Need a Green New Deal and co-editor of We Own the Future: Democratic Socialism—American Style. Follow her on Twitter @katearonoff.