Witness for the Prosecution
Abramoff's plea agreement could land him in the middle of a murder trial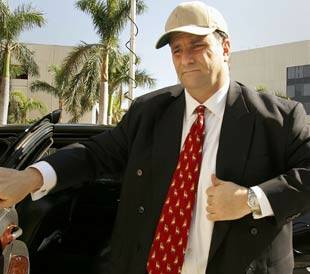 A Florida hit man. A high-powered lobbyist. A pair of disgraced Republican congressmen. The ingredients for a potboiler novel? No – this is what passes for political news in the age of Abramoff.
In a trial scheduled to start in early February, Brian Cavanaugh, an assistant state attorney in Broward County, Fla. is prosecuting three men for the murder of former SunCruz Casino cruise ships owner Konstantinos ​"Gus" Boulis. And he wants to talk to Abramoff and a close business associate, Adam Kidan, about what role, if any, they played in the murder.
For years, the two men were high-rolling, hobnobbing lobbyists, rubbing elbows with best of Washington Republican society. But their political connections could not save them from a slew of recent indictments handed down for crimes including fraud, conspiracy and bribery. Specifically, Abramoff and Kidan have pled guilty to a $23 million dollar wire fraud involving the purchase of SunCruz Casino. As a part of their deals, they must cooperate with ​"all" law enforcement agencies, including Cavanaugh's.
The man they defrauded was Boulis, who was driving his car in Ft. Lauderdale on February 6, 2001, when two cars boxed him in. A third car going in the opposite direction pulled up to his side and its driver shot Boulis three times in the chest.
Charged with the murder are Anthony Ferrari, James Fiorillo and former Gambino family bookkeeper Anthony Moscatiello. Also under investigation is Moscatiello's daughter, Jennifer, who along with her father received $145,000 from Kidan for catering and ​"other" services. There is no evidence that food or services were ever provided.
What does Abramoff – the dapper fixer from Capitol Hill – have to do with three mugs and a moll? He's already admitted to using his powerful lobbying firm to bribe politicians, defraud Native American tribes out of millions and help to ensure that migrantt workers in the Marianas Islands earn slave wages. Around that same time, in 2000, he was also tricking Gus Boulis out of his SunCruz Casino gambling ships.
The roots of this scam go way back: Abramoff and Kidan had known each other since the ​'80s as active members of the College Republicans national office. According to Kidan's deposition, he was nearly broke when Abramoff brought him into the deal to buy SunCruz. After a contentious negotiations period that drew on for months, in September 2000, the pair finally managed to persuade investors to go along with the arrangement by claiming they had put up $23 million of their own money for the deal, offering phony wire transfers as evidence.
But when it came time to pay Boulis, Abramoff and Kidan were $23 million short. When Boulis wanted to be paid, he went to Kidan for the money and a fistfight broke out between the two men. Kidan came away spreading the story that Boulis had promised to kill him.
The fracas sparked a federal investigation, and within a few months Abramoff and Kidan were charged with fraud regarding the SunCruz purchase. During a 2001 civil case, Kidan also admitted that he paid the men now charged with Boulis' murder $250,000, including the $145,000 paid to Anthony and Jennifer Moscatiello.
Because of Abramoff's connections, the SunCruz purchase had been of great interest to some members on Capitol Hill. In March 2000, Rep. Robert W. Ney (R-Ohio) – at the urging of Michael Scanlon, a former spokesman for Tom DeLay, and a business partner of Abramoff – placed a scathing attack on Boulis in the Congressional Record.
"Mr. Speaker, how SunCruz Casinos and Gus Boulis conduct themselves with regard to Florida laws is very unnerving," Ney said. ​"I don't want to see the actions of one bad apple in Florida, or anywhere else … affect the business aspect of this industry or hurt any innocent casino patron in our country."
Ney has fallen far. One of those bright stars who came to Congress in 1994 with a ​"Contract with America," his contract expired January 14 of this year, when he was compelled to step down from his post as Chairman of the Committee on House Administration. Abramoff fingered Ney and others to get his plea agreement, and even the GOP leadership thought it a little unseemly to have the committee charged with reforming lobbying laws chaired by someone under investigation for accepting bribes.
Now, Ney is best known for joining Abramoff and Ralph Reed of the Christian Coalition in Scotland for an infamous round of golf. A lot of Abramoff money found its way into Reed's Christian Coalition causes and the Coalition turned out the vote for George W. Bush. It was a game of political conections and money, and no one cared how it was played as long as they got their share.
Abramoff's influence also reached more directly into the White House, where he regularly took clients. This began to emerge when David H. Safavian, the White House's chief procurement officer, resigned on September 19, 2005, only to be arrested the following day for lying to investigators and obstructing an investigation into Abramoff's activities.
However, White House Press Secretary Scott McClellan has refused to disclose information requested by reporters about Abramoff's White House activities. It is unclear if he will get back with answers about Abramoff before he clears up similar questions about Jeff Gannon's White House comings and goings. In either case, a vast array of characters seems to have had wide access to the White House.
Those characters may be uncovered as Cavanaugh sets his sights on interviewing the Abramoff crew during his continuing investigation into the Boulis murder. Abramoff has not directly been implicated in the murder, but Cavanaugh is keeping his options open.
As In These Times went to press, the Boulis murder trial was set to begin. Cavanaugh noted recently that under the Florida criminal code, discovery can be conducted by either side wherein a witness can be deposed before trial. Should the defense lawyers for the hit men decide to depose Abramoff, Scanlon or Kidan, they could be compelled to tell all they know as required by their plea agreements.
Cavanaugh says he will wait to see what emerges from these conversations and depositions before making any final plans about the trial or additional indictments.
Be one of the first
Help kick off the new era of In These Times! Without a media that brings people together and creates a written record of the struggles of workers, their voices will be fragmented and forgotten.
The mission of In These Times is to be that written record, and to guide and grow those movements.
We have a lot of work ahead of us, and that work starts today. Early support is the most valuable support, and that's why we're asking you to pitch in now. If you are excited for this new era of In These Times, please make a donation today.
Richard L. Fricker
is a two-time winner of the American Business Press Editors Award for Investigative Journalism and writes regularly for the Swiss newsweekly
Sonntags Blick
.