Witness for the Prosecution
Abramoff's plea agreement could land him in the middle of a murder trial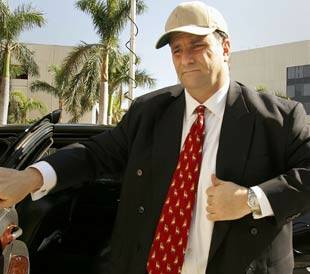 A Flori­da hit man. A high-pow­ered lob­by­ist. A pair of dis­graced Repub­li­can con­gress­men. The ingre­di­ents for a pot­boil­er nov­el? No – this is what pass­es for polit­i­cal news in the age of Abramoff.
In a tri­al sched­uled to start in ear­ly Feb­ru­ary, Bri­an Cavanaugh, an assis­tant state attor­ney in Broward Coun­ty, Fla. is pros­e­cut­ing three men for the mur­der of for­mer Sun­Cruz Casi­no cruise ships own­er Kon­stan­ti­nos ​"Gus" Boulis. And he wants to talk to Abramoff and a close busi­ness asso­ciate, Adam Kidan, about what role, if any, they played in the murder.
For years, the two men were high-rolling, hob­nob­bing lob­by­ists, rub­bing elbows with best of Wash­ing­ton Repub­li­can soci­ety. But their polit­i­cal con­nec­tions could not save them from a slew of recent indict­ments hand­ed down for crimes includ­ing fraud, con­spir­a­cy and bribery. Specif­i­cal­ly, Abramoff and Kidan have pled guilty to a $23 mil­lion dol­lar wire fraud involv­ing the pur­chase of Sun­Cruz Casi­no. As a part of their deals, they must coop­er­ate with ​"all" law enforce­ment agen­cies, includ­ing Cavanaugh's.
The man they defraud­ed was Boulis, who was dri­ving his car in Ft. Laud­erdale on Feb­ru­ary 6, 2001, when two cars boxed him in. A third car going in the oppo­site direc­tion pulled up to his side and its dri­ver shot Boulis three times in the chest.
Charged with the mur­der are Antho­ny Fer­rari, James Fio­r­il­lo and for­mer Gam­bi­no fam­i­ly book­keep­er Antho­ny Moscatiel­lo. Also under inves­ti­ga­tion is Moscatiello's daugh­ter, Jen­nifer, who along with her father received $145,000 from Kidan for cater­ing and ​"oth­er" ser­vices. There is no evi­dence that food or ser­vices were ever provided.
What does Abramoff – the dap­per fix­er from Capi­tol Hill – have to do with three mugs and a moll? He's already admit­ted to using his pow­er­ful lob­by­ing firm to bribe politi­cians, defraud Native Amer­i­can tribes out of mil­lions and help to ensure that migrantt work­ers in the Mar­i­anas Islands earn slave wages. Around that same time, in 2000, he was also trick­ing Gus Boulis out of his Sun­Cruz Casi­no gam­bling ships.
The roots of this scam go way back: Abramoff and Kidan had known each oth­er since the ​'80s as active mem­bers of the Col­lege Repub­li­cans nation­al office. Accord­ing to Kidan's depo­si­tion, he was near­ly broke when Abramoff brought him into the deal to buy Sun­Cruz. After a con­tentious nego­ti­a­tions peri­od that drew on for months, in Sep­tem­ber 2000, the pair final­ly man­aged to per­suade investors to go along with the arrange­ment by claim­ing they had put up $23 mil­lion of their own mon­ey for the deal, offer­ing pho­ny wire trans­fers as evidence.
But when it came time to pay Boulis, Abramoff and Kidan were $23 mil­lion short. When Boulis want­ed to be paid, he went to Kidan for the mon­ey and a fist­fight broke out between the two men. Kidan came away spread­ing the sto­ry that Boulis had promised to kill him.
The fra­cas sparked a fed­er­al inves­ti­ga­tion, and with­in a few months Abramoff and Kidan were charged with fraud regard­ing the Sun­Cruz pur­chase. Dur­ing a 2001 civ­il case, Kidan also admit­ted that he paid the men now charged with Boulis' mur­der $250,000, includ­ing the $145,000 paid to Antho­ny and Jen­nifer Moscatiello.
Because of Abramoff's con­nec­tions, the Sun­Cruz pur­chase had been of great inter­est to some mem­bers on Capi­tol Hill. In March 2000, Rep. Robert W. Ney (R‑Ohio) – at the urg­ing of Michael Scan­lon, a for­mer spokesman for Tom DeLay, and a busi­ness part­ner of Abramoff – placed a scathing attack on Boulis in the Con­gres­sion­al Record.
"Mr. Speak­er, how Sun­Cruz Casi­nos and Gus Boulis con­duct them­selves with regard to Flori­da laws is very unnerv­ing," Ney said. ​"I don't want to see the actions of one bad apple in Flori­da, or any­where else … affect the busi­ness aspect of this indus­try or hurt any inno­cent casi­no patron in our country."
Ney has fall­en far. One of those bright stars who came to Con­gress in 1994 with a ​"Con­tract with Amer­i­ca," his con­tract expired Jan­u­ary 14 of this year, when he was com­pelled to step down from his post as Chair­man of the Com­mit­tee on House Admin­is­tra­tion. Abramoff fin­gered Ney and oth­ers to get his plea agree­ment, and even the GOP lead­er­ship thought it a lit­tle unseem­ly to have the com­mit­tee charged with reform­ing lob­by­ing laws chaired by some­one under inves­ti­ga­tion for accept­ing bribes.
Now, Ney is best known for join­ing Abramoff and Ralph Reed of the Chris­t­ian Coali­tion in Scot­land for an infa­mous round of golf. A lot of Abramoff mon­ey found its way into Reed's Chris­t­ian Coali­tion caus­es and the Coali­tion turned out the vote for George W. Bush. It was a game of polit­i­cal conec­tions and mon­ey, and no one cared how it was played as long as they got their share.
Abramoff's influ­ence also reached more direct­ly into the White House, where he reg­u­lar­ly took clients. This began to emerge when David H. Safa­vian, the White House's chief pro­cure­ment offi­cer, resigned on Sep­tem­ber 19, 2005, only to be arrest­ed the fol­low­ing day for lying to inves­ti­ga­tors and obstruct­ing an inves­ti­ga­tion into Abramoff's activities.
How­ev­er, White House Press Sec­re­tary Scott McClel­lan has refused to dis­close infor­ma­tion request­ed by reporters about Abramoff's White House activ­i­ties. It is unclear if he will get back with answers about Abramoff before he clears up sim­i­lar ques­tions about Jeff Gannon's White House com­ings and goings. In either case, a vast array of char­ac­ters seems to have had wide access to the White House.
Those char­ac­ters may be uncov­ered as Cavanaugh sets his sights on inter­view­ing the Abramoff crew dur­ing his con­tin­u­ing inves­ti­ga­tion into the Boulis mur­der. Abramoff has not direct­ly been impli­cat­ed in the mur­der, but Cavanaugh is keep­ing his options open.
As In These Times went to press, the Boulis mur­der tri­al was set to begin. Cavanaugh not­ed recent­ly that under the Flori­da crim­i­nal code, dis­cov­ery can be con­duct­ed by either side where­in a wit­ness can be deposed before tri­al. Should the defense lawyers for the hit men decide to depose Abramoff, Scan­lon or Kidan, they could be com­pelled to tell all they know as required by their plea agreements.
Cavanaugh says he will wait to see what emerges from these con­ver­sa­tions and depo­si­tions before mak­ing any final plans about the tri­al or addi­tion­al indictments.
Richard L. Frick­er
is a two-time win­ner of the Amer­i­can Busi­ness Press Edi­tors Award for Inves­tiga­tive Jour­nal­ism and writes reg­u­lar­ly for the Swiss newsweek­ly
Son­ntags Blick
.