The Revolution Will Not Be Business Casual—and Other Takeaways From the Women's Convention
The convention in Detroit was great on diversity and energy, but light on systemic analysis.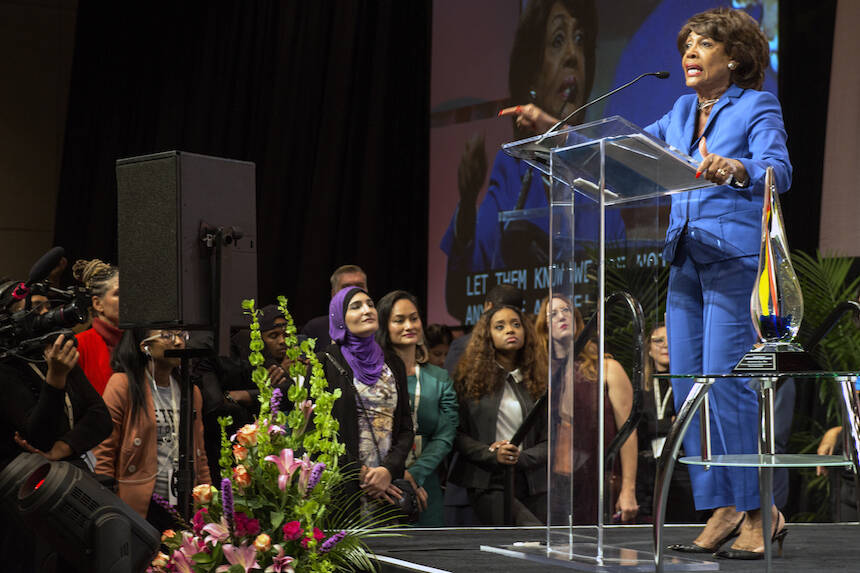 DETROIT — At a training on the third day of the Women's Convention, a striking scene illustrated the contradictions — and promise — of this highly anticipated national gathering of more than 4,000 women and allies.
The optics were often almost utopian: a racially, geographically diverse coalition of women ready to fight for a better world. But the structure of the convention itself—with a $295 price tag for a three-day pass and a business-casual dress code—kept many women out of the conversation.
In a workshop on ​"Art, Civil Disobedience and Direct Action," organizers from the Justice League NYC divided roughly 100 participants into groups to roleplay a direct action. One group chose to target local Wayne County Prosecutor Kym Worthy for a mock confrontation. Activists have accused Worthy of being too harsh on juvenile offenders and contributing to the school-to-prison pipeline.
Then a participant pointed out that the roleplay had a chance to become real: Worthy was speaking at a panel two floors above them at that very moment. Attendees erupted in calls to go upstairs and disrupt the forum. Visibly uneasy, Justice League NYC organizers asked that they finish the roleplay.
Challenges like this, emerging from the grassroots, erupted throughout the October 27-29 gathering at the downtown Cobo Center.
The goal of the conference, following the historic Women's March this year, was to build coalitions and advance ​"collective liberation." The theme, ​"Reclaiming Our Time," a phrase adapted by convention honoree Rep. Maxine Waters (D-Calif.), highlighted the importance of collective organizing and retaking institutions. Women's March co-chairs Linda Sarsour, Bob Bland, Carmen Perez and Tamika Mallory emphasized the primacy of creating a progressive, intersectional space, as did many high-profile speakers.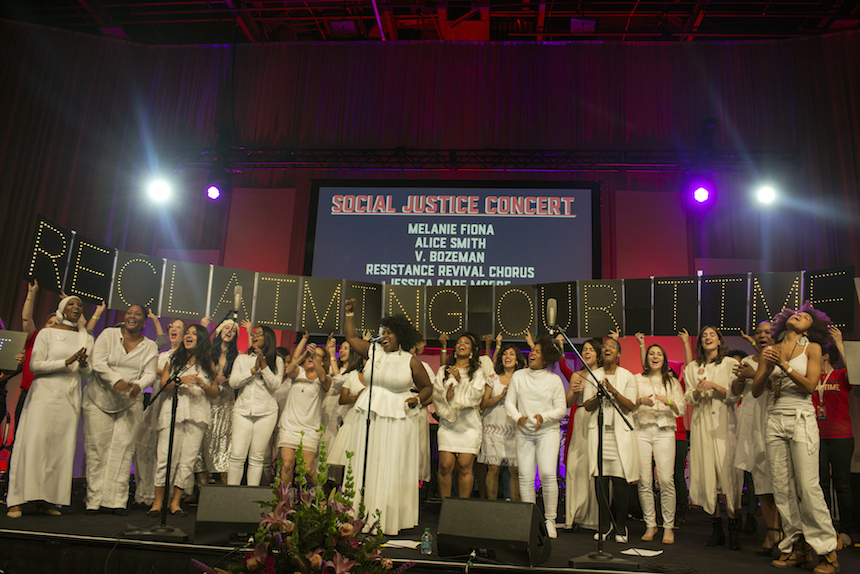 For three days, the Cobo Center was charged with palpable yet ill-defined energy. Like the Women's March, the optics were often almost utopian: a racially, geographically diverse coalition of women ready to fight for a better world. But as The Young Turks investigative reporter Nomiki Konst noted to In These Times, the structure of the convention itself — with a $295 price tag for a three-day pass and a business-casual dress code — kept many women out of the conversation.
Through intersectional analysis, women reckoned with feminism's racist past, which was a powerful experience for some. But at times, it felt like the convention's politics rested on putting a diverse group of women into government positions. Anger, and action, were aimed at ​"Number 45," a usually unnamed but haunting presence throughout the weekend. If the most unqualified president in American history could sit in the White House, so could the Women's Convention attendees. Actress Rose McGowan, who has led the wave of women accusing Harvey Weinstein of sexual harassment, took the stage on Friday, and told the crowd, ​"It's time to clean house." It was clear she wasn't only talking about Hollywood.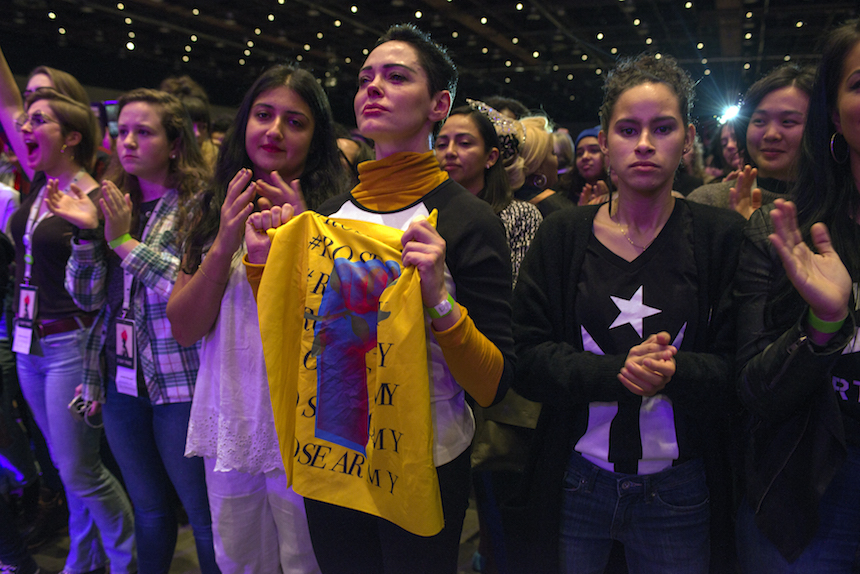 Though perhaps empowering, many attendees felt this focus belied a lack of awareness or imagination to confront systemic capitalist exploitation head-on. In a sea of pussy hats and raised fists, were radical messages drowned out?
"

Representation is not enough"

"I want all of the women who are currently serving in office today, city council, county commission, stand up," said EMILY's List President Stephanie Schriock as she took the main stage during a luncheon on Saturday. About a dozen people rose. ​"What I want is all those women out there, and I know you're out there, who are planning on running for office to stand up."

The number of women standing tripled as applause reached a fever pitch. This scene played out more than once during the convention. EMILY's List was one of the sponsors of the gathering — along with Planned Parenthood and the National Resources Defense Council — and hosted a candidate-training track.

Through supporting pro-choice female candidates, EMILY's List has played a role in increasing the number of women in Congressional seats, but it has also been criticized for endorsing candidates with conservative economic policies.

Some attendees questioned the prominent slot given to EMILY's List, seeing it as a brand of feminism that values representation of women in politics over progressive change.

"I'm really torn between whether or not EMILY's List should have such a large seat at the table and be an ally or if they're holding up progress," said Konst, who covers government and politics for The Young Turks and spoke on a panel about women in media.

"I think women have to talk about economics. It is something that crosses all barriers," said Konst, adding, ​"I think we really need to hold our leaders accountable, even the women."

Another critique of the convention's electoral bent came on-stage at a panel on Saturday about Puerto Rico's struggle for survival and independence. Community organizer Rosa Clemente argued that the EMILY's List-sponsored mission of getting women elected would not help Puerto Rico. ​"Representation is not enough," she said.

Discussing the powerful enemies of Puerto Rican independence, Clemente noted, ​"One of them spoke here last night."

Clemente was referring to Senator Kirsten Gillibrand (D-N.Y.), who, alongside other elected officials, headlined the conference's opening night to an audience of thousands flush with cheers and raised fists.

Clemente criticized Gillibrand for voting for PROMESA, which was passed by Congress in 2016 with bipartisan support. PROMESA put Puerto Rico under the control of a fiscal oversight board, which has imposed austerity policies. Clemente calls the act a ​"recolonization" of the island.

"Democrats? This happened because of them," panelist Nelini Stamp said of PROMESA.

Clemente said she personally has lost faith in the system, is no longer voting and believes the real work is in direct action and dismantling the capitalist imperialist system that created this situation. Panelists highlighted the Our Power Campaign, a grassroots effort calling for debt relief, and other organizations providing aid to the island.

Julia Torres Barden, a Puerto Rican journalist, criticized a lack of discussion of Puerto Rican issues on the first day's programming.

Torres Barden told In These Times, ​"I do know that a few [Puerto Ricans] are here tomorrow, but given that we are currently in a humanitarian crisis, if I only came for the day at $125 a day, I would have liked an opportunity to speak about it every day."
What wasn't said
Loren Whitman, an attendee and organizer with Northwest Indiana Resistance, was also frustrated with what the convention wasn't saying.
"There's a lot of avoiding or not-awareness of the underlying structure of why there is classism and why there is racism and sexism… you can't say we need to fight classism if you don't address why class exists," Whitman told In These Times. Whitman noted that halfway through the convention, the word ​"capitalism" hadn't come up once.
"Energy is useless if it's not directed," Whitman said, adding, ​"Protests and things like this can be a really good way of energizing people, but if it isn't directed, it actually just becomes a way of letting off steam. And it allows the urgency of the things that we face — not just the Trump administration, but both parties, the entire system, from top to bottom — it allows it to feel like it's not that bad. Well, we did this protest, and we were energized, and we felt good together, and I can suffer for another five years before I need that thing again to let it off … I fear that's what's going to happen now."
Though organizers did invite women firmly planted on the Left, and Sarsour herself is a Democratic Socialists of America (DSA) member, most of the socialist talk was confined to a panel about single payer. DSA National Director Maria Svart, Our Revolution President Nina Turner and People for Bernie cofounder Winnie Wong discussed healthcare and policy on Friday afternoon. Wong also participated in a plenary on attracting new voters and performed with the Resistance Revival Chorus.
Wong acknowledged economics were sidelined, but said, "[The convention] is sequenced into a broader strategy, and I'm certainly one of the architects of that broader strategy. … I have been making sure that the progressive platform that resonated with so many millions of people across the country who voted for Sanders in the primary would not be lost in this significant moment, which in this particular context is dominated by a lot of women who feel really despondent by the political reality of having Donald Trump as our president."
Wong added that this broader strategy of infusing ​"radical left politics" into the Women's Convention included inviting Bernie Sanders to speak, which sparked controversy over giving such a prominent space to a man. Sanders canceled his talk for a trip to survey the situation in Puerto Rico.
From the margins to the center
The convention focused on recognizing traditionally marginalized communities being recognized for their roles in the Women's March and beyond. Prominent voices in the fields of disability, immigrant and LGBTQ rights were featured, and multiple panels highlighted the contributions of women of color in politics, activism and art.
Taylor Dumpson, American University's first black female student body president, told In These Times that she was concerned that she would not be represented at the Women's March on Washington, as well as the convention. But she found that both events centered women of color. She added that seeing women who were ​"newer to the conversation" around identity and intersectional feminism continues to teach her patience.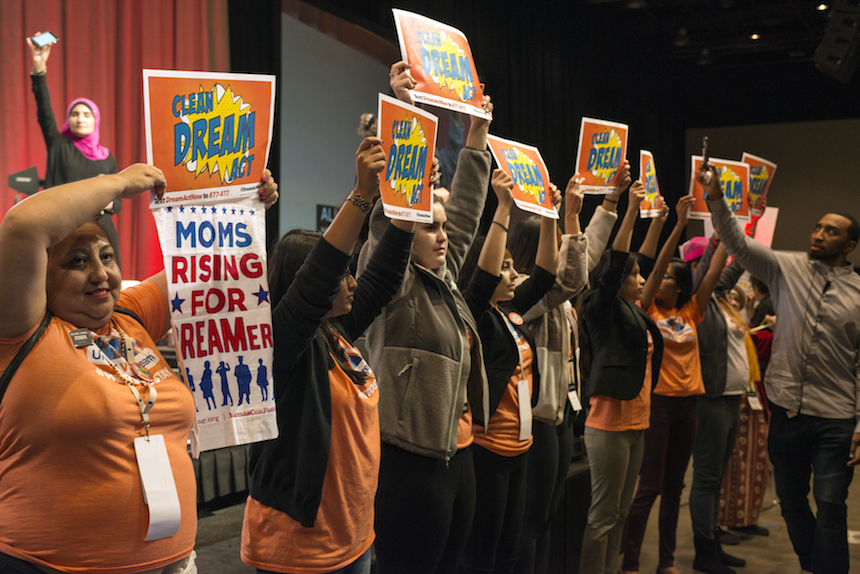 Undocumented mother and activist Ingrid Vaca took the stage Friday night along with others fighting for a clean Dream Act. Seventeen years ago, Vaca left Bolivia to give her two children better opportunities. Although she told In These Times that the Trump administration has ​"turned off the light" for undocumented immigrants, through her work with Moms Rising and Dreamers' Moms USA, it's important for her not to live in fear.
During a panel on Southern women organizing, actor and social justice advocate Aunjanue Ellis held up the flag representing her home state of Mississippi. It's the only state flag that still bears the symbol of the Confederacy, something she would like to see changed. Ellis and other activists launched Take It Down America to remove the ​"Stars and Bars."
"I felt that one of the things that we tend to overlook is the work of women in the South," panel moderator Rukia Lumumba told In These Times. Lumumba founded the People's Advocacy Institute, which fights for criminal justice reform. She also helped lead both her father and her brother​'s successful campaigns for mayor of Jackson, both of which were seen as progressive steps in regaining the conservative South.
She said she was happy to have the opportunity ​"to create a space for Southern women to come together and talk about the work that they've been doing, to share their stories, to share their successes, to share their challenges and to just feel some rejuvenation of being in the room together."
She added that one of the most powerful parts of the convention was taking her 10-year-old son. ​"It really allows him to have a deeper respect and understanding for women," said Lumumba. ​"To understand that he's not just a bystander to our causes. That he has to also be an ally."
Where do we go from here?
Though the Justice League NYC training didn't result in a confrontation with Kym Worthy, it did lead to one ​"disruptive action" — albeit a scripted one. The convention's Young Leaders Track crafted protest signs with the Justice League NYC organizers after the training. During the convention's closing remarks, this coalition, from toddlers to teenagers, took the stage holding their signs, which had slogans like ​"Women rock" and ​"We are the future of change."
For all its faults, the Women's Convention succeeded in kindling a revolutionary energy in its participants. To what end is still unclear.
Organizers urged women to bring what they learned at the convention back to their communities. Mallory, a civil rights activist, reminded attendees that not everyone could be there, though the convention did offer scholarships. In panels, attendees were encouraged to exchange business cards, go local and, most prominently, vote and run for office. For some, spaces like the convention that cater to women from across the political spectrum can still lay the groundwork for radical change.
Winnie Wong said she was excited to experience the gathering because ​"large numbers of people around the country and many of the women who are here at the convention are starting to think about politics in a way that they had not previously thought of politics before, certainly with the last two decades of neoliberal, patriarchal hold on the system."
Although she said that the current political reality ​"isn't going to be unpacked overnight, these types of difficult conversations need to happen in spaces that are more mainstream as perceived by people from the Left. … So you do have to meet people where they're at."