The Revolution Will Not Be Business Casual—and Other Takeaways From the Women's Convention
The convention in Detroit was great on diversity and energy, but light on systemic analysis.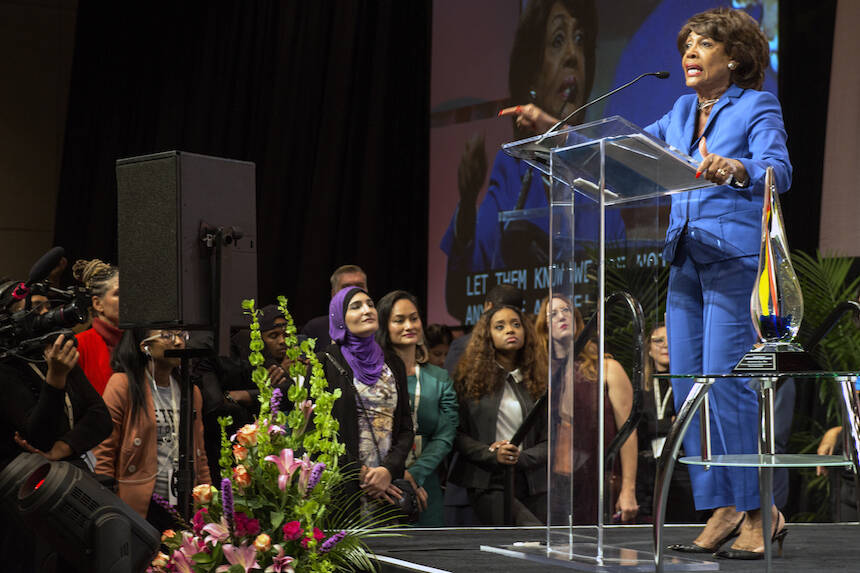 DETROIT — At a train­ing on the third day of the Wom­en's Con­ven­tion, a strik­ing scene illus­trat­ed the con­tra­dic­tions — and promise — of this high­ly antic­i­pat­ed nation­al gath­er­ing of more than 4,000 women and allies.
The optics were often almost utopian: a racially, geographically diverse coalition of women ready to fight for a better world. But the structure of the convention itself—with a $295 price tag for a three-day pass and a business-casual dress code—kept many women out of the conversation.
In a work­shop on ​"Art, Civ­il Dis­obe­di­ence and Direct Action," orga­niz­ers from the Jus­tice League NYC divid­ed rough­ly 100 par­tic­i­pants into groups to role­play a direct action. One group chose to tar­get local Wayne Coun­ty Pros­e­cu­tor Kym Wor­thy for a mock con­fronta­tion. Activists have accused Wor­thy of being too harsh on juve­nile offend­ers and con­tribut­ing to the school-to-prison pipeline.
Then a par­tic­i­pant point­ed out that the role­play had a chance to become real: Wor­thy was speak­ing at a pan­el two floors above them at that very moment. Atten­dees erupt­ed in calls to go upstairs and dis­rupt the forum. Vis­i­bly uneasy, Jus­tice League NYC orga­niz­ers asked that they fin­ish the roleplay.
Chal­lenges like this, emerg­ing from the grass­roots, erupt­ed through­out the Octo­ber 27 – 29 gath­er­ing at the down­town Cobo Center.
The goal of the con­fer­ence, fol­low­ing the his­toric Wom­en's March this year, was to build coali­tions and advance ​"col­lec­tive lib­er­a­tion." The theme, ​"Reclaim­ing Our Time," a phrase adapt­ed by con­ven­tion hon­oree Rep. Max­ine Waters (D‑Calif.), high­light­ed the impor­tance of col­lec­tive orga­niz­ing and retak­ing insti­tu­tions. Women's March co-chairs Lin­da Sar­sour, Bob Bland, Car­men Perez and Tami­ka Mal­lo­ry empha­sized the pri­ma­cy of cre­at­ing a pro­gres­sive, inter­sec­tion­al space, as did many high-pro­file speakers.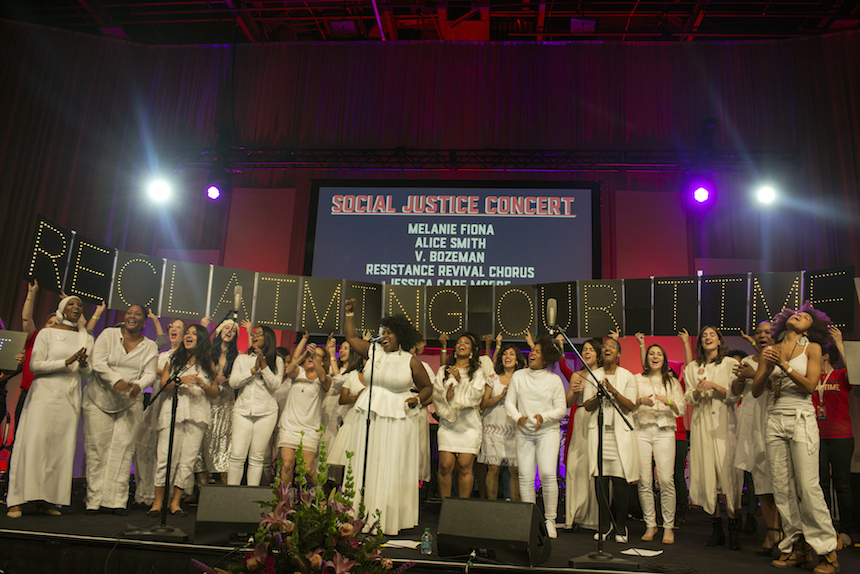 For three days, the Cobo Cen­ter was charged with pal­pa­ble yet ill-defined ener­gy. Like the Women's March, the optics were often almost utopi­an: a racial­ly, geo­graph­i­cal­ly diverse coali­tion of women ready to fight for a bet­ter world. But as The Young Turks inves­tiga­tive reporter Nomi­ki Kon­st not­ed to In These Times, the struc­ture of the con­ven­tion itself — with a $295 price tag for a three-day pass and a busi­ness-casu­al dress code — kept many women out of the conversation.
Through inter­sec­tion­al analy­sis, women reck­oned with feminism's racist past, which was a pow­er­ful expe­ri­ence for some. But at times, it felt like the convention's pol­i­tics rest­ed on putting a diverse group of women into gov­ern­ment posi­tions. Anger, and action, were aimed at ​"Num­ber 45," a usu­al­ly unnamed but haunt­ing pres­ence through­out the week­end. If the most unqual­i­fied pres­i­dent in Amer­i­can his­to­ry could sit in the White House, so could the Women's Con­ven­tion atten­dees. Actress Rose McGowan, who has led the wave of women accus­ing Har­vey Wein­stein of sex­u­al harass­ment, took the stage on Fri­day, and told the crowd, ​"It's time to clean house." It was clear she wasn't only talk­ing about Hollywood.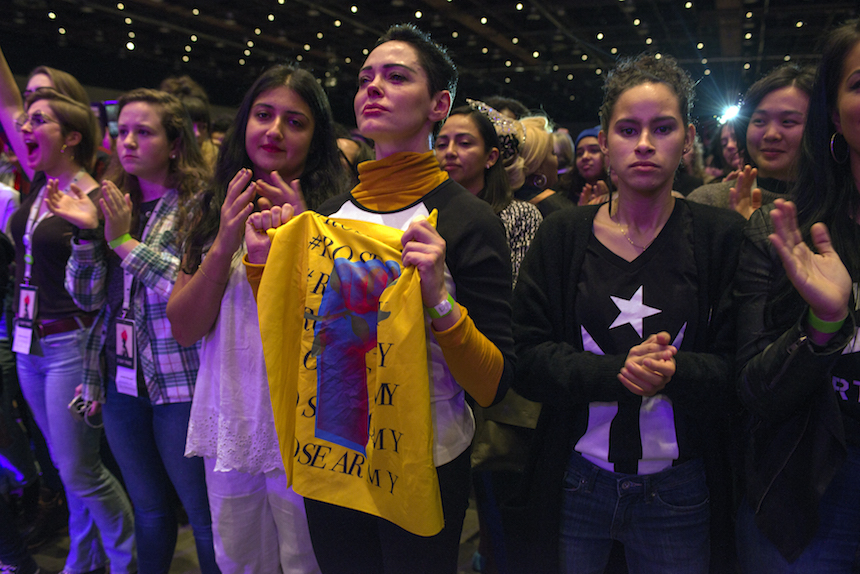 Though per­haps empow­er­ing, many atten­dees felt this focus belied a lack of aware­ness or imag­i­na­tion to con­front sys­temic cap­i­tal­ist exploita­tion head-on. In a sea of pussy hats and raised fists, were rad­i­cal mes­sages drowned out?
"

Rep­re­sen­ta­tion is not enough"

"I want all of the women who are cur­rent­ly serv­ing in office today, city coun­cil, coun­ty com­mis­sion, stand up," said EMILY's List Pres­i­dent Stephanie Schri­ock as she took the main stage dur­ing a lun­cheon on Sat­ur­day. About a dozen peo­ple rose. ​"What I want is all those women out there, and I know you're out there, who are plan­ning on run­ning for office to stand up."

The num­ber of women stand­ing tripled as applause reached a fever pitch. This scene played out more than once dur­ing the con­ven­tion. EMILY's List was one of the spon­sors of the gath­er­ing — along with Planned Par­ent­hood and the Nation­al Resources Defense Coun­cil — and host­ed a can­di­date-train­ing track.

Through sup­port­ing pro-choice female can­di­dates, EMILY's List has played a role in increas­ing the num­ber of women in Con­gres­sion­al seats, but it has also been crit­i­cized for endors­ing can­di­dates with con­ser­v­a­tive eco­nom­ic poli­cies.

Some atten­dees ques­tioned the promi­nent slot giv­en to EMILY's List, see­ing it as a brand of fem­i­nism that val­ues rep­re­sen­ta­tion of women in pol­i­tics over pro­gres­sive change.

"I'm real­ly torn between whether or not EMILY's List should have such a large seat at the table and be an ally or if they're hold­ing up progress," said Kon­st, who cov­ers gov­ern­ment and pol­i­tics for The Young Turks and spoke on a pan­el about women in media.

"I think women have to talk about eco­nom­ics. It is some­thing that cross­es all bar­ri­ers," said Kon­st, adding, ​"I think we real­ly need to hold our lead­ers account­able, even the women."

Anoth­er cri­tique of the convention's elec­toral bent came on-stage at a pan­el on Sat­ur­day about Puer­to Rico's strug­gle for sur­vival and inde­pen­dence. Com­mu­ni­ty orga­niz­er Rosa Clemente argued that the EMI­LY's List-spon­sored mis­sion of get­ting women elect­ed would not help Puer­to Rico. ​"Rep­re­sen­ta­tion is not enough," she said.

Dis­cussing the pow­er­ful ene­mies of Puer­to Rican inde­pen­dence, Clemente not­ed, ​"One of them spoke here last night."

Clemente was refer­ring to Sen­a­tor Kirsten Gilli­brand (D‑N.Y.), who, along­side oth­er elect­ed offi­cials, head­lined the conference's open­ing night to an audi­ence of thou­sands flush with cheers and raised fists.

Clemente crit­i­cized Gilli­brand for vot­ing for PROME­SA, which was passed by Con­gress in 2016 with bipar­ti­san sup­port. PROME­SA put Puer­to Rico under the con­trol of a fis­cal over­sight board, which has imposed aus­ter­i­ty poli­cies. Clemente calls the act a ​"recol­o­niza­tion" of the island.

"Democ­rats? This hap­pened because of them," pan­elist Neli­ni Stamp said of PROMESA.

Clemente said she per­son­al­ly has lost faith in the sys­tem, is no longer vot­ing and believes the real work is in direct action and dis­man­tling the cap­i­tal­ist impe­ri­al­ist sys­tem that cre­at­ed this sit­u­a­tion. Pan­elists high­light­ed the Our Pow­er Cam­paign, a grass­roots effort call­ing for debt relief, and oth­er orga­ni­za­tions pro­vid­ing aid to the island.

Julia Tor­res Bar­den, a Puer­to Rican jour­nal­ist, crit­i­cized a lack of dis­cus­sion of Puer­to Rican issues on the first day's programming.

Tor­res Bar­den told In These Times, ​"I do know that a few [Puer­to Ricans] are here tomor­row, but giv­en that we are cur­rent­ly in a human­i­tar­i­an cri­sis, if I only came for the day at $125 a day, I would have liked an oppor­tu­ni­ty to speak about it every day."
What was­n't said
Loren Whit­man, an attendee and orga­niz­er with North­west Indi­ana Resis­tance, was also frus­trat­ed with what the con­ven­tion wasn't saying.
"There's a lot of avoid­ing or not-aware­ness of the under­ly­ing struc­ture of why there is clas­sism and why there is racism and sex­ism… you can't say we need to fight clas­sism if you don't address why class exists," Whit­man told In These Times. Whit­man not­ed that halfway through the con­ven­tion, the word ​"cap­i­tal­ism" hadn't come up once.
"Ener­gy is use­less if it's not direct­ed," Whit­man said, adding, ​"Protests and things like this can be a real­ly good way of ener­giz­ing peo­ple, but if it isn't direct­ed, it actu­al­ly just becomes a way of let­ting off steam. And it allows the urgency of the things that we face — not just the Trump admin­is­tra­tion, but both par­ties, the entire sys­tem, from top to bot­tom — it allows it to feel like it's not that bad. Well, we did this protest, and we were ener­gized, and we felt good togeth­er, and I can suf­fer for anoth­er five years before I need that thing again to let it off … I fear that's what's going to hap­pen now."
Though orga­niz­ers did invite women firm­ly plant­ed on the Left, and Sar­sour her­self is a Demo­c­ra­t­ic Social­ists of Amer­i­ca (DSA) mem­ber, most of the social­ist talk was con­fined to a pan­el about sin­gle pay­er. DSA Nation­al Direc­tor Maria Svart, Our Rev­o­lu­tion Pres­i­dent Nina Turn­er and Peo­ple for Bernie cofounder Win­nie Wong dis­cussed health­care and pol­i­cy on Fri­day after­noon. Wong also par­tic­i­pat­ed in a ple­nary on attract­ing new vot­ers and per­formed with the Resis­tance Revival Chorus.
Wong acknowl­edged eco­nom­ics were side­lined, but said, "[The con­ven­tion] is sequenced into a broad­er strat­e­gy, and I'm cer­tain­ly one of the archi­tects of that broad­er strat­e­gy. … I have been mak­ing sure that the pro­gres­sive plat­form that res­onat­ed with so many mil­lions of peo­ple across the coun­try who vot­ed for Sanders in the pri­ma­ry would not be lost in this sig­nif­i­cant moment, which in this par­tic­u­lar con­text is dom­i­nat­ed by a lot of women who feel real­ly despon­dent by the polit­i­cal real­i­ty of hav­ing Don­ald Trump as our president."
Wong added that this broad­er strat­e­gy of infus­ing ​"rad­i­cal left pol­i­tics" into the Women's Con­ven­tion includ­ed invit­ing Bernie Sanders to speak, which sparked con­tro­ver­sy over giv­ing such a promi­nent space to a man. Sanders can­celed his talk for a trip to sur­vey the sit­u­a­tion in Puer­to Rico.
From the mar­gins to the center
The con­ven­tion focused on rec­og­niz­ing tra­di­tion­al­ly mar­gin­al­ized com­mu­ni­ties being rec­og­nized for their roles in the Women's March and beyond. Promi­nent voic­es in the fields of dis­abil­i­ty, immi­grant and LGBTQ rights were fea­tured, and mul­ti­ple pan­els high­light­ed the con­tri­bu­tions of women of col­or in pol­i­tics, activism and art.
Tay­lor Dump­son, Amer­i­can University's first black female stu­dent body pres­i­dent, told In These Times that she was con­cerned that she would not be rep­re­sent­ed at the Women's March on Wash­ing­ton, as well as the con­ven­tion. But she found that both events cen­tered women of col­or. She added that see­ing women who were ​"new­er to the con­ver­sa­tion" around iden­ti­ty and inter­sec­tion­al fem­i­nism con­tin­ues to teach her patience.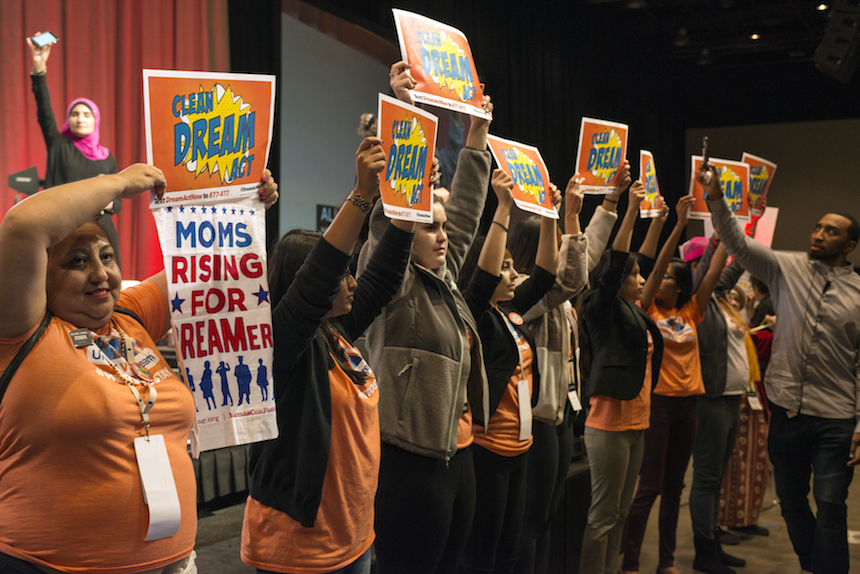 Undoc­u­ment­ed moth­er and activist Ingrid Vaca took the stage Fri­day night along with oth­ers fight­ing for a clean Dream Act. Sev­en­teen years ago, Vaca left Bolivia to give her two chil­dren bet­ter oppor­tu­ni­ties. Although she told In These Times that the Trump admin­is­tra­tion has ​"turned off the light" for undoc­u­ment­ed immi­grants, through her work with Moms Ris­ing and Dream­ers' Moms USA, it's impor­tant for her not to live in fear.
Dur­ing a pan­el on South­ern women orga­niz­ing, actor and social jus­tice advo­cate Aun­janue Ellis held up the flag rep­re­sent­ing her home state of Mis­sis­sip­pi. It's the only state flag that still bears the sym­bol of the Con­fed­er­a­cy, some­thing she would like to see changed. Ellis and oth­er activists launched Take It Down Amer­i­ca to remove the ​"Stars and Bars."
"I felt that one of the things that we tend to over­look is the work of women in the South," pan­el mod­er­a­tor Rukia Lumum­ba told In These Times. Lumum­ba found­ed the Peo­ple's Advo­ca­cy Insti­tute, which fights for crim­i­nal jus­tice reform. She also helped lead both her father and her broth­er​'s suc­cess­ful cam­paigns for may­or of Jack­son, both of which were seen as pro­gres­sive steps in regain­ing the con­ser­v­a­tive South.
She said she was hap­py to have the oppor­tu­ni­ty ​"to cre­ate a space for South­ern women to come togeth­er and talk about the work that they've been doing, to share their sto­ries, to share their suc­cess­es, to share their chal­lenges and to just feel some reju­ve­na­tion of being in the room together."
She added that one of the most pow­er­ful parts of the con­ven­tion was tak­ing her 10-year-old son. ​"It real­ly allows him to have a deep­er respect and under­stand­ing for women," said Lumum­ba. ​"To under­stand that he's not just a bystander to our caus­es. That he has to also be an ally."
Where do we go from here?
Though the Jus­tice League NYC train­ing did­n't result in a con­fronta­tion with Kym Wor­thy, it did lead to one ​"dis­rup­tive action" — albeit a script­ed one. The convention's Young Lead­ers Track craft­ed protest signs with the Jus­tice League NYC orga­niz­ers after the train­ing. Dur­ing the con­ven­tion's clos­ing remarks, this coali­tion, from tod­dlers to teenagers, took the stage hold­ing their signs, which had slo­gans like ​"Women rock" and ​"We are the future of change."
For all its faults, the Wom­en's Con­ven­tion suc­ceed­ed in kin­dling a rev­o­lu­tion­ary ener­gy in its par­tic­i­pants. To what end is still unclear.
Orga­niz­ers urged women to bring what they learned at the con­ven­tion back to their com­mu­ni­ties. Mal­lo­ry, a civ­il rights activist, remind­ed atten­dees that not every­one could be there, though the con­ven­tion did offer schol­ar­ships. In pan­els, atten­dees were encour­aged to exchange busi­ness cards, go local and, most promi­nent­ly, vote and run for office. For some, spaces like the con­ven­tion that cater to women from across the polit­i­cal spec­trum can still lay the ground­work for rad­i­cal change.
Win­nie Wong said she was excit­ed to expe­ri­ence the gath­er­ing because ​"large num­bers of peo­ple around the coun­try and many of the women who are here at the con­ven­tion are start­ing to think about pol­i­tics in a way that they had not pre­vi­ous­ly thought of pol­i­tics before, cer­tain­ly with the last two decades of neolib­er­al, patri­ar­chal hold on the system."
Although she said that the cur­rent polit­i­cal real­i­ty ​"isn't going to be unpacked overnight, these types of dif­fi­cult con­ver­sa­tions need to hap­pen in spaces that are more main­stream as per­ceived by peo­ple from the Left. … So you do have to meet peo­ple where they're at."