The Next Steps for the Women's March? Moving a Progressive Agenda.
After year one of the Trump presidency, women are furious. Now, many are asking where we go from here.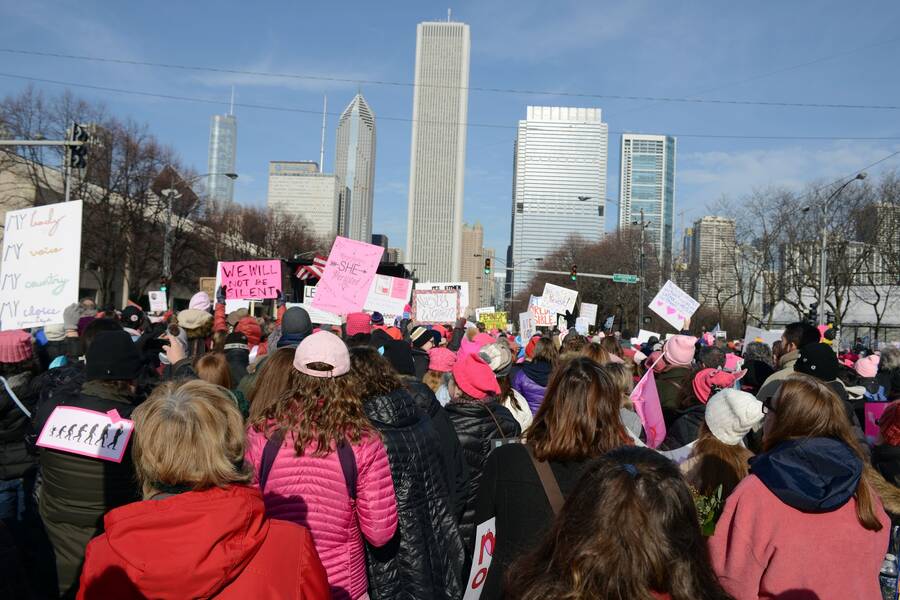 At the 2018 Chica­go Women's March, Mujeres Lati­nas en Accion com­mu­ni­ty leader Frances Velez marched with mem­bers of the long­stand­ing Lati­na empow­er­ment orga­ni­za­tion, sport­ing glit­tery eye­lin­er and hold­ing a sign that read, ​"They tried to bury us. They didn't know we were seeds!"
While the march's groundswell of many first-time activists comes with a learning curve, some on the Left are hopeful.
Velez's path to empow­er­ment was­n't easy. Ten years ago, she turned to Mujeres as a sur­vivor of domes­tic abuse. Now, she's an activist. As she says, ​"If I can do it, any­body else can do it."
Velez was one of hun­dreds of thou­sands who gath­ered on Jan­u­ary 20 for Women's March­es across the coun­try that rivaled 2017 crowds — in a clear rebuke of year one of Trump's pres­i­den­cy. March orga­niz­ers had no small task: trans­form­ing the raw nerve of last year's his­toric demon­stra­tions into a movement.
The 2017 Women's March kicked off a year of activist efforts against the trav­el bans and Repub­li­can attempts to reform health­care, tax­a­tion and immi­gra­tion. Now, with the #MeToo move­ment oust­ing men who abuse their pow­er — and open­ing space for women's lead­er­ship — the ques­tion of the 2018 march­es is how to gal­va­nize that spir­it for long-term change. This year, march atten­dees were more focused on action — and more informed about what a Trump pres­i­den­cy means.
Yet, in Chica­go, orga­niz­ers pri­or­i­tized turn­ing out the vote for the Demo­c­ra­t­ic Par­ty with­out con­sis­tent­ly push­ing a con­ver­sa­tion about what it looks like to bring pro­gres­sive pol­i­tics to the elec­toral are­na. But this did not stop grass­roots orga­niz­ers from bring­ing their own pro­gres­sive pol­i­tics to the march — and mobi­liz­ing their mem­bers to join and engage the his­toric gathering.
For the 2018 Chica­go March, Liz Gomez, who is part of the Nation­al Youth Art Move­ment Against Gun Vio­lence, paint­ed a 1970s-inspired sign as a nod to the ​"ener­gy, pow­er and viva­cious­ness" of women of col­or, she told In These Times. As an Afro-Lati­na woman, she said it's impor­tant to show up in spaces like the Wom­en's March that have been crit­i­cized for a lack of intersectionality.
"I feel the stakes are high­er, because last year, it was before we real­ly knew what was going to hap­pen," said Gomez, who went to Wash­ing­ton, D.C. for the 2017 march. ​"This year, it's like, ​'We expressed that ini­tial anger and frus­tra­tion, and now, what are we going to do about it?'"
For both the nation­al event in Las Vegas and local Women's March­es around the coun­try, the answer was clear: Get out the vote. And more impor­tant­ly, make sure women are rid­ing the 2018 blue wave in elec­tions big and small.
Pol­i­tics were front-and-cen­ter in the Windy City over the com­pet­i­tive 2018 race for the Illi­nois gov­er­nor and oth­er state and fed­er­al spots. Women in puffy jack­ets held clip­boards and spoke about vot­er reg­is­tra­tion to waves of demon­stra­tors enter­ing Grant Park. The park was filled with expen­sive equip­ment, includ­ing a large stage, jum­botron and rows of speak­ers. Some of these items came cour­tesy of J.B. Pritzk­er, can­di­date for the Illi­nois Demo­c­ra­t­ic pri­maries' guber­na­to­r­i­al race.
Pri­or to the event, Chica­go orga­niz­ers told reporters 50,000 to 80,000 peo­ple had pre-reg­is­tered online. By 1:00 p.m. on Sat­ur­day, an esti­mat­ed 300,000 packed Grant Park. Despite the unpre­dictabil­i­ty in turnout, orga­niz­ers tout­ed the march as the most acces­si­ble out­door pub­lic event Chica­go has ever seen.
Michelle Gar­cia, who has cere­bral pal­sy and is the Lati­no com­mu­ni­ty orga­niz­er for Access Liv­ing, walked at the 2017 Chica­go Women's March. This year, she spoke at the pre-march ral­ly with mem­bers of Chica­go ADAPT, a dis­abil­i­ty jus­tice group. Gar­cia asked the atten­dees if they or some­one they knew had a dis­abil­i­ty. Many in the crowd raised their hands.
While she says she is grate­ful for the main­stage spot, Gar­cia told In These Times she won­ders if peo­ple with dis­abil­i­ties would have been giv­en the oppor­tu­ni­ty if they hadn't been lead­ing the fight to save Oba­macare and Med­ic­aid — and been the cen­ter of media cov­er­age fol­low­ing their arrests.
"What if that was­n't the case?" she said. ​"Would we still have been asked to speak? So I think even if you're not at the fore­front of the news, peo­ple should still be asked to be part of this move­ment that is being created."
Besides Gar­cia, many of the speak­ers were local celebri­ties and elect­ed offi­cials — notably Cook Coun­ty State's Attor­ney Kim Foxx and Illi­nois Attor­ney Gen­er­al Lisa Madi­gan. The major­i­ty of speak­ers urged the crowd to vote, ini­ti­at­ing an ​"elect more women" call-and-response and a chant of ​"Ruth Bad­er Ginsburg."
Some were skep­ti­cal of the focus on elec­toral rep­re­sen­ta­tion over policy.
"In Chica­go [the focus on vot­ing] trans­lat­ed into giv­ing a plat­form to local politi­cians because they hap­pen to be women, such as Lisa Madi­gan, who has posi­tioned her­self pub­licly as anti-sex work­er," not­ed Kathryn Rosen­feld, a mem­ber of the Board of Direc­tors of the Sex Work­ers Out­reach Project Chica­go, which had a small con­tin­gent in the march.
Women's March Chica­go board mem­ber Ann Schol­hamer told In These Times, ​"The ener­gy and spir­it ran high — but chan­neled from reac­tive and angry to focused and deter­mined to change the face of democ­ra­cy to reflect our com­mu­ni­ties. By hav­ing the expe­ri­ence of last year and room­fuls of part­ner orga­ni­za­tions and advo­cates, our plan­ning allowed us to have more ser­vices, sound and visu­al, and our foot­print was able to be more con­densed and every­one got to march to Fed­er­al Plaza."
Respond­ing to con­cerns about the lack of dis­cus­sion about what tru­ly pro­gres­sive pol­i­tics look like, Schol­hamer said that speak­ers, mes­sages on signs and com­ments in meet­ings, media and social media showed that ​"equal rep­re­sen­ta­tion and pro­gres­sive issues go hand in hand."
The event's last speak­er was Suzette Wright, a for­mer Ford assem­bly plant employ­ee who lost her job for speak­ing out against sex­u­al harass­ment on the job. In the wave of celebri­ty #MeToo sto­ries, Wright's expe­ri­ences, high­light­ed in a New York Times fea­ture, show­cas­es the sex­ism faced by women out­side of Hol­ly­wood and Washington.
The poten­tial of an inclu­sive #MeToo move­ment was clear: In 2017, Wright was one of the thou­sands of atten­dees at Women's March Chica­go. In 2018, she closed out the ral­ly. It was a refresh­ing moment after two hours of speech­es and set the tone for a march that saw hun­dreds of thou­sands take the streets of down­town Chicago.
Yet, the dom­i­nant mes­sage of ​"pow­er to the polls" often lacked nuance. As In These Times not­ed when cov­er­ing the 2017 Women's Con­ven­tion in Detroit, giv­ing promi­nent space to groups like EMILY's List (a staff mem­ber spoke dur­ing the Chica­go ral­ly) rais­es the ques­tion of whether rep­re­sen­ta­tion is being val­ued over pro­gres­sive change. While EMILY's List has played a role in increas­ing the num­ber of women in Con­gres­sion­al seats, it has been crit­i­cized for endors­ing female can­di­dates with con­ser­v­a­tive eco­nom­ic policies.
But for some, the speech­es and mes­sag­ing were less impor­tant than the col­lec­tive spir­it of marching.
"I think the rea­son peo­ple come out for the most part is to march in the street and wave a sign and chant and feel togeth­er­ness, and not to be all kum­baya about it, but that is real­ly impor­tant," said Rachel Zibrat, the Fem­i­nist Work­ing Group co-chair of the Demo­c­ra­t­ic Social­ists of Amer­i­ca (DSA), which had approx­i­mate­ly 25 mem­bers march­ing. ​"I think that's what we're try­ing to tap into as social­ists, and even if the polls are big at this march, it's still a moment that I think is important."
Some orga­ni­za­tions used the march as an oppor­tu­ni­ty to shine a light on spe­cif­ic cam­paigns. Jew­ish Voice for Peace (JVP) and the U.S. Pales­tin­ian Com­mu­ni­ty Net­work high­light­ed the case of Ahed Tami­mi, a 16-year-old Pales­tin­ian activist recent­ly arrest­ed by Israel for slap­ping an Israeli Defense Forces soldier.
"Issues of peace and jus­tice are wom­en's issues, because women are of course half the pop­u­la­tion," said JVP's Les­ley Williams.
While the march's groundswell of many first-time activists comes with a learn­ing curve, some on the Left are hopeful.
"Set­tle in for the long haul," advised SWOP's Rosen­feld. ​"Under­stand that elec­tions are only one small part of the work, and that sim­ply ​'elect­ing more women' is insuf­fi­cient as a strat­e­gy. Most impor­tant­ly, under­stand the lim­i­ta­tions and fail­ings of white lib­er­al fem­i­nism. Focus on how this move­ment can cen­ter the needs of the most mar­gin­al­ized, includ­ing sex work­ers, and their par­tic­u­lar rea­sons for need­ing feminism."