Brazilian Workers Are Rising Up Against a Bill That Threatens Basic Labor Rights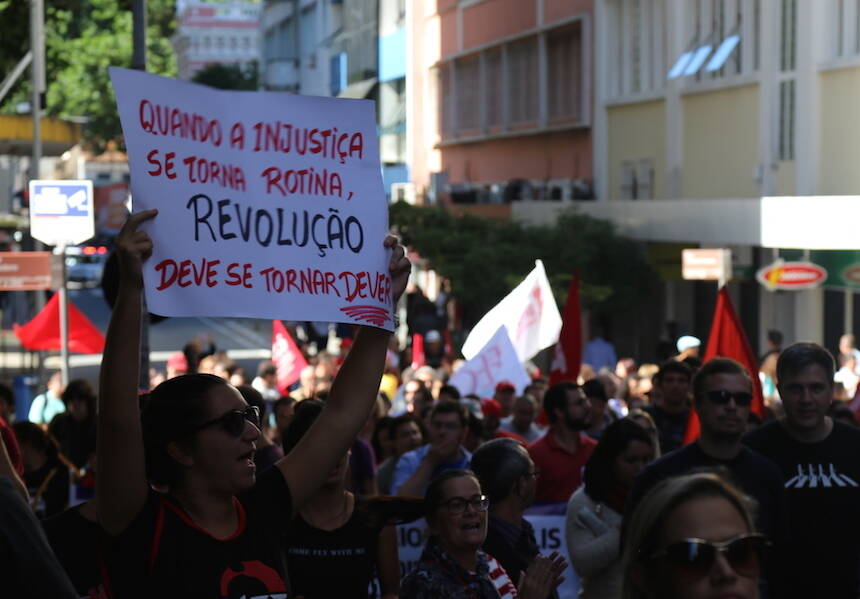 On May 24, tens of thou­sands of peo­ple descend­ed on Brazil's cap­i­tal, Brasília, to protest the gov­ern­ment of Pres­i­dent Michel Temer and its pro­posed reforms that could gut work­ers' rights and pensions.
Hun­dreds of bus­es arrived from around the coun­try, filled with mem­bers of unions and social move­ments, such as the grass­roots Land­less Work­ers' Move­ment, or MST, and the Pop­u­lar Brasil Front.
Police and even the mil­i­tary — after Temer issued a con­tro­ver­sial decree call­ing out the Armed Forces to pro­tect the city — respond­ed with bru­tal force, fir­ing tear gas, rub­ber bul­lets and stun grenades, while Sen­a­tors debat­ed inside.
The action came less than a month after 35 mil­lion peo­ple par­tic­i­pat­ed in a Gen­er­al Strike April 28 , stop­ping pub­lic trans­porta­tion, clos­ing banks and schools, and grind­ing many cities to a halt.
At stake is the very fate of labor rights in Brazil. Under the new leg­is­la­tion, employ­ees would be per­mit­ted to nego­ti­ate direct­ly with their boss­es, side step­ping unions and col­lec­tive bar­gain­ing. These nego­ti­a­tions would be allowed to super­sede cer­tain areas of the labor code, which crit­ics say could ren­der the foun­da­tion of Brazil­ian labor law obso­lete: The reform could elim­i­nate the 8‑hour work­day, open the door for busi­ness­es to side-step labor leg­is­la­tion and col­lec­tive bar­gain­ing, end the manda­to­ry pay­ment of union dues and fur­ther facil­i­tate outsourcing.
It has already passed in the low­er house of con­gress, and on Tues­day was approved by the senate's eco­nom­ic affairs com­mit­tee (though it must first pass two oth­er com­mit­tees before it goes before the whole sen­ate floor).
Many work­ers are afraid — and 46-year-old Mar­lei Chaves das Cha­gas is one of them.
For 21 years, Cha­gas has worked as the super­in­ten­dent of the 5‑story Spazz­io Bot­ti­cel­li apart­ment com­plex in Flo­ri­anópo­lis, Brazil.
As the protests raged in Brasília on Wednes­day, she was busy run­ning up and down the building's stairs. She answered the door to cur­ri­ers deliv­er­ing pack­ages, cleaned the halls and tried to assuage the anx­i­ety of many of the 24 fam­i­lies in the build­ing, who have been with­out water for sev­er­al days, because of heavy rains the pre­vi­ous weekend.
"This is my home. I just go to my house to sleep," she says.
Cha­gas stands out­side of the apart­ment com­plex where she works. (Pho­to by Michael Fox)
She is proud of it. Her job was enough to sup­port her­self and her three kids, even after she left an alco­holic husband.
"My life was here," she says. ​"I raised my chil­dren here. I took care of my home and my kids with the mon­ey I made here."
But if the reform pass­es, she believes that every­thing she has could come crum­bling down around her, includ­ing her vaca­tion pay, her year­ly bonus, and even her job.
A neigh­bor­ing apart­ment com­plex recent­ly out­sourced the admin­is­tra­tion of its build­ing to a com­pa­ny that pays the woman in her posi­tion only min­i­mum wage, rough­ly $300 a month, a lit­tle over half of what she makes. If they can do that with­out the reform, she fig­ures, just imag­ine what they could do with it.
"This reform is there to take away the rights that we have achieved up until now. And with the sig­na­ture of one pen, they can take that all away," she says.
The reform's pro­po­nents argue it's the anti­dote to Brazil's worst eco­nom­ic down­turn since the Great Depres­sion. Ris­ing unem­ploy­ment has tripled in five years, to near­ly 14 per­cent. The bill, its back­ers say, is nec­es­sary to mod­ern­ize the labor mar­ket and update the labor code for the new real­i­ties fac­ing Brazil.
In a video post­ed online by the Tea Par­ty-like Free Brazil Move­ment in April, with over 70,000 views, one of the move­ment lead­ers, Kim Kataguiri, responds to what he calls ​"the four biggest lies about the labor reform." His answer to the first ques­tion is telling.
"Is it true that the labor reform takes away rights?"
"No," he says. ​"Today, employ­ee and employ­er are required to respect the Brazil­ian Labor Code." But the reform, accord­ing to Kataguiri, would give ​"free­dom to the work­er, allow­ing him to define the con­di­tions of his con­tract and not the government."
Whether this amounts to free­dom, how­ev­er, is pre­cise­ly what's being contested.
"The rights will remain on the paper, but it will open the door for employ­ers to impose the rules that they want," said Rogério Manoel Cor­rêa, the pres­i­dent of SEEF, the union rep­re­sent­ing Flo­ri­anópo­lis build­ing employ­ees, like Mar­lei. ​"The work­er is going to have his hands tied. And he's going to have to choose. Either he keeps his rights, or he keeps his job."
He adds, ​"In oth­er words, do you want to be killed by a gun or a knife?"
Accord­ing to Ana Julia Rodrigues, the pres­i­dent of the San­ta Cata­ri­na state chap­ter of the country's largest labor fed­er­a­tion, the CUT, the cur­rent assault on labor rights — both from this pro­posed labor reform, and oth­er leg­is­la­tion — in Brazil is unprecedented
"Dur­ing the dic­ta­tor­ship [1964 – 1984] they took away our right to expres­sion and free­dom of expres­sion, and the two-par­ty sys­tem, but the attacks on the work­ing class and work­ers' rights over labor leg­is­la­tion were not as intense as they are today," she said in April, at the CUT head­quar­ters in Flo­ri­anópo­lis. ​"Yes, they took away many rights, but not like today."
The pro­posed labor reform is only the lat­est assault com­ing from the right-wing Temer gov­ern­ment, which came to pow­er just over a year ago in what many called a leg­isla­tive coup. The Work­ers' Par­ty pres­i­dent Dil­ma Rouss­eff was sus­pend­ed by the leg­is­la­ture in May 2016, and then impeached for car­ry­ing out maneu­vers to bal­ance the bud­get that are rou­tine in Brazil, but which con­gress deemed ille­gal. Con­gress itself is one of the most con­ser­v­a­tive in mem­o­ry, with sub­stan­tial majori­ties in both hous­es of con­gress. The pow­er­ful ​"Bible, beef and bul­lets" cau­cus — which unites evan­gel­i­cals, the agribusi­ness-backed farm lob­by, and law­mak­ers look­ing for greater gun rights —holds over half the seats in the low­er house alone.
On his first day in office, Temer turned his back on more than a decade of Work­ers' Par­ty poli­cies aimed at pover­ty reduc­tion and address­ing inequal­i­ty. He named an all-white male cab­i­net, rolled back social pro­grams, such as the hous­ing pro­gram Min­ha Casa, Min­ha Vida, and elim­i­nat­ed the min­istries of human rights, racial equal­i­ty, and women. With­in months, he had embarked on a plat­form of shock reforms that cut fund­ing for health and edu­ca­tion, locked in a 20-year gov­ern­ment spend­ing freeze, and pushed pri­va­ti­za­tions, with plans to auc­tion off min­ing and oil con­ces­sions and major infra­struc­ture, includ­ing air­ports, ports, high­ways and pow­er dis­tri­b­u­tion plants.
In March, law­mak­ers approved the country's first out­sourc­ing law, which now per­mits the prac­tice in all sec­tors, allows for the exten­sion of tem­po­rary work con­tracts from three to nine months and makes it more dif­fi­cult for con­tract work­ers to nego­ti­ate ben­e­fits. Con­gress is now debat­ing a pen­sion reform that would slash ben­e­fits and raise the retire­ment age for fed­er­al employ­ees. All of this has been active­ly pushed by pres­i­dent Temer.
But his gov­ern­ment has also been wrapped up in scan­dal. At least six of his cab­i­net mem­bers have had to step down, because of evi­dence or alle­ga­tions of their involve­ment in Brazil's ongo­ing Lava Jato cor­rup­tion scheme, in which bribes were paid in exchange for lucra­tive gov­ern­ment con­tracts. Anoth­er eight cur­rent cab­i­net mem­bers are now also under inves­ti­ga­tion.
Temer him­self was hit with a bomb­shell in mid May, when audio was leaked by the head of Brazil's largest meat exporter, JBS, in which Temer can be heard encour­ag­ing the pay­ment of hush mon­ey to the for­mer speak­er of the Cham­ber of Deputies, Eduar­do Cun­ha, who led the impeach­ment charge against Rouss­eff. The scan­dal has threat­ened to take down the pres­i­dent. Although he has refused to resign, over a dozen motions for impeach­ment have been sub­mit­ted to con­gress and pro­test­ers have hit the streets in recent weeks call­ing for direct elections.
Many on the Left are hop­ing the polit­i­cal cri­sis can also stymie the labor reform.
But though the gov­ern­ment is in tur­moil and its labor reform is unpop­u­lar — as seen by the protests against it, and an online Sen­ate poll — the bill is still afloat, dri­ven by pow­er­ful inter­ests, includ­ing lob­by­ist from banks, com­merce, indus­try and trans­porta­tion. Despite a tumul­tuous ses­sion in the sen­ate finance com­mit­tee hear­ing on May 23 that broke into a shout­ing match and near­ly a brawl, the reform is mov­ing for­ward and could be brought to the floor of the Sen­ate in just a cou­ple of weeks. It was already fast-tracked and approved by the low­er house in April.
It's no coin­ci­dence they're in a hur­ry, a year and a half out from the 2018 pres­i­den­tial elec­tions. Temer is already barred from run­ning for office for the next sev­en years for receiv­ing ille­gal cam­paign con­tri­bu­tions. For­mer Pres­i­dent and union leader Luiz Ina­cio Lula da Sil­va is, by far, the front run­ner in all of the polls. Temer and pro-busi­ness inter­ests in Con­gress are look­ing to push through every­thing they can, par­tic­u­lar­ly if it can weak­en the union move­ment and the mobi­liza­tions in sup­port of Lula's candidacy.
But unions and social move­ments are not tak­ing this leg­isla­tive assault lying down. Work­ers are mobi­liz­ing dai­ly in cities across the coun­try, can­vass­ing, hold­ing forums and local actions. More march­es are planned for the com­ing weeks, includ­ing anoth­er Gen­er­al Strike at the end of the month, one that could last mul­ti­ple days.
"This reform would just fin­ish off the life of the lit­tle guy," says Chagas.
And it will, they're afraid — unless ongo­ing grass­roots mobi­liza­tion can stop it.
Watch Mike Fox's video report at The Real News.
"
Michael Fox
is a free­lance reporter and video jour­nal­ist based in Brazil. He is the for­mer edi­tor of the NACLA Report on the Amer­i­c­as and the author of two books on Latin Amer­i­ca. He tweets at @mfox_us.