Over the Last Week, At Least 85,000 Workers Were Out on 13 Different Strikes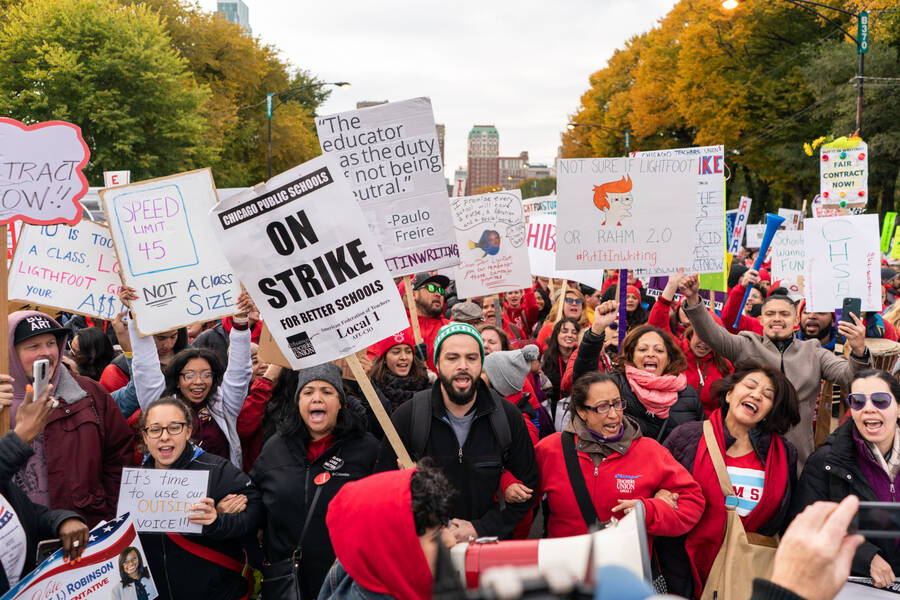 Accord­ing to the Bureau of Labor Sta­tis­tics, 485,000 U.S. work­ers were involved in strikes and lock­outs dur­ing 2018. That's the high­est num­ber since 1986. The data for 2019 won't be released until 2020, but there's a good chance that num­ber will be exceed­ed, a point dri­ven home by the fact that, over the last week, at least 85,000 work­ers par­tic­i­pat­ed in 13 dif­fer­ent strikes across the Unit­ed States.
The crest of the strike wave has pri­mar­i­ly been rid­den by school work­ers. About 26,000 Chica­go teach­ers have now been on strike for 12 days, demand­ing that May­or Lori Light­foot be held account­able for her cam­paign promise to bol­ster sup­port staff and decrease class size. The work stop­page has now last­ed longer than the Chica­go Teach­ers Union (CTU) 2012 strike, which end­ed up spark­ing its own strike wave.
"Hun­dreds of CTU mem­bers showed up for the Wis­con­sin upris­ing of 2010," Chica­go activist and strik­ing teacher Ken­zo Shi­ba­ta told In These Times. ​"We learned what was pos­si­ble and we con­tin­ued orga­niz­ing for our 2012 strike. Edu­ca­tors in West Vir­ginia, Los Ange­les, Okla­homa and Ari­zona cit­ed us as inspi­ra­tion for their strikes. The Sol­i­dar­i­ty is con­ta­gious. They've passed back that inspi­ra­tion and we're here as a boost of momen­tum to this teacher strike wave."
On Octo­ber 17, about 8,000 CPS staff work­ers in the city also went on strike, rep­re­sent­ed by SEIU Local 73, with union lead­ers reach­ing a ten­ta­tive agree­ment with the city on Octo­ber 27, which mem­bers still have to vote on. Work­ers are not back at school, how­ev­er, as CPS remains shut down by the CTU strike.
In a show of sol­i­dar­i­ty, the local Team­sters union is refus­ing to cross the pick­et lines to make deliv­er­ies. ​"We stand behind the teach­ers union 100% and believe they should fight for every form of ben­e­fits and relief for the chil­dren they are seek­ing," Team­sters Local 705 offi­cial Juan Cam­pos told the Chica­go Tribune.
In Men­do­ta, Illi­nois, about 2 hours away from Chica­go, 76 ele­men­tary school teach­ers went on strike Octo­ber 16, look­ing for wages that are com­pa­ra­ble to their neigh­bor­ing dis­tricts. Class­es resumed Octo­ber 28 after mem­bers of the Men­do­ta Edu­ca­tion Asso­ci­a­tion rat­i­fied an agreement.
In Ded­ham, Mass­a­chu­setts, hun­dreds of teach­ers dealt the state its first teach­ers' strike in 12 years, vot­ing on Octo­ber 24 to approve a walk­out by a vote of 258 – 2. Teach­ers walked out the next day in defi­ance of a state order, as it's actu­al­ly ille­gal for pub­lic employ­ees to strike in Mass­a­chu­setts. The teach­ers had been work­ing with­out a con­tract for over a year — and had attempt­ed to nego­ti­ate one for almost two. They were look­ing for stronger health insur­ance and a con­tract that address­es sex­u­al harassment.
"Right now there is a move­ment of work­ers across the coun­try who are tak­ing back their pow­er at a scale we have not seen in recent mem­o­ry," tweet­ed Inde­pen­dent Ver­mont Sen­a­tor and pres­i­den­tial hope­ful Bernie Sanders on Octo­ber 25. ​"I stand with edu­ca­tors in Ded­ham, Mass­a­chu­setts. This takes courage."
On Octo­ber 27, it was announced that a ten­ta­tive deal had been reached, and school resumed the next day. Details of the new agree­ment have not yet been released.
The teach­ers' strike wave is also hit­ting the West Coast. On Octo­ber 21, dozens of teach­ers called out sick in Berke­ley, Cal­i­for­nia — some of them doing so as part of wild­cat strike that was unau­tho­rized by their union, the Berke­ley Fed­er­a­tion of Teach­ers. The teach­ers have been work­ing on an expired con­tract since the sum­mer. ​"It was good old-fash­ioned orga­niz­ing. It hap­pened through the whis­per net­work," his­to­ry teacher Alice Bynum told a local paper. They're back at work now.
The cur­rent strike wave is cer­tain­ly not lim­it­ed to teach­ers. About two dozen san­i­ta­tion work­ers for Repub­lic Ser­vices in Marsh­field, Mass­a­chu­setts, have been on strike since August 29. They're demand­ing afford­able health care and a liv­ing wage. Team­sters 25, the union that rep­re­sents the employ­ees, cites Eco­nom­ic Pol­i­cy Insti­tute data which shows that the work­ers with one child are mak­ing 40% less than the state's liv­ing wage. Repub­lic Ser­vices' biggest sin­gle share­hold­er is bil­lion­aire Bill Gates, who makes $100 mil­lion annu­al­ly off div­i­dends from his shares. Last month, two dozen of the strik­ing work­ers protest­ed out­side of a Bill and Melin­da Gates Foun­da­tion gala in New York City, hold­ing signs that read, ​"Bill Gates treats kids like trash." Strik­ing employ­ee Bernard Egan-Mul­li­gan told New York Dai­ly News, ​"We're here because Bill Gates is a 32% stock­hold­er in our com­pa­ny. We fig­ure our share­hold­ers would like to know what's going on."
The work­ers have now extend­ed the strike into Indi­ana, as more than 70 Repub­lic work­ers in Evans­ville have joined the pick­et line.
At least 50 bus dri­vers in north­ern Vir­ginia, rep­re­sent­ed by Amal­ga­mat­ed Tran­sit Union Local 689, are on strike in response to their garage being pri­va­tized as some of their ser­vices are now being con­tract­ed out. They've been fight­ing for a new col­lec­tive bar­gain­ing agree­ment for months.
Around 1,700 ASAR­CO cop­per work­ers are on strike in Ari­zona, angry about pen­sion freezes, health insur­ance costs, and a lack of rais­es. ​"For the past nine years, these work­ers haven't seen a pay raise," Team­sters Local 104 sec­re­tary-trea­sur­er Kar­la Schu­mann told NPR. ​"They're work­ing in some of the most dif­fi­cult and dan­ger­ous con­di­tions out there, and it's just unfath­omable and unten­able to do that to these guys."
Rough­ly 75 work­ers at the lux­u­ry Bat­tery Wharf Hotel in Boston are also on strike. UNITE HERE Local 26, who rep­re­sents the work­ers, says its mem­bers are look­ing for high­er wages, bet­ter pen­sions, pro­tec­tion for immi­grant employ­ees, and sex­u­al harass­ment pre­ven­tion. Ear­li­er this month, the Eng­lish singer-song­writer and activist Bil­ly Bragg head­lined a ral­ly in sup­port of the work­ers. ​"The strike at the Bat­tery Wharf Hotel goes to the very heart of the prob­lems in our soci­ety," Bragg told Boston Mag­a­zine. ​"Work­ing peo­ple feel they no longer have any agency over their lives."
About 700 Ser­vice work­ers in San­ta Clara Coun­ty, Cal­i­for­nia have been on strike since Octo­ber 2. SEIU 521 filed more than 15 com­plaints of unfair labor prac­tices lead­ing up to the strike. In addi­tion to com­plaints about poor work­ing con­di­tions, employ­ees are upset with the deci­sion to move the San Jose Fam­i­ly Resource Cen­ter, as well as an alleged­ly unsafe envi­ron­ment for chil­dren at the Receiv­ing, Assess­ment and Intake Center.
On Octo­ber 27, more than 50 fast food work­ers at Oregon's Burg­erville chain end­ed a 4‑day strike after the com­pa­ny agreed to con­tin­ue nego­ti­a­tions with the employ­ees. The work­ers have been agi­tat­ing for a liv­ing wage for the last 18 months.
The longest auto work­ers strike in 50 year just end­ed with 49,000 Unit­ed Auto Work­ers (UAW) mem­bers return­ing to Gen­er­al Motors on Octo­ber 26. The employ­ees were able to secure small rais­es, par­tial­ly phase out a ​"two-tier" wage struc­ture, and win a bet­ter process for tem­po­rary work­ers to become per­ma­nent, but poten­tial fall­out and fur­ther unrest looms as the agree­ment includes plans to close down three factories.
Tim O'Hara is Pres­i­dent of UAW Local 1112, where the Lord­stown, Ohio plant is set to close. He told the local news that he felt betrayed by the vote. ​"We just want­ed them to remem­ber that what hap­pened to us can hap­pen to them ​'cause there's noth­ing in this con­tract that stops GM from show­ing up unan­nounced at their plant the Mon­day after Thanks­giv­ing — for exam­ple, like they did to us — and telling them they're done," he said.
The new Gen­er­al Motors con­tract was announced just a day after over 3,600 UAW-rep­re­sent­ed work­ers at Mack Trucks end­ed a two-week strike as a result of a ten­ta­tive agree­ment being reached.
More work stop­pages could be on the hori­zon. Teach­ing assis­tants in Decatur, Illi­nois are set to strike for a new con­tract. About 4,000 men­tal health clin­i­cians across 100 Kaiser Per­ma­nente facil­i­ties could go on strike in Novem­ber over staffing short­ages, and the Lit­tle Rock Edu­ca­tors Asso­ci­a­tion has set up a fund in the event of a ​"col­lec­tive job action." At a recent meet­ing, Lit­tle Rock Edu­ca­tion Asso­ci­a­tion Pres­i­dent Tere­sa Knapp Gor­don said teach­ers didn't want to strike, but they were pre­pared for any­thing if their cur­rent con­tract is allowed to expire. That's the last thing we want to do," she said, ​"But you can bet your bot­tom dol­lar that if that is what it takes to make sure our chil­dren are pro­tect­ed, then that's what we will do."
"
Michael Arria
is the U.S. cor­re­spon­dent for Mon­doweiss. Fol­low him on Twit­ter: @michaelarria.