Workers Take Fight to Wells Fargo, but Police Turn Them Away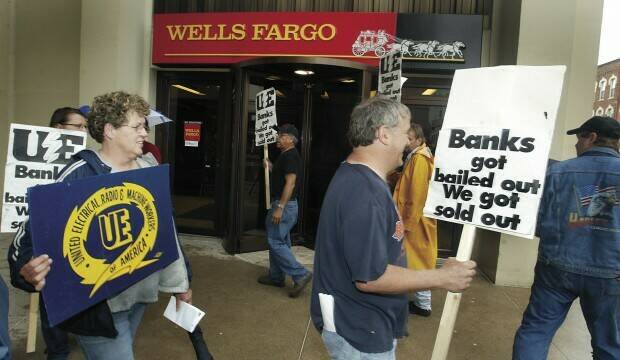 Workers from a Quad City factory who are fighting Wells Fargo for unpaid wages and benefits were turned away by police when they attempted to meet with bank representatives Monday.

The workers from Quad City Die Casting were not allowed to enter the bank in Rock Island, Illinois, where they had hoped to resolve a dispute over back pay and benefits they are owed.

​"The bank really freaked out at the idea of facing the workers," said Leah Fried, an organizer with the United Electrical, Radio and Machine Workers.
The union represents about 80 of the workers at the northwestern Illinois plant, which is slated for closure on Friday. About 100 workers will be affected by that shut-down.
About a half dozen cops were on hand for the attempted meeting yesterday afternoon, apparently at the behest of Wells Fargo, which last fall received $25 billion in bailout money.

​"It's not that shocking since the bank has refused to talk to anyone, including an interested buyer," Fried said.
In an emailed statement, Wells Fargo spokeswoman Angela Kaipust said:
…[W]e certainly empathize with the employees who have lost jobs and businesses that are struggling. The issues raised today about pay and benefits, however, are between management, the union and the employees. Wells Fargo does not decide how a company should meet its obligations to its union members.
Quad City Die Casting is a family-owned business that has operated in the Moline, Ill., for 60 years. Its most senior employee has put in 35 years at the company, which makes aluminum die cast products, including escalator stairs and parts for farm machinery and motors.

(Quad City, by the way, refers to a cluster of cities on the Mississippi River in Illinois and Iowa.)
In These Times Senior Editor David Moberg highlighted the Quad City struggle earlier this month, reporting that workers were considering a sit-in at the plant to protest plans to close it.
Workers have been fighting to keep the factory open since it lost financing from Wells Fargo earlier this year. They were told the business would close in July and workers were told they would not receive vacation and benefits unless money remains after debts are paid.

Check out the UE Illinois' Web site for a more detailed explanation of the situation at the plant, which is a bit complicated.
An excellent article on Alternet by ​"Working In These Times" blogger Kari Lydersen also gives more backstory to the Quad City struggle and some related actions against Wells Fargo.

Fried said the union has filed a charge with the National Labor Relations Board and that the agency has found merit to that charge, which resulted in a formal complaint.
It is not known how Wells Fargo will respond to that complaint and whether it will settle with the workers on some $200,000 in benefits and vacation pay workers claim.

The future of the plant itself is also unknown, but more developments were expected to unfold this week. The UE said the plant could continue to operate if the bank would continue to extend financing until a buyer is found.

​"The workers definitely want to keep fighting," Fried said.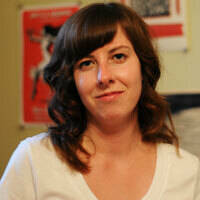 Emily Udell
is a writer for Angie's List Magazine in Indianapolis. In
2009
, she finished a stint drinking bourbon and covering breaking news for
The Courier-Journal
in Louisville, Ky. Her eclectic media career also includes time at the Associated Press,
Punk Planet
(R.I.P.),
The Daily Southtown
in southwest Chicago, and Radio Prague in the Czech Republic. She co-hosted and co-produced
In These Times
' radio show ​
"
Fire on the Prairie
" from
2003
to
2006
.