Workers Say Dylan's Candy Not Such A Sweet Gig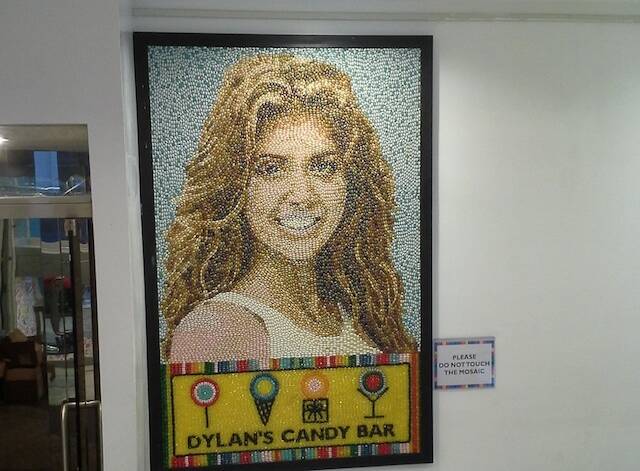 We wanted to make sure you didn't miss the announcement of our new Sustainer program. Once you've finished reading, take a moment to check out the new program, as well as all the benefits of becoming a Sustainer.

Dylan's Candy Bar is an Upper East Side haven for lovers of fancy candy: three stories of chocolate, gummies, holiday displays (this week it's Halloween), candy-printed apparel and even a Dylan's-themed Madame Alexander doll. Images of the store's founder and owner, Dylan Lauren, daughter of fashion mogul Ralph Lauren, smile up from several places in the store, including a mural apparently made of jelly beans and the cover of a book titled Dylan's Candy Bar: Unwrap Your Sweet Life. The steps from one floor to the next are filled with candy, and the phrase ​"May each step you take be sweet" is spelled out in red licorice on the landing.
But some of the workers at Dylan's say their job is anything but sweet — so they've started a campaign to join a union.
Dylan's worker Anthony Mero says that when he was first hired in July of 2012 Human Resources told him that he could get health insurance if he worked 40 hours a week. But getting scheduled for 40 hours turned out to be ​"impossible," he says, making health insurance ​"a pipe dream."
In fact, one of the biggest complaints the workers have is that they can never get enough hours. They say the entire non-management workforce — nearly 80 people — is part-time.
The complaints of the workers at Dylan's sound like those of many other retail and service employees — and indeed, Dylan's workers cite the recent fast food workers' strikes as inspiration for organizing. In a sector that relies on a part-time, ​"disposable" workforce, when employees push for more hours, management doesn't grant their request. The lousy economy and the constant stream of applicants mean that workers are constantly worried that they'll be let go, so they're afraid to put up a fight.
At Dylan's, management's decisions are made even more capricious by ​"a culture of cronyism in the store," says David Oscos, who has worked at Dylan's since October of 2012. He says that decisions on pay, scheduling and promotions seem to be based on favoritism rather than qualifications, and that firings and layoffs feel arbitrary.
Oscos began working at Dylan's in-store café in October 2012 with the idea that he might run his own café someday. He took on managerial tasks in his first three months, he says, and managers told him that he'd be the next one promoted. But the promotion never came. ​"I knew this stuff had happened to other people," he says. ​"At the time you want to hold on and believe that in your case it might happen."
By itself, Oscos' tale might sound like sour grapes. But others describe a similar company culture.
Mero says that although he was one of the more favored workers, he was still bothered by the unfairness. Pay ​"wasn't based on experience or how well you did," he says. Some of his colleagues got raises, while others received nothing. The workers say that there's no structure for raises, no performance reviews — that even the annual raises they're supposed to get often don't come on time. Instead, they feel, raises are purely arbitrary.
More favored workers would also get better work assignments during the day, Mero says, like working the cash register on the main floor, where they can chat with managers and customers to make the day go by faster. Less favored employees are ​"stuck" on the fudge case downstairs. ​"You can't leave that station. You have to wait for a manager to come around so you can be relieved so you can go to the bathroom. Management's not often around." Other, more arduous stations are used as punishment, he says.
Discussions like these led a group of about 25 workers, including Mero and Oscos, to reach out to the Retail, Wholesale and Department Store Union (RWDSU) for help. Originally, the RWDSU organizers recommended that they deliver a petition to management; when they did so, management's reply was that issues around compensation had to be handled in one-on-one meetings, not collectively. That only cemented workers' desire to organize, and they're stepping up their campaign with leafleting outside the store. Management, they noted, has stepped up too, holding anti-union meetings.
The workers have put out a petition on MoveOn's petition site, asking for public support — it currently has over 1,200 signatures. They're demanding stable weekly scheduling with guaranteed weekly hours, a clear and measurable path to promotions to put an end to favoritism, and of course a raise, to $13.99 an hour. ​"We figured we should be able to buy a pound of bulk candy with what we make in an hour," Oscos said.
Public opinion matters to a place like Dylan's, which relies on its upscale reputation and branding to maintain its relatively high price point — not only does a pound of bulk candy go for $13.99, but a branded bar of chocolate costs $3.25. Oscos, who works at the ​"cafe," said that he sees a lot of special events where well-off families host birthday parties. Downstairs, the store has a celebrities' wall with their name and a small jar of their favorite candy — everyone from Jim Belushi to Questlove to Meg Ryan. ​"It's all part of the image and brand that the store's trying to build, that this is a cool place to go if you have the means for it. Or people who don't [have the means] who treat themselves every once in a while," Oscos said.
In an interview with FOX News in 2009, Lauren told Neil Cavuto that candy sales are ​"recession-proof." The privately held company is estimated to have some $25 million in annual sales across multiple locations.
But that upscale brand apparently doesn't extend to upscale wages.
Since the organizing campaign began, Mero noted, there have been some small improvements that he noticed when he returned to Dylan's after a few months away. In addition to a raise from $8.75 to $10 an hour, he was given a welcoming packet that made his duties more clear than they had been previously. But he's pushing forward with the union campaign anyway, believing that there's more to be done to make the store's labor practices match its image.
​"We're obligated to be as happy as possible and give people the best experience," Mero said, but that's hard to do, even in a place designed to lift people' spirits, when you feel mistreated. ​"Behind the scenes there's a lot going on that you can't see."
Be a Sustainer
We surveyed thousands of readers and asked what they would like to see in a monthly giving program. Now, for the first time, we're offering three different levels of support, with rewards at each level, including a magazine subscription, books, tote bags, events and more—all starting at less than 17 cents a day. Check out the new Sustainer program.
Sarah Jaffe is a Type Media Center Fellow, co-host (with Michelle Chen) of Dissent magazine's Belabored podcast, and a columnist at The New Republic and New Labor Forum. She was formerly a staff writer at In These Times and the labor editor at AlterNet. Her previous book is Necessary Trouble: Americans in Revolt, which Robin D.G. Kelley called ​"The most compelling social and political portrait of our age." You can follow her on Twitter @sarahljaffe.