The Typical Workplace Is a Dictatorship. But It Doesn't Have To Be.
Socialists and progressives have a variety of ideas to bring democracy into the workplace.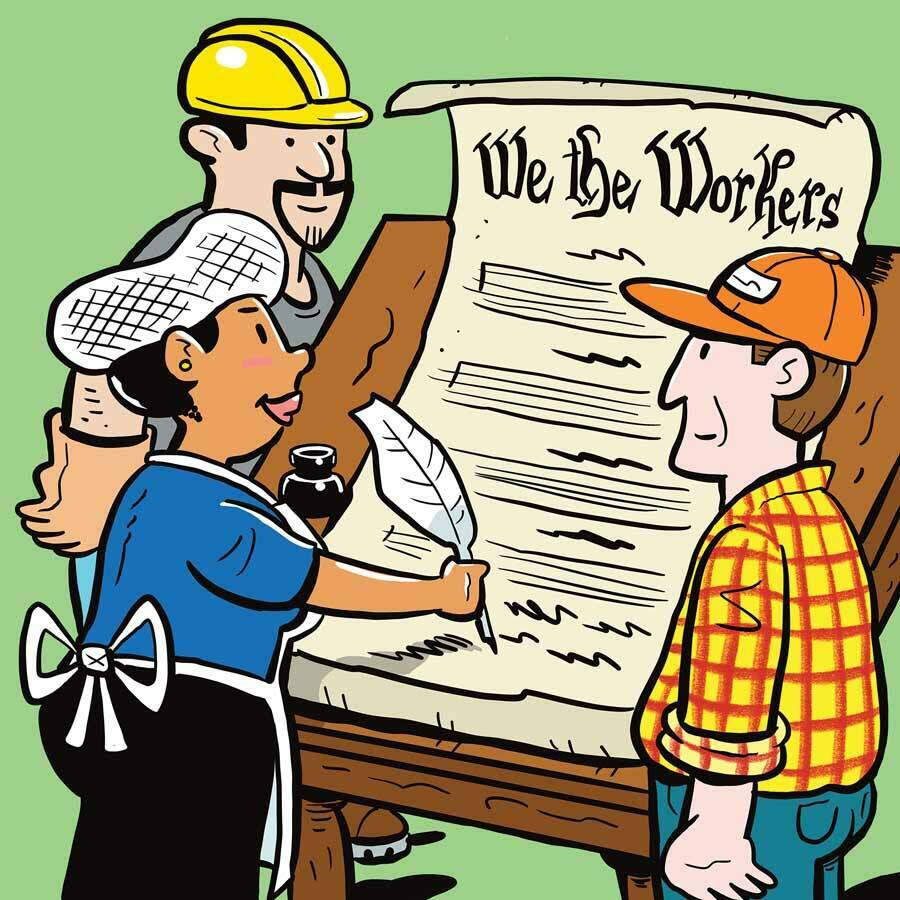 work • place de• moc•ra•cy
noun
1. Work­er con­trol of the workplace
"If you believe in democ­ra­cy, then how in the world can you jus­ti­fy not insti­tut­ing it in the place where we spend most of our adult lives?"
—Richard Wolff, author of Democ­ra­cy at Work: A Cure for Capitalism
Are work­ers real­ly qual­i­fied to run a business?
Here's a bet­ter ques­tion: Are boss­es? Top-down busi­ness­es have brought us over­paid exec­u­tives, ter­ri­ble work­ing con­di­tions, envi­ron­men­tal destruc­tion and, often, poor­ly made prod­ucts. Mean­while, a 2016 study found that, over­all, work­er coop­er­a­tives — where employ­ees own the busi­ness and deci­sions are made one-work­er, one-vote — are more pro­duc­tive than their cap­i­tal­ist coun­ter­parts. In pol­i­tics, we take for grant­ed that unac­count­able elites can't be trust­ed and that every­one deserves a say. The same, social­ists argue, should go for the workplace.
So, coop­er­a­tives, OK. How else are pro­gres­sives build­ing work­place democracy?
One impor­tant tool is plain old unions. Sen. Bernie Sanders (I‑Vt.) intro­duced the Work­place Democ­ra­cy Act, which would make it eas­i­er for employ­ees to nego­ti­ate their wages and work­ing con­di­tions, and require boss­es to bargain.
Anoth­er is ​"code­ter­mi­na­tion": work­er rep­re­sen­ta­tion on a company's board. Sen. Eliz­a­beth War­ren (D‑Mass.) has intro­duced a bill that would have work­ers elect 40 per­cent of the boards of large cor­po­ra­tions. War­ren is fram­ing it as a way to save cap­i­tal­ism, but it's still a step toward work­er con­trol over the means of production.
Is code­ter­mi­na­tion some­thing War­ren just made up?
Nope! What seems a rad­i­cal idea in the Unit­ed States — right-wing media freaked, Nation­al Review bizarrely called it a plan to ​"nation­al­ize every­thing"—is actu­al­ly pret­ty com­mon. Ger­many and Swe­den have had code­ter­mi­na­tion for decades, con­tribut­ing to greater job secu­ri­ty while keep­ing growth strong. Code­ter­mi­na­tion polls well here, too: Data for Progress found sup­port­ers out­num­bered the naysay­ers in every polled dis­trict, with 52 per­cent sup­port nation­wide.
How do we make this happen?
It's true nei­ther Sanders' nor Warren's bill is like­ly to pass under Trump. But we can start build­ing work­place democ­ra­cy from the ground up. Co-op incu­ba­tors such as Coop­er­a­tion Jack­son and Pros­pera are help­ing new work­er-owned busi­ness­es. Orga­ni­za­tions such as the Democ­ra­cy at Work Insti­tute are help­ing tran­si­tion exist­ing busi­ness­es into coop­er­a­tives. And we can demand our elect­ed offi­cials sup­port unions, co-ops and code­ter­mi­na­tion. Mean­while, think tanks like the Democ­ra­cy Col­lab­o­ra­tive are sketch­ing out a vision for an entire demo­c­ra­t­ic econ­o­my, trans­form­ing work­place democ­ra­cy from the excep­tion to the rule.
This is part of ​"The Big Idea," a month­ly series offer­ing brief intro­duc­tions to pro­gres­sive the­o­ries, poli­cies, tools and strate­gies that can help us envi­sion a world beyond cap­i­tal­ism. For recent In These Times cov­er­age of work­place democ­ra­cy in action, see, ​"Bernie Sanders Has a Sweep­ing Plan to Expand Union Rights and Work­place Democ­ra­cy," ​"Defend­ing Democ­ra­cy Means Orga­niz­ing Your Work­place" and ​"America's 200-Year-Long Bat­tle for Work­place Democracy​."