Wrong Union For the Job
SEIU wants to lead a campaign against the 1%. Critics wonder if it can.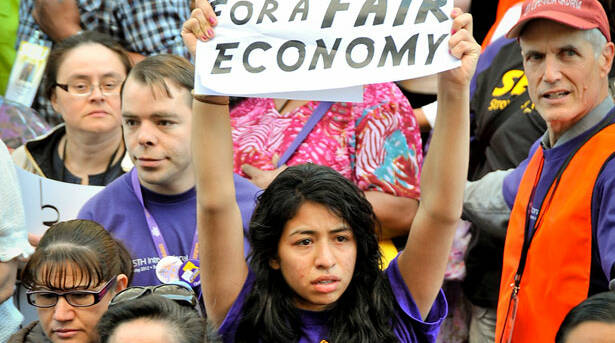 For sev­er­al decades, the Ser­vice Employ­ees Inter­na­tion­al Union (SEIU) has talked — and typ­i­cal­ly act­ed — more ambi­tious­ly than most Amer­i­can unions, espe­cial­ly about orga­niz­ing and pol­i­tics. It has suc­ceed­ed and failed with those ambi­tions, bring­ing both cre­ativ­i­ty (such as the Jus­tice for Jan­i­tors cam­paigns) and injury (such as the break from the AFL-CIO) to the cause of Amer­i­can work­ers and their unions.
Critics of SEIU leadership, from both inside and outside the union, caution that SEIU's own track record is at odds with its professed plan to lead a movement against the 1 percent.
At the union's qua­dren­ni­al con­ven­tion in May, SEIU's lead­ers laid out broad plans for the next few years. Build­ing on its own Fight for a Fair Econ­o­my projects, SEIU aims to launch a new move­ment against social and eco­nom­ic inequal­i­ty. Inspired by the mil­i­tant union move­ments of indus­tri­al­iz­ing coun­tries like Brazil, SEIU envi­sions a more polit­i­cal­ly cohe­sive alliance than its coali­tions of the past with envi­ron­men­tal, civ­il rights, immi­grant and com­mu­ni­ty groups. The union also intends to edu­cate and mobi­lize its 1.9 mil­lion mem­bers, turn­ing 10 per­cent of them into active ​"mem­ber orga­niz­ers" and 1 per­cent into ​"mem­ber leaders."
This ini­tia­tive comes from an under­stand­ing that the labor move­ment — under attack and unable to grow — needs help to accom­plish its goals. SEIU lead­ers say those goals range from elect­ing real ​"cham­pi­ons of the 99 per­cent" and ​"chang­ing the nation­al con­ver­sa­tion," to cre­at­ing a ​"surge" of pop­u­lar and pro­gres­sive action that will pro­vide a fer­tile con­text for orga­niz­ing more work­ers into unions.
​"Our union has to unite with a broad 99 per­cent move­ment to tack­le all forms of social inequal­i­ty, and we need to take pri­ma­ry respon­si­bil­i­ty to lead on clos­ing the gap between the rich and every­one else," SEIU Pres­i­dent Mary Kay Hen­ry told the con­ven­tion, where she was re-elect­ed after first hav­ing won an exec­u­tive board fight in 2010 to suc­ceed retir­ing pres­i­dent Andy Stern. ​"We can spark an orga­niz­ing move­ment. What mat­ters is that the 99 per­cent is ready to take on the pow­er of the 1 per­cent," she declared.
SEIU is also gear­ing up for this fall's elec­tions, empha­siz­ing swing-state cam­paigns and Lati­no mobi­liza­tion for Pres­i­dent Oba­ma (and fund­ed approx­i­mate­ly at its 2008 lev­el of $65 mil­lion). At the same time, says Exec­u­tive Vice Pres­i­dent Tom Woodruff, the union needs to acknowl­edge that ​"the 1 per­cent con­trol all of one polit­i­cal par­ty and most of the other."
​"Even though we are very much for Oba­ma to get re-elect­ed, we need to elect real cham­pi­ons," says Sec­re­tary-Trea­sur­er Eliseo Med­i­na. ​"It's not good enough for peo­ple to say ​'I feel your pain' or ​'I agree with you.' We want some­one to get in there and fight and get some­thing done. What that means is, if we know a Demo­c­rat who is not a cham­pi­on, we're going to be vot­ing against that per­son and mobi­liz­ing against that per­son as much as we are mobi­liz­ing against a Repub­li­can or inde­pen­dent. We need an inde­pen­dent polit­i­cal force based on issues."
But crit­ics of SEIU lead­er­ship, from both inside and out­side the union, cau­tion that SEIU's own track record — includ­ing charges of cozi­ness with big employ­ers, lim­its on inter­nal democ­ra­cy, exces­sive def­er­ence to Demo­c­ra­t­ic par­ty lead­ers and fre­quent clash­es with oth­er unions — is at odds with its pro­fessed plan to lead a move­ment against the pow­er and wealth of the 1 percent.
Words and deeds
One exam­ple of this con­flict between SEIU's pro­fessed polit­i­cal ambi­tions and its actions occurred a few weeks after the con­ven­tion. As an out­growth of a con­tro­ver­sial agree­ment to coop­er­ate with the Cal­i­for­nia Hos­pi­tal Asso­ci­a­tion, the 150,000-member SEIU-Unit­ed Health­care Work­ers West (SEIU-UHW) local tried — but ulti­mate­ly failed — to line up leg­isla­tive spon­sors and labor move­ment ​"neu­tral­i­ty" for a man­age­ment pro­pos­al to weak­en the state's law man­dat­ing a min­i­mum ratio of nurs­es to patients.
​"It seems hyp­o­crit­i­cal, doesn't it?" says Wren Bradley, pres­i­dent of an 8,000-member ​"chap­ter" of Cal­i­for­nia pub­lic employ­ee Local SEIU LOCAL 521. ​"The Hos­pi­tal Asso­ci­a­tion is part of the 1 per­cent. Why would we be doing any­thing con­ces­sion­ary with them?"
The state's cur­rent staffing stan­dards, which have been proven to sig­nif­i­cant­ly reduce patient mor­tal­i­ty, are a prized achieve­ment of the Cal­i­for­nia Nurs­es Asso­ci­a­tion (CNA). SEIU, how­ev­er, said the hos­pi­tals — espe­cial­ly ​"safe­ty net" insti­tu­tions in poor areas — need­ed the eco­nom­ic relief that mod­i­fy­ing stan­dards for break peri­ods would pro­vide. CNA coun­tered that the hos­pi­tals are finan­cial­ly healthy, and a rule change would destroy the staffing ratio and invite broad­er attacks on state laws on breaks in the work­day. The Cal­i­for­nia Labor Fed­er­a­tion, except for two SEIU board mem­bers, unan­i­mous­ly opposed SEIU's proposal.
SEIU's pro­pos­al also clashed with efforts by the Nation­al Union of Health­care Work­ers (NUHW) not only to pro­tect staffing stan­dards for nurs­es but also to estab­lish such stan­dards for oth­er hos­pi­tal work­ers. NUHW is a new, rival union formed in 2009 when SEIU put the big Cal­i­for­nia UHW local under trustee­ship for resist­ing its order to turn over thou­sands of mem­bers to anoth­er local against the mem­bers' wishes.
CNA and the upstart NUHW lead­ers also charged that the SEIU-UHW local, still under trustee­ship, had agreed to major con­ces­sions in nego­ti­a­tions since 2009 with hos­pi­tals on pen­sions, health insur­ance, job secu­ri­ty and oth­er con­tract stan­dards (at times approv­ing them in hasty votes). And they claim that SEIU-UHW hopes in return to obtain man­age­ment sup­port in fight­ing attempts by NUHW to chal­lenge SEIU as the hos­pi­tal work­ers' union. But SEIU-UHW spokesman Steve Tross­man denies the charges, say­ing that the union ​"has pre­served all ben­e­fits and got rais­es in an econ­o­my where most work­ers and unions have made concessions."
In one case of report­ed col­lu­sion, work­ers at Kaiser hos­pi­tals tes­ti­fied before the Nation­al Labor Rela­tions Board that man­age­ment had helped SEIU defeat NUHW in a 2010 elec­tion bat­tle between the two unions to rep­re­sent 43,000 Kaiser employ­ees. The NLRB found SEIU-UHW guilty of unfair labor prac­tices, cit­ing instances of man­age­ment col­lu­sion in those acts, and ordered a re-run of the elec­tion, which may occur this year.
Inter-union con­flict
The expen­sive, dis­tract­ing fight in Cal­i­for­nia, which in this case has led SEIU to line up with the 1 per­cent against its allies and mem­bers, is a trag­ic con­se­quence of SEIU's slow shift under for­mer pres­i­dent Stern to more cen­tral­ized con­trol, less tol­er­ance of open debate, fre­quent dis­re­gard of mem­bers' sen­ti­ments, and nego­ti­at­ing over­ly def­er­en­tial agree­ments with employ­ers in order to more eas­i­ly orga­nize and grow the union. Many SEIU mem­bers and staff see Mary Kay Hen­ry as more accom­mo­dat­ing to var­ied views, but she has not depart­ed sharply from Stern's policies.
Many unions, besides SEIU, try pres­sur­ing employ­ers into agree­ments to remain neu­tral dur­ing orga­niz­ing dri­ves. Some glob­al union fed­er­a­tions have nego­ti­at­ed ​"frame­work agree­ments" with — main­ly Euro­pean — multi­na­tion­al cor­po­ra­tions to respect work­ers' rights to orga­nize, such as the one UNI (Union Net­work Inter­na­tion­al) nego­ti­at­ed with Secu­ri­tas and G4S, two lead­ing pri­vate secu­ri­ty firms. Thanks to agree­ments like these, SEIU will orga­nize 50,000 secu­ri­ty guards over the next four years, accord­ing to Nation­al Cam­paign Direc­tor Scott Courtney.
But SEIU and both firms have appar­ent­ly nego­ti­at­ed con­fi­den­tial agree­ments that spell out the pre­cise terms for imple­ment­ing the glob­al pact. In some pre­vi­ous secret agree­ments, such as a nurs­ing home deal that for­mer UHW lead­ers crit­i­cized, SEIU sur­ren­dered basic work­er rights to assure man­age­ment neu­tral­i­ty dur­ing organizing.
Despite real suc­cess­es in orga­niz­ing hos­pi­tal work­ers, espe­cial­ly in the HCA net­work, and secu­ri­ty guards in 22 cities, even SEIU is find­ing orga­niz­ing hard­er, espe­cial­ly since its rapid growth of home care mem­bers will slow. SEIU claims that since the 2008 con­ven­tion, the union gained 250,000 new mem­bers (includ­ing 57,000 last year); how­ev­er most of this growth has come through merg­ers and is about half the num­ber Stern pro­ject­ed four years ago. Not all of the new­ly orga­nized have con­tracts or pay dues, and many jobs have been lost in the reces­sion. So the last fed­er­al mem­ber­ship report shows an increase from 2008 to 2011 of 65,000 mem­bers, to 1.92 mil­lion, mak­ing SEIU the sec­ond largest union in the Unit­ed States.
End­ing inequality
If SEIU hopes to mobi­lize a new move­ment against inequal­i­ty, it could learn from its Min­neapo­lis local, which brought togeth­er allies, devel­oped a com­mon polit­i­cal ​"align­ment" rather than a loose coali­tion, and shared resources on all its projects (such as pres­sur­ing US Bank both to help the large Soma­li immi­grant com­mu­ni­ty to send remit­tances home and to drop its antic­i­pat­ed financ­ing of a pri­va­tized immi­grant deten­tion facility).
To be a cham­pi­on of the 99 per­cent, SEIU will need to pro­tect its own mem­bers' rights, not com­pro­mise them to win employ­ers' favor. It will have to chal­lenge politi­cians and cor­po­ra­tions on the lim­its of the polit­i­cal­ly pos­si­ble (as it failed to do in the 2009 health care debate when many union­ists and pro­gres­sives thought Stern was too ready to com­pro­mise and ally with CEOs like Lee Scott of Wal-Mart). And it will need to lead, as unions in Brazil, South Africa and Korea have done, seam­less cam­paigns of mil­i­tant, focused pol­i­tics from work­place to com­mu­ni­ty and bal­lot box with a clear sense of class inter­ests. And it will have to open up the union to more demo­c­ra­t­ic deci­sion-mak­ing to reflect the val­ues it advo­cates for society.
The small inter­nal move­ment for change in SEIU cheers Mary Kay Henry's pro­posed new fight for equal­i­ty, but thinks the union is incon­sis­tent in its actions and thus will be less effective.
​"How are we going to lead a pop­u­lar eco­nom­ic move­ment where inequal­i­ty is the issue of our time and we've got such income inequal­i­ty in our union?" asked con­ven­tion del­e­gate Lar­ry Brad­shaw, who wants the union to lim­it the salaries of local union offi­cials, which can reach sev­er­al hun­dred thou­sand dol­lars a year.
​"It's time to have more dia­logue," Wren Bradley says. ​"There's a top-down men­tal­i­ty. It has to be bot­tom-up." And Rox­anne Sanchez, pres­i­dent of Cal­i­for­nia SEIU Local 1021, who was out­raged by SEIU-UHW's actions on behalf of hos­pi­tal man­agers, says, ​"SEIU is going to have to be on one page [about stand­ing with the 99 per­cent] and not have this con­tra­dic­tion where the pub­lic asks, ​'What are you real­ly for?'"
Or, as the old union song asked, ​"Which side are you on?"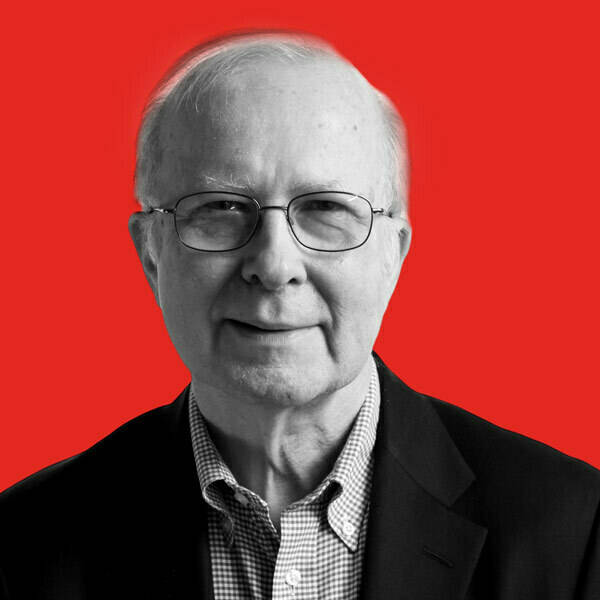 David Moberg, a senior edi­tor of In These Times, has been on the staff of the mag­a­zine since it began pub­lish­ing in 1976. Before join­ing In These Times, he com­plet­ed his work for a Ph.D. in anthro­pol­o­gy at the Uni­ver­si­ty of Chica­go and worked for Newsweek. He has received fel­low­ships from the John D. and Cather­ine T. MacArthur Foun­da­tion and the Nation Insti­tute for research on the new glob­al economy.