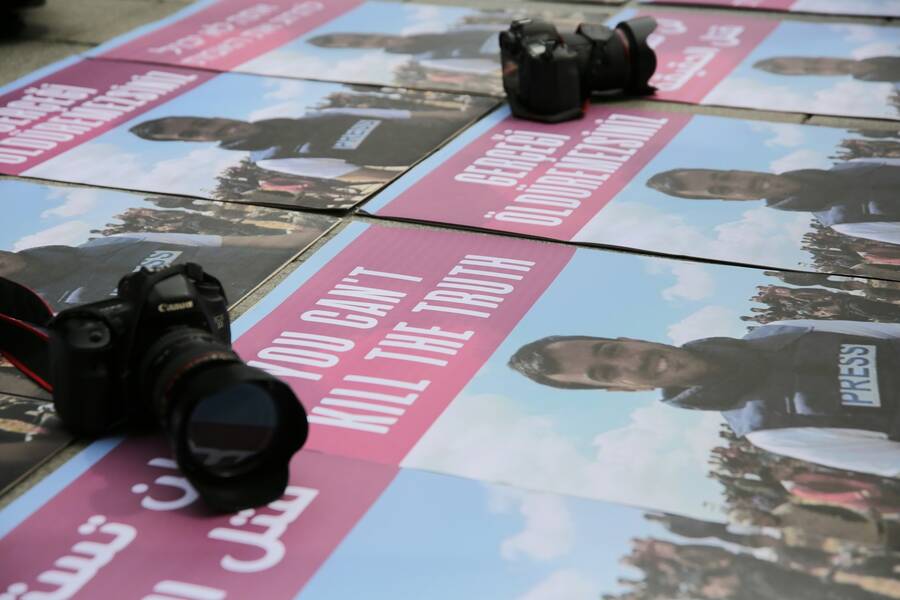 The last moments of Yas­er Murtaja's life were caught on cam­era, and the footage shows the 30 year old doing what he had ded­i­cat­ed his life to: jour­nal­ism that chron­i­cles real­i­ty in the Israeli-occu­pied Gaza Strip.
"Why are the Israelis using such excessive force against Palestinian civilians and against journalists in particular?"
In a video clip post­ed by the Quds News Net­work, a Pales­tin­ian media out­let, Mur­ta­ja is shown using a video cam­era to cap­ture a chaot­ic scene of Pales­tin­ian pro­test­ers, smoke from tires burn­ing and peo­ple screaming.
The next scene shows Mur­ta­ja, wear­ing a jack­et with the words PRESS embla­zoned on it, on the ground, bleed­ing. He would lat­er die because of the Israeli-fired gun­shot wound.
Mur­ta­ja was one of at least six Pales­tin­ian jour­nal­ists shot by Israeli forces on April 6, while cov­er­ing a protest in the Gaza Strip against Israel's block­ade and denial of Pales­tin­ian refugee rights. Israeli sol­diers have shot and wound­ed at least 12 Pales­tin­ian jour­nal­ists since March 30, when Pales­tini­ans start­ed a mass protest encamp­ment dubbed the ​"Great Return March" near Israel's mil­i­ta­rized bar­ri­er with Gaza. The march is named for the Pales­tin­ian demand that they be allowed to return to lands they and their fam­i­lies were expelled from in 1948 — in what is now Israel.
Mur­ta­ja was the only Pales­tin­ian jour­nal­ist killed by Israel that day, and his death set off wide­spread out­rage among press free­dom groups and human rights advocates.
"The Israeli gov­ern­ment killing is a wor­ry­ing sign. Not only are auto­crat­ic and bar­bar­ic non-state actors killing jour­nal­ists, but a coun­try that calls itself a democ­ra­cy [is also killing jour­nal­ists]," Sherif Man­sour, the Mid­dle East and North Africa Pro­gram Coor­di­na­tor for the Com­mit­tee to Pro­tect Jour­nal­ists, told In These Times. ​"The attempts by Israeli offi­cials to jus­ti­fy this killing is not just putting salt on the wound, but is try­ing to blur some of the lines that peo­ple are try­ing to estab­lish about safe­ty for jour­nal­ists in armed conflict."
But the killing of Mur­ta­ja was not an excep­tion­al event. His death is indica­tive of Israel's dis­re­gard for the rights of Pales­tin­ian jour­nal­ists to do their jobs — and high­lights Israel's years-long pat­tern of killing Pales­tin­ian jour­nal­ists and attack­ing Pales­tin­ian media institutions.
Pales­tine: Where jour­nal­ists become targets
Gaza has borne the brunt of Israeli vio­lence in recent years, expe­ri­enc­ing three sep­a­rate Israeli mil­i­tary oper­a­tions that killed more than 3,700 peo­ple just in the past 11 years. And it is in Gaza, a coastal enclave under a dev­as­tat­ing block­ade by Israel and Egypt, where Israeli forces have opened fire on jour­nal­ists the most. Since 1992, Israel has killed 15 jour­nal­ists, most of them Pales­tin­ian, accord­ing to the Com­mit­tee to Pro­tect Jour­nal­ists. Nine of those killed by Israeli fire were work­ing in Gaza, and six were report­ing in the occu­pied West Bank.
"Why are the Israelis using such exces­sive force against Pales­tin­ian civil­ians and against jour­nal­ists in par­tic­u­lar?" asked Rami Almeghari, an inde­pen­dent Pales­tin­ian jour­nal­ist based in Gaza who has cov­ered the Great Return March encamp­ment. ​"This is an indi­ca­tion that Israelis under[value] the lives of Pales­tini­ans, even Pales­tin­ian jour­nal­ists, and this is some­thing that needs to be inves­ti­gat­ed by con­cerned inter­na­tion­al bodies."
Almeghari told In These Times that while report­ing on the cur­rent wave of protests in Gaza, he met a 19-year-old free­lance pho­tog­ra­ph­er shot in the leg by Israeli sol­diers, an injury that forced doc­tors to ampu­tate the leg.
"He was lying on his abdomen when he got a gun­shot into his leg while he was doing some free­lance work," said Almeghari. ​"Despite the fact that it was appar­ent that he was a pho­tog­ra­ph­er, Israeli forces shot him in the leg."
Almeghari added that Israeli tar­get­ing of Pales­tin­ian jour­nal­ists may occur because the army wants to ​"black­out cov­er­age on the ground" — an asser­tion that is not far-fetched. A recent­ly dis­closed Israeli mil­i­tary police inves­ti­ga­tion found that in 2012, Israeli com­man­ders ordered sol­diers to beat and arrest Pales­tin­ian jour­nal­ists to dis­rupt cov­er­age of anti-occu­pa­tion protests in the West Bank.
When con­front­ed with out­rage over fir­ing on Pales­tin­ian jour­nal­ists, Israeli author­i­ties have turned to a well-worn jus­ti­fi­ca­tion: The jour­nal­ists were mem­bers of Hamas, the armed Pales­tin­ian group that rules Gaza.
In the after­math of Murtaja's death, Israel's Defense Min­is­ter Avig­dor Lieber­man said the Pales­tin­ian jour­nal­ist was a cap­tain in the Pales­tin­ian mil­i­tant group. Lieber­man offered no evi­dence for the asser­tion, and the U.S. State Depart­ment said that Mur­ta­ja received a USAID grant after being vet­ted in accor­dance with U.S. laws that pre­vent mon­ey from going to mem­bers of Hamas.
It wasn't the first time Israel has used an alleged Hamas affil­i­a­tion to deflect calls for account­abil­i­ty after the killing of a jour­nal­ist. In 2012, dur­ing an Israeli assault on Gaza, an Israeli airstrike tar­get­ed and killed Mah­moud al-Kumi and Hus­sam Sala­ma, two Pales­tin­ian cam­era­men dri­ving in a car marked with the word ​"TV." Because they worked for Al-Aqsa TV, the offi­cial Hamas tele­vi­sion sta­tion, Israel said they were legit­i­mate tar­gets — an asser­tion reject­ed by Human Rights Watch, which said at the time that ​"Hamas-run media are pro­tect­ed from attack under the laws of war unless direct­ly tak­ing part in mil­i­tary oper­a­tions." The group found no evi­dence the cam­era­men played any part in fight­ing dur­ing the 2012 conflict.
"There is a pat­tern of improp­er response that basi­cal­ly tries to paint the per­son as a ter­ror­ist. We try to chal­lenge the Israeli author­i­ties on this," said Man­sour of the Com­mit­tee to Pro­tect Jour­nal­ists. ​"Even being affil­i­at­ed with a Hamas TV sta­tion is not enough to kill journalists."
No press free­dom under occupation
Pales­tin­ian jour­nal­ists work­ing in the occu­pied West Bank must con­tend with their own unique chal­lenges. In con­tem­po­rary Gaza, Israel con­trols most of the bor­ders and Gaza's air and sea space but does not nor­mal­ly deploy sol­diers with­in the strip. By con­trast, Israeli sol­diers are present deep into the occu­pied West Bank.
The 24⁄7 pres­ence of Israeli sol­diers brings them into near-dai­ly con­tact with Pales­tin­ian jour­nal­ists. And the Israeli army has not hes­i­tat­ed to unleash ammu­ni­tion and tear gas on Pales­tin­ian media workers.
"The Israeli army is delib­er­ate and inten­tion­al in its tar­get­ing of jour­nal­ists," said Issam Al-Rimawi, a Pales­tin­ian pho­to-jour­nal­ist, in an inter­view. ​"They do not want jour­nal­ists to cov­er any form of Pales­tin­ian protest, not even peace­ful demonstrations."
Al-Rimawi would know. He has been hit by Israeli fire numer­ous times while cov­er­ing demon­stra­tions against Israel's mil­i­tary occu­pa­tion. In 2014, while pho­tograph­ing a protest near Israel's Ofer mil­i­tary prison in the West Bank, an Israeli sol­dier shot him in the shoul­der with a rub­ber-coat­ed steel bul­let, an inci­dent that left him hos­pi­tal­ized. In Feb­ru­ary, Al-Rimawi was again shot by a rub­ber-coat­ed bul­let, this time in the hand.
But it's not only Israeli fire that Pales­tin­ian jour­nal­ists have to con­tend with. Israeli forces fre­quent­ly raid Pales­tin­ian media insti­tu­tions, seiz­ing their com­put­ers and oth­er equip­ment under the pre­text of fight­ing ​"incite­ment" to vio­lence. Israeli forces also fre­quent­ly arrest Pales­tin­ian journalists.
By the end of 2017, Israeli forces were hold­ing 22 Pales­tin­ian jour­nal­ists in Israeli mil­i­tary jails — some of them detained with­out charge or tri­al. In Feb­ru­ary 2018, Israeli troops arrest­ed Pales­tin­ian jour­nal­ist Abdul Mohsen Shalaldeh.
In the wake of such arrests and mil­i­tary raids, press free­dom groups fre­quent­ly con­demn Israeli prac­tices that tar­get Pales­tin­ian jour­nal­ists. But the pres­sure these groups try to bring on Israel has had lit­tle impact on how Israel con­ducts itself.
This pat­tern of inter­na­tion­al con­dem­na­tion fol­lowed by lit­tle change in Israeli mil­i­tary behav­ior is play­ing out right now, in the after­math of the killing of Pales­tin­ian jour­nal­ist Yass­er Mur­ta­ja in Gaza.
One day after an Israeli sol­dier killed Mur­ta­ja, Christophe Deloire, the sec­re­tary-gen­er­al of Reporters With­out Bor­ders, called for an ​"inde­pen­dent inves­ti­ga­tion lead­ing to the con­vic­tion of those respon­si­ble for this crime against press freedom."
But instead of promis­ing to hold the sol­dier who killed Mur­ta­ja account­able, Israeli offi­cials have sought to jus­ti­fy the killing, say­ing he was a mem­ber of Hamas, or that he was fly­ing a drone that endan­gered Israeli sol­diers. (No evi­dence has emerged for either asser­tion.) And on April 13, Israeli forces once again opened fire on a jour­nal­ist in a press jack­et, shoot­ing the Pales­tin­ian pho­tog­ra­ph­er Ahmed Abu Hus­sein in his abdomen and crit­i­cal­ly wound­ing him.
This Israeli response makes it like­ly that noth­ing will be done to the sol­dier who killed Mur­ta­ja — mak­ing his death just the lat­est exam­ple of how Israeli sol­diers kill Pales­tin­ian civil­ians and jour­nal­ists with impunity.
Alex Kane
is a New York-based free­lance jour­nal­ist who writes on U.S. for­eign pol­i­cy in the Mid­dle East.