In Yellowstone, Heavy Lies the Stetson (on Kevin Costner's Head)
Land disputes, water rights, Native sovereignty: Paramount's new series could hardly be more relevant to today's West.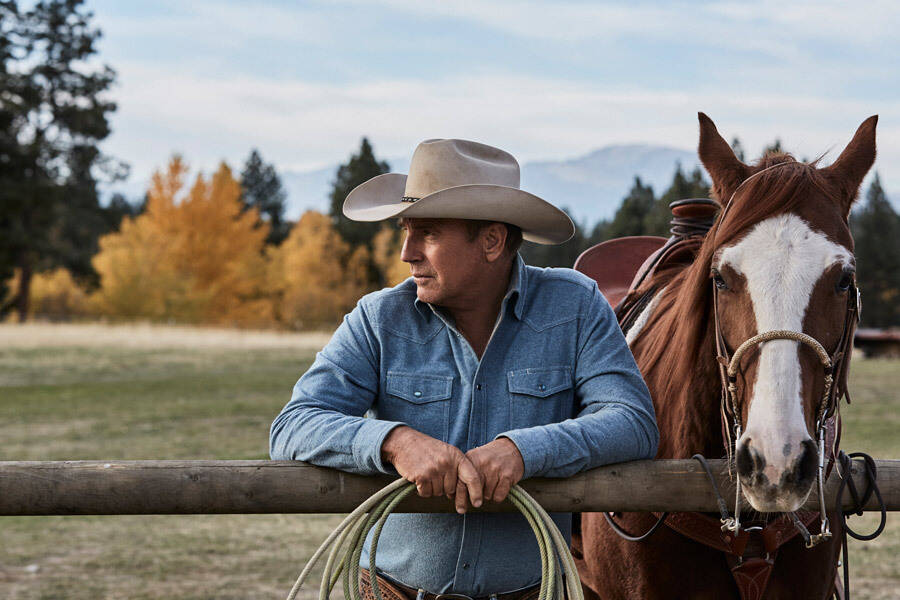 The June 20 pre­mière of Yel­low­stone, a con­tem­po­rary West­ern TV series writ­ten and direct­ed by Oscar-nom­i­nat­ed screen­writer Tay­lor Sheri­dan (Hell or High Water, Wind Riv­er, Sicario), is like­ly to rekin­dle the dim­ming but nev­er dead fas­ci­na­tion with the horse opera, which is exact­ly what makes the attempt both bold and per­ilous. As the West­ern his­to­ri­an David Laven­der once wrote, ​"Many sirens sing along the West­ern trails. Unless one is wary when he hears them, he will soon find him­self strug­gling in the very quag­mires he had hoped to avoid."
Thus the chal­lenge for Sheri­dan: sat­is­fy­ing fans of such a well-worn genre with­out rely­ing on the six-guns and moral cer­tain­ties they've come to expect.
Kevin Cost­ner, by now a vet­er­an on horse­back (Dances With Wolves, Open Range, Wyatt Earp and the stun­ning minis­eries Hat­fields & McCoys), plays the role of John Dut­ton, a megarich sixth-gen­er­a­tion cat­tle­man whose fam­i­ly runs the largest con­tigu­ous ranch in the Unit­ed States. But heavy lies the crown. The ranch abuts the fic­tion­al Bro­ken Rock Reser­va­tion, which insists on assert­ing what lit­tle agency it has left after cen­turies of sys­temic oppres­sion, play­ing hard­ball when­ev­er the Dut­ton ranch encroach­es on its land and using its casi­no prof­its to buy back what the gov­ern­ment stole.
"You've nev­er dri­ven a road, or walked a trail, or skied a moun­tain in Mon­tana that didn't belong to my peo­ple first," the chief (Gil Birm­ing­ham) tells his sen­a­tor. ​"If this nation doesn't want to give it back, so be it. We'll buy it back — with their mon­ey." Mean­while, the state is aggres­sive­ly pur­su­ing the Dut­tons' land for addi­tion­al hous­ing devel­op­ments, threat­en­ing emi­nent domain. And though Yel­low­stone doesn't rear its head in the first episode, the show's title implies America's first nation­al park is soon to com­pli­cate an already busy narrative.
Land dis­putes, water rights, Native sov­er­eign­ty, urban­iza­tion, tourism, emi­nent domain, envi­ron­men­tal degra­da­tion: Short of intro­duc­ing Cliv­en Bundy him­self, Yel­low­stone—the Para­mount Network's first script­ed series — could hard­ly be more rel­e­vant to the West of the 21st cen­tu­ry. But Sheri­dan also runs the risk of jug­gling too many issues at once. Already the show feels rushed, as if it's rac­ing to dis­till every side's ide­ol­o­gy in the first hour. That rush results in sev­er­al con­trived mono­logues. In one, real estate devel­op­er Dan Jenk­ins, played straight by the won­der­ful Dan­ny Hus­ton (X‑Men Ori­gins: Wolver­ine, The Con­stant Gar­den­er), explains the ​"tin­gle" an investor feels look­ing into a val­ley soon to be devel­oped. ​"Man is migra­to­ry by nature," he says. ​"What you're feel­ing is instinct, a hunger for new land that's woven into your DNA. It's the rea­son our species sur­vived when count­less oth­ers failed. That tin­gle is the sen­sa­tion of touch­ing your destiny."
Through no fault of Hus­ton do the lines ring false. Instead, it's that his char­ac­ter — more than any yet revealed in the show — is an arche­type, a black-and-white fig­ure in a show whose poten­tial lies in the gray.
Were it not for Costner's rumi­na­tive per­for­mance, one might find it dif­fi­cult — may still, in fact — to sym­pa­thize with the Dut­ton family's ambi­tion. At the end of the first episode, it's unclear whether Sheri­dan wants us to. Per­haps it's irrel­e­vant. To pick sides, to define heroes and vil­lains, would be to slip back into the West­ern quag­mire. As in Sheridan's Hell or High Water, in which we root for both the sher­iff and the bank rob­bers, it seems more like­ly that Yel­low­stone will pit one tra­di­tion, one virtue against anoth­er (con­ser­va­tion ver­sus devel­op­ment, rur­al ver­sus urban, fam­i­ly ver­sus coun­try), leav­ing the view­ers to fend for themselves.
"The tale that needs writ­ing is not the one about gangs who kill 102 peo­ple nor about the pur­suit of such gangs nor about the hang­ing of their lead­ers," wrote Laven­der. ​"That's the motion. The sto­ry lurks in what­ev­er it was that flick­ered behind the eyes of the men who did the exe­cut­ing or who declined to do it."
Yel­low­stone shows promise in its grasp of the messy here and now. So long as the motion doesn't over­whelm the sto­ry, and the sto­ry doesn't over­whelm itself with too many com­pet­ing nar­ra­tives, Sheri­dan may well have some­thing on the line.
Car­son Vaugh­an
writes fre­quent­ly about the Amer­i­can West. His work has appeared in The New York­er, the New York Times, the Guardian, The Atlantic, VICE and Out­side. He's work­ing on a book about the small town of Roy­al, Nebraska.