In Yellowstone, Heavy Lies the Stetson (on Kevin Costner's Head)
Land disputes, water rights, Native sovereignty: Paramount's new series could hardly be more relevant to today's West.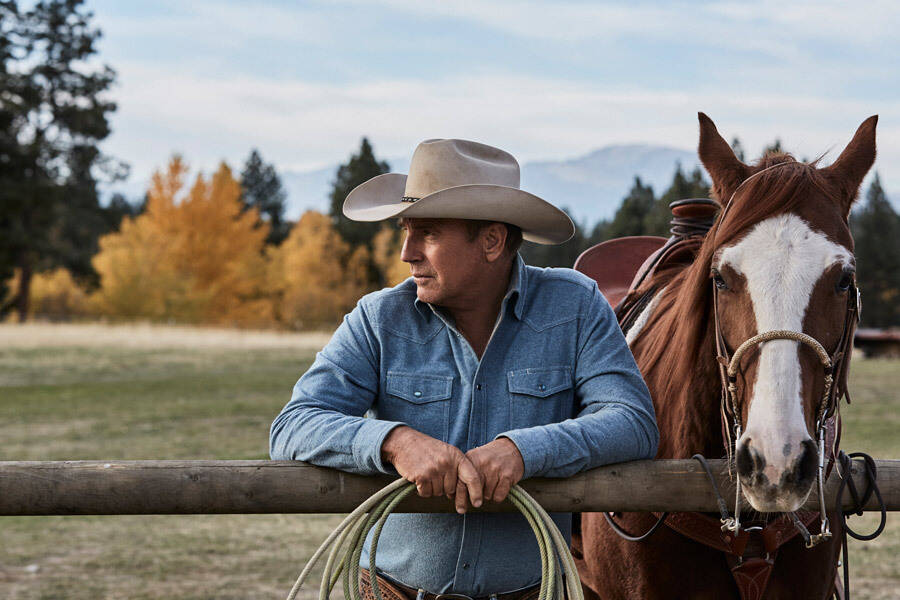 The June 20 premiere of Yellowstone, a contemporary Western TV series written and directed by Oscar-nominated screenwriter Taylor Sheridan (Hell or High Water, Wind River, Sicario), is likely to rekindle the dimming but never dead fascination with the horse opera, which is exactly what makes the attempt both bold and perilous. As the Western historian David Lavender once wrote, ​"Many sirens sing along the Western trails. Unless one is wary when he hears them, he will soon find himself struggling in the very quagmires he had hoped to avoid."
Thus the challenge for Sheridan: satisfying fans of such a well-worn genre without relying on the six-guns and moral certainties they've come to expect.
Kevin Costner, by now a veteran on horseback (Dances With Wolves, Open Range, Wyatt Earp and the stunning miniseries Hatfields & McCoys), plays the role of John Dutton, a megarich sixth-generation cattleman whose family runs the largest contiguous ranch in the United States. But heavy lies the crown. The ranch abuts the fictional Broken Rock Reservation, which insists on asserting what little agency it has left after centuries of systemic oppression, playing hardball whenever the Dutton ranch encroaches on its land and using its casino profits to buy back what the government stole.
"You've never driven a road, or walked a trail, or skied a mountain in Montana that didn't belong to my people first," the chief (Gil Birmingham) tells his senator. ​"If this nation doesn't want to give it back, so be it. We'll buy it back — with their money." Meanwhile, the state is aggressively pursuing the Duttons' land for additional housing developments, threatening eminent domain. And though Yellowstone doesn't rear its head in the first episode, the show's title implies America's first national park is soon to complicate an already busy narrative.
Land disputes, water rights, Native sovereignty, urbanization, tourism, eminent domain, environmental degradation: Short of introducing Cliven Bundy himself, Yellowstone—the Paramount Network's first scripted series — could hardly be more relevant to the West of the 21st century. But Sheridan also runs the risk of juggling too many issues at once. Already the show feels rushed, as if it's racing to distill every side's ideology in the first hour. That rush results in several contrived monologues. In one, real estate developer Dan Jenkins, played straight by the wonderful Danny Huston (X‑Men Origins: Wolverine, The Constant Gardener), explains the ​"tingle" an investor feels looking into a valley soon to be developed. ​"Man is migratory by nature," he says. ​"What you're feeling is instinct, a hunger for new land that's woven into your DNA. It's the reason our species survived when countless others failed. That tingle is the sensation of touching your destiny."
Through no fault of Huston do the lines ring false. Instead, it's that his character — more than any yet revealed in the show — is an archetype, a black-and-white figure in a show whose potential lies in the gray.
Were it not for Costner's ruminative performance, one might find it difficult — may still, in fact — to sympathize with the Dutton family's ambition. At the end of the first episode, it's unclear whether Sheridan wants us to. Perhaps it's irrelevant. To pick sides, to define heroes and villains, would be to slip back into the Western quagmire. As in Sheridan's Hell or High Water, in which we root for both the sheriff and the bank robbers, it seems more likely that Yellowstone will pit one tradition, one virtue against another (conservation versus development, rural versus urban, family versus country), leaving the viewers to fend for themselves.
"The tale that needs writing is not the one about gangs who kill 102 people nor about the pursuit of such gangs nor about the hanging of their leaders," wrote Lavender. ​"That's the motion. The story lurks in whatever it was that flickered behind the eyes of the men who did the executing or who declined to do it."
Yellowstone shows promise in its grasp of the messy here and now. So long as the motion doesn't overwhelm the story, and the story doesn't overwhelm itself with too many competing narratives, Sheridan may well have something on the line.
Deadline: Midnight
We're down to the final hours of our summer fundraising drive. If you've already chipped in, thank you so much. If you haven't yet, there's still time.
Every story you see on inthesetimes.com or in the monthly magazine is funded entirely through fundraising drives like this. That's why they're so important, and that's why we're asking you to give.

Even as little as $5 helps, and it only takes a minute to donate. Will you chip in before the deadline?
Carson Vaughan
writes frequently about the American West. His work has appeared in The New Yorker, the New York Times, the Guardian, The Atlantic, VICE and Outside. He's working on a book about the small town of Royal, Nebraska.
Help In These Times get back on track
As a nonprofit, reader-supported publication, In These Times is funded entirely by readers like you—but through the first half of 2021, reader donations are down nearly 20%. Today is the deadline for our summer fundraising drive. Will you chip in to help get us back on track?