This Is the Best Chance Yet to Stop the U.S. War on Yemen. Where Are the Major Human Rights Orgs?
Human Rights Watch and Amnesty International are declining to take a formal position against the U.S.-backed Saudi war on Yemen.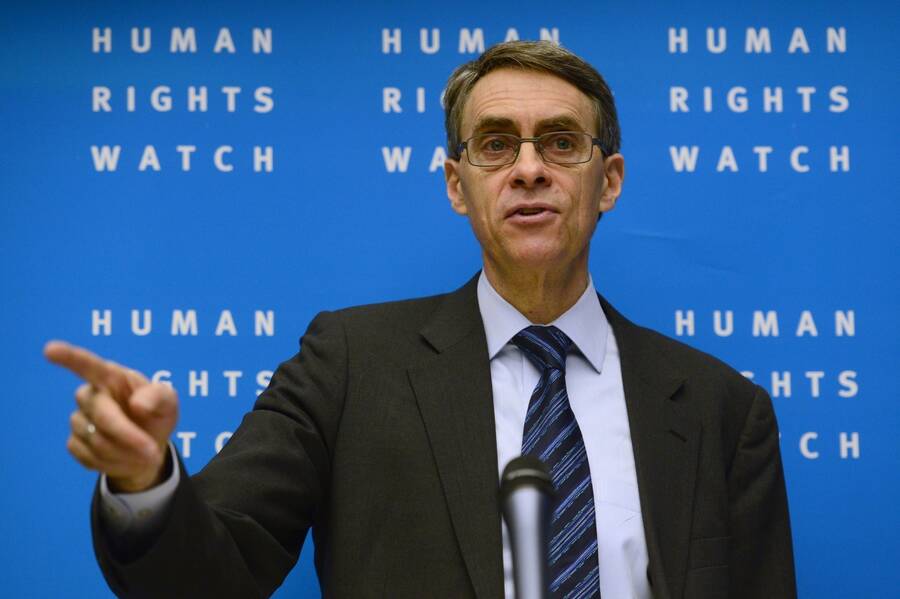 Human Rights Watch and Amnesty Inter­na­tion­al, the most pow­er­ful human rights orga­ni­za­tions in the world, are declin­ing to endorse a polit­i­cal push to end U.S. par­tic­i­pa­tion in the cat­a­stroph­ic Sau­di-led war on Yemen.
"Now that there's a real opportunity to end intervention via this bill, it's surprising they aren't taking a position."
The groups are tak­ing no posi­tion on a new bill, S.J.Res.54, even as it gains polit­i­cal momen­tum and a groundswell of grass­roots back­ing from About Face: Vet­er­ans Against the War, Just For­eign Pol­i­cy, Unit­ed for Peace and Jus­tice, Oxfam Amer­i­ca, Indi­vis­i­ble and oth­er organizations.
Announced on Feb­ru­ary 28 by Sen. Bernie Sanders (I‑Vt.) and Sen. Mike Lee (R‑Utah), the bill invokes the 1973 War Pow­ers Res­o­lu­tion to force the Sen­ate to hold a vote on with­draw­ing the U.S. mil­i­tary from the unau­tho­rized war. While the leg­is­la­tion carves out an excep­tion for forces ​"engaged in oper­a­tions direct­ed at al Qae­da or asso­ci­at­ed forces," advo­cates say it nonethe­less presents the best chance yet to with­draw U.S. sup­port from a dev­as­tat­ing intervention.
For almost three years, the U.S. mil­i­tary has pro­vid­ed arms, intel­li­gence and refu­el­ing sup­port for a Sau­di-led bomb­ing cam­paign that has tar­get­ed Yemen's hos­pi­tals, wed­dings, schools and res­i­den­tial areas — killing thou­sands of civil­ians. A Sau­di-led naval block­ade — abet­ted by U.S. ves­sels — has cut off vital food and med­ical ship­ments, wreak­ing hav­oc on the country's med­ical sys­tem and unleash­ing a famine and cholera out­break.
Yet, Robyn Shep­herd, media rela­tions man­ag­er for Amnesty Inter­na­tion­al USA, tells In These Times that the orga­ni­za­tion is not weigh­ing in on whether this war should con­tin­ue because, as a mat­ter of pol­i­cy, the orga­ni­za­tion does not take stances on wars. "[W]e don't take a posi­tion on whether or not a state should go to war/​take action in the first place," she explains over email. ​"We just say IF that's a thing you want to do, that you com­ply with inter­na­tion­al laws and take all nec­es­sary care to avoid civil­ian casualties."
Andrea Pra­sow, Deputy Wash­ing­ton Direc­tor for Human Rights Watch, tells In These Times, ​"We don't take a posi­tion on the legal­i­ty of armed con­flicts," explain­ing that the group only com­ments on ​"the legal­i­ty of actions con­duct­ed in an armed con­flict." How­ev­er, Pra­sow says, ​"there have been extreme­ly rare occa­sions where we call for human­i­tar­i­an inter­ven­tion." She was unable to imme­di­ate­ly iden­ti­fy any spe­cif­ic instances.
The groups are declin­ing to offi­cial­ly sup­port the new leg­isla­tive effort, even after doc­u­ment­ing, in har­row­ing detail, the U.S.-backed coalition's bru­tal attacks on Yemeni civil­ians, includ­ing the clus­ter bomb­ing of res­i­den­tial areas and lethal tar­get­ing of fac­to­ries and farms. In light of these atroc­i­ties, the groups have called for a halt to arms ship­ments — with Amnesty sup­port­ing an embar­go — as well as an end to human rights vio­la­tions and inves­ti­ga­tions into attacks on civil­ians. But their demands fall short of call­ing for an end to the mil­i­tary inter­ven­tion that is ulti­mate­ly dri­ving these abuses.
While the orga­ni­za­tions' pol­i­cy not to weigh in on whether or not wars should be waged may be tech­ni­cal­ly con­sis­tent, both groups have effec­tive­ly thrown their weight behind the U.S. for­eign pol­i­cy sta­tus quo at crit­i­cal junctures.
Nei­ther orga­ni­za­tion took a for­mal posi­tion oppos­ing the 2003 U.S. inva­sion of Iraq. In Decem­ber 2002, Human Rights Watch wrote a pol­i­cy paper stat­ing, ​"While Human Rights Watch has long advo­cat­ed the pros­e­cu­tion of Sad­dam Hus­sein and oth­ers for crimes against the Iraqi peo­ple and oth­ers, it takes no posi­tion on the advis­abil­i­ty or legit­i­ma­cy of the use of force against Iraq or the goal of remov­ing Sad­dam Hussein."
But in March 2011, Ken­neth Roth, the exec­u­tive direc­tor of Human Rights Watch, pub­lished a piece on the organization's web­site prais­ing NATO for ​"autho­riz­ing mil­i­tary force to pro­tect civil­ians from Muam­mar al-Qaddafi's wrath." And in Feb­ru­ary 2011, as NATO was prepar­ing to inter­vene in Libya, Amnesty Inter­na­tion­al called on the UN Secu­ri­ty Coun­cil to take steps toward refer­ring al-Qaddafi to the Inter­na­tion­al Crim­i­nal Court — a move that was wide­ly under­stood to be a pre­cur­sor to his ouster.
Both orga­ni­za­tions would lat­er go on to doc­u­ment the African slave mar­kets that spread across Libya fol­low­ing the NATO inter­ven­tion — with­out acknowl­edg­ing their orga­ni­za­tions' roles in build­ing polit­i­cal sup­port for the bomb­ing cam­paign that paved the way for this hor­rif­ic development.
For sev­er­al years, Roth has tak­en to social media and the Human Rights Watch web­site to strong­ly insin­u­ate — but not out­right say — that he sup­ports a No Fly Zone in Syr­ia, which is backed by a wing of the Wash­ing­ton estab­lish­ment and would amount to an act of war escalation.
Shireen Al-Adei­mi, who is orga­niz­ing inde­pen­dent­ly to build sup­port for the Sanders and Lee bill, tells In These Times that it is moral­ly unac­cept­able for lead­ing human rights groups to refuse to take a posi­tion on wars, argu­ing that the new leg­is­la­tion presents the best oppor­tu­ni­ty to curb U.S. sup­port for the inter­ven­tion since the nar­row fail­ure of a June 2017 leg­isla­tive effort to stop arm­ing the Sau­di-led assault.
"I'm real­ly sur­prised to hear these groups declined," says Al-Adei­mi, who grew up in Yemen and now lives in Cam­bridge. ​"Since the begin­ning, they sent their inves­ti­ga­tors to Yemen, and we've seen pow­er­ful footage come out of Yemen. They've focused on war and inter­ven­tion and the effect of bombs from the U.S. and U.K. Now that there's a real oppor­tu­ni­ty to end inter­ven­tion via this bill, it's sur­pris­ing they aren't tak­ing a position."
Pra­sow argues, ​"By not tak­ing a posi­tion on the legal­i­ty of the over­all con­flict, we believe our work, which is neu­tral, will also be seen as neu­tral by all par­ties of the conflict."
Shep­herd points out that — despite not tak­ing a posi­tion — Amnesty Inter­na­tion­al is doing behind-the-scenes work relat­ed to the new bill, includ­ing par­tic­i­pat­ing in Sen­ate brief­in­gs to ensure that law­mak­ers are aware of the human rights vio­la­tions that the Unit­ed States has per­pe­trat­ed so far.
She says Amnesty International's posi­tion is that the Unit­ed States should not sup­port the coali­tion as long as human rights vio­la­tions con­tin­ue, and that ​"Con­gress should inves­ti­gate any U.S. role in con­tribut­ing to the cri­sis either indi­rect­ly — through the fund­ing of the Sau­di coali­tion, or direct­ly — through the use of unlaw­ful killings through drone strikes." How­ev­er, Shep­herd notes, ​"That's dif­fer­ent than say­ing there should or should not be no mil­i­tary inter­ven­tion what­so­ev­er, and we can weigh in on how mil­i­tary actions are con­duct­ed once they're car­ried out."
Yet, Al-Adei­mi says this rhetor­i­cal posi­tion­ing ​"miss­es the major point. You have a coun­try bomb­ing anoth­er sov­er­eign coun­try, and it has no right to do so. You can't pick and choose which vio­la­tions you're going to ampli­fy with­out get­ting at the root cause."
"We don't need more doc­u­men­ta­tion for the sake of doc­u­men­ta­tion," Al-Adei­mi con­tin­ues. ​"What peo­ple who are starv­ing and dying every day need is an end to the war — real action. Look, you doc­u­ment­ed. Now what?"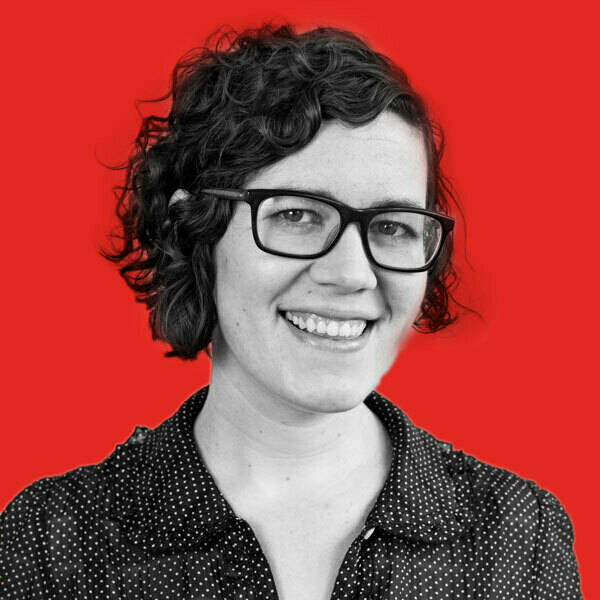 Sarah Lazare is web edi­tor at In These Times. She comes from a back­ground in inde­pen­dent jour­nal­ism for pub­li­ca­tions includ­ing The Inter­cept, The Nation, and Tom Dis­patch. She tweets at @sarahlazare.