The Senate Just Took the Biggest Step Yet Toward Ending U.S. Support for the Yemen War
After years of protest against the devastating onslaught, the Senate finally took steps to halt the war in Yemen.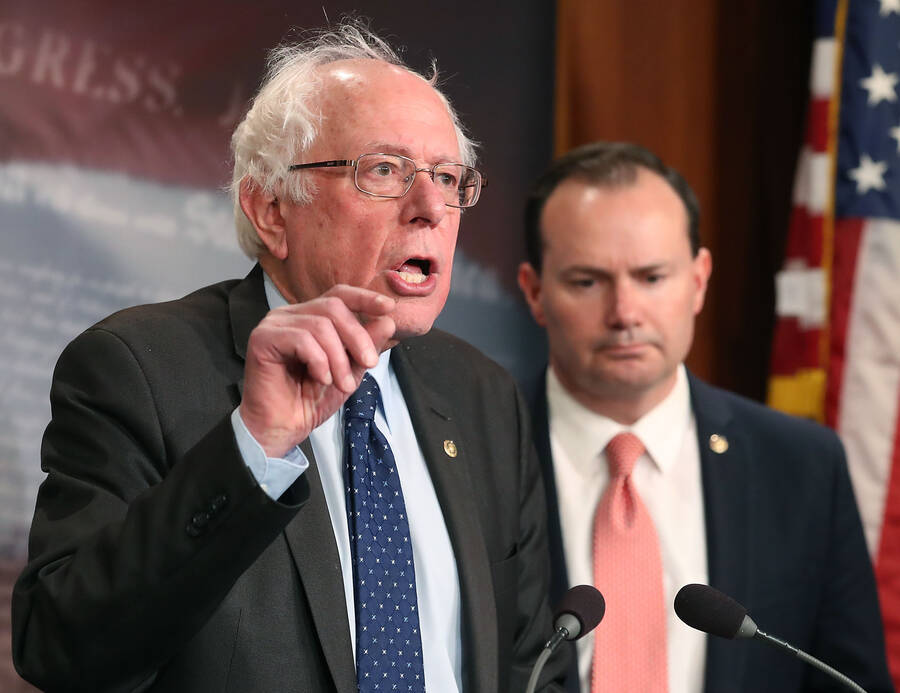 Update: On Thurs­day, the Sen­ate passed Sens. Sanders and Lee's bipar­ti­san res­o­lu­tion 56 – 41 direct­ing Pres­i­dent Trump to end U.S. mil­i­tary sup­port for the Sau­di-led war in Yemen — the first time Con­gress has ever debat­ed leg­is­la­tion invok­ing the War Pow­ers Act.
The resolution provides Congress its proper authority to answer the question of whether the United States should provide resources to a cruel and destructive war in the Middle East.
After more than three and a half years of par­tic­i­pa­tion in the ruth­less Sau­di-led war on Yemen, the Sen­ate on Wednes­day took the most sig­nif­i­cant step yet towards stop­ping Amer­i­can involve­ment in the onslaught, which has killed tens of thou­sands of people.
The Sen­ate vot­ed 63 – 37 in favor of hold­ing a debate on Sen­ate Joint Res­o­lu­tion 54–intro­duced by Sens.Bernie Sanders (I‑Vt.), Mike Lee (R‑Utah) and Chris Mur­phy (D‑Conn.). The mea­sure invokes the War Pow­ers Res­o­lu­tion of 1973 to force a vote to ​"remove Unit­ed States Armed Forces from hos­til­i­ties in or affect­ing the Repub­lic of Yemen." This is the first time a cham­ber of Con­gress has advanced a War Pow­ers Res­o­lu­tion, and it marks a con­sid­er­able vic­to­ry for oppo­nents of the war, whose pre­vi­ous efforts to debate the res­o­lu­tion nar­row­ly failed in the Sen­ate in March after 10 Democ­rats came out in opposition.
The devel­op­ment came after oppo­nents of the war staged protests tar­get­ing the offices of key Sen­a­tors. ​"With mil­lions of Yeme­nis on the brink of star­va­tion, those of us who've long cam­paigned for Con­gress to end the US war on Yemen are anx­ious­ly await­ing the vote on S.J.Res.54, which is now final­ly pos­si­ble," said Shireen Al Adei­mi, an assis­tant pro­fes­sor at Michi­gan State Uni­ver­si­ty and activist who mobi­lized in sup­port of this resolution.
The mea­sure requires the Unit­ed States to end its par­tic­i­pa­tion in the war ​"unless and until a dec­la­ra­tion of war or spe­cif­ic autho­riza­tion for such use of Unit­ed States Armed Forces has been enact­ed." To date, Con­gress has not held a vote on U.S. par­tic­i­pa­tion in the Sau­di-led war.
Ahead of the vote on the Sen­ate floor Wednes­day, Sen. Sanders said, ​"The fact is the Unit­ed States, with almost no media atten­tion, has been Sau­di Arabia's part­ner in this hor­rif­ic war. We have been pro­vid­ing bombs the Sau­di-led coali­tion is using, refu­el­ing their planes before they drop those bombs, and assist­ing with intel­li­gence. And in too many cas­es our weapons are being used to kill civilians."
While the vote does not, in itself, end the Sau­di-led war, it is the lat­est indi­ca­tion that polit­i­cal winds are shift­ing against it. The war has pushed Yemen to the brink of the worst famine in a cen­tu­ry – leav­ing 30 per­cent of the country's chil­dren under the age of five suf­fer­ing from acute mal­nu­tri­tion, or ​"wast­ing," accord­ing to the Under-Sec­re­tary-Gen­er­al for Human­i­tar­i­an Affairs at the Unit­ed Nations. As a result of the war, over 3 mil­lion Yeme­nis have been inter­nal­ly dis­placed, the coun­try con­tin­ues to suf­fer the worst cholera out­break in mod­ern his­to­ry and more than 8 mil­lion chil­dren lack access to safe water and san­i­ta­tion. The sit­u­a­tion in Yemen is wide­ly seen as the worst human­i­tar­i­an cri­sis in the world, and the U.S.-Saudi coali­tion is respon­si­ble for the vast major­i­ty of civil­ian deaths.
The res­o­lu­tion, how­ev­er, includes a carve-out that per­mits ​"oper­a­tions direct­ed at al Qae­da or asso­ci­at­ed forces." This excep­tion essen­tial­ly green­lights the U.S. government's ongo­ing—and dead­ly — covert drone war, and deploy­ment of a clas­si­fied num­ber of troops, pur­port­ed­ly to fight Al Qae­da. Notably, the Sau­di-led war has allowed Al Qae­da to gain sig­nif­i­cant ter­ri­to­ry — and there is evi­dence the U.S. coali­tion has fought along­side Al Qae­da affiliates.
The vote fol­lows a spate of high-pro­file atroc­i­ties, includ­ing the Sau­di-led coalition's August 9 bomb­ing of a school bus in Yemen's north­ern Saa­da province that killed 54 peo­ple, 44 of them chil­dren. As momen­tum turns against the war, even for­mer Oba­ma admin­is­tra­tion offi­cials such as Saman­tha Pow­er and Ben Rhodes are com­ing out against the war, albeit play­ing down the Oba­ma administration's respon­si­bil­i­ty for unleash­ing and over­see­ing U.S. par­tic­i­pa­tion in the onslaught.
On Novem­ber 9, Pres­i­dent Trump claimed that he would sus­pend the U.S. military's mid-air refu­el­ing to assist airstrikes in Yemen. How­ev­er, this deci­sion can be reversed, and it has been insuf­fi­cient to pres­sure the Sau­di coali­tion to stop the bomb­ings. As recent­ly as Novem­ber 26, a moth­er and her five chil­dren were killed in a Sau­di-led airstrike.
Trump lat­er affirmed the U.S. alliance with Sau­di Ara­bia on Novem­ber 20 and cleared that country's lead­er­ship of wrong­do­ing in the killing of Wash­ing­ton Post colum­nist Jamal Khashog­gi. Khashoggi's mur­der, wide­ly seen as a tar­get­ed polit­i­cal assas­si­na­tion ordered by Sau­di Crown Prince Mohammed bin Salman, sparked inter­na­tion­al out­rage and led many polit­i­cal lead­ers to call for a more aggres­sive response from the U.S. government.
And on Novem­ber 27, CNN report­ed that ​"The U.S. has ​'slammed the brakes on' a Unit­ed Nations Secu­ri­ty Coun­cil res­o­lu­tion call­ing for a lim­it­ed cease­fire and increased human­i­tar­i­an aid in Yemen over con­cerns about anger­ing Sau­di Ara­bia," accord­ing to two sources.
With the Trump admin­is­tra­tion unwill­ing to take any steps to end U.S. par­tic­i­pa­tion in the Sau­di-led war on Yemen, the res­o­lu­tion pro­vides Con­gress its prop­er author­i­ty to answer the ques­tion of whether the Unit­ed States should pro­vide resources to a cru­el and destruc­tive war in the Mid­dle East.
Two of the Demo­c­ra­t­ic hold­outs on sup­port­ing the res­o­lu­tion were Rhode Island Sens. Jack Reed and Shel­don White­house. David Segal, exec­u­tive direc­tor of Demand Progress and for­mer Rhode Island state rep­re­sen­ta­tive, was part of a large-scale effort to push the sen­a­tors to get behind the leg­is­la­tion. ​"Reed and White­house have received hun­dreds of calls from con­stituents over the last few days, and much more pres­sure spread through­out the year."
After Sen. Reed announced he would sup­port the res­o­lu­tion on Tues­day night, the punk band Down­town Boys had hun­dreds of fans join a call to Sen. White­house to demand he too back the leg­is­la­tion. On Wednes­day, White­house also backed the measure.
The res­o­lu­tion will now move the Sen­ate floor for debate. If it pass­es, it will next move to the House of Rep­re­sen­ta­tives for a vote, either in the lame duck ses­sion or in the new Con­gress which will fea­ture a larg­er pro­por­tion of Democ­rats. If the res­o­lu­tion pass­es both bod­ies it would then move to Pres­i­dent Trump's desk where he could either sign or veto it. How­ev­er, veto­ing a bill to empow­er Con­gress, a co-equal branch of gov­ern­ment, to have a say in U.S. for­eign pol­i­cy and invoke its Arti­cle 1 pow­ers under the Con­sti­tu­tion would like­ly spark a major back­lash from both cham­bers. As Sen. Sanders said on Wednes­day, ​"Con­gress has not autho­rized the war in Yemen and there­fore the war is unconstitutional."
"Three years ago, the notion of Con­gress vot­ing to cut off mil­i­tary sup­port for Sau­di Ara­bia would have been polit­i­cal­ly laugh­able," said Paul Kawi­ka Mar­tin, senior direc­tor for pol­i­cy and polit­i­cal affairs at Peace Action. ​"This suc­cess­ful vote in the Sen­ate is a tes­ta­ment to the col­lec­tive pow­er of a coali­tion of peace groups, human rights groups, and grass­roots activists across the coun­try mak­ing calls, orga­niz­ing ral­lies, and meet­ing with mem­bers of Con­gress to make the case for end­ing the U.S. role in the war in Yemen."
Miles Kampf-Lassin, a grad­u­ate of New York University's Gal­latin School in Delib­er­a­tive Democ­ra­cy and Glob­al­iza­tion, is a Web Edi­tor at In These Times. He is a Chica­go based writer. Sarah Lazare is web edi­tor at In These Times. She comes from a back­ground in inde­pen­dent jour­nal­ism for pub­li­ca­tions includ­ing The Inter­cept, The Nation, and Tom Dispatch.