Youth Activist to Chilean Leaders: Don't Use the UN Climate Talks to Greenwash Your Repression of Us
"We are fearless," says Angela Valenzuela.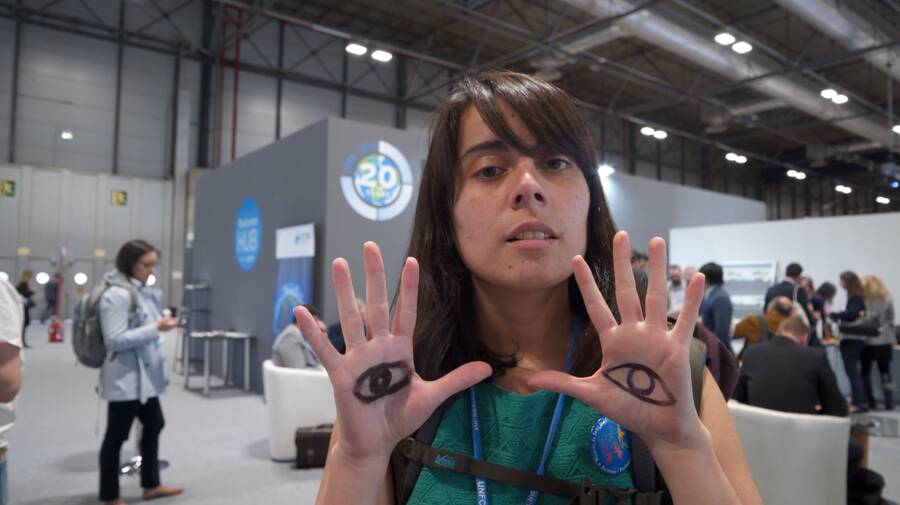 MADRID — At a press con­fer­ence at the UN cli­mate nego­ti­a­tions in Spain this week, 25-year-old Angela Valen­zuela, a cli­mate activist from Chile, pub­licly denounced her country's gov­ern­ment for using this annu­al meet­ing of world lead­ers to ​"clean" its rep­u­ta­tion and deflect atten­tion from street protests that have left at least 18 peo­ple dead and fueled alle­ga­tions of exces­sive force, tor­ture and sex­u­al assault by the country's secu­ri­ty services.
"We cannot sustain a system that sacrifices people and drives the climate crisis for the benefit of a few."
More than a mil­lion peo­ple have tak­en to the streets in the South Amer­i­can coun­try since the protests began in Octo­ber. They con­tin­ue today. More than 11,000 peo­ple have been injured by secu­ri­ty forces and busi­ness inter­ests, and thou­sands more have been arrest­ed in protests and loot­ing ini­tial­ly sparked by a sub­way fare hike. The fare increase, reduc­tions in pub­lic spend­ing and oth­er eco­nom­ic aus­ter­i­ty mea­sures were man­dat­ed by the Inter­na­tion­al Mon­e­tary Fund (IMF) as con­di­tions of a loan pack­age aimed at sta­bi­liz­ing the country's econ­o­my, which is suf­fer­ing falling rev­enue from min­ing and oth­er exports. But the under­lin­ing con­di­tions that set the move­ment in motion go much deep­er and are inex­tri­ca­bly inter­twined with the country's cli­mate change-dri­ven eco­log­i­cal prob­lems, as Valen­zuela told a packed room of jour­nal­ists from around the world.
"It's not about 30 pesos; it's about 30 years of demo­c­ra­t­ic gov­ern­ments that failed to pro­tect us and lis­ten to our demands. Chile woke up. We said enough. We can­not sus­tain a sys­tem that sac­ri­fices peo­ple and dri­ves the cli­mate cri­sis for the ben­e­fit of a few," said Valen­zuela, who is a coor­di­na­tor with Fri­days for Future in Chile. The event took place at a con­ven­tion cen­ter on the out­skirts of Madrid, where this year's cli­mate nego­ti­a­tions were moved after Chile can­celed due to the protests. The gov­ern­ment of Chile still held the pres­i­den­cy and remained at the helm of the annu­al conference.
She was met with the cheers and whoops of oth­er youth and indige­nous cli­mate activists, who have stormed the halls of the annu­al nego­ti­a­tions, now in their 25th year with lit­tle to show for them. Young peo­ple from around the world, includ­ing an indige­nous del­e­ga­tion sent to the talks this year by the U.S.-based Sus­tai­nUS, have shad­owed oil com­pa­ny exec­u­tives and dogged world lead­ers here to call atten­tion to the fail­ure of coun­tries and gov­ern­ments to take bold action to arrest cli­mate change.
Valen­zuela told reporters at the press con­fer­ence, which took place Mon­day, that it was out­ra­geous to see ​"how the Chilean gov­ern­ment paints its image with emp­ty words while com­mit­ting human rights vio­la­tions every day. This must stop now." She added, ​"we are fear­less. We con­tin­ue to flood the streets, even if we are risk­ing our lives. We are real­ly find­ing our future and push­ing the lim­its of what we think is possible."
While in Madrid on Wednes­day, In These Times caught up with Valen­zuela and asked her to elab­o­rate on the con­nec­tion between social unrest and cli­mate change in Chile and respond to cli­mate deniers in the Unit­ed States, who have seized on the unrest in that South Amer­i­can coun­try to spread the ​"fake news" that Chile's cli­mate poli­cies — not cli­mate change itself — drove up the cost of liv­ing lead­ing to the mas­sive street protests tak­ing place there.
In These Times: At the press con­fer­ence, you men­tioned how the last 30 years of gov­ern­ment poli­cies had failed the Chilean peo­ple, cre­at­ing the con­di­tions that led to the street protests. Can you elaborate?
Angela Valen­zuela: It's an eco­nom­ic sys­tem based on social inequal­i­ty. This is the same sys­tem that's dri­ving the eco­log­i­cal and cli­mate cri­sis. That's the con­nec­tion between the social cri­sis and the envi­ron­men­tal crisis.
Peo­ple are in the streets now in Chile because they are fight­ing for a dig­ni­fied life, where basic social rights like access to edu­ca­tion, health care, min­i­mum wage and pen­sion sys­tems are pro­vid­ed by the state to ensure that peo­ple can devel­op and grow to the fullest poten­tial, which is not the case in Chile.
And at the same time, we have 100% pri­va­tized water. This is even worse when we are fac­ing the effects of the cli­mate cri­sis. We've been hav­ing our worst drought for the last 10 years. And hav­ing access to water is even more dif­fi­cult when water is pri­va­tized and in the hands of the cor­po­ra­tions to exploit for min­ing and for the mono­cul­tur­al agri­cul­tur­al sys­tem. So we not only have to tack­le the cli­mate cri­sis but the very sys­tem that is dri­ving us to cli­mate chaos.
In These Times: In the Unit­ed States, cli­mate change deniers have seized on the protests in Chile, say­ing they were caused by expen­sive and unnec­es­sary cli­mate poli­cies — not cli­mate change itself. Ear­li­er this month the Heart­land Institute's James Tay­lor penned an arti­cle claim­ing ​"cli­mate alarmists killed their own UN con­fer­ence" through ​"aggres­sive Chilean cli­mate poli­cies that have raised ener­gy costs, raised trans­porta­tion costs, and tak­en mon­ey out of Chilean house­hold bud­gets." The arti­cle has since made the rounds of an assort­ment of online cli­mate denial out­posts. What is your response to things like this?
Angela Valen­zuela: There is a huge move­ment of cli­mate deniers since the 1970s. We know that that sci­ence is say­ing cli­mate change is a fact. So I'm not sur­prised there are these protests against the cli­mate movement.
What would be my response to them is that they lis­ten to the sci­ence rather than the fairy­tales of the sys­tem; that they take them­selves out of their com­fort zones and lis­ten to sci­ence and also the basic rights of humans in the Glob­al South to have access to a present and a future free of cli­mate catastrophe.
In These Times: Speak­ing as a mem­ber of the inter­na­tion­al youth cli­mate move­ment, what does the world need to do now to take action to bring down cli­mate chang­ing emis­sions? Are coun­tries get­ting the job done at this UN cli­mate meeting?
Angela Valen­zuela: First the world needs to rec­og­nize that we are fac­ing a cli­mate emer­gency. It's a cli­mate cri­sis — an eco­log­i­cal break­down. Once we can under­stand the scope of the prob­lem, we will be able to find solu­tions that can address the urgency of it. As civ­il soci­ety, we need to strength­en our cli­mate jus­tice move­ment at the local and glob­al lev­els in order to hold our lead­ers account­able. We are lack­ing the polit­i­cal will in order to have the changes nec­es­sary to stay below 1.5 degrees Celsius.
We have the solu­tions. We know we have to cut fos­sil fuels and we have to tran­si­tion to 100% renew­able, non-con­ven­tion­al ener­gy. But the world lead­ers don't want to lis­ten. Instead, they have focused their con­ver­sa­tion on mar­ket-based mech­a­nisms and loop­holes on how to con­tin­ue prof­it­ing out of the cli­mate cri­sis. This is unac­cept­able. What is need­ed now is a glob­al move­ment fight­ing to ensure we have a present and a future.
This inter­view has been light­ly edit­ed for clarity.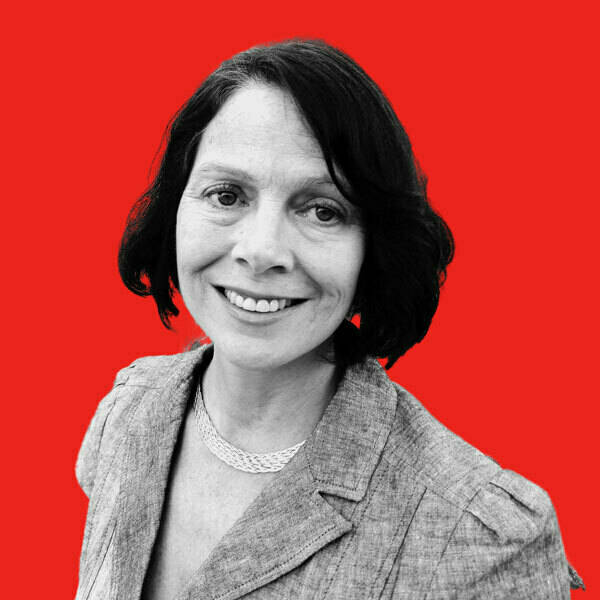 Chris­tine Mac­Don­ald is an inves­tiga­tive reporter and author, whose work focus­es cli­mate change, envi­ron­men­tal sus­tain­abil­i­ty and green­wash­ing. She was a 2019 – 2020 fel­low with the Leonard C. Good­man Insti­tute for Inves­tiga­tive Reporting.