Tuesday, Nov 19, 2019, 2:59 pm · By Joseph Bullington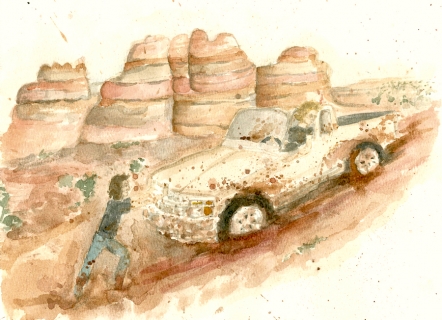 Editor's Note: A few weeks ago, the first snows of the season came early and hard to the Yellowstone River country of south-central Montana, where I live. On a sunny day after the snowfall, I packed my camping gear and cross-country skis and set out to drive a favorite road into the mountains. I never made it. Where the road crossed a grassy and windswept hill, the gusts had blown snow into drifts a foot and a half deep, and I determined that the road was not passable. Unfortunately, I didn't make this determination until after I had lodged my car up to the axles in one of the drifts.
In honor of the return of the season of getting stuck, Rural America In These Times is taking a short break from the cycle of ever-more-serious news to bring you something more lighthearted. I wrote this essay last winter and it was first published by the Livingston Enterprise in Livingston, Montana. I hope you enjoy it.
-Joseph Bullington, Editor of Rural America In These Times
It's amazing how suddenly you realize that you're a lot farther gone than you thought you were.
In that way, getting stuck is a sort of magical spell that in an instant transforms the world into a much larger and wilder place. You ride like a wayward knight, arrogant atop your trusty steed—until the dragon appears and snatches your horse from under your ass, its four legs kicking, four tires spinning pathetically in the air. One moment you're driving along carefree, or at least care-less, an easy one- or two- or four-hour drive from the nearest house, and the next moment you find that you're a hard day's walk from that same house. Magic.
Sunday, Nov 17, 2019, 12:00 pm · By H. Resit Akcakaya
Around the world, animals and plants are disappearing at alarming rates. In May 2019, a major U.N. report warned that around one million species were at risk of extinction — more than at any other time in human history.
Conservation scientists like me focus on predicting and preventing extinctions. But we see that as an essential first step, not a final goal. Ultimately, we want species to recover.
The challenge is that while extinction is easy to define, recovery is not. Until recently, there was no general definition of a "recovered" species. As a result, some species recovery plans are much less ambitious than others, and scientists don't have a common yardstick for recognizing conservation successes.
To address this challenge, the International Union for the Conservation of Nature's Species Survival Commission — the world's largest network of conservationists — is developing a Green List of Species to highlight species recovery. This tool will complement the well-known Red List, which highlights endangered species.
While the Red List focuses on extinction risk, the Green List will measure recovery and conservation success. As a member of the team charged with making the Green List a practical conservation tool, I see it as a way of measuring the impact of conservation and communicating conservation success stories, as well as learning from failures.
For several months in 2019, it seemed wildfires wouldn't rage across the West as they had in recent years. But then came the dry autumn and California's Santa Ana and Diablo winds, which can drive the spread of wildfires. Utilities are shutting off power across the state to reduce the risk of damaged equipment or downed trees on wires causing fires.
There's no lack of proposals for managing wildfires more effectively: California Gov. Gavin Newsom recently signed 22 wildfire-related bills in one day. But what's missing are perspectives from indigenous communities across North America, who have lived with fire for thousands of years.
In our research on climate change and people's reactions to it, we have worked with the Karuk Tribe in northwestern California and southern Oregon on their plan to manage their land under these evolving conditions. American Indian tribes across the West are working with an increased sense of urgency to manage fire-adapted landscapes in the face of climate change. The Karuk Tribe's climate adaptation plan directs their efforts to do just that.
This work has convinced us that this is an exciting political moment to restore western forests and protect the public from dangerous wildfires — and that tribes are uniquely positioned to lead the way.
Friday, Nov 8, 2019, 12:29 pm · By Ronnie Cummins
The climate emergency is finally getting the attention of the media and the U.S. (and world) body politic, as well as a growing number of politicians, activists and even U.S. farmers.
This great awakening has arrived just in time, given the record-breaking temperatures, violent weather, crop failures and massive waves of forced migration that are quickly becoming the norm. Global scientists have dropped their customary caution. They now warn us that we have to reduce global emissions, by a drastic 45%, over the next decade. If we don't, we'll pass the point of no return — defined as reaching 450 parts per million or more of CO2 in the atmosphere — sometime between 2030 and 2050, at which point the climate crisis will morph into a climate catastrophe. That's when the melting polar ice and Arctic permafrost will trigger catastrophic sea rise, fueling deadly forest fires, climate chaos, crop failures, famine and the widespread disintegration of society as we know it.
To prevent such an outcome, most people now understand that we must quickly move to renewable forms of energy and reduce our fossil fuel emissions as much as possible. But it's far less widely accepted that energy conservation and renewables can't do the job alone.
Tuesday, Nov 5, 2019, 4:13 pm · By Joseph Bullington
"Sorry—Organic Farming is Actually Worse for Climate Change" reads the title of an October 22 article in the MIT Technology Review.
It's true, news editors take a certain glee in the public execution of sacred cows, and a cornucopia of similar, snarky headlines were pumped into the already-clogged arteries of internet news feeds after the publication of a recent study of organic agriculture by Cranfield University in the United Kingdom. Like the Review's, the gist of them all: Contrary to its claims, the organic food movement is bad for the planet.
The truth is more complicated.
Friday, Nov 1, 2019, 7:47 pm · By April Simpson
Editor's Note: This article was originally published by Stateline, an initiative of the Pew Charitable Trusts.
Journalism professor Penny Muse Abernathy lives in a news desert. She says there's little local media coverage of Scotland County, North Carolina, among the poorest in the Tar Heel state. Her television news broadcasts come from neighboring South Carolina.
As a result, it's difficult to find local news or information on relevant state issues that she could vote on, Abernathy said.
A vibrant free press, protected from government interference by the First Amendment, can hold the powerful to account and empower readers to make informed decisions on major issues. Newspapers and other local media outlets reflect community values, and when they go under, there is less coverage of the high school sports and community events that bind people together.
Amid the steady decline in local news, some states are considering stepping in to support the Fourth Estate. But critics worry that doing so might undermine the press's role as a government watchdog.
"There's this adversarial relationship that exists and needs to exist," said Al Cross, director of the Institute for Rural Journalism and Community Issues at the University of Kentucky in Lexington.
News deserts — communities with limited access to credible and comprehensive news — are especially prevalent in rural America. More than 500 of the 1,800 newspapers that have closed or merged since 2004 were in rural communities, according to a 2018 report, "The Expanding News Desert," written by Abernathy for the University of North Carolina at Chapel Hill's Center for Innovation and Sustainability in Local Media.
Monday, Oct 28, 2019, 2:17 pm · By Kyle Hopkins
Editor's Note: This story was originally published by ProPublica, which produced it in partnership with the Anchorage Daily News.
In his first seven months as a village public safety officer (VPSO) in the remote Alaska village of Chenega, Andrew Jonda has enjoyed world-class fishing and gorgeous ocean views.
What he hasn't done is make a single arrest.
That's because the community Jonda has been hired with public money to protect is home to only 40 to 60 people. "The crime rate is much lower than other places around the rest of Alaska and the U.S.," he said.
Which raises a question: When villages 10 times as large go without law enforcement of any kind, why is Chenega one of the last Alaska communities served by a VPSO?
An analysis by the Anchorage Daily News and ProPublica has found that as the number of Alaska VPSOs sharply declined in recent years, the scant remaining officers are increasingly likely to work in communities with fewer than 100 residents. The towns and villages served by VPSOs today have fewer Alaska Natives residents, higher per capita income levels and are more likely to be on the road system than in 2005, our review found.
Thursday, Oct 24, 2019, 6:02 pm · By Lisa Schulte Moore
Iowa's first-in-the-nation caucuses bring the state a lot of political attention during presidential election cycles. But in my view, even though some candidates have outlined positions on food and farming, agriculture rarely gets the attention it deserves.
As a scientist at Iowa's land-grant university, I believe our state is at the forefront of redefining what agriculture could be in the U.S., and addressing environmental and economic challenges associated with the extensive monocultures that dominate our current system. I think these conversations should be at the forefront nationally. After all, everyone needs to eat, so all Americans have a stake in the future of farming.
Saturday, Oct 19, 2019, 12:53 pm · By Jonathan R. Latham
Gene editing of DNA inside living cells has many potential uses — from treating human disease to altering crops and livestock for agriculture — and is often considered the preeminent technological breakthrough of the new millennium. For example, in a move that has been widely criticized, Chinese researcher He Jiankui claims to have edited human babies to resist HIV by altering a gene called CCR5.
For most commercial applications gene editing's appeal is simplicity and precision: It alters genomes at precise sites, without inserting foreign DNA. This is why, in popular articles, gene editing is often referred to as "tweaking."
The tweaking narrative, however, is an assumption and not an established fact. And it recently suffered a large dent.
Thursday, Oct 17, 2019, 8:15 am · By Dave Dickey
This story was originally published on The Midwest Center for Investigative Reporting
The nexus for defining gaslighting comes from Ingrid Bergman's brilliant performance as Paula in George Cukor's 1944 film Gaslight. In the movie Bergman's character witnessed the murder of her aunt as a child. Years later she marries Gregory who, in a twist of fate, returns with her to live in the very house where her aunt was killed. As it turns out Gregory isn't a loving husband, but rather a cold and calculated abuser whose insidious and chilling lies and actions have Paula coming unhinged and doubting her sanity.
Over seven decades later, gaslighting has become a White House weapon of choice in trying to convince individual American farmers all is well while they suffer financially from the POTUS agricultural policy choices. (By the way, as early as February 2017 I cautioned in a blog that farmers needed to be on alert.)
So what is gaslighting? We'll define it as manipulative behavior designed to sow seeds of uncertainty in victims with the objective of gaining power and control. Over time, gaslighting creates self-doubt, which causes the victims to question their reality. The POTUS and his toadies have been gaslighting farmers in general and soybean farmers in particular with his trade war against China.