To Win Elections, Should the Left Be Nicer on the Internet?
There are signs that antagonistic Bernie supporters may have discouraged coalition-building with winnable Warren voters.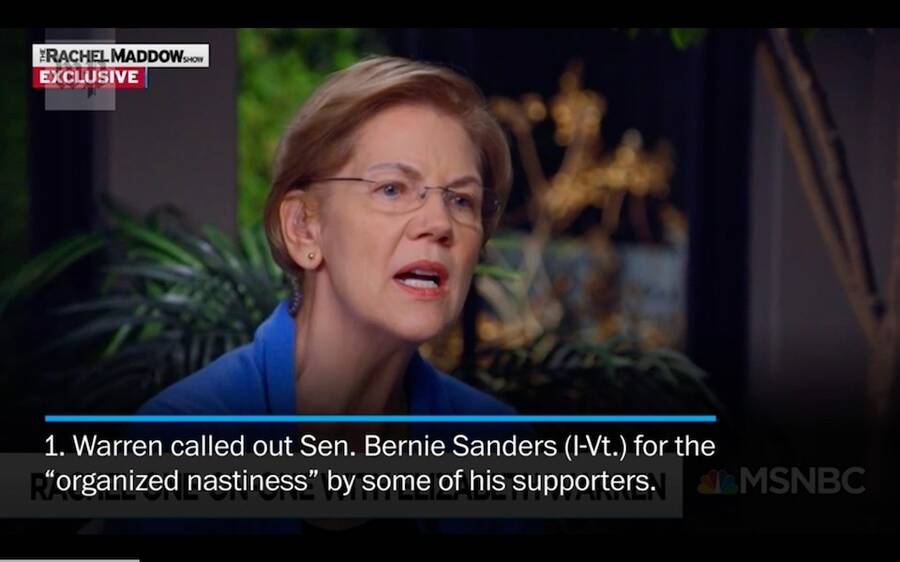 This is part of a round­table on lessons from the 2020 pri­maries. Read Max­imil­lian Alvarez's response here.
Learning to value persuasion over pillorying when thinking about winning over voters is not just PR—it's true to the spirit of a truly democratic Left.
A mod­est pro­pos­al for the Left as it sorts through the ash­es of the Demo­c­ra­t­ic pri­ma­ry and con­sid­ers how to improve its next major elec­toral run: Be nicer on the Internet.
In some quar­ters of the Left, this sen­ti­ment is con­sid­ered a dis­trac­tion from more sub­stan­tive issues of cam­paign­ing. But the lessons of 2020 sug­gest that the tox­ic aspects of the online cul­ture of the Left were a salient part of the polit­i­cal cli­mate, and may have damp­ened Sanders's abil­i­ty to coali­tion-build with pro­gres­sives out­side his core base — most notably, War­ren sup­port­ers — who could've helped defeat Joe Biden at the polls. A renewed focus on civil­i­ty in the elec­toral sphere could expand the mass appeal of left­ist think­ing, and it could also have salu­tary effects with­in the Left by remind­ing itself what it means to fos­ter a tru­ly demo­c­ra­t­ic culture.
As I've writ­ten else­where, I've nev­er bought into the main­stream con­cep­tion of the Bernie Bro arche­type, and take issue with its effac­ing of women and peo­ple of col­or with­in the Left. But there is no doubt that there is a real cohort of hard­core Sanders sup­port­ers — like­ly a small minor­i­ty of his base, but extreme­ly promi­nent in online debate — who viewed being adver­sar­i­al toward Sanders's rivals and crit­ics online as a polit­i­cal strat­e­gy. They dis­sem­i­nat­ed memes of Eliz­a­beth War­ren as a snake and Pete Buttigieg as a rat, dog­piled Sanders crit­ics, doxed reporters, ren­dered a par­ty offi­cials' phone unus­able, swarmed the busi­ness rat­ings of a crit­ic, and prop­a­gat­ed death wish­es, pro­fan­i­ty and all kinds of ran­cor online. The most high-pro­file instance of this bel­liger­ent behav­ior tran­spired when peo­ple hurled big­ot­ed insults and death threats at lead­ers of Nevada's Culi­nary Union using social media, email, and phone calls after they pub­lished a fli­er crit­i­cal of Sanders. While it is impos­si­ble to ver­i­fy the iden­ti­ty and polit­i­cal agen­da of every per­pe­tra­tor in that inci­dent, some self-iden­ti­fied as Sanders sup­port­ers, and giv­en oth­er behav­ior dur­ing the cam­paign sea­son, it is plau­si­ble that this was true.
There is rea­son to think that this behav­ior may have influ­enced broad­er per­cep­tion of Sanders as a can­di­date. Exit polling indi­cates that 10 to 20 per­cent of ear­ly pri­ma­ry state vot­ers used Twit­ter reg­u­lar­ly for polit­i­cal news, and that Sanders sup­port­ers gen­er­al­ly con­sti­tut­ed only a nar­row plu­ral­i­ty of this set, mean­ing plen­ty of Dems out­side of BernieWorld were like­ly wit­ness­ing some online skir­mish­es. The fact that main­stream jour­nal­ists (many of whom already appeared keen on under­min­ing Sanders's cam­paign) were relent­less­ly tar­get­ed by hard­core Sandernista ire like­ly con­tributed to the issue being repeat­ed­ly raised in tele­vised town halls, debates and long, report­ed pieces, ensur­ing that even those who didn't wit­ness it heard about it hap­pen­ing to it some­one else. After drop­ping out of the race, War­ren, sat down with MSNBC's Rachel Mad­dow and spoke for sev­en min­utes about online harass­ment among Sanders sup­port­ers in an inter­view which was expect­ed to be a poten­tial endorse­ment platform.
The per­va­sive­ness of this idea couldn't have done Sanders any favors in try­ing to win over War­ren sup­port­ers ear­ly on in the pri­ma­ry sea­son — when a clear plu­ral­i­ty of them saw Sanders as their sec­ond choice — and it may have hurt his abil­i­ty to secure them as her star fell. We don't have defin­i­tive evi­dence demon­strat­ing a causal link, but many War­ren sup­port­ers online did com­plain about ill-tem­pered Sanders sup­port­ers and linked it to an aver­sion to back­ing him; and The Dai­ly Beast's pol­i­tics edi­tor Sam Stein report­ed that the cul­ture sur­round­ing Sanders sup­port­ers was a turn-off among War­ren sup­port­ers town halls he attend­ed. We also know that high-pro­file can­di­date sig­nal­ing was huge­ly influ­en­tial in this crowd­ed race—Rep. Jim Clyburn's back­ing helped Biden dom­i­nate in South Car­oli­na, and Buttigieg and Klobuchar seam­less­ly fun­neled their sup­port­ers to the for­mer veep before Super Tues­day — and so Warren's repeat­ed com­plaints about Sanders's online fol­low­ing, cou­pled with her non-endorse­ment, was like­ly a mean­ing­ful hit against him.
Vil­i­fy­ing and alien­at­ing War­ren and her sup­port­ers should be under­stood as an unforced error. It was nec­es­sary to high­light the dif­fer­ences between Sanders and War­ren in the run-up to the pri­maries, but it was pos­si­ble to draw dis­tinc­tions with­out burn­ing the bridges that were need­ed for pro­gres­sive con­sol­i­da­tion lat­er down the line.
Some on the Left argued that War­ren, whose base skewed more col­lege-edu­cat­ed and afflu­ent than Sanders's base, had dif­fer­ent class inter­ests than the work­ing class vot­ers Sanders was most focused on entic­ing to the vot­ing booth, and thus spurn­ing War­ren vot­ers was of no consequence.
But the real­i­ty is many War­ren sup­port­ers were open to Sanders' pol­i­cy agen­da. We know this because Sanders and War­ren over­whelm­ing­ly agreed on key domes­tic pol­i­cy objec­tives; because War­ren sup­port­ers includ­ed a sub­stan­tial bloc of for­mer Sanders sup­port­ers; and because through­out much of 2019 she was the top choice among very lib­er­al Democ­rats. This shouldn't be a sur­prise — col­lege edu­ca­tion cor­re­lates strong­ly with sup­port for pro­gres­sive poli­cies, includ­ing aggres­sive redis­tri­b­u­tion­ist poli­cies. In oth­er words, there is no rea­son to believe that Sanders's plat­form would need to be com­pro­mised to appeal to the high­er-income pro­fes­sion­als that made up Warren's elec­toral sweet spot, even if they weren't the prime ben­e­fi­cia­ry of some of his pol­i­cy goals.
And the case for being open-mind­ed toward War­ren vot­ers is strength­ened fur­ther by the fact that Sanders proved unable to turn out first-time and dis­af­fect­ed work­ing class vot­ers en masse as he had hoped to. Why should the Left turn away a poten­tial vot­ing bloc that comes at no cost to its pol­i­cy plat­form when it is still in the process of build­ing an elec­toral­ly mean­ing­ful left-wing work­ing class base — a process that could take gen­er­a­tions, giv­en the weak­ness of labor unions and the immense hur­dles to vot­ing while poor?
Some on the Left say that the com­plaints about aggres­sive Sanders behav­ior was overblown, since every can­di­date had its share of abu­sive sup­port­ers, and it may be the case that per­cep­tion of Sanders' more abra­sive crowd real­ly is in part a func­tion of the fact that he has a much larg­er online fol­low­ing. But this fails as a coun­ter­ar­gu­ment for a cou­ple of rea­sons. First, it's no secret that some influ­en­tial groups in Left­ie dis­course online active­ly advo­cate for being adver­sar­i­al as a con­scious polit­i­cal tac­tic—and so it's not just fringe behav­ior of ran­dom indi­vid­u­als. But more impor­tant­ly, say­ing ​"but the oth­er side does it, too!" isn't an appro­pri­ate stance for a polit­i­cal move­ment that is small and grow­ing, and whose premise for entry into main­stream elec­toral pol­i­tics is that it is ele­vat­ing stan­dards for jus­tice and fair­ness. Sim­ply put, the Left should hold itself to high­er stan­dards than the Demo­c­ra­t­ic estab­lish­ment in rhetoric, just the way it does on pol­i­cy. If there was a cost asso­ci­at­ed with try­ing to be a bit nicer, then a dis­cus­sion about trade-offs would make sense. But there are no costs — and there are obvi­ous poten­tial upsides.
This is not a call for the Left to be docile. Rather, it's a case for left­ists online to see them­selves as sur­ro­gates for their cause, and to devel­op a dis­cern­ing and strate­gic eye when it comes to being antag­o­nis­tic. Rage is a real polit­i­cal tool, but out­right vit­ri­ol should be reserved for peo­ple and orga­ni­za­tions who deserve it most; orga­niz­ing a street fight against neo-Nazis or mobi­liz­ing a strike against a bru­tal boss requires a dif­fer­ent set of ener­gies and affects than putting togeth­er the num­bers for win­ning a nation­al elec­tion. The US's two-par­ty sys­tem nec­es­sar­i­ly entails assem­bling coali­tions, and both 2016 and 2020 show that the math is pun­ish­ing to those who ignore that reality.
Do we know if online behav­ior played a deci­sive role for a sub­stan­tial chunk of War­ren sup­port­ers? It's unclear. Is it pos­si­ble that even with­out the fac­tor of obnox­ious Bernie sup­port­ers, that many of Warren's pro­gres­sive sup­port­ers would have declined to piv­ot to Sanders? Cer­tain­ly. It is, after all, pos­si­ble that her iden­ti­ties as a wonk or a fire­brand fem­i­nist were essen­tial to seal­ing the deal with some of her fol­low­ers. But we know for a fact that many were intrigued by or ful­ly behind Sanders's pol­i­cy agen­da, and that those peo­ple were not sys­tem­at­i­cal­ly court­ed as poten­tial allies.
On the sur­face, it might seem pet­ty for a pro­gres­sive to decline to back Sanders and fall in line with Biden because some­one was a dick to them online, or per­haps even in per­son. I per­son­al­ly don't think it's near­ly good enough of a rea­son to side with Biden's sta­tus quo restora­tion agen­da. But any move­ment that blames vot­ers for not vot­ing for them is nev­er going to be a seri­ous one. And so it's worth think­ing more deeply about why some peo­ple are so both­ered by rude­ness and bul­ly­ing online, and try­ing to under­stand what it sig­nals to peo­ple on the out­side. It seems like­ly that peo­ple view it as a sig­nal that a move­ment is not inclu­sive, and inhos­pitable to inter­nal debate.
Learn­ing to val­ue per­sua­sion over pil­lo­ry­ing when think­ing about win­ning over vot­ers is not just PR — it's true to the spir­it of a tru­ly demo­c­ra­t­ic Left. Cre­at­ing a polit­i­cal cli­mate in which peo­ple with­in or adja­cent to the move­ment can rea­son with each oth­er rather than shout each oth­er down is a pre­con­di­tion for the robust flow of ideas and the social inclu­sive­ness need­ed to make the Left a real home for those who have been pushed to the margins.
Read Max­imil­lian Alvarez's response to this piece: Class Trai­tors, Wel­come to the Revolution
Read oth­er per­spec­tives on lessons for the Left from the 2020 primaries:
Phillip Agnew: Black Vot­ers Are Ready. Are We?
Astra Tay­lor: Bernie Sanders' Exit Is an Indict­ment of Our Bro­ken System
Hamil­ton Nolan: Bernie Lost Because Amer­i­ca Doesn't Have a Strong Labor Movement
David Siro­ta: The Demo­c­ra­t­ic Party's Tyran­ny of Deco­rum Helped Sink Bernie