6 Greenwashing Schemes That Show Corporations Will Never Lead on Climate
More and more companies are setting public goals for reducing their greenhouse gas emissions. History shows they can't be trusted.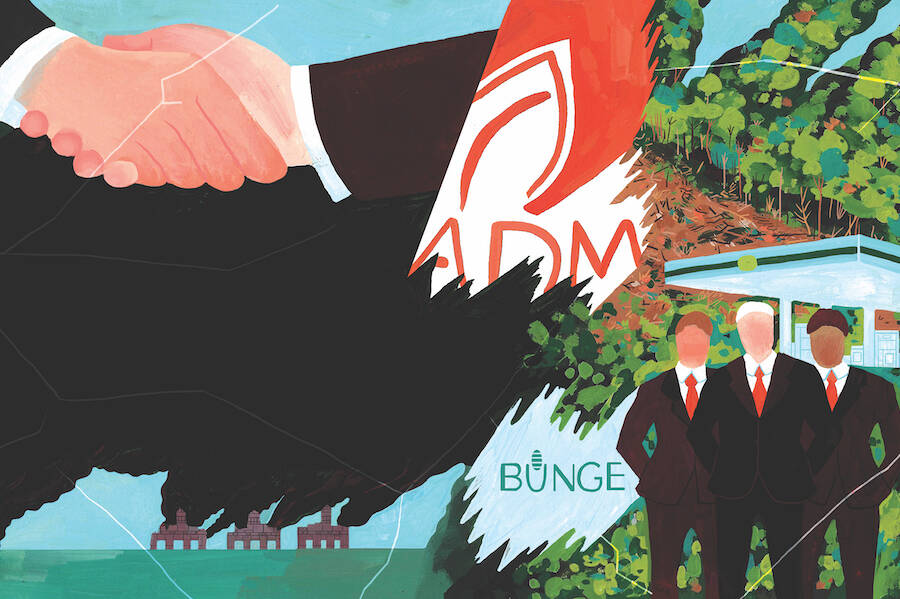 This arti­cle is part of Cov­er­ing Cli­mate Now, a glob­al col­lab­o­ra­tion of more than 250 news out­lets to strength­en cov­er­age of the cli­mate sto­ry.
The failure of corporate sustainability efforts also bodes poorly for the kind of laissez-faire policies that corporations hold up as the answer to climate change.
For­get the youth activists cap­tur­ing the country's imag­i­na­tion with calls for a Green New Deal and the pro­gres­sive politi­cians push­ing for it: The clear­est sig­nal that cli­mate change demands action comes from the planet's corporations.
Cor­po­ra­tions world­wide are announc­ing new plans to elim­i­nate cli­mate impact from their oper­a­tions, and would have you believe they are well on their way to build­ing the green econ­o­my vol­un­tar­i­ly, no need for major eco­nom­ic reform. It would seem the dirt­i­er the indus­try, the big­ger the ambi­tion. Hei­del­bergCe­ment, for exam­ple, the world's sec­ond-largest cement pro­duc­er, pledged to pro­duce car­bon-neu­tral con­crete by 2050, a goal in line with the Paris Agree­ment. It was a first for an indus­try that is the world's third-largest indus­tri­al ener­gy con­sumer, accord­ing to the Inter­na­tion­al Ener­gy Agency. Xcel Ener­gy, mean­while, one of the biggest util­i­ties in the Unit­ed States, is clos­ing coal-fired pow­er plants and mov­ing aggres­sive­ly into wind and solar renew­ables, claim­ing it will be ​"car­bon-free" by 2050.
Cor­po­rate sus­tain­abil­i­ty pro­grams today extend to sup­pli­ers and sub­con­trac­tors, as well, and some big banks are begin­ning to fac­tor cli­mate change risk assess­ments into their lend­ing deci­sions. Even Exxon­Mo­bil, arguably the most envi­ron­men­tal­ly unfriend­ly cor­po­ra­tion of all time, claims, ​"We believe that cli­mate change risks war­rant action and it's going to take all of us — busi­ness, gov­ern­ments and con­sumers — to make mean­ing­ful progress."
It's lit­tle won­der that exec­u­tives are wor­ried: A 2019 sur­vey of 215 large com­pa­nies from the non­prof­it CDP found they expect to lose as much as $1 tril­lion from cli­mate impacts in years to come. Clean ener­gy would save mon­ey in the long run while win­ning rep­u­ta­tion­al cur­ren­cy with con­sumers. Yet few of these cor­po­ra­tions have put their heft behind robust gov­ern­ment cli­mate poli­cies. In fact, pol­lut­ing cor­po­ra­tions have poured mil­lions of dol­lars into lob­by­ing efforts against new envi­ron­men­tal reg­u­la­tions, sug­gest­ing they only want cli­mate action if they set the terms.
But could vol­un­tary cor­po­rate envi­ron­men­tal cleanups and self-polic­ing solve the prob­lem? To answer, In These Times looked back at some of the most ambi­tious cor­po­rate envi­ron­men­tal promis­es of recent decades. It's not very encouraging.
1
The trans­porta­tion sec­tor is the biggest pol­lu­tor in the U.S., account­ing for 29% of total emis­sions in 2017, accord­ing to the Envi­ron­men­tal Pro­tec­tion Agency. Medi­um-duty and heavy-duty trucks (for car­go, fire­fight­ing and oth­er ser­vices) con­tribute 23% of trans­porta­tion emis­sions; these emis­sions increased by 90% between 1990 and 2017. Com­mer­cial ground ship­ping is poised to remain a major pol­luter for the fore­see­able future.
The pic­ture once seemed rosier. In 2000, FedEx teamed with the Envi­ron­men­tal Defense Fund to devel­op a ​"rev­o­lu­tion­ary" hybrid truck design to bring down green­house gas emis­sions by 30% while reduc­ing air pol­lu­tion. FedEx planned to start replac­ing its dirt­i­er-burn­ing diesel trucks in 2003 with the poten­tial of rolling out 30,000 new vehi­cles in a decade. ​"I can't envi­sion any rea­son why we wouldn't roll this out over the whole fleet," one exec­u­tive said.
"By mak­ing this com­mit­ment, they are tak­ing a giant step for­ward for the envi­ron­ment in the Unit­ed States," Geroge W. Bush's EPA admin­is­tra­tor, Chris­tine Todd Whit­man, told the New York Times.
The rev­o­lu­tion nev­er took hold. By 2010, FedEx had added only a few hun­dred elec­tric and hybrid vehi­cles, cit­ing the ​"daunt­ing" costs of pur­chas­ing or con­vert­ing vehicles.
Today, the com­pa­ny has few­er than 4,000 ​"alter­na­tive ener­gy vehi­cles" on the road — about 2% of its ground fleet of 180,000+ vehi­cles world­wide, lag­ging behind UPS (with more than 10,000 alter­na­tive fuel vehi­cles in its total fleet of 123,000).
After balk­ing at the cost of a new green fleet, FedEx (like much of the ground ship­ping indus­try) has refo­cused its ​"sus­tain­abil­i­ty" work on rel­a­tive­ly low-hang­ing fruit such as mak­ing improve­ments to its exist­ing fleet's fuel effi­cien­cy (which can save mon­ey with­out major new invest­ments). FedEx has made strides, improv­ing fuel effi­cien­cy 39.6% from a 2005 base­line, and claims to still be ​"revolutioniz[ing]" the indus­try. But none of this moves to tran­si­tion cor­po­rate ground fleets to renew­able fuel.
2
Mar­itime ship­ping, one of the more dif­fi­cult sec­tors to decar­bonize due to the lack of viable alter­na­tive fuels at the ready, accounts for 2.2% of the world's car­bon diox­ide emis­sions, accord­ing to the Unit­ed Nations Inter­na­tion­al Mar­itime Organization.
In 2011, the inter­na­tion­al com­modi­ties trad­er Cargill cap­tured imag­i­na­tions by installing a giant kite on the dry bulk car­go ship Aghia Mari­na, mak­ing it the world's largest kite­as­sist­ed car­go ship. The sys­tem works by har­ness­ing pow­er­ful high-alti­tude winds to pro­pel car­go ships, reduc­ing fuel con­sump­tion by up to 35% (depend­ing on weath­er con­di­tions) accord­ing to Sky­Sails, the Ger­man engi­neer­ing com­pa­ny that pio­neered the concept.
Fuel is one of this industry's biggest costs, so adding sail tech­nol­o­gy seemed like a win-win. The pilot ship grabbed inter­na­tion­al head­lines and appeared poised to scale up to become a new indus­try standard.
Even the online envi­ron­men­tal site Tree­Hug­ger praised Cargill, say­ing, in 2011, that the project was ​"worth rec­og­niz­ing" (even as they remained crit­i­cal of some of Cargill's oth­er practices).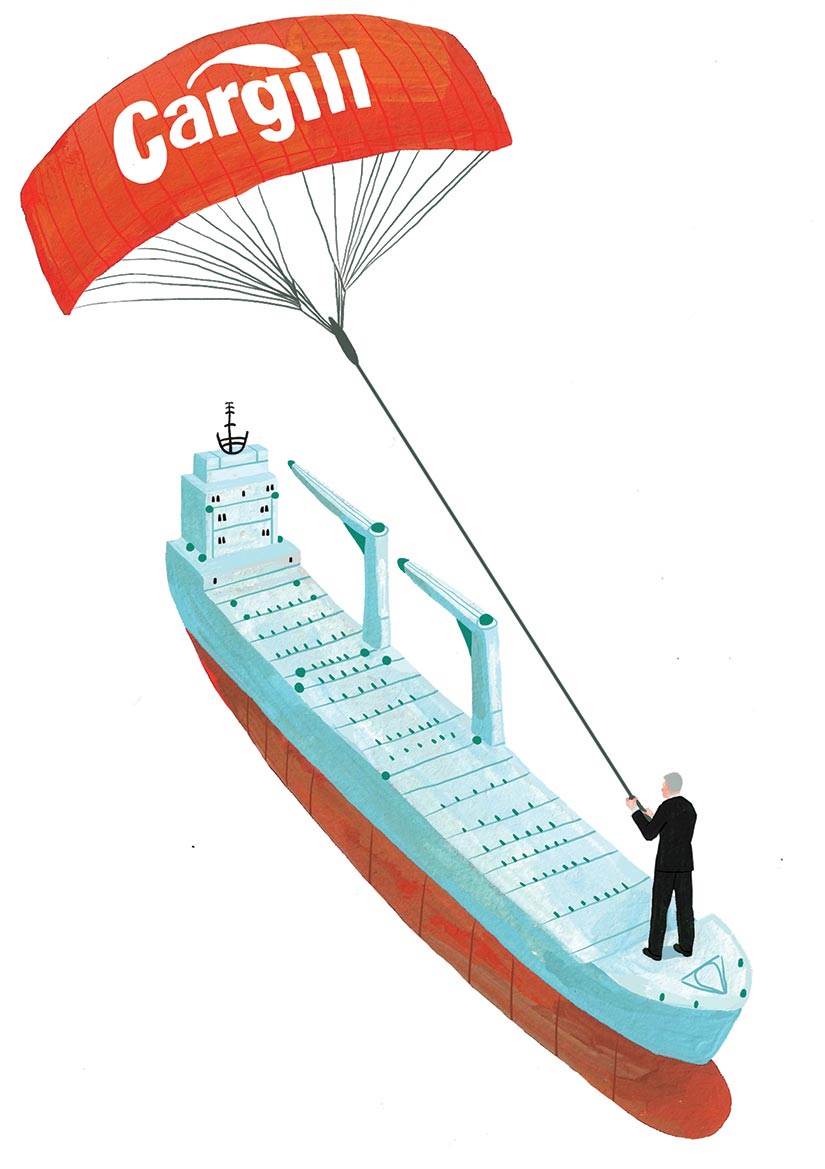 But by 2015, Cargill was say­ing that it had ​"encoun­tered obsta­cles that demon­strate the chal­lenge of mak­ing wind­pow­ered ves­sels a real­i­ty," and the project was end­ed. The Aghia Mari­na was sold in 2017, around which time the Sky­Sails sys­tem was removed, accord­ing to Sky­Sails founder Stephan Wrage.
"I think [the sail sys­tem] should have been installed on a new ves­sel," Wrage says. But that nev­er hap­pened. Car­go ship own­ers, Wrage says, have gen­er­al­ly resist­ed adopt­ing new tech­nol­o­gy such as kite sails, despite the proven cost sav­ings. The rea­son is that car­go ship own­ers aren't the ones pay­ing for fuel. Fuel costs are passed onto char­ter cus­tomers (like Cargill), so the ship own­ers gen­er­al­ly don't make expen­sive ener­gy effi­cien­cy upgrades, no mat­ter the cli­mate-sav­ing potential.
Cargill, appar­ent­ly, was unwill­ing or unable to lever­age its inter­na­tion­al stature and busi­ness scale to push for a sea change in the ship­ping indus­try. Nev­er­the­less, today it still wants full cred­it for its short-lived sail exper­i­ment, insist­ing that its abort­ed pilot project ​"does under­score Cargill's com­mit­ment to invest­ing in inno­v­a­tive ship­ping solu­tions that aim to trans­form the industry."
3
Avi­a­tion makes up rough­ly 3% of glob­al green­house gas emis­sions, one of the fastest-grow­ing sources. Since the mid-2000s, some air­lines have offered pas­sen­gers a chance to assuage their own car­bon guilt by pur­chas­ing car­bon off­sets: For an extra fee, fly­ers buy into for­est man­age­ment and oth­er envi­ron­men­tal­ly friend­ly projects to bal­ance out the car­bon they're using. Vir­gin Atlantic Air­ways helped lead the charge — on the pub­lic rela­tions front, at least.
Promis­ing its car­bon off­sets are test­ed against ​"strict cri­te­ria about what counts as a car­bon reduc­tion," Vir­gin assures cus­tomers that car­bon cred­its sup­port envi­ron­men­tal con­ser­va­tion and improve ​"people's lives by deliv­er­ing house­hold sav­ings, health ben­e­fits and improv­ing water resources."
But at least one off­set project adver­tised by Vir­gin has proved to be a sham. The envi­ron­men­tal and social jus­tice orga­ni­za­tion Fern issued a fail­ing grade, in 2017, to Virgin's off­set cred­its for for­est con­ser­va­tion in Odd­ar Meanchey, Cam­bo­dia. An inves­ti­ga­tion found that near­ly half of the for­est that was sup­posed to be pro­tect­ed had been clear-cut. Fern's Julia Chris­t­ian told the Phnom Penh Post those car­bon cred­its ​"are bogus — they are based on emis­sions sav­ings that nev­er hap­pened, because the for­est was destroyed, not protected."
A few months after Fern's report made inter­na­tion­al head­lines, Vir­gin stopped sell­ing the Odd­ar Meanchey off­sets.
A Vir­gin spokesper­son said the com­pa­ny had act­ed ​"in good faith" when select­ing the project, though crit­ics had pub­licly raised con­cerns years prior.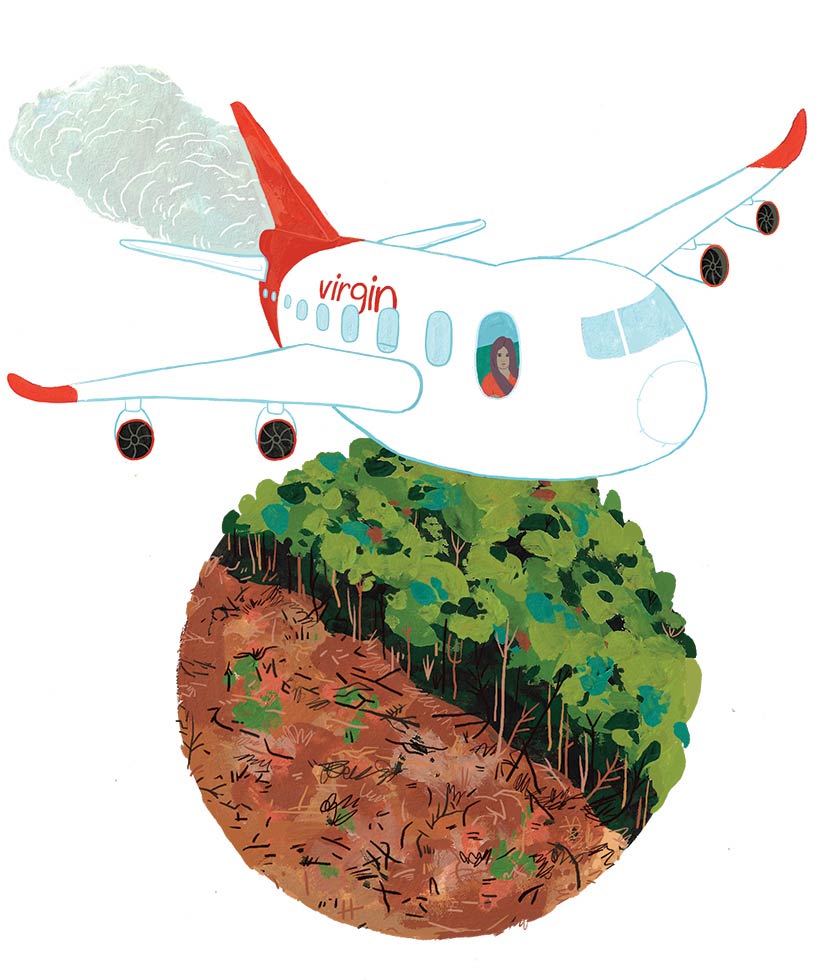 It's not that pre­serv­ing forests isn't an effec­tive decar­boniza­tion method, but that for­est off­set pro­grams too often fail to pre­vent defor­esta­tion. In May 2019, ProP­ub­li­ca issued an inves­tiga­tive report that exam­ined two decades of off­sets and con­clud­ed that for­est car­bon cred­its ​"may be worse than noth­ing," giv­ing ​"pol­luters a guilt-free pass to keep emit­ting CO2" with lit­tle to no cli­mate ben­e­fit. The pro­grams are also con­tro­ver­sial with social jus­tice and indige­nous rights groups who see local com­mu­ni­ties los­ing their age-old ways of life after con­ser­va­tion­ists cut off their access to hunt­ing, fish­ing and foraging.
Despite these prob­lems, the Inter­na­tion­al Civ­il Avi­a­tion Organization's Car­bon Off­set­ting and Reduc­tion Scheme for Inter­na­tion­al Avi­a­tion (COR­SIA) is still rely­ing on off­sets for its indus­try-wide goal of car­bon-neu­tral growth by 2020.
4
Thomas Mooney, senior vice pres­i­dent for sus­tain­able growth at Fiji Water, claimed in a 2008 press release, ​"Con­sumers who choose Fiji Water will actu­al­ly be help­ing the envi­ron­ment by tak­ing car­bon out of the atmos­phere with every pur­chase." Labels read­ing ​"every drop is green" appeared on Fiji bot­tles in super­mar­kets and hotel rooms, along with a ​"car­bon neu­tral" claim. But very few things in life are tru­ly carbon-free.
Pro­duc­ing plas­tic bot­tles and ship­ping water from Fiji to the rest of the world comes with a heavy envi­ron­men­tal cost, and Fiji's promise to neu­tral­ize ​"120%" of its car­bon emis­sions was based on so-called for­ward cred­it­ing, a scheme that allowed the com­pa­ny to tout its car­bon-neg­a­tive sta­tus in 2008 even though its emis­sions wouldn't (the­o­ret­i­cal­ly) achieve that sta­tus until 2037, accord­ing to cal­cu­la­tions by the inter­na­tion­al nature group, Con­ser­va­tion Inter­na­tion­al (CI), that part­nered with Fiji on the project. The idea was to rely on con­ser­va­tion projects in Fiji — which, we know, is no guar­an­tee of for­est preser­va­tion. Bil­lion­aire Stew­art Resnick, who co-owns Fiji Water, hap­pened to be a long­time CI board mem­ber, and CI worked for Fiji Water in exchange for con­ser­va­tion fund­ing. (Full dis­clo­sure: This author briefly worked for Con­ser­va­tion Inter­na­tion­al in 2006, which led to her whistle­blow­ing book, Green, Inc.: An Envi­ron­men­tal Insid­er Reveals How a Good Cause Has Gone Bad.)
In 2011, a Cal­i­for­nia woman launched a class-action law­suit argu­ing Fiji was ​"claim[ing] cred­it for car­bon removal that may or may not take place — up to sev­er­al decades in the future." The case was dis­missed, but the com­pa­ny has stopped using the car­bon-neu­tral label.
5
Remem­ber ​"Beyond Petro­le­um"? In 2001, the oil com­pa­ny BP (for­mer­ly known as British Petro­le­um) rebrand­ed as an envi­ron­men­tal cham­pi­on, adopt­ing its ​"Beyond" slogan.
Its solar sub­sidiary, BP Solar, was a big part of the Beyond Petro­le­um efforts. In its mid-2000s hey­day, solar pan­el man­u­fac­tur­er BP Solar enjoyed a brief era of prof­itabil­i­ty. In 2004, the com­pa­ny report­ed, ​"The solar busi­ness grew sales by 38% and deliv­ered a full-year oper­at­ing prof­it for the first time."
Short­ly after that record year, how­ev­er, Chi­nese solar pan­el man­u­fac­tur­ers intro­duced cheap new prod­ucts to the mar­ket. By 2008, Chi­nese solar pan­els were sell­ing for 80% less than oth­ers in the indus­try, dri­ving out com­pe­ti­tion and allow­ing Chi­na to seize a lead­er­ship posi­tion in solar that it still maintains.
By 2010, BP's solar sub­sidiary was already feel­ing the heat of Chi­nese com­pe­ti­tion when the Deep­wa­ter Hori­zon oil spill left 11 work­ers dead and allowed 4 mil­lion bar­rels of oil to flow into the Gulf of Mex­i­co, a seri­ous crack in the company's green image. BP Solar closed in 2011, suc­cumb­ing to Chi­nese com­pe­ti­tion, and the Beyond Petro­le­um slo­gan soon fad­ed away.
BP did not buy its way back into solar until Decem­ber 2017, with a $200 mil­lion invest­ment in Europe's largest solar devel­op­er, Light­source. But the com­pa­ny has nev­er been close to going beyond petro­le­um — then or now.
Even in 2004, 96% of BP's net prof­its came from dirty old fos­sil fuels, with just 4% com­ing from solar and oth­er renew­ables. In 2018, mean­while, the com­pa­ny report­ed $12.7 bil­lion in under­ly­ing replace­ment cost prof­it (effec­tive­ly net income), which high­lights the tiny nature of its $200 mil­lion Light­source solar invest­ment. As Valenti­na Kret­zschmar, the direc­tor of research at oil analy­sis firm Wood Macken­zie, put it in 2018, ​"the amount of mon­ey spent is still peanuts com­pared to their core business."
6
U.S.-headquartered com­modi­ties traders Archer Daniels Mid­land (ADM), Bunge and Cargill, which sup­ply world mar­kets with a vast array of raw mate­ri­als, have long stood accused of encour­ag­ing farm­ers to cut deep­er into the Ama­zon and oth­er forests, bull­doz­ing bio­di­verse ecosys­tems to make way for fields of soy­beans, African palm and oth­er cash crops.
Var­i­ous cor­po­rate sus­tain­abil­i­ty pro­grams have com­mit­ted to stop pur­chas­ing com­mod­i­ty crops grown on recent­ly defor­est­ed land and all three of the afore­men­tioned big traders have turned to ​"trace­abil­i­ty" sys­tems to account for every grain, seed and fruit in a sup­ply chain and link them back to where they grew. Bunge says it has achieved more than 90% trace­abil­i­ty for farms it sources from direct­ly in ​"high-pri­or­i­ty areas" around the world and is mon­i­tor­ing more than 6,700 farms and 200 inde­pen­dent grain ele­va­tors. Cargill has pledged ​"to trans­form our agri­cul­tur­al sup­ply chains to be deforestation-free."
How­ev­er, ​"The Ulti­mate Mys­tery Meat," a 2017 inves­ti­ga­tion by the activist orga­ni­za­tion Mighty Earth, charged Bunge and Cargill with dri­ving defor­esta­tion in Brazil and Bolivia.
"Bunge has adopt­ed a strong pol­i­cy on paper to pro­hib­it defor­esta­tion in its sup­ply chain, but hasn't wide­ly com­mu­ni­cat­ed the pol­i­cy to its sup­pli­ers," the report reads. And ​"Cargill has giv­en itself until 2030 to elim­i­nate defor­esta­tion from its sup­ply chains, giv­ing soy grow­ers and oth­ers almost 15 years to race to clear as much for­est as possible."
The prob­lem is indus­try­wide. Geospa­tial ana­lyst Philip Cur­tis, a researcher with the Sus­tain­abil­i­ty Con­sor­tium, found that for­est clear­ing for com­modi­ties crops remained steady between 2001 and 2015, with an area the size of Cos­ta Rica lost every year to indus­tri­al agri­cul­ture. ​"The scale of the loss was stag­ger­ing," he told Sci­ence.
Cor­po­ra­tions clear­ly have robust infor­ma­tion about cli­mate impacts, and the sig­nif­i­cant resources need­ed to address the prob­lem. And despite ram­pant green­wash­ing (reveal­ing a com­mit­ment to pub­lic rela­tions rather than real sus­tain­abil­i­ty), cor­po­rate lead­ers have unde­ni­ably ele­vat­ed the pub­lic con­ver­sa­tion about cli­mate change while politi­cians have too often remained silent. Arguably, how­ev­er, they do so only as far (and as often) as pub­lic opin­ion requires.
As we've seen from FedEx, Cargill and oth­ers, some of today's most suc­cess­ful and ruth­less­ly com­pet­i­tive cor­po­ra­tions — despite claim­ing to be trans­form­ing an indus­try — have exhib­it­ed a sur­pris­ing lack of grit, qui­et­ly fold­ing at the first obsta­cle to their bold­est green ambitions.
This appar­ent incon­sis­ten­cy often seems delib­er­ate, with com­pa­nies demand­ing cli­mate action while sup­port­ing trade asso­ci­a­tions and politi­cians who deny that cli­mate change is even hap­pen­ing. Many con­tin­ue pro­tect­ing old busi­ness mod­els, while hedg­ing their bets with new clean tech prod­ucts and ser­vices. Some of today's biggest pol­luters — oil and gas com­pa­nies and big util­i­ties — are plan­ning for big prof­its from the renew­able ener­gy tran­si­tion, even while con­tin­u­ing busi­ness as usu­al for as long as possible.
His­to­ry shows that indi­vid­ual cor­po­ra­tions have failed to fol­low through on promised change with­out gov­ern­ment reg­u­la­to­ry action. ​"I don't think [the trans­porta­tion] indus­try would [decar­bonize] if they are not high­ly incen­tivized to do it, or required in some aspects," says Lewis Ful­ton, direc­tor of the Sus­tain­able Trans­porta­tion Ener­gy Path­ways pro­gram at the Uni­ver­si­ty of Cal­i­for­nia, Davis.
The fail­ure of cor­po­rate sus­tain­abil­i­ty efforts also bodes poor­ly for the kind of lais­sez-faire poli­cies that cor­po­ra­tions hold up as the answer to cli­mate change. These include mar­ket-based pric­ing mech­a­nisms, such as cap and trade, which not only rely heav­i­ly on off­sets but implic­it­ly trust cor­po­ra­tions to set their own path toward sus­tain­abil­i­ty with lim­it­ed state inter­ven­tion. ​"Mak­ing tweaks to a mar­ket mech­a­nism and hop­ing that indus­try will respond cor­rect­ly" will like­ly be insuf­fi­cient, says Bri­an Now­ic­ki at the Cen­ter for Bio­log­i­cal Diver­si­ty. What's need­ed are ​"bold actions where we actu­al­ly redi­rect where our resources are and what we are invest­ing in as a state and as a country."
The renowned late envi­ron­men­tal­ist David Brow­er is cred­it­ed with say­ing that all envi­ron­men­tal vic­to­ries are tem­po­rary, while each defeat is a per­ma­nent loss. The oppo­site could be said of cor­po­rate sus­tain­abil­i­ty claims: Cor­po­ra­tions want ever­last­ing cred­it for their invest­ments in nature, but for their fail­ures to be instant­ly forgotten.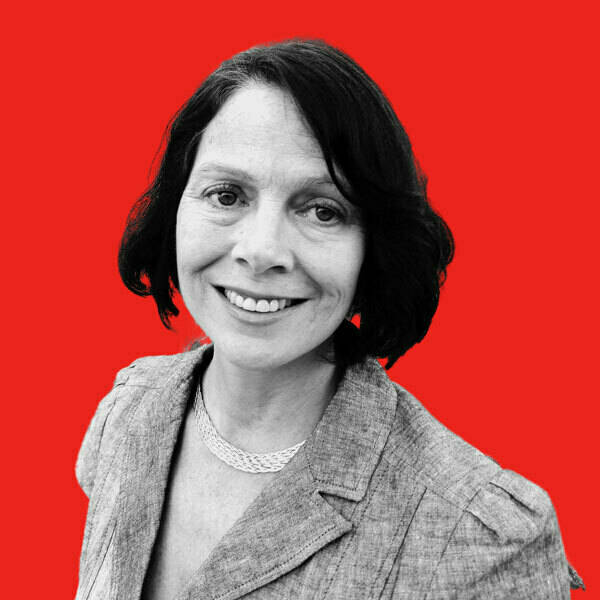 Chris­tine Mac­Don­ald is an inves­tiga­tive reporter and author, whose work focus­es cli­mate change, envi­ron­men­tal sus­tain­abil­i­ty and green­wash­ing. She was a 2019 – 2020 fel­low with the Leonard C. Good­man Insti­tute for Inves­tiga­tive Reporting.