The Food Industry's Next Covid-19 Victims: Migrant Farmworkers
Outbreaks have begun at farms around the country, thanks in large part to crowded employer-provided housing.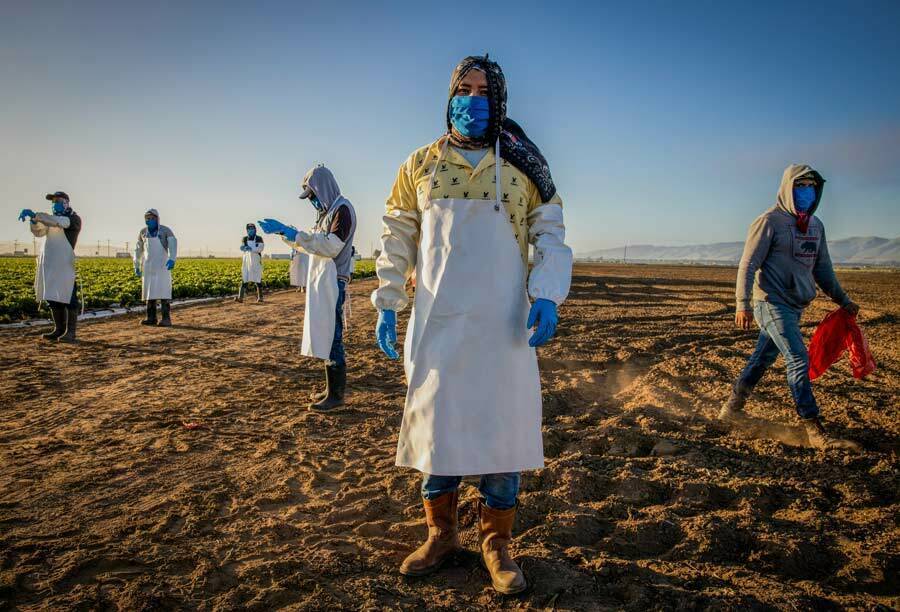 AVON, N.Y. — Luis Jimenez, 35, works 66 hours a week tend­ing hun­dreds of calves at a dairy in upstate New York. He sends $800 home to his par­ents and eight sib­lings in Oax­a­ca, Mex­i­co, every two weeks. ​"We want to build a house," he says by phone. ​"I want my broth­ers and sis­ters to go to col­lege." A calf lows loud­ly in the background.
Outbreaks on farms are increasing, and they disproportionately affect migrant farmworkers—at least 48% of whom are undocumented.
Jimenez is pres­i­dent of Alian­za Agri­co­la, an advo­ca­cy group led by migrant farm­work­ers. He says dozens of undoc­u­ment­ed farm­work­ers in his orga­ni­za­tion are par­tic­u­lar­ly vul­ner­a­ble to the coro­n­avirus. ​"If one guy gets infect­ed, it's easy to pass to the oth­ers because they live in the same house and come in the same car when they go to work," he says.
The most wide­spread out­break in the food sys­tem appears to be among meat­pack­ing work­ers, with 15,800 doc­u­ment­ed cas­es linked to 193 plants, as of May 21. Wired mag­a­zine says Covid-19 thrives in the plants because of long hours, crowd­ed work­sta­tions, ​"aggres­sive ven­ti­la­tion sys­tems" and cold tem­per­a­tures. But out­breaks on farms are increas­ing, and they dis­pro­por­tion­ate­ly affect migrant farm­work­ers — at least 48% of whom are undoc­u­ment­ed.
In These Times iden­ti­fied at least 349 coro­n­avirus cas­es at 13 farm and agri­cul­tur­al sites in four states. Accord­ing to farm­work­ers, med­ical per­son­nel, advo­cates, lawyers and media reports, the rea­son lies in shared migrant hous­ing.
Jimenez and oth­er farm­work­ers live in so-called con­gre­gate liv­ing set­tings, also known as labor camps. Grow­ers usu­al­ly pro­vide hous­ing for migrants, who may trav­el thou­sands of miles for jobs. Jimenez says, on one dairy farm, ​"Six guys live in a small room, in three bunk beds." It's not a house, he says. ​"It's a room attached to the farm office."
Coro­n­avirus out­breaks in upstate New York have hit a dairy, a nurs­ery and a 32-acre green­house. At the green­house, run by Green Empire Farms, half of its 340 work­ers who tend toma­toes and straw­ber­ries test­ed pos­i­tive, one of the state's biggest out­breaks. Accord­ing to local health offi­cials, the grow­er-pro­vid­ed hous­ing had four work­ers to a room and two to a bed in motels.
Farm­work­ers ​"are scared they will get infect­ed and die," Jimenez says. ​"We don't have health insur­ance. We don't have access to med­ical service."
Wood­burn is the epi­cen­ter of the Covid-19 out­break in Ore­gon — and head­quar­ters to Pineros y Campesinos Unidos de Noroeste, a 7,000-member farm­work­er union. ​"Our mem­bers work with dozens, some­times hun­dreds [of work­ers], out in the fields, shoul­der to shoul­der," says exec­u­tive direc­tor Rey­na Lopez, whose par­ents were migrant farm­work­ers. ​"They some­times live 25 to a house. When one gets it, it spreads like wildfire."
In cen­tral California's Mon­terey Coun­ty, home to the fer­tile Sali­nas Val­ley (with 1.4 mil­lion acres of farm­land), The Mer­cury News reports that ​"unsan­i­tary, over­crowd­ed con­di­tions" in con­gre­gate hous­ing are ​"the per­fect recipe for an out­break." Farm­work­ers account for 40% of Mon­terey County's 308 con­firmed cas­es as of May 12.
North Car­oli­na has seen out­breaks on five farms with con­gre­gate hous­ing. Lori John­son, man­ag­ing attor­ney at the farm­work­er unit of Legal Aid of North Car­oli­na, says migrant farm­work­ers ​"are shar­ing bath­rooms, they are shar­ing kitchens, the num­ber of bath­rooms is low." Under state law, agribusi­ness­es can cram work­ers into dorms with as lit­tle as 50 square feet per per­son, one show­er for every 10 peo­ple and one toi­let for every 15.
"The like­li­ness of every­one in a camp con­tract­ing Covid-19 is very high," says Amy Elkins, an out­reach work­er for advo­ca­cy group NC Farm­work­ers Project. ​"The major­i­ty of our work­ers live in bar­racks with up to 120 work­ers shar­ing approx­i­mate­ly four toi­lets and four showers."
In Salem Coun­ty, N.J., 59 migrant work­ers test­ed pos­i­tive on one farm, where up to 100 male farm­work­ers report­ed­ly live in dorms. At an orchard with employ­er-pro­vid­ed hous­ing in Dou­glas Coun­ty, Wash., half of the 71 farm­work­ers test­ed positive.
Ear­ly indi­ca­tions sug­gest more out­breaks among farm­work­ers go unre­port­ed. For­mer dairy work­er Wilmer Jimenez, 26, orga­nizes work­ers on dozens of farms in west­ern New York with the Rur­al and Migrant Min­istry. ​"The health depart­ment con­firmed three farm out­breaks. … But I spoke to a lot of oth­er farm­work­ers who were sick," he says. In Yaki­ma Coun­ty, Wash., The Seat­tle Times reports 70 ​"farm and fruit-pack­ing work­ers" have test­ed pos­i­tive, but the Yaki­ma Health Dis­trict esti­mates about 400 total cas­es among agri­cul­ture work­ers. In May, work­ers at six fruit pro­cess­ing facil­i­ties in the coun­ty went on strike after cowork­ers fell ill with Covid-19, cit­ing more than 200 health and safe­ty violations.
With 3 mil­lion migrant and sea­son­al farm­work­ers trav­el­ing the Unit­ed States in the com­ing months, over­crowd­ed hous­ing may take a seri­ous toll.
"We are some of the most essen­tial work­ers in the coun­try," says Sinthia, an immi­grant from Gua­na­ju­a­to, Mex­i­co, and one of 60,000 farm­work­ers who har­vest the Sali­nas Val­ley dur­ing the sum­mer peak. (Sinthia request­ed anonymi­ty to pro­tect her­self, her fam­i­ly and her job.) ​"Now we have the emo­tion­al strain of hav­ing to go to work … but always think­ing about what will hap­pen with this virus."