Market Logic Is Literally Killing Us
Historically, during national emergencies like World War II, the U.S. government subordinated business interests to the public good. Why can't it do so in the Covid-19 crisis?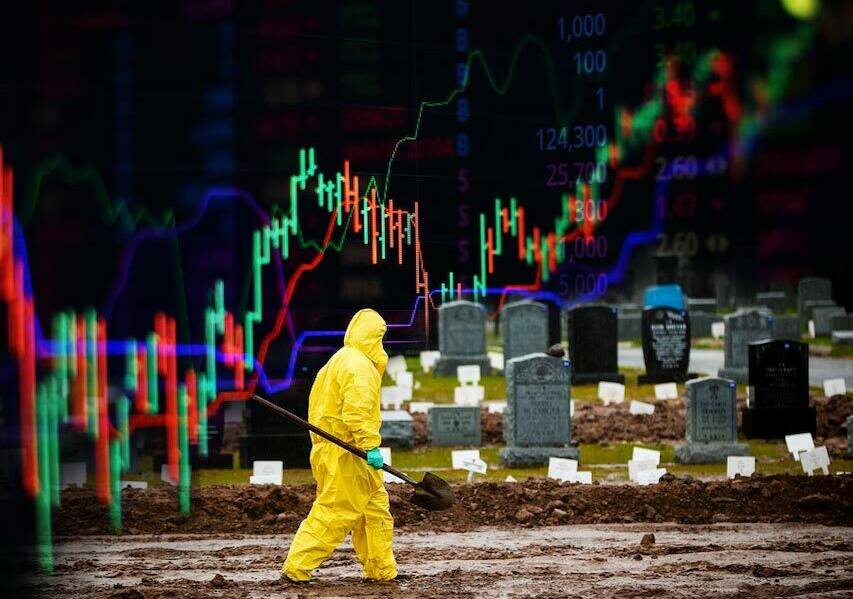 Las Vegas May­or Car­olyn Good­man, a for­mer Demo­c­rat (now Inde­pen­dent), sat down with CNN's Ander­son Coop­er on April 22. Good­man had been attract­ing atten­tion by loud­ly assert­ing her city's famous casi­nos should open as soon as pos­si­ble. ​"Is that," Ander­son asked, ​"a respon­si­ble call to make?" Goodman's unhinged response has since become legendary.
Now that an existential threat on par with war has come, America has refused the challenge—choosing for its battle cry: "Let us get back to business!"
"I'd love every­thing to open," she began. ​"We've nev­er closed down the Unit­ed States."
Coop­er raised the obvi­ous objec­tion that peo­ple from all over the world paw­ing slot machines, breath­ing recir­cu­lat­ed air, impair­ing their judg­ment with drink and return­ing to homes across the Unit­ed States and the world would spread the dis­ease. ​"Doesn't that sound like a virus petri dish?" he asked.
"No, it sounds like you're being an alarmist," Good­man retort­ed. The casi­nos, she insist­ed, could enforce social distancing.
"How do you do that?"
"That's up to them to fig­ure out," Good­man said. ​"I'm not a pri­vate own­er of a hotel. I wish I were." So she had no plan for rules, laws or rec­om­men­da­tions to get pri­vate own­ers to do any­thing, nor did she intend to pur­sue one.
Coop­er asked whether Good­man stood by her ear­li­er assess­ment that ​"com­pe­ti­tion will destroy [busi­ness­es] if it becomes evi­dent that they have a dis­ease." In response, Good­man dou­bled down by offer­ing Vegas as a ​"place­bo … to mea­sure against" cities that stay closed. Her bot­tom line? ​"Let us get back to business!"
In 1906, the psy­chol­o­gist and paci­fist William James gave a speech in search of ​"the moral equiv­a­lent of war," a phrase that has lived on indeli­bly ever since. ​"All the qual­i­ties of a man acquire dig­ni­ty when he knows that the ser­vice of the col­lec­tiv­i­ty that owns him needs him," he not­ed, lament­ing that war has func­tioned like no oth­er human activ­i­ty to moti­vate the ​"sur­ren­der of pri­vate inter­est" and spur ​"the supremest out of human nature."
So, the paci­fist won­dered, what might be sub­sti­tut­ed for war that would still call nations toward like­wise noble sac­ri­fice — some­thing that could build and heal, rather than kill and ruin? The charge has haunt­ed us ever since. In 1977, Pres­i­dent Jim­my Carter thought he had found one, and gave his own his­toric ​"moral equiv­a­lent of war" speech, ask­ing Amer­i­ca to wean itself off fos­sil fuels. Carter's fel­low cit­i­zens large­ly reject­ed his quest. A moral equiv­a­lent to war con­tin­ued to elude us.
Until now. Enter the Covid-19 pan­dem­ic. Except now that an exis­ten­tial threat on par with war has come, Amer­i­ca has refused the chal­lenge — choos­ing for its bat­tle cry: ​"Let us get back to business!"
Covid-19 has sucked the world into a vor­tex of inter­lock­ing crises that demand col­lec­tive sac­ri­fice to resolve. The world's most pow­er­ful nation has revealed itself as trag­i­cal­ly unequal to the chal­lenge — unwill­ing to tran­scend pri­vate inter­est. From the deranged Repub­li­cans run­ning the White House and the Sen­ate to the pen­ny-pinch­ing Democ­rats run­ning the House of Rep­re­sen­ta­tives, from ordi­nary folks who can't be both­ered to wear a mask to cor­po­rate titans scour­ing the hori­zon for prof­it-tak­ing oppor­tu­ni­ties — it all marks the dis­til­la­tion of a nation­al ide­ol­o­gy: self­ish­ness, über alles. As long as this creed unites us, no war, moral or oth­er­wise, has ever — can ever — be won.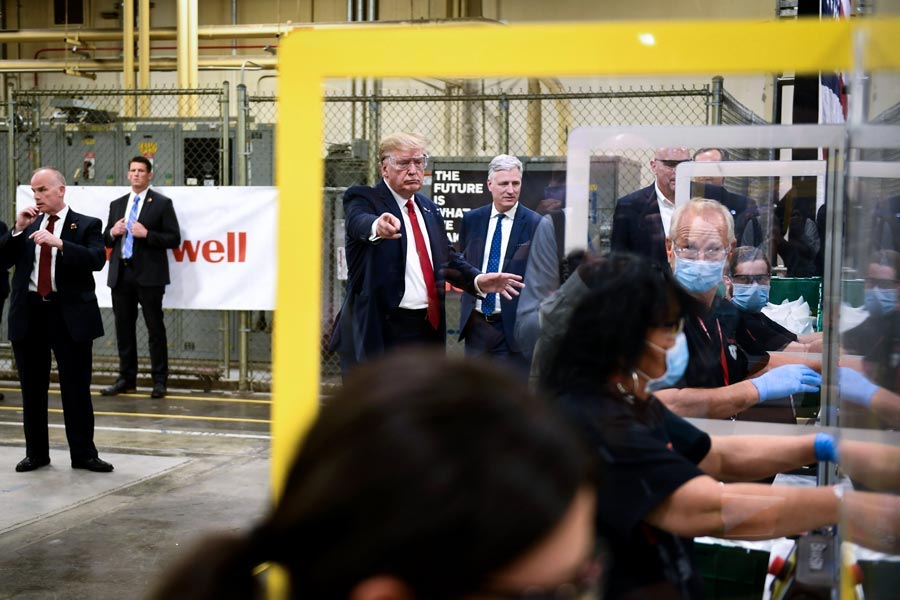 (Pres­i­dent Don­ald Trump wears safe­ty glass­es but ignores the ​"wear your mask at all times" guide­line post­ed on the Hon­ey­well fac­to­ry floor May 5 in Phoenix. Trump's mask-free pho­to ops project a false sense of nor­mal­cy — while, report­ed­ly, he does wear a mask off cam­era. Pho­to cred­it: Bren­dan Smialowski/​AFP via Get­ty Images)
Cap­i­tal­ist soci­eties have reg­u­lar­ly reor­ga­nized them­selves for col­lec­tive sac­ri­fice dur­ing nation­al emer­gen­cies. Once upon a time, it hap­pened all the time. The ques­tion is whether America's embrace of indi­vid­u­al­ist mar­ket­place log­ic has become such a death grip that such reor­ga­ni­za­tion is no longer possible.
Napoleon sup­pos­ed­ly labeled Eng­land a ​"nation of shop­keep­ers" and, there­fore, ripe for con­quest. Eng­lish­men, instead, ral­lied to enlist, and his­to­ri­ans have cred­it­ed the ​"total war" that fol­lowed the French inva­sion with the first forg­ing of a true British nation­al iden­ti­ty—a col­lec­tiv­i­ty worth sur­ren­der­ing pri­vate inter­est for, even unto death. If Eng­land had proven mere­ly a nation of shop­keep­ers, it might not exist.
One hun­dred forty years lat­er, anoth­er tyrant learned a sim­i­lar les­son. Short­ly before Pearl Har­bor, Adolf Hitler observed, ​"I don't see much future for the Amer­i­cans. It's a decayed coun­try." His first rea­son was the pre­dictable one: The Unit­ed States was ​"half Judaized, and the oth­er half Negri­fied," he said. But his sec­ond one par­al­leled Napoleon's remark about Eng­land: In Amer­i­ca, ​"every­thing is built on the dollar."
Hitler had anoth­er thing com­ing. I once spent a riv­et­ing after­noon work­ing my way through the 1943 Uni­ver­si­ty of Illi­nois year­book. Every club, team and uni­ver­si­ty unit com­pet­ed to one-up the oth­ers in sac­ri­fice for the com­mon good. At the time, meat, but­ter, cof­fee, tires and gaso­line were all rationed. The pro­duc­tion of pri­vate auto­mo­biles was banned. Indus­try sur­ren­dered basic direc­tion to the gov­ern­ment about what to pro­duce and how, as deter­mined by Direc­tor of the Office of Eco­nom­ic Sta­bi­liza­tion James Byrnes — who had him­self sac­ri­ficed a Supreme Court appoint­ment to take the job.
There was, it is true, plen­ty of prof­i­teer­ing in the war indus­tries. (One Demo­c­ra­t­ic sen­a­tor from Mis­souri, Har­ry Tru­man, turned him­self into vice pres­i­den­tial tim­ber by ruth­less­ly inves­ti­gat­ing it.) And the puri­ty of sac­ri­fice is com­pli­cat­ed by the fact that war pro­duc­tion ulti­mate­ly enriched con­sumers and cor­po­ra­tions enough to end the Depres­sion.
But for the most part, sac­ri­fice for the com­mon good was every­where — viral, you might say. Labor agreed to, and most­ly hon­ored, a no-strike pledge. The Rev­enue Act of 1942 dou­bled income tax­es, with the sys­tem of auto­mat­ed pay­roll deduc­tions begin­ning in 1943. Before the war, only 4 mil­lion Amer­i­cans paid income tax at all; by its end, 42.8 mil­lion did — and were gen­er­al­ly proud to do so. They sang along with a hit Irv­ing Berlin song, ​"You see those bombers in the sky? Rock­e­feller helped build them and so did I. I paid my income tax today!"
Amer­i­ca proved itself far more than a nation of shop­keep­ers, at least for the dura­tion of that exis­ten­tial cri­sis. Dur­ing our cur­rent one, our lead­ers think of them­selves only as shop­keep­ers, and the nation as a mall — which need only ​"open up" to win the war.
Take a moment to again review that list of col­lec­tive sac­ri­fice dur­ing World War II — the rationing, the idea that indus­try would take orders from gov­ern­ment, the pay­check deduc­tions. Com­pare it to now.
Pay­roll tax­es, for exam­ple. The pres­i­dent wants the oppo­site. ​"We're not doing any­thing with­out a pay­roll tax cut," Trump intoned in front of the Lin­coln Memo­r­i­al, reject­ing the idea of more fed­er­al relief. In a fol­low-up tweet, he added the elim­i­na­tion of the cap­i­tal gains tax to his wish list, along with new busi­ness tax deduc­tions and law­suit indem­ni­fi­ca­tion for busi­ness­es open dur­ing the pandemic.
Wartime-style indus­tri­al con­ver­sion? We all know the sto­ry: For months, gov­er­nors and pub­lic health offi­cials begged Trump to invoke the 1950 Defense Pro­duc­tion Act to com­mand indus­try to mass pro­duce afford­able med­ical sup­plies, such as ven­ti­la­tors. Final­ly, an actu­al oppor­tu­ni­ty to wrench the tools of a per­ma­nent war econ­o­my into ser­vice for its moral equiv­a­lent! But for the titans of indus­try, that wrench­ing would mean they would have to sac­ri­fice — and set the dan­ger­ous prece­dent that their prop­er­ty was any­thing oth­er than theirs, to use as they wished. Such a notion was to them inconceivable.
And what about rationing? The oppo­site, of course. In fact, Trump deployed the Defense Pro­duc­tion Act to ensure the steady sup­ply of an agri­cul­tur­al prod­uct peo­ple can live health­ily with­out: meat. An inves­ti­ga­tion by lib­er­al emer­gency pre­pared­ness web­site The Pre­pared found that ​"many large U.S. meat pro­cess­ing plants," includ­ing some shut down after work­ers con­tract­ed Covid-19, ​"have sought and obtained per­mis­sion from the Food and Drug Admin­is­tra­tion (FDA) to increase their line speed." Out­breaks among line work­ers have con­tin­ued, and at least 300 Depart­ment of Agri­cul­ture meat inspec­tors are unable to work because they have con­tract­ed Covid-19.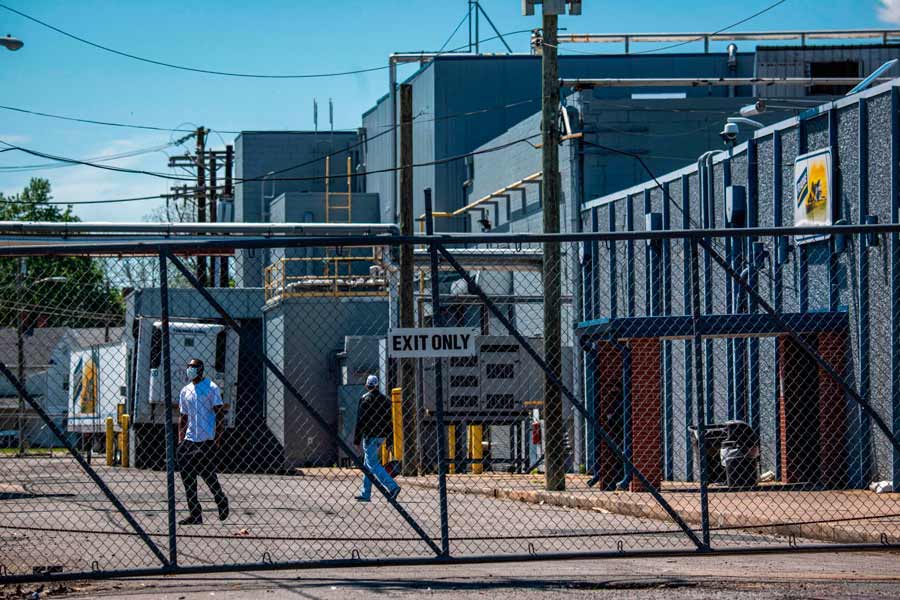 (Two work­ers stand inside a Per­due Farms chick­en and poul­try pro­cess­ing com­pound May 2 in Sal­is­bury, Md. As of April 29, Sal­is­bury had one of the worst per capi­ta infec­tion rates in the coun­try, linked to out­breaks among poul­try work­ers who feared los­ing their jobs. Pho­to cred­it: Eric Baradat/​AFP via Get­ty Images)
Instead of sac­ri­fic­ing busi­ness inter­ests for the pub­lic good, a dark­er prece­dent has tak­en hold: Boss­es tak­ing every oppor­tu­ni­ty to dis­play that their work­ers are theirs to sac­ri­fice, to prove that no col­lec­tiv­i­ty owns them. Dur­ing World War II, to free up resources for the war effort, the gov­ern­ment pre­vent­ed the pro­duc­tion of pri­vate auto­mo­biles. Now, the online auto­mo­bile retail­er Car­vana writes its employ­ees, ​"If you are not com­fort­able and opt not to return to your sched­uled hours, we will con­sid­er you to have aban­doned or resigned from your job."
The mar­ket knows best, they say. In March, Trump pushed to cir­cum­vent FDA tri­als and allow the use of the drugs hydrox­y­chloro­quine and chloro­quine as a coro­n­avirus treat­ment, though there was lit­tle evi­dence they work. Pub­lic health experts rebelled against using the free mar­ket as a test­ing ground and risk­ing people's deaths, but Trump pre­vailed, and the fed­er­al gov­ern­ment has pur­chased and dis­trib­uted more than 30 mil­lion dos­es to states.
It's not just Trump. Some­thing very deep has changed in our nation since World War II. The mad­ness has been steal­ing upon us for some time.
It once seemed obvi­ous, for exam­ple, that a pure­ly ​"free" mar­ket in med­i­cine made no kind of sense: Peo­ple shouldn't have to wait for corpses to show up on the news to know they shouldn't pur­chase a prod­uct. That com­mon sense received legal cod­i­fi­ca­tion in 1962 when Pres­i­dent John F. Kennedy signed an amend­ment to the Fed­er­al Food, Drug and Cos­met­ic Act. Spon­sored by Sen. Estes Kefau­ver (DTenn.), the law required all drugs be test­ed and cer­ti­fied as safe and effec­tive by the FDA before they could be sold. In 1978, how­ev­er, the sec­ond-place fin­ish­er in the last Repub­li­can pres­i­den­tial nom­i­nat­ing con­test, Ronald Rea­gan, argued such reg­u­la­tion was more sac­ri­fice than a cor­po­ra­tion ought to bear. Rea­gan com­plained in one of his dai­ly radio com­men­taries that the Kefau­ver amend­ment had been the prod­uct of undue ​"hys­te­ria" over birth defects caused by thalido­mide and caused ​"a tobog­gan slide for the Unit­ed States phar­ma­ceu­ti­cal indus­try." The law ought to be repealed, Rea­gan said. Rep. Steve Symms (R‑Idaho) spon­sored a ​"med­ical free­dom of choice bill" to do so, insist­ing, like our cur­rent pres­i­dent after a hydrox­y­chloro­quine binge, that doc­tors and patients, act­ing as indi­vid­ual con­sumers, ​"should have the free­dom to decide which drug might be use­ful, which might be dangerous."
Symms' bill failed, but the attempt marked a bell­wether of the com­ing ele­va­tion of com­merce as the mea­sure of all val­ue. Pres­i­dent Carter had just declared, in his 1978 State of the Union, ​"Gov­ern­ment can­not solve our prob­lems, it can't set our goals, it can­not define our vision. Gov­ern­ment can­not elim­i­nate pover­ty or pro­vide a boun­ti­ful econ­o­my or reduce infla­tion or save our cities or cure illit­er­a­cy or pro­vide ener­gy." Two years lat­er, Carter ran for reelec­tion against Rea­gan by hold­ing him­self up as Reagan's dereg­u­la­tion­ist equal: The par­ty of FDR now believed, ​"We ought to get the government's nose out of the pri­vate enter­prise of this coun­try. We've dereg­u­lat­ed rail, dereg­u­lat­ed truck­ing, dereg­u­lat­ed air­lines, dereg­u­lat­ed finan­cial insti­tu­tions, work­ing on com­mu­ni­ca­tions, to make sure that we have a free enter­prise sys­tem that's competitive."
That larg­er project, of writ­ing pub­lic oblig­a­tion out of business's social con­tract with the peo­ple, was bipar­ti­san. ​"Busi­ness is enti­tled to its decade, and I will try to help them get it," the Demo­c­ra­t­ic chair of the House Ways and Means Com­mit­tee, Dan Ros­tenkows­ki, told a busi­ness asso­ci­a­tion in 1981. By 2020, the sur­ren­der to mar­ket log­ic had advanced so far along that when the moral equiv­a­lent of war came, America's arse­nal to fight it proved quite near­ly bare
Con­sid­er one of the major rea­sons that ven­ti­la­tors were in short sup­ply to treat Covid-19 patients in Amer­i­ca. In 2007, the Depart­ment of Health and Human Ser­vices — after the pan­dem­ic near-miss­es of SARS, MERS, the bird flu and the swine flu — com­mis­sioned the design of a new ven­ti­la­tor that would cost $3,000, instead of the going rate of $10,000. The project would address the ven­ti­la­tor short­age in the nation­al stock­pile. Unlike the 1940s, it was by then incon­ceiv­able that gov­ern­ment might order indus­try to do so; only com­mie coun­tries did that. Instead, the project was entrust­ed to the market.
At first, it worked out. A small, nim­ble firm spe­cial­iz­ing in ven­ti­la­tors, New­port, won the con­tract and had a work­ing pro­to­type by 2011. Then, how­ev­er, the com­pa­ny was swal­lowed up by a giant, multi­na­tion­al, pub­licly trad­ed med­ical device com­pa­ny with a now-iron­ic name: Covi­di­en. ​"Gov­ern­ment offi­cials and exec­u­tives at rival ven­ti­la­tor com­pa­nies," the New York Times report­ed, ​"said they sus­pect­ed that Covi­di­en had acquired New­port to pre­vent it from build­ing a cheap­er prod­uct that would under­mine Covidien's prof­its from its exist­ing ven­ti­la­tor busi­ness." Covi­di­en wrig­gled out of the gov­ern­ment con­tract. As of this writ­ing, the com­pa­ny that replaced Covi­di­en has pro­duced a pro­to­type — but not even one has shipped.
The Cen­ters for Dis­ease Con­trol and Pre­ven­tion should have antic­i­pat­ed this even­tu­al­i­ty, for it is typ­i­cal of how our rad­i­cal­ly dereg­u­lat­ed sys­tem of cap­i­tal­ism now func­tions. If a com­pa­ny is pub­licly trad­ed, like Covi­di­en, its investors — includ­ing its own exec­u­tives, paid in stock options— ruth­less­ly demand con­sis­tent quar­ter­ly prof­its. One big insti­tu­tion­al investor can demand all com­pa­nies in its port­fo­lio steer clear of any project (like afford­able ven­ti­la­tors for pan­demics) that doesn't real­ize prof­it with­in five years.
If a com­pa­ny is owned by a pri­vate equi­ty firm, it's even worse. Pri­vate equi­ty firms bor­row mon­ey to buy com­pa­nies, then often pay off the loans with mon­ey sucked from the pur­chased com­pa­ny — some­times inten­tion­al­ly dri­ving them into bank­rupt­cy. It all hap­pens with­out any incen­tive what­so­ev­er to see the pur­chased com­pa­ny suc­ceed, because part­ners in pri­vate equi­ty firms earn so much of their income from fees they receive regard­less of what hap­pens to their pur­chas­es. Often, pri­vate equi­ty firms end up effec­tive­ly restruc­tur­ing (read: down­siz­ing) entire indus­tries, with no legal lia­bil­i­ty for the dam­age they do — because, in a neat legal shell game, the firms are ​"only" investors in the businesses.
No mat­ter who owns the com­pa­nies we rely on to make our soci­ety run, any prac­tice that might shore up their resilien­cy in cri­sis is con­sid­ered anath­e­ma — like build­ing cash reserves for a rainy day (instead of, say, using excess cash to buy back their own stock, there­by boost­ing exec­u­tive com­pen­sa­tion while giv­ing even a poor­ly oper­at­ed com­pa­ny an arti­fi­cial glow of health), or mak­ing employ­ment any­thing oth­er than con­tin­gent, or pro­vid­ing paid leave.
Or build­ing flex­i­bil­i­ty into their operations.
We have all heard by now about the food com­pa­nies destroy­ing food, to the tune of 3.7 mil­lion gal­lons of milk a day and 750,000 eggs a week (at a sin­gle chick­en proces­sor). The major rea­son? Accord­ing to Claire Kel­loway of Wash­ing­ton Month­ly, ​"Begin­ning in the 1980s, the fed­er­al gov­ern­ment allowed more agribusi­ness­es to merge and grow large­ly with­out restraint." With that came the imper­a­tive to squeeze every pos­si­ble prof­it-denud­ing ​"inef­fi­cien­cy" out of the food sup­ply chain. It could eas­i­ly have been pre­vent­ed, had antitrust laws meant to keep any indi­vid­ual cor­po­ra­tion from attain­ing just that kind of mar­ket pow­er been ade­quate­ly enforced in the 1980s, 1990s and aughts. Instead, pro­duc­ers were forced by their rav­en­ous cor­po­rate cus­tomers to become hyper­spe­cial­ized, with Big Ag con­glom­er­ates spec­i­fy­ing every­thing from the (genet­i­cal­ly engi­neered) seeds a farmer must use to the size of their hogs. Each link in the chain was tight­ly cal­i­brat­ed to fit a sin­gle niche in a ver­ti­cal­ly inte­grat­ed sys­tem — such that, in one now-infa­mous case, eggs pro­duced to be liqui­fied for indus­tri­al use can­not pos­si­bly be sold in gro­cery stores with­out colos­sal expense. That tight­en­ing becomes a noose when the sys­tem is asked to con­vert to any goal oth­er than prof­it max­i­miza­tion — like actu­al­ly feed­ing people.
The Sovi­et-like rigid­i­ty in sup­ply chains — all indus­tri­al sup­ply chains, not just agri­cul­tur­al ones — hap­pened because of investor demands. The rea­sons are many and com­plex, but it comes down to this: New Deal reg­u­la­tion sharply lim­it­ed oppor­tu­ni­ties and incen­tives for finan­cial spec­u­la­tion. After those laws were rolled back, com­pa­nies that couldn't osten­ta­tious­ly prove they were squeez­ing out every last pen­ny were in dan­ger of los­ing the favor of their investors, whose greed now had no bounds. Spec­u­la­tors turned into dic­ta­tors. The pan­dem­ic reveals an unin­tend­ed trag­ic con­se­quence: All that effi­cien­cy they demand­ed was pur­chased at the cost of resilien­cy. The results are every­where to be seen.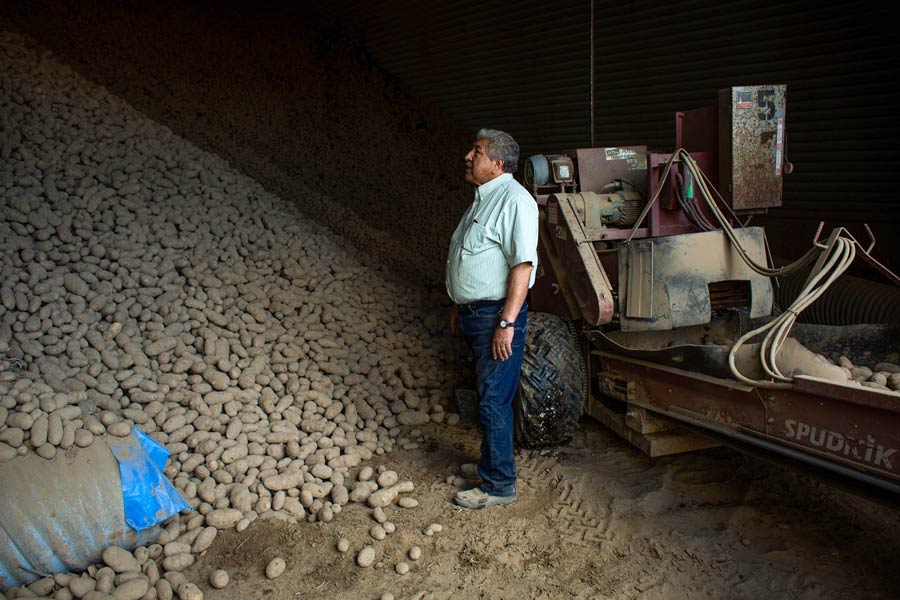 (Frank Mar­tinez looks on at his farm's pota­to stor­age facil­i­ty May 1 in War­den, Wash. Wash­ing­ton farm­ers face a sur­plus of a bil­lion pounds of pota­toes with few buy­ers dur­ing the pan­dem­ic, despite hun­gry fam­i­lies across the coun­try. Pho­to cred­it: Bren­dan Smialowski/​AFP via Get­ty Images.)
Look at the prob­lem of inven­to­ry. The author Max Brooks— who has become a respect­ed real-world con­sul­tant on dis­as­ter resilience based on the exper­tise he devel­oped writ­ing real­is­tic zom­bie fic­tion — has described how, after the Cold War, the Pen­ta­gon gave up its stock­piles of emer­gency equip­ment around the coun­try, rea­son­ing that the state Nation­al Guard units could, instead, just pur­chase equip­ment at big box retail­ers as need­ed. What the Pen­ta­gon dis­cov­ered dur­ing Super­storm Sandy, how­ev­er, was that such stores don't have ware­hous­es any­more: ​"So these huge stores need to turn over their stock every 24 hours," Brooks explains. That's how investors now demand it — with ​"just in time" deliv­ery being prof­itable come, you might say, hell or high water.
Or come Covid-19, when the nation found itself woe­ful­ly short on per­son­al pro­tec­tive equip­ment (PPE). The PPE sup­ply prob­lem had already become evi­dent, by mid­March, to a group of spe­cial­ists in med­ical logis­tics at MIT called the Covid-19 Pol­i­cy Alliance. Pol­i­cy Alliance mem­ber Valerie Karplus rec­om­mend­ed a coor­di­nat­ed sys­tem of air­lifts to get sup­plies where they were need­ed, and offered MIT pro­fes­sors as a cadre of experts to devise and admin­is­ter the plan, much how James Byrnes admin­is­tered dis­tri­b­u­tion dur­ing World War II.
Jared Kush­n­er, the administration's Covid-19 dis­tri­b­u­tion czar, ran with the memo but tossed aside the sug­ges­tions on how to staff the project; Kush­n­er recruit­ed his invest­ment world bud­dies and med­ical-indus­try execs instead. ​"True patri­ots," Kush­n­er called them. The result was Project Air­bridge, a pub­lic-pri­vate part­ner­ship with six med­ical sup­ply com­pa­nies. It has deliv­ered a frac­tion of the equip­ment promised. Mean­while, a baf­fling and still opaque sys­tem saw cities and states secur­ing sup­plies for them­selves and then hav­ing them way­laid by fed­er­al offi­cials, appar­ent­ly redis­trib­uted to polit­i­cal­ly favored par­ties for the finan­cial ben­e­fit of pri­vate interests.
The ​"true patri­ot," these days, turns an exis­ten­tial cri­sis over to the free mar­ket. Con­sid­er the mat­ter of devel­op­ing a safe and effec­tive test to deter­mine who car­ries Covid-19 anti­bod­ies (and there­fore might be immune). This test could deter­mine whether the world returns to some sem­blance of nor­mal­cy or descends fur­ther into a hellscape. In April, the New York Times report­ed, the FDA ​"allowed about 90 com­pa­nies, many based in Chi­na, to sell tests that have not got­ten gov­ern­ment vet­ting." Hos­pi­tals and munic­i­pal­i­ties began deploy­ing these prod­ucts to decide whether it was safe to do things like keep fire­fight­ers on the job.
It proved a dis­as­ter. The ones pur­chased by Lare­do, Texas, were found by pub­lic health offi­cials to have a reli­a­bil­i­ty of 20%, when the com­pa­ny claimed it was 93% to 97%. (The state stepped in to save the day, as ever in the case of cat­a­stroph­ic mar­ket fail­ure: ​"A police inves­ti­ga­tion," the Times not­ed, ​"led to a fed­er­al seizure of the tests.") After the Times pub­lished its report, a study by inde­pen­dent researchers dis­cov­ered only three of the 14 tests it tried could deliv­er con­sis­tent results, with some show­ing false pos­i­tives 16% of the time.
Again, it's not just Trump. It's the sys­tem. When the prof­it motive faces off against human need, prof­it wins every time.
In his 1906 address, William James quot­ed fel­low paci­fist H.G. Wells: ​"When the con­tem­po­rary man steps from the street, of clam­orous insin­cere adver­tise­ment, push, adul­ter­ation, under­selling and inter­mit­tent employ­ment into the bar­rack-yard, he steps on to a high­er social plane, into an atmos­phere of ser­vice and coop­er­a­tion and of infi­nite­ly more hon­or­able emu­la­tions." The vision, there, is that col­lec­tive­ly com­mit­ting to the pub­lic good can raise a per­son above every­day van­i­ties and friv­o­li­ties, push­ing us toward a bet­ter society.
And here's our pres­i­dent in May, who loves ​"free­dom" as much as he does fried chick­en: ​"The peo­ple of our coun­try should think of them­selves as war­riors." Trump made the state­ment just after send­ing work­ers as can­non fod­der into the breach to pluck chick­ens on sped-up pro­duc­tion lines, while step­ping onto his own high­er plane — Air Force One.
They're war­riors, those brave shop­keep­ers, forc­ing their employ­ees to work or starve.
"We sent our young men dur­ing World War II over to Europe, out to the Pacif­ic, know­ing that many of them would not come home alive," Chris Christie said in the begin­ning of May, because ​"what we were stand­ing up for was the Amer­i­can way of life. In the very same way now, we have to stand up for the Amer­i­can way of life." But for the par­al­lel to hold true, he could fol­low the exam­ple of the many politi­cians who vol­un­teered to fight in World War II. He could line up to pluck chick­ens himself.
Amer­i­cans are being con­script­ed, but not for a war against Covid-19. Oth­er gov­ern­ments have kept work­ers at home by pay­ing 80% of their salaries from the pub­lic purse. This idea is a log­i­cal out­growth of employ­ment sys­tems, like the one in Ger­many, that keep work­ers on pay­rolls as long as pos­si­ble, inde­pen­dent of commerce's ups and down. Den­mark announced it will ​"freeze the econ­o­my in place" — rec­og­niz­ing that economies exist to serve peo­ple, and not the oth­er way around.
Here, on the oth­er hand, we moan about our sup­pos­ed­ly dis­as­trous ​"unem­ploy­ment rate," as if keep­ing peo­ple home in a pan­dem­ic was bad instead of good, as if it were impos­si­ble for human beings to derive their sus­te­nance in any way oth­er than ​"nor­mal" dur­ing an emer­gency (while oth­er nations deft­ly prove us wrong). And so work­ers are ordered back to work like live­stock herd­ed back into their pens. And White House toad­ies cel­e­brate like char­ac­ters in some for­got­ten George Orwell nov­el: ​"Our human cap­i­tal stock is ready to go back to work," said Kevin Has­sett of Trump's Coun­cil of Eco­nom­ic Advisers.
They say we have to do it ​"to save the econ­o­my." But as social crit­ic Dou­glas Rushkoff notes, ​"They're not talk­ing about the real econ­o­my of goods and ser­vices." It's the invest­ment econ­o­my, which, it turns out, is hum­ming along. In con­trast to mis­tak­en indi­ca­tions that busi­ness exec­u­tives were sell­ing shares of their com­pa­nies, ​"the recent peri­od is char­ac­ter­ized by abnor­mal­ly high pur­chas­es," accord­ing to a paper by econ­o­mists Renée Adams and Atti­la Balogh. If you believe Covid-19's stakes are life and death, the gov­ern­ment and its cor­po­rate hench­men are fail­ing us. But if you believe the stakes are bulls and bears, we're doing just fine.
So indus­try will keep lead­ing the rest of us to the slaugh­ter. What Hitler said rough­ly 70 years ago, that in Amer­i­ca, every­thing is built on the dol­lar? Our lives depend on prov­ing him wrong.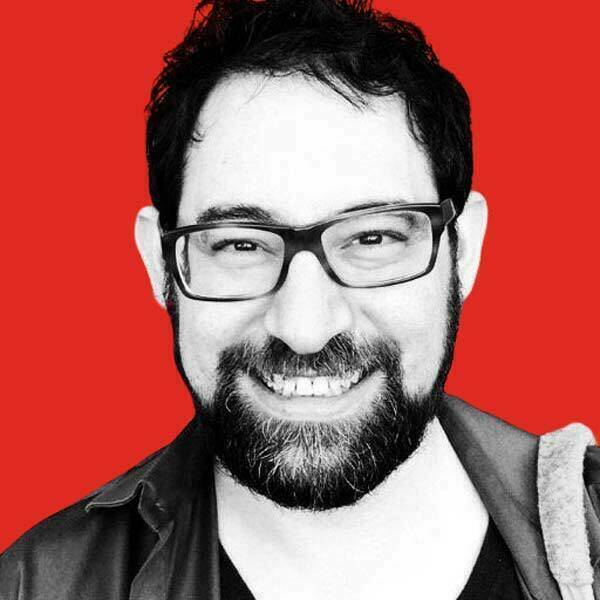 Rick Perl­stein
, an
In These Times
con­tribut­ing edi­tor, is the author of
The Invis­i­ble Bridge: The Fall of Nixon and the Rise of Rea­gan
(
2014
),
Nixon­land: The Rise of a Pres­i­dent and the Frac­tur­ing of Amer­i­ca
(
2008
), a
New York Times
best­seller picked as one of the best non­fic­tion books of the year by over a dozen pub­li­ca­tions, and
Before the Storm: Bar­ry Gold­wa­ter and the Unmak­ing of the Amer­i­can Con­sen­sus
, win­ner of the
2001
Los Ange­les Times
Book Award for his­to­ry. His book
Rea­gan­land
is forth­com­ing from Simon and Schus­ter in August.