The New Deal Funded the Arts. The Green New Deal Should, Too.
Cultural work has a key role to play in shaping the climate-friendly economy.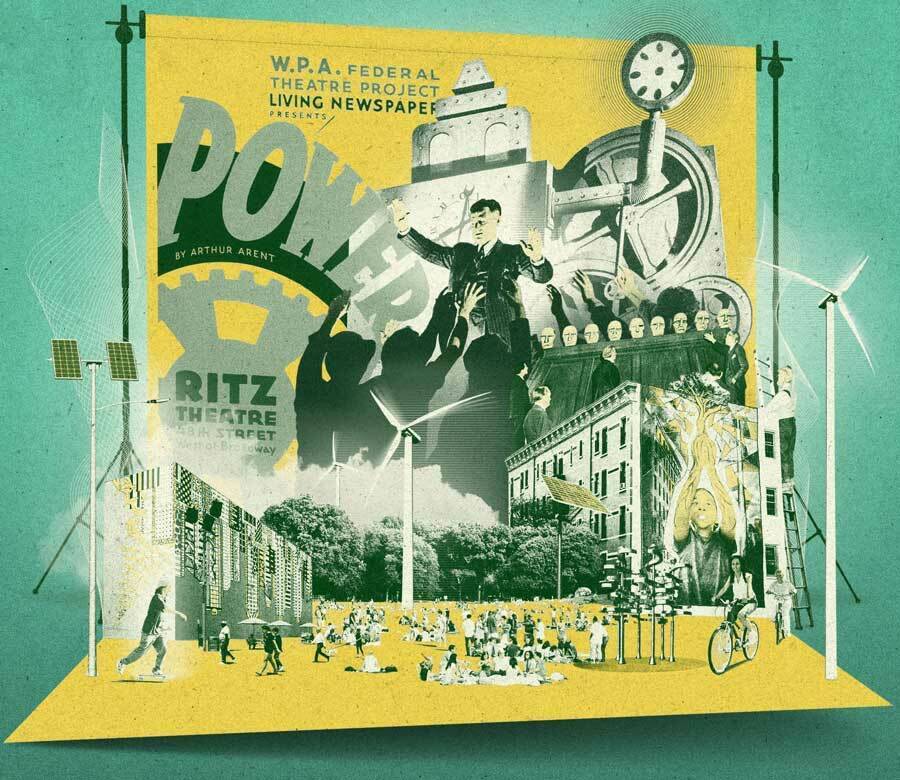 Near the end of his first term, as effects of the Depres­sion lin­gered, Pres­i­dent Franklin D. Roo­sevelt faced grow­ing pop­u­lar clam­or for dra­mat­ic eco­nom­ic action. In response, he launched a series of ini­tia­tives in 1935 that his­to­ri­ans dub the Sec­ond New Deal. Among these auda­cious pro­grams were the Social Secu­ri­ty Act, the Nation­al Labor Rela­tions Act and the Works Progress Admin­is­tra­tion (WPA), which pro­vid­ed jobs for more than 8.5 mil­lion unem­ployed Amer­i­cans. WPA work­ers built cru­cial infra­struc­ture around the coun­try, includ­ing the start of the fed­er­al high­way sys­tem and hun­dreds of thou­sands of pub­lic build­ings, parks and playgrounds.
Cultural work needs to be seen as a vitally important part of the new green economy.
The WPA also had a cul­tur­al wing that sup­port­ed writ­ers doc­u­ment­ing the nation's folk­lore (includ­ing the sto­ries of elder­ly freed slaves), artists cre­at­ing murals and stat­ues for new pub­lic build­ings, and play­wrights and the­ater work­ers stag­ing inex­pen­sive per­for­mances across the coun­try. WPA orga­ni­za­tions like the Fed­er­al Writ­ers' Project and the Fed­er­al The­atre Project (FTP) brought art to the peo­ple and pro­vid­ed jobs for unem­ployed cul­tur­al work­ers— all while shin­ing the spot­light on press­ing polit­i­cal issues. The Green New Deal should learn from this: A fed­er­al Green Arts Project could help lift up rad­i­cal solu­tions to cor­po­rate malfea­sance in our own time, while cre­at­ing huge num­bers of low-car­bon jobs.
In 1936, rough­ly 27 mil­lion Amer­i­cans lived on farms, large­ly with­out elec­tric­i­ty. As the sci­ence writer Walde­mar Kaempf­fert argued in a New York Times edi­to­r­i­al that year, elec­tri­fi­ca­tion was a crit­i­cal chal­lenge for the Unit­ed States, whose rel­a­tive­ly weak fed­er­al gov­ern­ment pre­vent­ed it from launch­ing the kind of nation-span­ning mod­ern­iza­tion projects ini­ti­at­ed by the Sovi­et Union and Nazi Germany.
This chal­lenge under­lined the inequities and dys­func­tions of the Unit­ed States' cap­i­tal­ist econ­o­my. As Kaempf­fert explained, ​"Pow­er com­pa­nies are not phil­an­thropic insti­tu­tions. Investors look to them for div­i­dends. If there is no mar­ket in a sparse­ly pop­u­lat­ed ter­ri­to­ry it is ruinous to elec­tri­fy it, and this because it costs 10 times as much to dis­trib­ute as to gen­er­ate ener­gy." The log­ic of the mar­ket, in oth­er words, not only act­ed against the pub­lic inter­est, but exclud­ed a sig­nif­i­cant seg­ment of the pub­lic — in par­tic­u­lar, rur­al res­i­dents — from access to key infra­struc­ture. As Kaempf­fert argued, ​"The prof­it motive must be sub­or­di­nat­ed to the obvi­ous social duty of spread­ing the use of electricity."
It was in this con­text that, in 1937, the Liv­ing News­pa­per unit of the FTP debuted the play Pow­er in New York City. Billed as ​"a thrilling drama­ti­za­tion of mod­ern indus­try," Pow­er pre­sent­ed details of the cor­rupt deal­ings of the nation's pri­vate, investor-owned elec­tric util­i­ties, such as ram­pant price fix­ing and oth­er meth­ods of goug­ing the pub­lic. Pow­er chal­lenged cor­po­rate con­trol and cor­rup­tion in media in two ways: on stage — show­ing how the big util­i­ties bought off aca­d­e­mics and news­pa­pers to dis­cred­it the idea of pub­licly pro­vid­ed elec­tric­i­ty — and off — by giv­ing artists a space to pro­duce crit­i­cal accounts of time­ly social and polit­i­cal issues.
Pow­er remains all too rel­e­vant. The nation's dom­i­nant elec­tric util­i­ties are still in pri­vate hands, goug­ing ratepay­ers around the coun­try. Worse still, sad­dled with mas­sive fos­sil fuel assets, these monop­o­lis­tic cor­po­ra­tions are one of the major obsta­cles to a tran­si­tion to renew­able ener­gy. Elec­tric util­i­ties large­ly rely on coal and nat­ur­al gas and spend bil­lions lob­by­ing Con­gress in their interest.
The sec­ond half of Pow­er doc­u­ments the strug­gle to estab­lish the Ten­nessee Val­ley Author­i­ty (TVA), the pub­lic enti­ty that elec­tri­fied much of the rur­al South. At the time Pow­er was pro­duced, the util­i­ties were fight­ing TVA in the Supreme Court, but the FTP did not shy away from con­tro­ver­sy; it was defined by its dar­ing inter­ven­tions. Under the direc­tion of the pio­neer­ing female the­ater direc­tor and writer Hal­lie Flana­gan, the FTP's Liv­ing News­pa­per unit assem­bled a team of jour­nal­ists to gath­er fac­tu­al infor­ma­tion about an issue of pub­lic con­cern, then dis­trib­uted the research to edi­tors and writ­ers to cre­ate nar­ra­tives. The FTP's focus on pub­lic pow­er — in both sens­es — offers a sug­ges­tive mod­el for today.
The Green New Deal, as out­lined by Rep. Alexan­dria Oca­sio-Cortez (D‑N.Y.) and oth­ers, is self-evi­dent­ly about trans­form­ing the country's infra­struc­ture. But like the New Deal, it also needs a cul­tur­al wing. The Green New Deal must, at bot­tom, be about chang­ing people's minds: about where pow­er should come from and who has the right to gen­er­ate it; about what a just tran­si­tion for work­ers and affect­ed com­mu­ni­ties should look like; about what con­sti­tutes a good life. While much has changed in U.S. cul­ture since the 1930s, the cor­po­rate media is still fail­ing to host these impor­tant con­ver­sa­tions. When even sup­pos­ed­ly enlight­ened com­pa­nies like Google are con­tribut­ing to cli­mate change-deny­ing think tanks, the pub­lic needs a space for media in the gen­er­al interest.
We all know that a Green New Deal would involve mas­sive pub­lic works: trans­form­ing the elec­tri­cal grid to renew­able ener­gy; elec­tri­fy­ing trans­porta­tion; decar­boniz­ing man­u­fac­tur­ing; build­ing mil­lions of zero-car­bon pub­lic build­ings and social hous­ing units; retro­fitting exist­ing build­ings for effi­cien­cy and elec­tri­fied heat­ing and cool­ing; and total­ly revamp­ing the country's agri­cul­tur­al sec­tor. All this will gen­er­ate hun­dreds of thou­sands of well­pay­ing jobs that could lift entire com­mu­ni­ties out of eco­nom­ic and social oppression.
A fed­er­al Green Arts Project could boost such projects, too, by explain­ing the neces­si­ty and attrac­tive­ness of infra­struc­ture like high-speed rail and zero-car­bon social hous­ing, using art­forms that speak to the pub­lic more effec­tive­ly than data ever could. Such a Green Arts Project could help dra­ma­tize the need for a just tran­si­tion, one that attends to and rec­ti­fies the uneven­ness of envi­ron­men­tal impacts.
The Green New Deal can­not just be about build­ing more stuff. In fact, a cru­cial ele­ment of the Green New Deal must be fig­ur­ing out how to con­sume much less with­out spurring mass unem­ploy­ment. Cap­i­tal­ism as an eco­nom­ic sys­tem is inher­ent­ly dri­ven to grow or face cri­sis, which explains why CEOs sit around board­rooms fig­ur­ing out how to get peo­ple to buy more Whop­pers, 15-foot Rudolph-the-rein­deer inflat­a­bles and Return of the Jedi wall clocks — won­ders of con­sumer cul­ture that make us sick and con­tribute to the destruc­tion of ecosys­tems like the Ama­zon rain­for­est. All this eco­nom­ic growth has meant feed­ing more and more of the plan­et into the insa­tiable maw of cap­i­tal­ism. In the peri­od from 1970 to 2017, as inequal­i­ty sky­rock­et­ed, the glob­al extrac­tion of nat­ur­al resources increased more than 240%. In 2017, the world extract­ed a stag­ger­ing 92 bil­lion tons of mate­r­i­al stuff, from con­struc­tion mate­ri­als to met­als to fos­sil fuels to food. The Glob­al Foot­print Net­work esti­mates that resource use over­shoots, by more than 70% annu­al­ly, what can be sus­tain­ably maintained.
While we should strive to increase our eco­nom­ic effi­cien­cy, the evi­dence shows that more growth inher­ent­ly means more car­bon emis­sions, and more extrac­tion writ large. We ulti­mate­ly must scale down glob­al eco­nom­ic activ­i­ty if we intend to avoid cli­mate chaos, and build up new, low-extrac­tion indus­tries to avoid gal­lop­ing unem­ploy­ment. What we need is jobs that don't involve work­ing end­less­ly to make more use­less stuff; instead, the Green New Deal should pay hand­some­ly and con­nect peo­ple with one anoth­er. Build­ing up the so-called social econ­o­my could include coop­er­a­tive insti­tu­tions for child­care, elder care, edu­ca­tion and oth­er ser­vices. It must also include cul­tur­al work.
The arts can be a low-extrac­tion sec­tor of the econ­o­my, and a Green Arts Project would clear­ly seek to sup­port low-bud­get, min­i­mal-impact ven­tures akin to the Fed­er­al The­atre Project rather than block­buster Hol­ly­wood cin­e­ma. As with the FTP, the con­tent of local pro­duc­tions could be tai­lored to local cir­cum­stances, allow­ing mass­es of peo­ple to con­sume rel­e­vant cul­tur­al pro­duc­tions with­out con­sum­ing lots of resources. And, as the mod­el of Pow­er sug­gests, a fed­er­al Green Arts Project could also allow writ­ers and artists to cat­alyze impor­tant debates about cor­po­rate monop­o­lies and the lim­its of eco­nom­ic growth.
Pow­er could eas­i­ly be updat­ed for a con­tem­po­rary audi­ence. But in addi­tion to such muck­rak­ing, a Green The­ater Project might pro­vide a forum to debate vex­ing ques­tions about what pub­lic ener­gy ought to look like: local and decen­tral­ized, largescale and fed­er­al­ly run, or some com­bi­na­tion? And how do we ensure that the ener­gy tran­si­tion is as just and demo­c­ra­t­ic as possible?
There are obvi­ous­ly many com­plex tech­ni­cal issues behind these ques­tions, about which mem­bers of the pub­lic need to be edu­cat­ed. But the chal­lenge of cre­at­ing renew­able pub­lic pow­er is ulti­mate­ly a polit­i­cal, and even cul­tur­al, one. The Amer­i­can pub­lic needs new sto­ries, ones that chal­lenge dom­i­nant Hol­ly­wood nar­ra­tives that sug­gest the cli­mate cri­sis will inevitably devolve into a Hobbe­sian war of all against all. In place of such box office nihilism, we need visions of human empa­thy and sol­i­dar­i­ty in the face of eco­log­i­cal chaos. We need hope for a dam­aged peo­ple and plan­et. And to give it to us, we need an Arts Project for the Green New Deal.