A Bill of Rights for the Homeless
Several states are considering guaranteeing civil rights for those without a roof over their heads.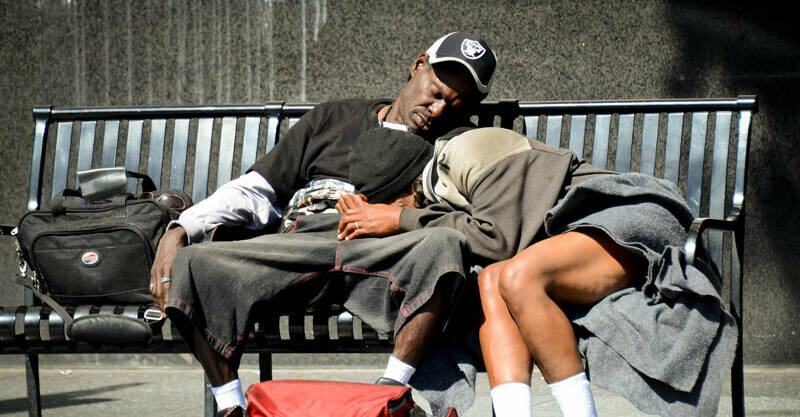 After sev­er­al years of unsuc­cess­ful attempts by advo­ca­cy orga­ni­za­tions to define civ­il rights for the home­less at the fed­er­al lev­el, Rhode Island became the first state to pass a Home­less Bill of Rights in June 2012, an amend­ment to its con­sti­tu­tion that pro­tects its res­i­dents against dis­crim­i­na­tion based on hous­ing sta­tus. Now in Rhode Island, ​"no person's rights, priv­i­leges, or access to pub­lic ser­vices may be denied or abridged sole­ly because he or she is home­less." And the law spec­i­fies where and when the home­less must be treat­ed as any oth­er Rhode Islander: in pub­lic parks, on pub­lic trans­porta­tion, when seek­ing emer­gency med­ical care, when seek­ing employ­ment, when reg­is­ter­ing to vote and when main­tain­ing pri­vate records. What's more, the per­son­al prop­er­ty of the home­less must be treat­ed ​"as per­son­al prop­er­ty in a per­ma­nent residence."
The California bill—dubbed AB 5—would give the homeless "the right to engage in life sustaining activities" on public property, including sleeping, panhandling and salvaging recyclables.
This past June, near­ly iden­ti­cal Illi­nois and Con­necti­cut bills passed through their state assem­blies with­out much oppo­si­tion. (The Illi­nois and Con­necti­cut bills are not yet law, cur­rent­ly await­ing their gov­er­nors' sig­na­tures.) Home­less bills of rights intro­duced in Mis­souri, Ore­gon and Ver­mont are sim­i­lar, though all three are pend­ing in com­mit­tee until the next leg­isla­tive session.
Advo­cates claim that the bills pro­vide a moral and legal foun­da­tion to chal­lenge local anti-vagrancy poli­cies. When the social safe­ty net start­ed to breech in the 1970s, and then all but gave way dur­ing the Rea­gan years, home­less­ness increased notice­ably in the cen­ters of Amer­i­can cities. Cuts in fed­er­al assis­tance to the poor — includ­ing men­tal health­care and afford­able hous­ing — put peo­ple out on the streets. But as soci­ol­o­gist Tere­sa Gowan argues in her 2010 book Hobos, Hus­tlers and Back­slid­ers: Home­less in San Fran­cis­co, rather than approach this cri­sis as a fail­ure of soci­ety to take care of those in need, pol­i­cy­mak­ers ini­ti­at­ed ​"a cru­sade to save the home­less from them­selves," insti­tu­tion­al­iz­ing those who are will­ing to sub­mit to treat­ment for drug addic­tion or men­tal ill­ness, and crim­i­nal­iz­ing the rest under the ​"qual­i­ty of life" laws that swept the coun­try in the 1990s.
The past five years have seen anoth­er rise in home­less­ness. Accord­ing to gov­ern­ment sta­tis­tics, the num­ber of home­less fam­i­lies rely­ing on shel­ters increased 30 per­cent between 2007 and 2009, a spike that the Nation­al Law Cen­ter on Home­less­ness and Pover­ty (NLCHP) attrib­ut­es to the fore­clo­sure cri­sis and wide­spread unem­ploy­ment. At the same time, the NLCHP also found in a sur­vey of 224 cities that between 2006 and 2009 there was a 7 per­cent increase in laws pro­hibit­ing ​"camp­ing" on pub­lic prop­er­ty and an 11 per­cent increase in laws pro­hibit­ing loitering.
Some­times the con­se­quences are more seri­ous than arrest. In March, Chica­go pub­lic radio sta­tion WBEZ inter­viewed Jack King, whose blan­kets and oth­er pos­ses­sions were con­fis­cat­ed by police when he was forced out from his camp under a viaduct in the Uptown neigh­bor­hood. Six cold days after WBEZ inter­viewed King, he was found dead out­side of an area health clin­ic. The cause of death was hyper­ten­sion and heart dis­ease, and many crit­ics of city pol­i­cy have point­ed a fin­ger at police for dis­rupt­ing his camp and snatch­ing his provisions.
Though the Illi­nois Home­less Bill of Rights might have pre­vent­ed the police from tak­ing his prop­er­ty with­out jus­ti­fi­ca­tion, it wouldn't have giv­en King the right to camp under the bridge.
A bill cur­rent­ly under con­sid­er­a­tion in Cal­i­for­nia, how­ev­er, would have let King sleep. The bill was intro­duced in Decem­ber 2012 by Assem­bly­man Tom Ammi­ano (D‑San Fran­cis­co), known for his work as a gay rights activist, and it has caught the atten­tion of advo­cates across the coun­try. The Cal­i­for­nia bill — dubbed AB 5 — would give the home­less ​"the right to engage in life sus­tain­ing activ­i­ties" on pub­lic prop­er­ty, includ­ing sleep­ing, pan­han­dling and sal­vaging recy­clables. If passed, the bill will effec­tive­ly prune back munic­i­pal anti-vagrancy laws like San Francisco's ​"Civ­il Side­walks" ordi­nance, passed by ref­er­en­dum in 2010, that for­bids sit­ting or sleep­ing on side­walks in the day­time. The bill also includes an esti­mat­ed $300 mil­lion bud­get that would estab­lish hygiene cen­ters and pro­vide legal aid to chal­lenge non-traf­fic cita­tions, the cat­e­go­ry under which many vagrancy offens­es fall.
In April, AB 5 passed the judi­cia­ry com­mit­tee by a 7 – 2 vote. How­ev­er, the bill didn't make it out of the Appro­pri­a­tions Com­mit­tee before the session's end, and it will be held up until Jan­u­ary 2014 due to con­cerns about the cost of enforc­ing the new bill.
The pro­posed leg­is­la­tion faces a large and orga­nized oppo­si­tion, includ­ing the busi­ness inter­ests of California's large cities. A Los Ange­les Times edi­to­r­i­al crit­i­cized the bill for sanc­tion­ing ​"a way of life that soci­ety gen­er­al­ly agrees should be end­ed" and claimed that it would ​"turn the home­less into a pro­tect­ed class." This crit­i­cism, how­ev­er, doesn't hold water for the bill's advo­cates. Both Boden and Ammi­ano like to recite Ana­tole France's wry obser­va­tion that ​"the law, in its majes­tic equal­i­ty, for­bids the rich as well as the poor to sleep under bridges, to beg in the streets, and to steal bread."
In Gowan's opin­ion, what­ev­er the out­come, home­less bills of rights from Cal­i­for­nia to Rhode Island rep­re­sent a shift in the con­ver­sa­tion away from the notion that home­less­ness is a ​"side effect" of an indi­vid­ual pathol­o­gy— and a return to the idea that soci­ety has a respon­si­bil­i­ty to pro­vide full employ­ment, afford­able hous­ing and men­tal healthcare.
Amien Essif
is a reg­u­lar con­trib­u­tor to Work­ing In These Times and main­tains a blog called The Gazine, which focus­es on con­sumerism, gen­tri­fi­ca­tion, and tech­nol­o­gy with a Lud­dite bent. His work has also appeared on the Guardian and Coun­ter­Punch. You can find him using Twit­ter reluc­tant­ly: @AmienChicago