The Black-Brown Alliance That's Turning Kansas Blue
Why is Pat Roberts running for his life in the Kochs' home state? Ask community organizers.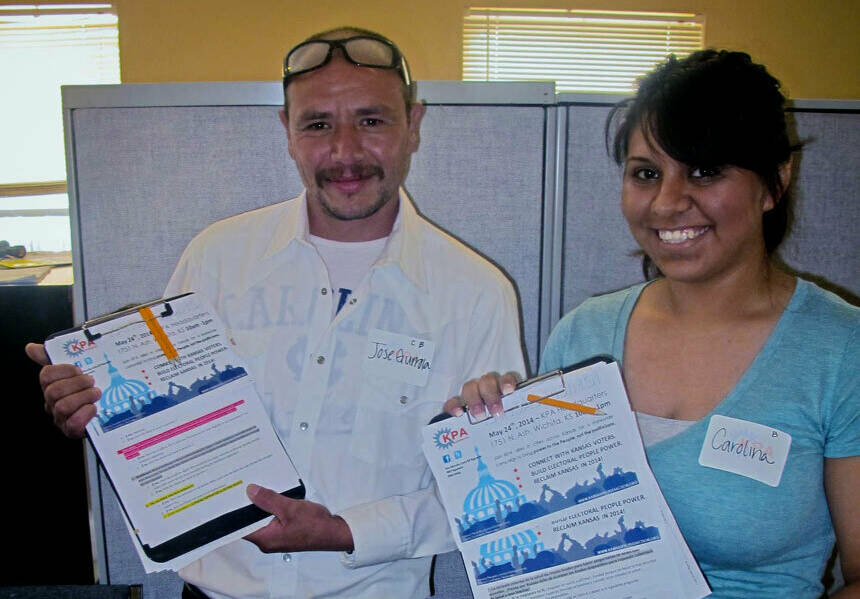 Head­ing into the Novem­ber elec­tions, you could be for­giv­en for assum­ing the GOP hold on Kansas isn't going to loosen. The home base of the Koch broth­ers, the state has become a poster child of Tea Par­ty Repub­li­can­ism, toe­ing the far-right line on vot­er ID laws, abor­tion restric­tions and a host of oth­er issues. In 2012, the Nation­al Jour­nal rat­ed the con­gres­sion­al del­e­ga­tion from Kansas as the most con­ser­v­a­tive in the coun­try — and that was before a Koch-fund­ed cam­paign suc­ceed­ed in oust­ing mod­er­ate Repub­li­cans in that year's pri­maries. Oh, and Sec­re­tary of State Kris Kobach hap­pens to be a lead­ing author of Arizona's SB 1070, the infa­mous immi­gra­tion law that crit­ics say encour­ages racial pro­fil­ing. Kobach helped write the bill while serv­ing as legal coun­sel at the far-right Fed­er­a­tion for Amer­i­can Immi­gra­tion Reform.
KPA's ability to unite many different kinds of people around an issue like voting rights illustrates how vital the group's work is.
But in the lead-up to Novem­ber, Kansas's red-state armor began to show some cracks. Since mid-August, Gov. Sam Brown­back, a Tea Par­ty dar­ling up for re-elec­tion this fall, has been polling 2 to 6 points behind chal­lenger Paul Davis, a Demo­c­rat. Same with Kobach, whose cozy 5‑point lead over his left­wing chal­lenger shrunk to with­in the mar­gin of error last month. Even Repub­li­can Sen. Pat Roberts, whose tenure in Con­gress pre­dates the Rea­gan era, appears poised to lose his seat—polls show him trail­ing his lit­tle-known chal­lenger, Inde­pen­dent Greg Orman.
Kansas People's Action (KPA)—an black- and Lati­no-led orga­ni­za­tion ded­i­cat­ed to fight­ing crony cap­i­tal­ism, racism and big mon­ey pol­i­tics — isn't shy about tak­ing cred­it for the turn­around. ​"Their poll num­bers are down in large part due to the work that we've been doing," says KPA's exec­u­tive direc­tor, Sul­ma Arias. That work includes reach­ing out to a set of 112,000 less-fre­quent vot­ers who are black and Lati­no. The mes­sage they tell vot­ers? ​"Kobach is try­ing to game the sys­tem by mess­ing with the bal­lot and push­ing restric­tions on vot­ing that help him and his friends, like Brown­back and Roberts," says Arias.
Arias is ref­er­enc­ing mea­sures like the state's vot­er ID law, authored by Kobach. It requires that would-be vot­ers in Kansas prove U.S. cit­i­zen­ship when reg­is­ter­ing and show a valid pho­to ID on Elec­tion Day — a dual test 7 per­cent of eli­gi­ble U.S. vot­ers can­not pass, accord­ing to a Bren­nan Cen­ter for Jus­tice study. African Amer­i­cans and Lati­nos are par­tic­u­lar­ly dis­en­fran­chised by such laws: 25 per­cent of blacks and 16 per­cent of Lati­nos lack the req­ui­site ID.
When the law was passed in 2011, Arias was run­ning Sun­flower Com­mu­ni­ty Action, an affil­i­ate of Nation­al Peo­ple's Action, a nation­al net­work of com­mu­ni­ty orga­niz­ing groups. In her two-year tenure as exec­u­tive direc­tor, Arias had made it her mis­sion to broad­en the group's focus from work­ing with an exclu­sive­ly black mem­ber­ship in Wichi­ta, pri­mar­i­ly on afford­able hous­ing, to reach­ing out to the state's grow­ing Lati­no pop­u­la­tion, ini­ti­at­ing cam­paigns to secure driver's licens­es and in-state col­lege tuition for undoc­u­ment­ed immigrants.
Believ­ing that Kobach was over­step­ping his bounds as sec­re­tary of state — a posi­tion that typ­i­cal­ly entails enforc­ing laws, not writ­ing them — Arias decid­ed some­one need­ed to take on Kobach and his poli­cies direct­ly. So Sun­flower launched a 501©4 advo­ca­cy arm, KPA, that set its sights on chal­leng­ing the poli­cies that have been cham­pi­oned by the state's far-right Repub­li­can lead­er­ship, par­tic­u­lar­ly Kobach and Brownback.
Tere­sa Gar­vey, a book­keep­er and Peru­vian immi­grant liv­ing in Wichi­ta, learned about Kobach in 2012 when she saw KPA orga­niz­er Louis Gose­land talk­ing about him on TV. ​"He said Kobach was pur­su­ing ille­gal immi­grants instead of doing his job," she recalls. ​"I want­ed to find out what he meant by that. It made me want to get involved." She's now an active KPA vol­un­teer. Work­ing with the group has made her think for the first time ​"about the expe­ri­ence of black or poor white com­mu­ni­ties, how we could work togeth­er to make Kansas a bet­ter place," she says.
Like Gar­vey, Rev­erend Cari­eta Cain Grizzell, of Wichita's Grant Chapel African Methodist Epis­co­pal Church, first took notice of KPA as the anti-Kobach cam­paign gath­ered steam in 2012. ​"That was when I first heard about Louis Gose­land and the KPA," she says. ​"So I went to a meet­ing and I real­ly got excit­ed about what they were doing. It real­ly fell in line with what I've been about all my life." Grizzell says she was par­tic­u­lar­ly gal­va­nized by KPA's work against the Kobach-authored vot­er-ID law. ​"It's like poll tax­es," says Grizzell. ​"Kobach has made vot­ing rights a farce in the state of Kansas."
For Grizzell, KPA's abil­i­ty to unite many dif­fer­ent kinds of peo­ple around an issue like vot­ing rights illus­trates how vital the group's work is. ​"I real­ly like the fact that it brings togeth­er the African-Amer­i­can, Lati­no and poor white com­mu­ni­ties," she says. ​"We work togeth­er as one unit­ed front."
KPA has made it a mis­sion to expose how poli­cies Kobach and Brown­back sup­port­ed — from vot­er ID laws to the food stamp cuts in 2013 that kicked 20,000 Kansans off the rolls to an SB 1070-style immi­gra­tion law — breed racial and eco­nom­ic injustice.
The immi­gra­tion cam­paign gained nation­al atten­tion in the sum­mer of 2013, when 300 KPA activists con­verged on Kobach's res­i­dence in Kansas City to call for immi­gra­tion reform and a path­way to cit­i­zen­ship. Many activists placed emp­ty shoes on Kobach's doorstep, sym­bol­iz­ing their deport­ed fam­i­ly mem­bers, friends and neigh­bors. Kobach quick­ly issued a scathing response to the action, call­ing the activists ​"ille­gal aliens" and accus­ing them of ​"KKK type of intimidation."
The com­ments ignit­ed a nation­al firestorm. Per­haps more impor­tant­ly, they gal­va­nized black and brown com­mu­ni­ties in Kansas to see their strug­gles as con­nect­ed. ​"The black com­mu­ni­ty thought of itself as sep­a­rate until Kobach made that KKK com­par­i­son," says Reuben Eck­els, KPA's deputy direc­tor and a pas­tor at New Day Chris­t­ian Church in Wichi­ta. Many weren't very aware of Kobach's pol­i­cy record, he says. ​"We took his KKK com­ments to the African-Amer­i­can com­mu­ni­ty and start­ed talk­ing about vot­er reg­is­tra­tion," Eck­els says. Arias says the con­verse was true for Lati­nos, who were aware of Kobach's dra­con­ian immi­gra­tion laws but less aware of issues like vot­er ID regulations.
The protests over police vio­lence in Fer­gu­son, Mis­souri, also helped knit togeth­er Kansas's African-Amer­i­can and Lati­no com­mu­ni­ties. Just days after the protests began, Arias con­nect­ed depor­ta­tions and deten­tions in Kansas with police bru­tal­i­ty in Fer­gu­son in an online essay, ​"Why Fer­gu­son Mat­ters to Latinos."
"We, as Brown, His­pan­ic, Lati­no and Immi­grant com­mu­ni­ty should be yelling just as loud, ​'Hands up don't Shoot,' " she wrote. ​"This is the time to stand togeth­er in rage and love for our communities."
Soon after, Sun­flower began gath­er­ing blacks and Lati­nos for com­mu­ni­ty forums and sol­i­dar­i­ty actions around Fer­gu­son. A week and a half lat­er, at a com­mu­ni­ty forum orga­nized by Sun­flower, Wichi­ta May­or Carl Brew­er pledged his sup­port for intro­duc­ing a manda­to­ry dash­board and body cam­era pro­gram for the city's police depart­ment — a demand Sun­flower began voic­ing in 2005. Offi­cials plan to have the pro­gram oper­a­tional by the end of the year.
Black-brown uni­ty is on full dis­play as vot­ing day approach­es. This spring, KPA launched a polit­i­cal action fund to reach out to vot­ers. Pow­ered by Lati­no vol­un­teers like Gar­vey and African-Amer­i­can vol­un­teers like Grizzell, KPA Polit­i­cal Fund is one of the only vot­er cam­paigns in Kansas to make use of a pre­dic­tive dialer, a device that saves time by dial­ing auto­mat­i­cal­ly. In addi­tion to edu­cat­ing vot­ers about Brown­back and Kobach, KPA Polit­i­cal Fund has lined up mon­i­tors to observe both pri­ma­ry and gen­er­al elec­tions, mak­ing sure that eli­gi­ble vot­ers with­out ID are allowed to use pro­vi­sion­al bal­lots, as required by law.
But Eck­els stress­es that while KPA has worked very hard to oust Kobach and Brown­back this Novem­ber, the group is an inde­pen­dent orga­ni­za­tion. ​"We've been let down by both par­ties," he says. ​"We're more inter­est­ed in hold­ing peo­ple account­able to the issues. Even­tu­al­ly, we may field our own candidates."
For now, an upset of Brown­back or Kobach would be a major coup. Even with sink­ing poll num­bers, the two have a long list of wealthy allies, from the Her­itage Foun­da­tion to the Koch fam­i­ly, and there's no rea­son to think they'll go down with­out a fight. But Gar­vey and Grizzell remain con­fi­dent. ​"We're now at a place where almost a quar­ter of Kansas is black and brown," says Grizzell. ​"That's power."
Sam Ross-Brown
, a stu­dent at the Uni­ver­si­ty of Min­neso­ta, was a sum­mer
2010
In These Times
edi­to­r­i­al intern.