A Brief History of Squatting
The Museum of Reclaimed Urban Space chronicles decades of Lower East Side occupations.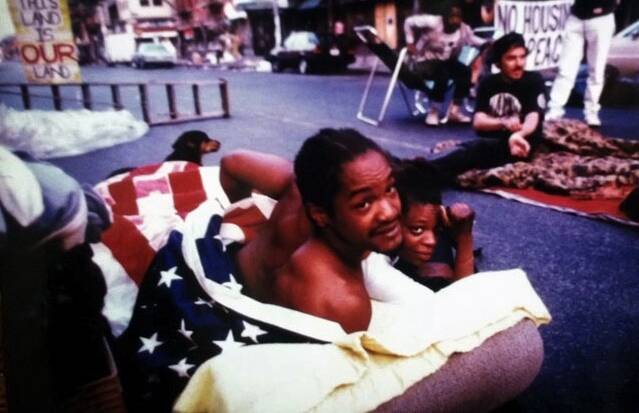 He had warned me about show­ing up unan­nounced, but it's easy to ratio­nal­ize such things when you're jonesing. It was 1999. I stood out­side the Low­er East Side squat bel­low­ing, ​"Laaaarr-rreeee." Mak­ing myself a nui­sance earned me admis­sion into the build­ing, though the squat­ters clus­tered out front looked at me with expres­sions that read: ​"Who is this idiot?"
The Museum of Reclaimed Urban Space's bannister is built from blue police barricades that were a fixture in the neighborhood until the mid-'90s and the fuel for riotous bonfires.
Lar­ry was livid when I stepped into his apart­ment. ​"Don't ever fuck­ing do that again!" he roared. But in an instant his eyes were smil­ing and he sweet­ly inquired, ​"Now, how may I help you?"
Cha­grined, I con­duct­ed my busi­ness and exit­ed. Strid­ing past the Ger­man beer gar­den, I men­tal­ly savored my spliff while lament­ing the dis­ap­pear­ance of the store­front deal­ers who ped­dled dime bags with the con­ve­nience of a 7‑Eleven. That's rou­tine for denizens of the Low­er East Side: to wist­ful­ly recall what once was.
Before Rudy Giu­liani became may­or in 1994, the neigh­bor­hood was allur­ing­ly fer­al. The with­draw­al of pub­lic ser­vices, crime epi­dem­ic and aban­don­ment of hous­ing decades ear­li­er had spawned a mul­tira­cial move­ment of neigh­bor­hood asso­ci­a­tions, build­ing takeovers, com­mu­ni­ty gar­dens and thriv­ing insti­tu­tions such as the Nuy­or­i­can Poets Café, the punk-cen­tric ABC No Rio and the hous­ing-rights orga­ni­za­tion Good Old Low­er East Side.
No one miss­es the mug­gers, street deal­ers hawk­ing smack, or addicts open­ly stick­ing nee­dles in their arms. Social patholo­gies were the last line of defense against cap­i­tal, until Giu­liani used his ​"qual­i­ty of life" cam­paign against the home­less, potsmok­ers, bicy­clists and the poor to also sweep away Bohemia.
The trans­for­ma­tion from hero­in shoot­ers to oys­ter shoot­ers is now com­plete, but the past still pokes through the present land­scape of faux speakeasies, fin-de-siècle bistros and bucol­ic gastronomica.
The Muse­um of Reclaimed Urban Space (MoRUS), locat­ed in a store­front of C‑Squat, is one of 11 sur­viv­ing squats that have made peace with the city. The mini muse­um, a trib­ute to local activism, con­tains a pho­to­graph­ic jour­ney through decades of squat­ting, gar­dens, Crit­i­cal Mass, Reclaim the Streets and Occu­py Wall Street. Co-founder Bill DiPao­lo calls it ​"liv­ing his­to­ry," and it faith­ful­ly evokes decades of resis­tance to a hid­den mar­ket and its vis­i­ble fist.
The tone is set by one of the first pho­tos, an image of an armored police vehi­cle with tank treads deployed to evict two squats in 1995. As the pho­tos progress, a chang­ing cast faces off against the police: home­less peo­ple liv­ing in Tomp­kins Square Park in the ear­ly ​'80s, their expres­sions defi­ant or plead­ing; the street punks and squat­ters of the late ​'80s; Reclaim the Streets' impromp­tu dance-par­ty protests and com­mu­ni­ty gar­den defense in the ​'90s.
Arti­facts are grouped the­mat­i­cal­ly. An egg car­ton of seed bombs ($12 a dozen), designed to be thrown into fenced-off vacant lots for guer­ril­la green­ing, ac- com­pa­nies pho­tos of the cam­paign that saved scores of gar­dens from Giuliani's bull­doz­ers. The stair­way chron­i­cles the his­to­ry of Crit­i­cal Mass, which pop­u­lar­ized bicy­cling in New York City by draw­ing thou­sands of ped­al-push­ers into the streets for month­ly rides before being smashed by the cops in 2004. The ban­is­ter is built from wood­en blue police bar­ri­cades that were a fix­ture in the neigh­bor­hood until the mid-'90s and the fuel for riotous bon­fires. The Occu­py Wall Street sec­tion fea­tures a sign lib­er­at­ed from Zuc­cot­ti Park list­ing activ­i­ties now banned — skate­board­ing, camp­ing and lying down. Hel­mets and dark-blue uni­forms embla­zoned with ​"Squat Team" patch­es hang in the front window.
The focus, says DiPao­lo, is ​"groups, caus­es, spaces and places," not art or indi­vid­u­als. But the most cap­ti­vat­ing images are of art and peo­ple: Gar­den­ing pio­neer Adam Pur­ple stand­ing above his ​"Gar­den of Eden" of trees and edi­ble plants arrayed in con­cen­tric cir­cles around a bloom­ing yin-yang sym­bol; a half-dressed black cou­ple on Avenue A lying on a futon under an Amer­i­can flag; an aban­doned car plas­tered with graf­fi­ti in a vacant lot car­pet­ed with foliage.
Even allow­ing for the museum's space con­straints, there are curi­ous omis­sions. Hous­ing was the cen­tral strug­gle, but there is lit­tle expla­na­tion of how bankers and land­lords used finance and zon­ing to ini­ti­ate dis­in­vest­ment, then gen­tri­fi­ca­tion. The muse­um selects the Green Guer­ril­las in 1978 as the start­ing point, and, aside from a sec­tion hon­or­ing the work of Chi­no Gar­cia and Arman­do Perez, excludes the Puer­to Rican activists of the ​'60s and ​'70s who staged the first build­ing takeovers and cre­at­ed gar­dens, ten­ants asso­ci­a­tions, an arts revival, and com­mu­ni­ty and envi­ron­men­tal orga­ni­za­tions. Some of that is cov­ered in MoRUS's guid­ed tours of the neigh­bor­hood, but the exhib­it appears to reflect DiPaolo's own his­to­ry. He is the founder and direc­tor of Time's Up!, ​"a direct action envi­ron­men­tal orga­ni­za­tion" that spawned Crit­i­cal Mass, par­tic­i­pat­ed in Reclaim the Streets and Occu­py Wall Street, and engaged in non­vi­o­lent direct action that pre­served the gar­dens. (DiPao­lo also home­steads in Umbrel­la Squat down the block.)
Try though it may to present a pic­ture of protest spring­ing eter­nal, the muse­um reveals the shift­ing dynam­ics of the Low­er East Side. As the pho­tos tick off the years, the peo­ple become whiter, the reclaimed spaces nar­row from hous­es to gar­dens, from street occu­pa­tions to side­walk protests, and the pro­test­ers grow old­er and mid­dle class. In the end, the vision­ar­ies who pro­claimed, ​"We will build a new soci­ety in the vacant lots of the old," defend frag­ile stands of bohemia by adapt­ing to the inva­sive mono­cul­ture of con­dos, clubs and cafes. MoRUS pays $2,000 in rent, a token sum com­pared to the $15,000-to-$20,000 pay­ment a land­lord is demand­ing of the near­by Yip­pie Café́.
Unfor­tu­nate­ly, MoRUS gloss­es over dai­ly life. Law­less cre­ativ­i­ty and pol­i­tics attract­ed youth flee­ing a con­sumer soci­ety for a hotbed of rad­i­cal writ­ers, artists, musi­cians and poets, stu­dios and play­hous­es, punk shows and under­ground news­pa­pers, squat par­ties and park fes­ti­vals. This polit­i­cal cul­ture nur­tured space for every­day won­ders that have been stomped out: from all-night gath­er­ings in gar­dens to youth launch­ing can­non­ball-sized fire­works in a Chi­na­town school­yard to locals mak­ing car­rion of aban­doned cars, tak­ing months to strip them of sal­able parts.
But real-estate spec­u­la­tors sealed the Low­er East Side's fate by pounc­ing on the mar­ket­ing poten­tial of its dis­tinc­tive cul­ture. Then again, efforts to pre­serve the unique­ness were under­cut by those punks and anar­chists who opposed efforts to tame excess­es because that's ​"fuck­ing author­i­tar­i­an, man," enabling loud­mouths, slack­ers and self-destruc­tive drug use to alien­ate poten­tial allies in local com­mu­ni­ties and movements.
The Muse­um of Reclaimed Urban Space cap­tures the dual­i­ty of a move­ment that saw its strug­gle as the only strug­gle, lim­it­ing its vision and audi­ence — yet against all odds it tri­umphant­ly man­aged to scratch out reclaimed space in the heart of the 1%.