A Case of Strategic Debasement
What the infamous Marine urination video teaches us about war and the U.S. military.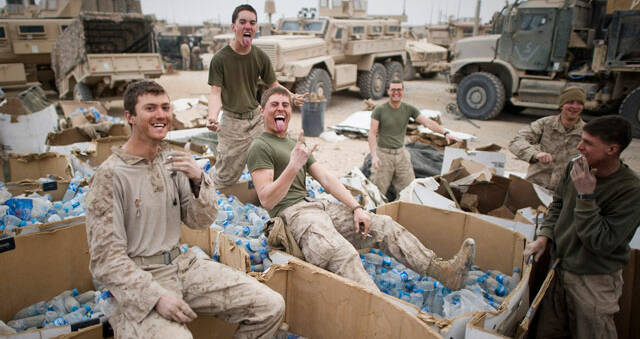 What mes­sage should we take, what lessons should we draw from the video post­ed last week on YouTube of U.S. Marine snipers uri­nat­ing, with uncon­cealed glee, on the bod­ies of pre­sumed ene­my dead in Afghanistan?
This episode is, first and foremost, about indiscipline—the conscious or subconscious rejection of restraint and self-control.
Should we – whether Amer­i­cans or non-Amer­i­cans, civil­ian or mil­i­tary, vet­er­ans or non­vet­er­ans, lib­er­al or con­ser­v­a­tive, pro-war or anti-war – be con­cerned, alarmed, even out­raged? Yes.
Should we accept the inevitable argu­ment of insti­tu­tion­al defend­ers and assort­ed sanc­ti­mo­nious true believ­ers (who pre­sume to under­stand war and the mil­i­tary) that this inci­dent, how­ev­er seri­ous (or not), is mere­ly an aber­ra­tion, a momen­tary lapse per­pe­trat­ed by a few bad apples in an oth­er­wise healthy insti­tu­tion­al bar­rel? Ask most peo­ple in uni­form what they think; or lis­ten to the likes of erst­while pres­i­den­tial hope­ful Rick Per­ry: ​"Eigh­teen to 19-year-old kids make mis­takes, and that's what hap­pened here."
The sig­nif­i­cance of this par­tic­u­lar episode should be seen as part of a larg­er pat­tern of abus­es and inci­dents by U.S. mil­i­tary per­son­nel that num­ber in the hun­dreds each year and have for at least the past two decades (since the start of the Clin­ton admin­is­tra­tion, when civ­il-mil­i­tary rela­tions in this coun­try start­ed to receive renewed scruti­ny). Remem­ber Chi­nese-Amer­i­can Army Pri­vate Dan­ny Chen, who com­mit­ted sui­cide last Octo­ber in the face of haz­ing by his ​"broth­ers in arms"? Remem­ber Staff Sergeant Calvin Gibbs – yes, a uni­formed non­com­mis­sioned offi­cer – and eleven oth­er sol­diers charged with 76 counts of civil­ian mur­der, muti­la­tion, and oth­er forms of assault in Afghanistan? Remem­ber Haditha, and Abu Ghraib, and Guan­tanamo, and Bagram?
Let us start, but not stop, with the recog­ni­tion that these are U.S. Marines – ​"The Few, The Proud," ​"First to Fight" – whose mot­to, Sem­per Fidelis, com­mands those who wear the Eagle, Globe and Anchor to be always faith­ful to com­rades, to The Corps, to coun­try; whose self-gen­er­at­ed and espoused core val­ues are hon­or, courage, and com­mit­ment; whose con­cep­tion of hon­or involves ​"nev­er lying, cheat­ing or steal­ing; abid­ing by an uncom­pro­mis­ing code of integri­ty; respect­ing human dig­ni­ty; respect­ing others."
But this is also war – thank­less, dan­ger­ous, monot­o­nous, frus­trat­ing, fog-blan­ket­ed, hell­ish war, where, as with its antithe­sis love, all's fair. When you're mis­er­able, frus­trat­ed, hunt­ing to avoid being hunt­ed and wag­ing dirty war in the shad­ows against insen­sate adver­saries, any­thing goes. Right? Wrong.
This episode is, first and fore­most, about indis­ci­pline. Not the dis­ci­pline (and asso­ci­at­ed good order) those in uni­form pro­fess to val­ue and prac­tice, but the con­scious or sub­con­scious rejec­tion of restraint and self-con­trol, obliv­i­ous­ness to the need to sep­a­rate action from thought, denial that, espe­cial­ly in the post­mod­ern age, all the world may be look­ing all the time.
It is about igno­rance. Will­ing or unwill­ing igno­rance of cul­tur­al norms, val­ues and sen­si­tiv­i­ties; igno­rance of the insti­tu­tion­al and strate­gic con­se­quences of one's actions, how­ev­er osten­si­bly remote, obscure and isolated.
It is about intol­er­ance, and the asso­ci­at­ed aggres­sion that togeth­er con­sti­tute the dark side of all mil­i­taries. Intol­er­ance of, hatred of, dehu­man­iza­tion of the gen­er­al­ized Oth­er: the ene­my, ​"Jihadis," ​"rag­heads," ​"camel jock­eys," ​"gooks," ​"fag­gots." They're all the same, aren't they?
It is about inhu­man­i­ty. Man's inhu­man­i­ty to man writ large, which war excus­es, ratio­nal­izes and glorifies.
It is about imma­tu­ri­ty. Child­ish, infan­tile, sopho­moric behav­ior, the large­ly unrec­og­nized fea­ture of mil­i­tary cul­ture that prompts man­ly men to strive for man­li­ness in the face of oth­er man­ly men. Why else would you uri­nate on a body? Why else would you treat anoth­er human being like an animal?
It is about inex­pe­ri­ence. Not the expe­ri­ence of repet­i­tive com­bat tours con­duct­ing repet­i­tive, stan­dard­ized oper­a­tions, but inex­pe­ri­ence in under­stand­ing and deal­ing with the human behav­ior and motives that are so cen­tral to the wars of today.
It is about incom­pe­tence. Not a lack of oper­a­tional, tech­no­crat­ic skills for wag­ing war Amer­i­can-style, the focus of most mil­i­tary train­ing; but eth­i­cal incom­pe­tence born of a pro­nounced lack of atten­tion to devel­op­ing the intel­lec­tu­al capac­i­ty of those in uni­form nec­es­sary for dis­tin­guish­ing right from wrong in the face of ambigu­ous oper­a­tional circumstances.
It is about incom­pre­hen­sion. Incom­pre­hen­sion of the self-cor­rup­tion that is endem­ic in war; that makes its prac­ti­tion­ers less than they ought to be, even as they seek to be more than they are; that nur­tures and sanc­ti­fies the most unciv­il, inhu­mane, degrad­ing behav­ior among war's participants.
It is about insu­lar­i­ty. The alien­ative dis­tance that has devel­oped between an all-vol­un­teer mil­i­tary and the larg­er soci­ety it should rep­re­sent, but doesn't; the belief that one's actions in com­bat can be jus­ti­fi­ably hid­den from an uncar­ing, clue­less, eth­i­cal­ly chal­lenged soci­ety that doesn't share the pain, respon­si­bil­i­ty, or integri­ty of those in uniform.
Even if it is a safe bet that this lat­est, exe­crable act will not dimin­ish the stand­ing of the mil­i­tary in the eyes of the Amer­i­can pub­lic, it is a safer bet that antipa­thy, resent­ment and the atten­dant fur­ther diminu­tion of U.S. cred­i­bil­i­ty and legit­i­ma­cy abroad will be fueled. No mat­ter who is held account­able – and expe­ri­ence has shown it's not like­ly to be any­one of ​"weight" – irrepara­ble strate­gic dam­age will have been done, and nei­ther the U.S. mil­i­tary nor its civil­ian over­seers will have any­body to blame but themselves.
Gre­go­ry D. Fos­ter
is a pro­fes­sor at the Indus­tri­al Col­lege of the Armed Forces, Nation­al Defense Uni­ver­si­ty, Wash­ing­ton, D.C. The views expressed here are his own.