General Failure
An enduring crisis in civil-military relations threatens America's future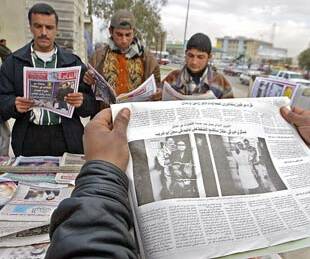 Large­ly unrec­og­nized by the Amer­i­can pub­lic, unac­knowl­edged by those in pow­er, and denied by pro­fes­sion­als in uni­form, the Unit­ed States suf­fers today from an endur­ing cri­sis in civ­il-mil­i­tary rela­tions. The tac­it social con­tract of mutu­al rights, oblig­a­tions and expec­ta­tions that binds the three par­ties to this rela­tion­ship – the mil­i­tary, its civil­ian over­seers and soci­ety – is seri­ous­ly frayed.
The U.S. military's posture of moral rectitude came a cropper with Abu Ghraib. Here an Iraqi looks at pictures of torture in a newspaper in Baghdad on Feb. 16, 2006.
This isn't a cri­sis in the pop­u­lar sense of the term. We need not fear a coup d'état from a mil­i­tary thor­ough­ly social­ized to sub­li­mate such dra­mat­ic recourse. Troops aren't occu­py­ing our homes (even though, as major news­pa­pers and the Amer­i­can Civ­il Lib­er­ties Union have report­ed, they are mon­i­tor­ing our com­mu­ni­ca­tions and infil­trat­ing our gath­er­ings). Amer­i­can com­bat units aren't dis­in­te­grat­ing in com­bat or open­ly defy­ing orders. And reg­u­lar polls by Har­ris and Gallup indi­cate that, regard­less of the per­for­mance and behav­ior of those in uni­form, the pub­lic hold the mil­i­tary in high­er esteem than most oth­er insti­tu­tions of soci­ety – though it remains a mys­tery how we should inter­pret these findings.
This cri­sis is more akin to a lym­phoma or ter­mite infes­ta­tion – its symp­toms hid­den and unno­ticed – that sur­rep­ti­tious­ly destroys the infra­struc­ture of the body or edi­fice from with­in. In this case, the end result could prove to be America's strate­gic debilitation.
To grasp this cri­sis – its exis­tence and its mag­ni­tude – we must con­sid­er how far the cur­rent state of civ­il-mil­i­tary rela­tions in this coun­try devi­ates from the ide­al. A healthy state of civ­il-mil­i­tary rela­tions requires: (1) a strate­gi­cal­ly effec­tive (not just a mil­i­tar­i­ly effec­tive) mil­i­tary; (2) whose lead­ers pro­vide strate­gi­cal­ly (not just mil­i­tar­i­ly) sound advice to; (3) strate­gi­cal­ly com­pe­tent civil­ian author­i­ties – exec­u­tive and leg­isla­tive – who them­selves are rep­re­sen­ta­tive of and answer­able to; (4) a civi­cal­ly engaged, strate­gi­cal­ly aware pub­lic; (5) all of which is under­gird­ed by a crit­i­cal free press, a vibrant civ­il soci­ety and a prop­er­ly sub­or­di­nat­ed mil­i­tary-indus­tri­al com­plex. Today, we are fail­ing on all these counts.
A strate­gi­cal­ly inef­fec­tive military
Far from strate­gi­cal­ly effec­tive, today's mil­i­tary bor­ders on being strate­gi­cal­ly dys­func­tion­al, per­haps not even mil­i­tar­i­ly effec­tive. A strate­gi­cal­ly effec­tive mil­i­tary would, at a min­i­mum, ful­fill its expect­ed oblig­a­tions under the social con­tract of civ­il-mil­i­tary rela­tions: oper­a­tional com­pe­tence, sound advice, polit­i­cal neu­tral­i­ty and social responsibility.
Is the mil­i­tary oper­a­tional­ly com­pe­tent? If by that we mean can it suc­cess­ful­ly accom­plish all it is called upon to per­form (from con­ven­tion­al com­bat oper­a­tions to coun­terin­sur­gency to peace­keep­ing to dis­as­ter response) – with­out being dis­pro­por­tion­ate­ly destruc­tive, indis­crim­i­nate­ly lethal, exor­bi­tant­ly expen­sive or undu­ly esca­la­to­ry – the answer is no. Iraq and Afghanistan are mere­ly the lat­est exam­ples of the military's unyield­ing pref­er­ence for a sin­gle way of war – con­ven­tion­al com­bat oper­a­tions against con­ven­tion­al foes. These ongo­ing cam­paigns are also emblem­at­ic of the military's resis­tance to seri­ous­ly and per­ma­nent­ly adapt­ing to the uncon­ven­tion­al oper­a­tions (like coun­terin­sur­gency) against so-called asym­met­ric threats that char­ac­ter­ize the glob­al bat­tle­field of today and tomor­row. Yes, there is a new army coun­terin­sur­gency field man­u­al pre­pared under the hand of Gen. David Petraeus, the cur­rent U.S. com­man­der in Iraq (See ​"Coun­terin­sur­gency 101," March 2007). But like numer­ous such field man­u­als dur­ing the Viet­nam era, it is des­tined to have lit­tle endur­ing impact on how the mil­i­tary actu­al­ly oper­ates and sees itself.
Super­im­posed on this is the institution's chest-thump­ing cul­ture of machis­mo, with its inces­sant talk of ​"war­riors" and ​"warfight­ers." One need only observe news footage of the heavy-hand­ed, cul­tur­al­ly insen­si­tive, fire­pow­er-inten­sive tac­tics of U.S. troops in the field, fre­quent­ly giv­en to undis­ci­plined indi­vid­ual behav­ior born of fear, imma­tu­ri­ty and inex­pe­ri­ence, to grasp the results.
Does the mil­i­tary pro­vide sound (strate­gic) advice to civil­ian deci­sion-mak­ers? Even tra­di­tion­al­ist observers of civ­il-mil­i­tary rela­tions who sub­scribe to the view that the prop­er pre­serve of the mil­i­tary is nar­row­ly cir­cum­scribed mil­i­tary advice must answer no. What­ev­er Gen. Petraeus may say or even­tu­al­ly accom­plish, the desul­to­ry U.S. per­for­mance to date in Iraq and Afghanistan is an out­growth of failed mil­i­tary advice from senior offi­cers unable to rise above their tac­ti­cal and tech­ni­cal con­di­tion­ing. In fact, deep-seat­ed anti-intel­lec­tu­al­ism and an atten­dant insti­tu­tion­al bias for action have prompt­ed those in uni­form to seek com­fort in tac­ti­cal and tech­ni­cal think­ing, and there­by robbed them of the capac­i­ty to think strategically.
Is the mil­i­tary polit­i­cal­ly neu­tral? That is, are its per­son­nel suf­fi­cient­ly divorced from involve­ment in, or undue influ­ence by, par­ti­san pol­i­tics that they do not com­pro­mise the objec­tiv­i­ty expect­ed of them? Are they sim­i­lar­ly neu­tral on ide­o­log­i­cal, reli­gious and cul­tur­al grounds? The answer, in all cas­es, is no. Con­sid­er the increas­ing ten­den­cy of retired gen­er­als and admi­rals to endorse polit­i­cal can­di­dates; the out­spo­ken­ness of the retired gen­er­als who called for the ouster of then-Defense Sec­re­tary Don­ald Rums­feld (after they had their pen­sions safe­ly in hand); the will­ing­ness of the mil­i­tary to let its units and per­son­nel be repeat­ed­ly used as polit­i­cal props by the com­man­der in chief; even the emer­gence of out­spo­ken low­er-rank­ing active-duty anti­war groups such as ​"Appeal for Redress From the War in Iraq." Con­sid­er as well the pro­nounced con­ser­v­a­tive bias (and Repub­li­can polit­i­cal pref­er­ences) of most in uni­form; the increas­ing reli­gios­i­ty of ser­vice per­son­nel (rang­ing from Lt. Gen. William G. Boykin, the No. 2 intel­li­gence offi­cial in the Pen­ta­gon, to evan­gel­i­cal Chris­tians at the Air Force Acad­e­my); the deeply entrenched insti­tu­tion­al bias against and per­sis­tent per­se­cu­tion of homo­sex­u­als in uni­form, legit­imized most recent­ly by the anti-gay remarks of Joint Chiefs of Staff Chair­man Gen­er­al Peter Pace; the dis­turb­ing pres­ence of neo-Nazi skin­head extrem­ists in mil­i­tary units, doc­u­ment­ed in July 2006 by the South­ern Pover­ty Law Center.
Is the mil­i­tary social­ly respon­si­ble? Tra­di­tion­al­ists com­mon­ly argue that the mil­i­tary can­not afford to be a test bed for social exper­i­men­ta­tion. Nonethe­less, as a major insti­tu­tion of soci­ety, the mil­i­tary is oblig­at­ed to be social­ly respon­si­ble. That means, among oth­er things, being demo­graph­i­cal­ly, expe­ri­en­tial­ly and ide­o­log­i­cal­ly rep­re­sen­ta­tive of soci­ety. Today's mil­i­tary is not rep­re­sen­ta­tive – at least in the sense that nei­ther the country's polit­i­cal, eco­nom­ic and media elite nor their off­spring serve in uniform.
Being social­ly respon­si­ble means being afford­able. At a glut­to­nous cost of $700 bil­lion a year, more than the gross domes­tic prod­uct of all but 17 of the world's coun­tries, the U.S. mil­i­tary clear­ly is not afford­able – espe­cial­ly if the spu­ri­ous notion that we are embroiled in an end­less ​"long war" retains polit­i­cal traction.
Being social­ly respon­si­ble means being will­ing to dis­sent respon­si­bly – to speak up and speak out – with­out open or sur­rep­ti­tious dis­obe­di­ence to prop­er mil­i­tary author­i­ty. The deeply ingrained ethos of obe­di­ence, the wide­spread careerist moti­va­tion to seek high­er rank, the ten­den­cy to pro­mote duti­ful fol­low­ers at the expense of assertive lead­ers, and the prin­ci­ple of polit­i­cal neu­tral­i­ty all have nur­tured habits of unques­tion­ing acqui­es­cence among senior offi­cers who should, but don't, exer­cise their respon­si­bil­i­ty for check­ing and bal­anc­ing civil­ian strate­gic shortcomings.
Being social­ly respon­si­ble means being moral­ly supe­ri­or – walk­ing the talk of moral pro­pri­ety. Too many in uni­form today are con­vinced that they are moral­ly supe­ri­or to an oth­er­wise deca­dent soci­ety. But such moral arro­gance is unde­served in light of the hun­dreds of inci­dents of aber­rant behav­ior by mil­i­tary per­son­nel each year. Mil­i­tary claims that episodes such as Abu Ghraib and Haditha are unrep­re­sen­ta­tive of an oth­er­wise moral­ly supe­ri­or mil­i­tary sim­ply do not hold up in the face of per­sis­tent evi­dence to the contrary.
The rest of the story
Beyond the fore­go­ing, the U.S. mil­i­tary almost invari­ably pre­cip­i­tates rather than pre­vents cri­sis; feeds per­cep­tions abroad of Amer­i­can arro­gance and hypocrisy, while under­min­ing U.S. cred­i­bil­i­ty and legit­i­ma­cy; threat­ens, in sin­gle-mind­ed­ly pro­vid­ing for the com­mon defense, oth­er impor­tant dimen­sions of secu­ri­ty (lib­er­ty, jus­tice, the gen­er­al wel­fare); and per­mits itself to be an instru­ment for the mil­i­ta­riza­tion of U.S. for­eign pol­i­cy. In short, it is strate­gi­cal­ly dysfunctional.
Add to this the fol­low­ing, and it is indeed a recipe for cri­sis: con­sis­tent­ly unsound strate­gic advice from senior mil­i­tary lead­ers; strate­gi­cal­ly inept civil­ian offi­cials, exec­u­tive and leg­isla­tive, who have turned the hal­lowed prin­ci­ple of civil­ian con­trol into civil­ian sub­ju­ga­tion; a civi­cal­ly apa­thet­ic pub­lic that has acced­ed to uncom­pro­mis­ing mil­i­tary demands for secre­cy and failed to respon­si­bly over­see the military's over­seers; an uncrit­i­cal press that has declined to exact trans­paren­cy and account­abil­i­ty from the mil­i­tary and its over­seers; a weak, frag­ment­ed civ­il soci­ety, typ­i­fied by a large­ly mori­bund anti-war move­ment; and a mil­i­tary-indus­tri­al com­plex whose over­ween­ing influ­ence on pol­i­cy­mak­ers and poli­cies has fed mil­i­tarism and corruption.
Giv­en this state of affairs, no longer can we, the peo­ple, give a free pass to a mil­i­tary insti­tu­tion that expects uncon­di­tion­al appre­ci­a­tion, unequiv­o­cal sup­port, unques­tion­ing trust, unlim­it­ed dis­cre­tionary license and the absence of ​"med­dling" by ​"ama­teurs." Nor can we blind­ly trust those who pro­fess to over­see the mil­i­tary on our behalf. The strate­gic price for doing so is one we can­not afford.
Gre­go­ry D. Fos­ter
is a pro­fes­sor at the Indus­tri­al Col­lege of the Armed Forces, Nation­al Defense Uni­ver­si­ty, Wash­ing­ton, D.C. The views expressed here are his own.